The Guide to Moving to Rochester MN is brought to you by Olmsted Medical Center and the businesses listed below.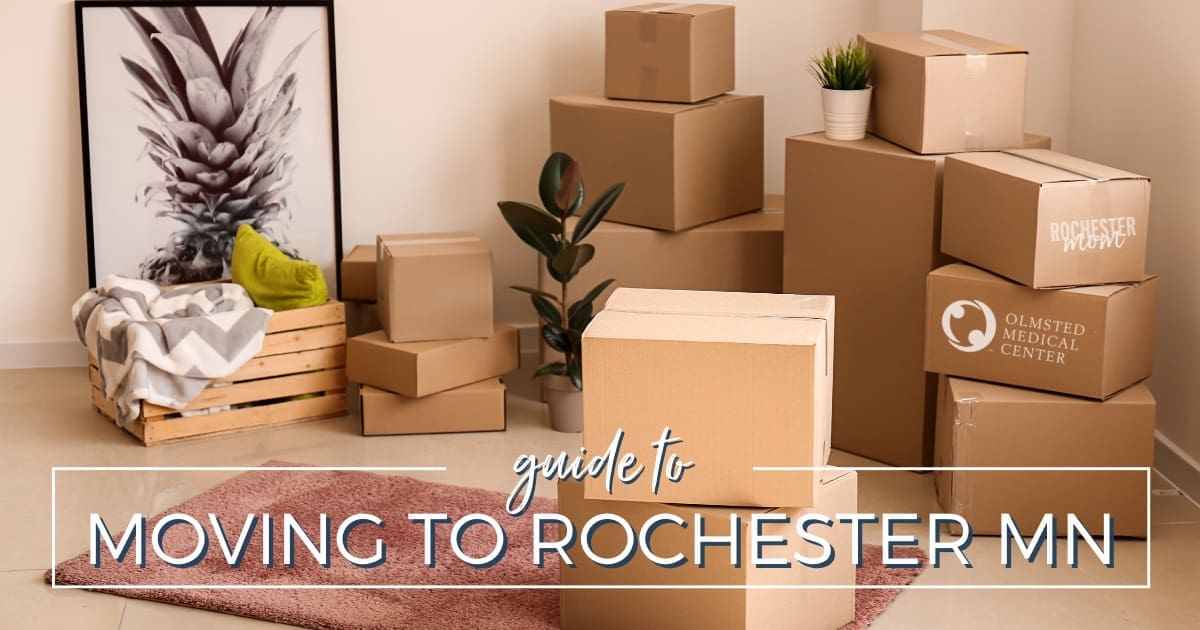 Rochester, MN is an ever-evolving city and we regularly receive inquiries from moms that are looking to make the Med-City their new home! Researching information about a new city can stressful, time-consuming and overwhelming. We hope that this guide will alleviate that for new Rochester residents by providing them as much comprehensive information as possible.
We understand that moving (especially with kids) can seem like an insurmountable task! We hope that this guide eases any worries, helps you with the transition and introduces you to life in Rochester, MN with kids! We love our city and we are committed to helping make this transition easier for you. 
Family Medicine Services at OMC
Depend on the family medicine providers at Olmsted Medical Center (OMC) for comprehensive and compassionate care for all ages, from babies and children to adults and seniors. Every member of your family can have the same providers at OMC. With same day or next day appointment availability at many locations, OMC's family medicine services are available at clinics throughout southeastern Minnesota. To find a family medicine caregiver near you or to make an appointment, call 507.292.7183.
First Alliance Credit Union
First Alliance Credit Union was founded in 1932 by seven Rochester firefighters and a school teacher in need of financial help. Our mission is, and always has been, to provide compassion, guidance, and resources to promote your financial well-being. Today, we have grown to serve over 18,000 people with 6 branches in Rochester, Byron, Stewartville, and Lake City. We are grateful to be a part of the growing Rochester community. Open your account online today to experience the credit union difference.
Custom Alarm is a locally owned and operated security-minded company protecting homes and businesses for over 54 years. Specializing in fire alarm systems, intrusion, video surveillance, access control, and home automation including life safety devices. We work with you to create a customized solution to meet your specific needs and wants. Custom Alarm is the trusted security leader and an award-winning, community-focused company committed to leveraging technology in finding solutions to our customers' needs and dedicated to a high level of customer service.
Elizabeth Burch - The Enclave Team of Rochester
New to Rochester? Make your relocation seamless.
Moving can be stressful, and relocating to a new town can certainly be uncomfortable. As a native of Michigan, agent Elizabeth Burch with the Enclave Team found herself relocating to Rochester 2 years ago herself. She knows what it means to start fresh in a new city, and how it can take some time to settle in.
In her time as an agent here, Elizabeth has become an expert on the Rochester area and the current market so you don't have to be. With interest rates predicted to go up this spring and the continued lack of inventory, you need a guide who still allows you to be in the driver's seat during your relocation process. Take it from Elizabeth's clients – between her reliability, consistent communication, and her passion for helping her community, she is your agent for buying in Rochester.
Our home organizers, cleaners, & interior designers listen closely and are attentive to detail. We can help simplify your life through…
Home Cleaning: Same cleaner each time. Tidying, dishes, & laundry help as well.
Home Organizing: Thoughtful space planning, decluttering, organizing, & unpacking.
Interior Design: Style analysis, mood boards, and paint, finish, & product selections.
Let us help you create a home that'll HUG you… not harass you… when you walk in!
People's Food Co-op is a locally owned grocery store in downtown Rochester. PFC features local farmers and producers, fresh and organic produce, made-from-scratch deli, vegetarian and gluten free options, in-house bakery, full-service meat and seafood, coffee and tea bar, wine, beer and spirits, fair trade products, and a health, beauty, and supplement department. Our aisles are full of tasty products that fit every lifestyle and budget – and please even the pickiest eaters in your family. With free parking, and kid's carts, the co-op is a fun shopping experience for the whole family. Short on time? No problem! Send us a list and we'll do the shopping for you and deliver right to your car. Anyone can shop, Everyone is welcome!
Nicole Pierson Design is a locally based office providing professional architecture, planning, and interior design services. Nicole and her team strive to deliver client focused design for comfortable, beautiful spaces and buildings. From remodeling and additions, to new home construction and commercial work, Nicole Pierson Design customizes their work for each client's style, timeline, and budget.
At Great Harvest we still believe in baking bread the way it was done in the beginning – from scratch; using pure and simple ingredients. The same care goes into our sandwiches and goodies.
Come introduce yourself and try a free slice of fresh bread.  We love seeing new faces.  Great Harvest bread is truly one-of-a-kind.  It's simple. Handmade. Wholesome. Tasty. Bread. The way it ought to be.
Safeway Storage & Uhaul is a locally owned and operated storage facility where you can securely store your belongings. We offer both traditional and temperature controlled storage units in a variety of sizes and our friendly and knowledgeable staff can help you determine what size unit will best fit your needs. We also have moving trucks and trailers available to rent and moving supplies available for purchase to help you with all things needed related to your move.
We are currently offering 1 month free with a 6 month lease and 2 months free with a 12 month lease if you mention Rochester Mom when calling, emailing or stopping in to reserve your unit. In addition, we provide a free Uhaul truck to help you move your belongings into your new storage unit!
Call Safeway Storage & U-Haul for any additional information you may need at 507-281-4318. We look forward to meeting you and helping you with your move!
Dickison Builders is owned by Troy Dickison, a local residential home builder and remodeler who has proudly served the Rochester Market for over 11 years. Troy specializes in new home design and construction, basement finishes, additions, decks and remodeling/renovations of existing homes. Troy would love to connect with you and discuss building your dream home or remodeling your existing home.
Rochester Chiropractic & Wellness
At Rochester Chiropractic & Wellness, our mission is to help people understand the meaning of true health and to release the healing potential of the nervous system inside of you, your child, and your entire family.
We strive to serve each individual with the utmost love and passion that allows them to be the best version of themselves. Our mission is to inspire, educate, and impact our community to create a better future for every family. We serve our patients and community with high quality, affordable chiropractic care in a comfortable, caring and friendly environment.
Our doctors have a special passion for caring for women and children, but will take great care of your entire family! Check us out, you will be glad that you did!
Rochester Mom Community + Conversation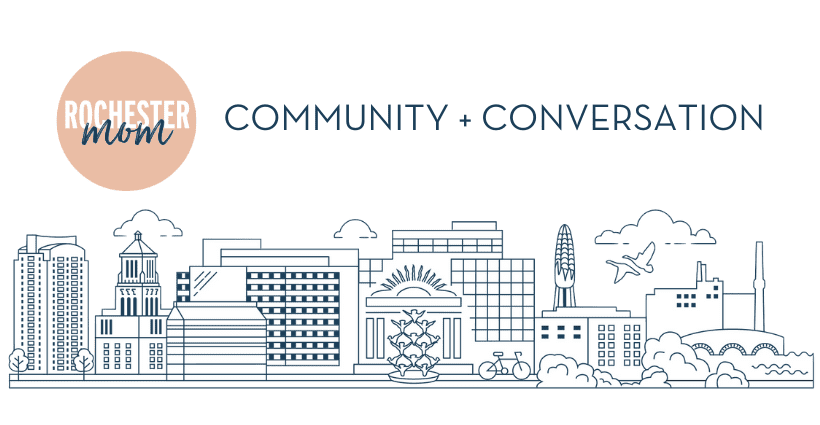 Rochester Mom seeks to provide information to Rochester are residents. We created  Community + Conversation to connect individuals to one another right here in Rochester. This has become a great way to build community and be there for one another as we navigate parenthood.
Rochester MN Resources & Guides
[td_block_5 custom_title="Rochester MN Community Information & Services" tag_slug="moving service" limit="20″]
[td_block_5 custom_title="Rochester MN Restaurants, Dining, & Food" tag_slug="moving food" limit="20″]
[td_block_5 custom_title="Rochester MN Area Things to Do" tag_slug="moving things to do" limit="20″]
[td_block_5 custom_title="Rochester MN Winters" tag_slug="moving winter" limit="20″]