this post was last updated in July 2023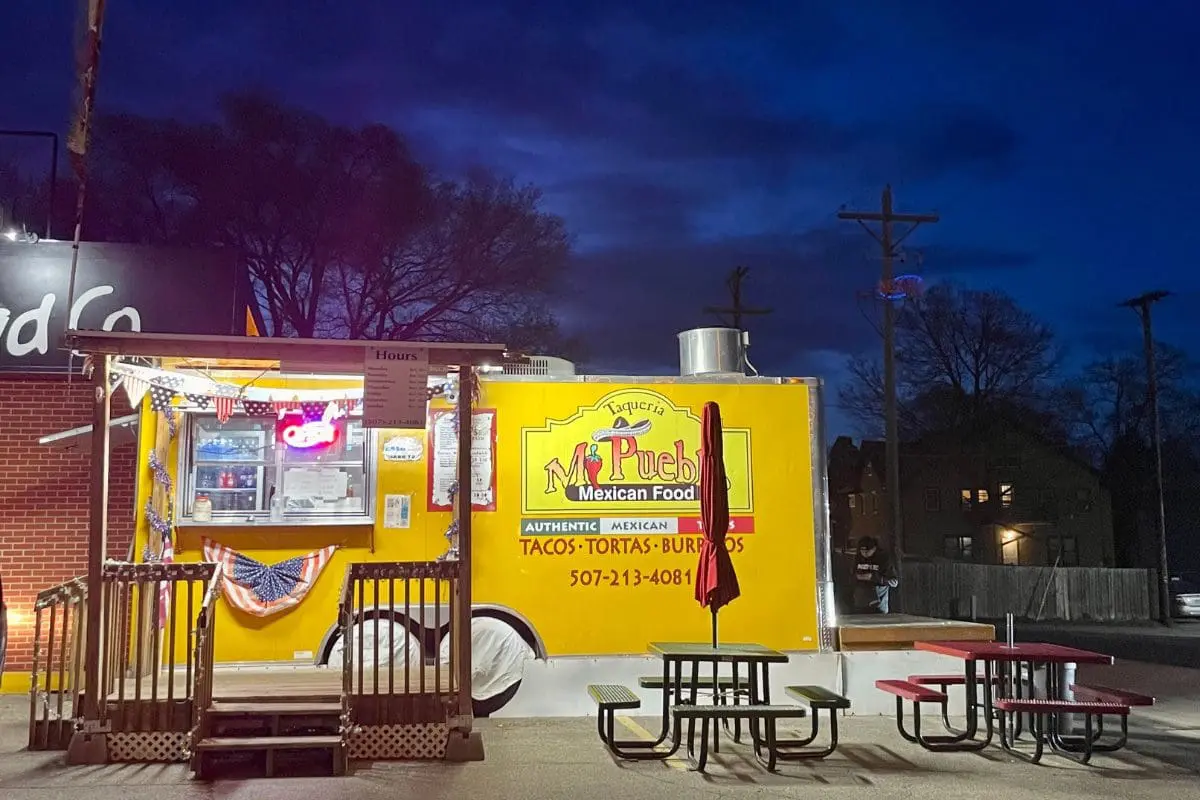 As the Rochester culinary scene has grown in the last several years, we're happy to see so many local food trucks pop up. The taco truck in particular is a local favorite. It's hard to resist the urge to stop at a taco truck. The food is delicious and authentic, the venue is local, and the price is right. And if you're ever in the mood for a savory, spicy, late-night bite, you're in luck! Most of these taco trucks are open late.
Maybe you've already found your favorite lunchtime taco stop. Or, even better, you like to do a little taco truck hopping for a bit of variety. They have easy-to-read menus, and nice staff, and most trucks will offer more than tacos. Here are a few Mexican food tidbits to help you make your decisions:
Taco Meats
Barbacoa (slow-cooked shredded beef)
Carnitas (diced, fried pork)
Chorizo (Mexican sausage)
Asada (grilled/charbroiled)
Pollo (chicken)
Lengua (tongue)
Chicharron (pork rinds)
Tripa (tripe)
al Pastor (made with spit-grilled pork)
If they offer beans, they'll be happy to substitute them for a meat-free option.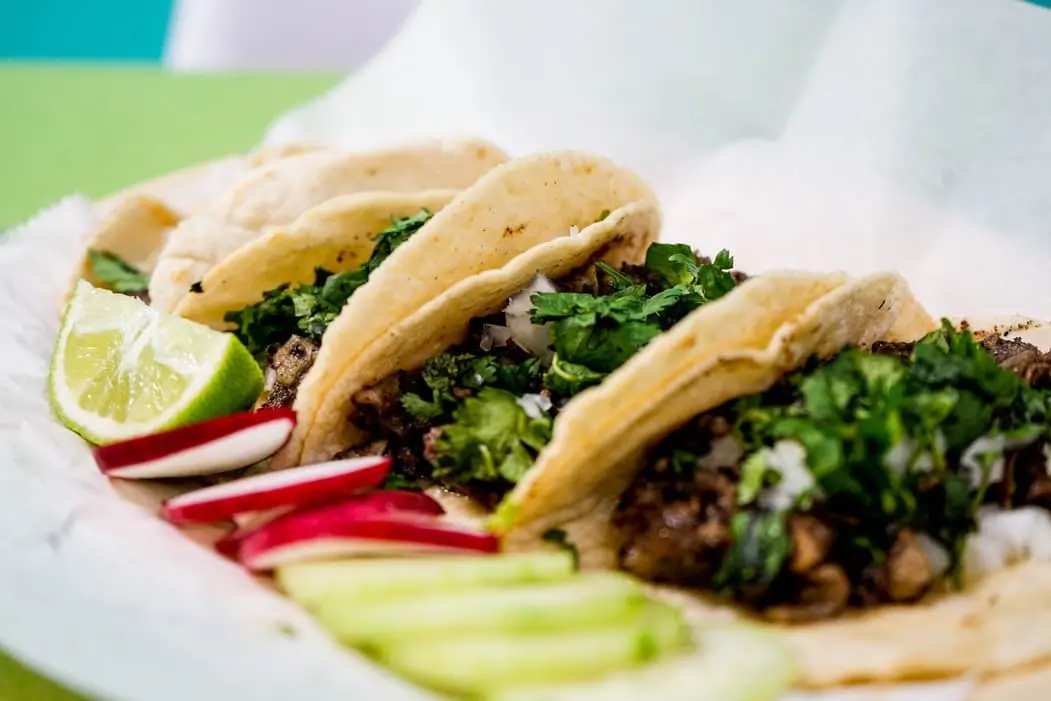 Beyond the Burrito
Torta – A Mexican sandwich filled with your choice of meat and the works (lettuce, tomato, avocado, and salsa) on a buttery toasted bun.
Pupusa/Gordita– A thick corn tortilla filled with your choice of add-ins and toasted or fried.
Tamales – When it's the pumpkin-spice-everything season here, it's the tamales-are-everything season in Mexico. They're pockets of corn masa filled with spiced meat or cheese and peppers, wrapped in a dried corn husk, and steamed. Remove the corn husk before eating.
Some trucks will not offer rice and beans as tacos are their specialty.
Salsa
Most salsas will have an onion, garlic, chile pepper, cilantro, and tomato base. Salsa roja is red and made with tomatoes. Salsa verde is green and made with a small, tart tomato called a tomatillo. Spiciness will vary.
Aguas Frescas
Aguas frescas translates to "fresh waters." This refreshing blended drink is served cold. You will find melon (cantaloupe), sandia (watermelon), pina (pineapple), and horchata (sweet rice) among others.
We've rounded up our local taco trucks below. They're all great and we hope you enjoy the awesome food and friendly faces as much as we do.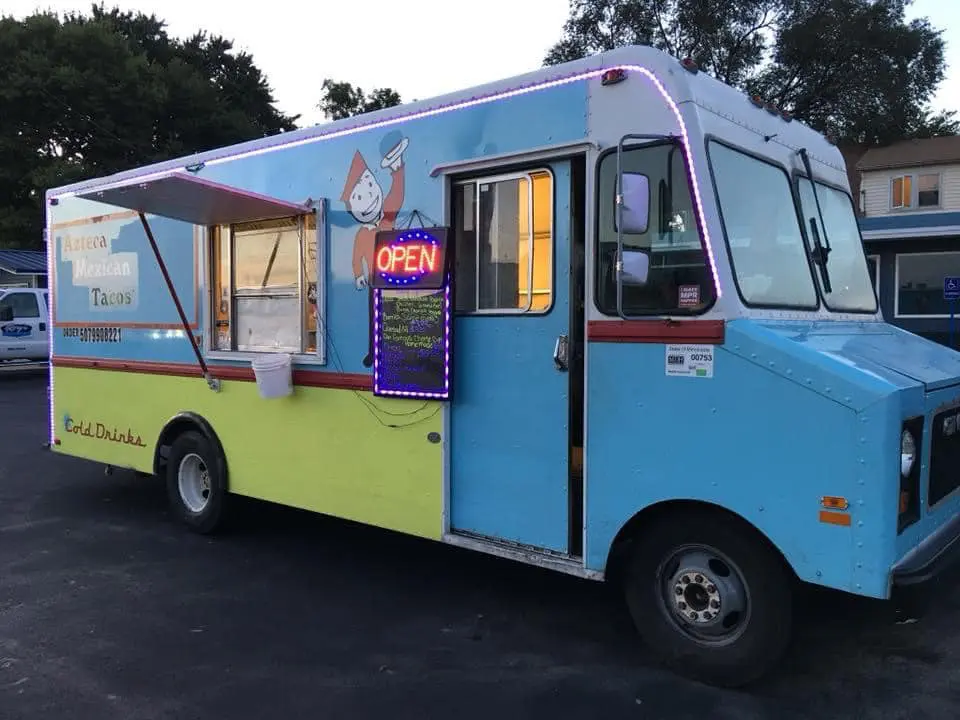 This is a family owned and run taco truck located across the street from the Kwik Trip on 3rd Avenue and Highway 14. In addition to tacos, Azteca Mexican Taco Truck serves up large, flavorful burritos. Azteca also provides catering!
Location: 1131 3rd Ave SE, Rochester, MN
Phone: (507) 990-8221
Approx. Hours: Saturday: 5 pm – 12 am, Sunday: 5 pm – 10 pm
---
In addition to tacos, Corona's offers unique options such as elote (loaded corn-on-the-cob) and tres leches cake (extra sweet and moist sheet cake). They close for a winter break in January and February.
Location: 7 12th St SE (Off of 12th St. SW & Broadway)
Phone: (507) 513-3464
Approx. Hours: SUN (11 a.m. to 11 p.m.), MON & TUE (5 p.m. to 11 p.m.), THU (11 a.m. to 2 p.m., 5 p.m. to 11 p.m.), FRI & SAT (11 a.m. to 2 p.m., 5 p.m. to 12 p.m.), closed WED
---
El Nayarita
Street tacos and seafood are El Nayarita's specialties. Open Tuesday – Sunday for lunch and dinner. The tacos barbacoa are fantastic!  Eat at one of the picnic tables next to the truck, or take your food to go!
Location: 1245 Eastgate Dr. SE Rochester
Approx. Hours: Tuesday- Sunday, 12:30- 11:00 pm
---
Francis Tacos provides great specials throughout the week They advertise pozole on Thursdays, Chile Rellenos on Fridays, and mole on Sundays.  While their regular hours are Tuesday – Sunday, if you're lucky enough you might just catch them when they are open in the mornings with tamales and menudo.
Location: 517 12th St SE Rochester, MN 55904
Approx. Hours: Tuesday – Sunday, 4:00 PM – 10:00 PM (closed Mondays)
---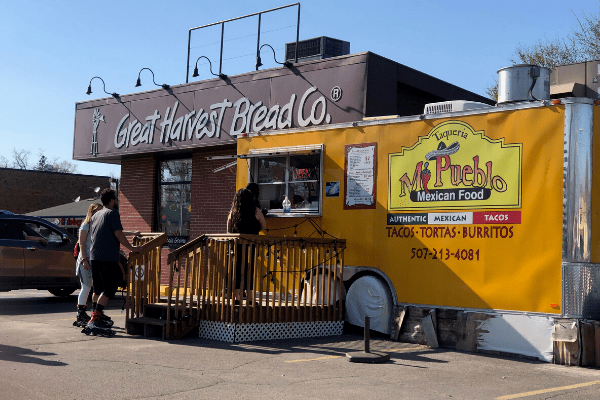 Their food and setup are great. There's ample seating space which is well-lit at night. If you don't have the tamales, don't leave without ordering some to go, you won't regret it.
Location: 706 N. Broadway (Great Harvest Parking Lot)
Phone: (507) 213-4081
Approx. Hours: Mon-Wed (2 p.m. to 12 a.m.), Thurs (12 p.m. to 12 a.m.), Fri & Sat (2 p.m. to 2 a.m.)
---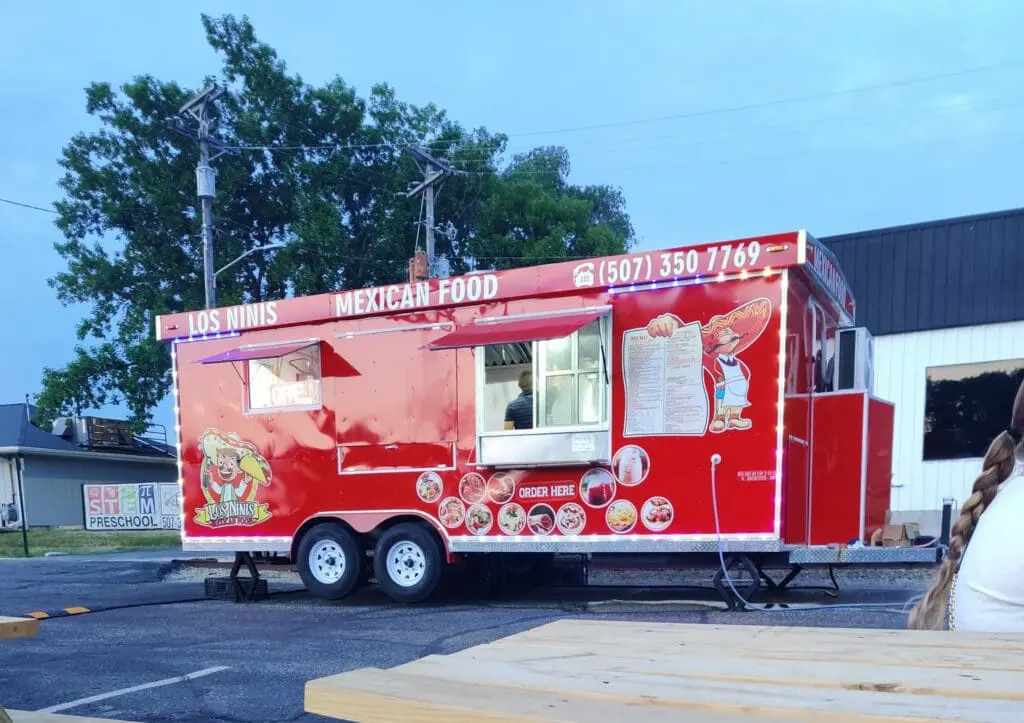 Los Ninis is one of the newest trucks to emerge on the Rochester taco scene.  They feature a varied menu with snacks, tacos, tortas, aguas frescas, other drinks, and more.  The Chilaquiles are bomb and you will absolutely not regret ordering them.
Location: 922 Broadway Ave S, Rochester MN, 55902 (across from Snappy Stop in the parking lot of the former uBreakiFix location)
Approx Hours: Generally 10 AM – 12 PM, every day however hours vary. Double-check their Facebook page for more information.
Phone: (507) 350-7769
---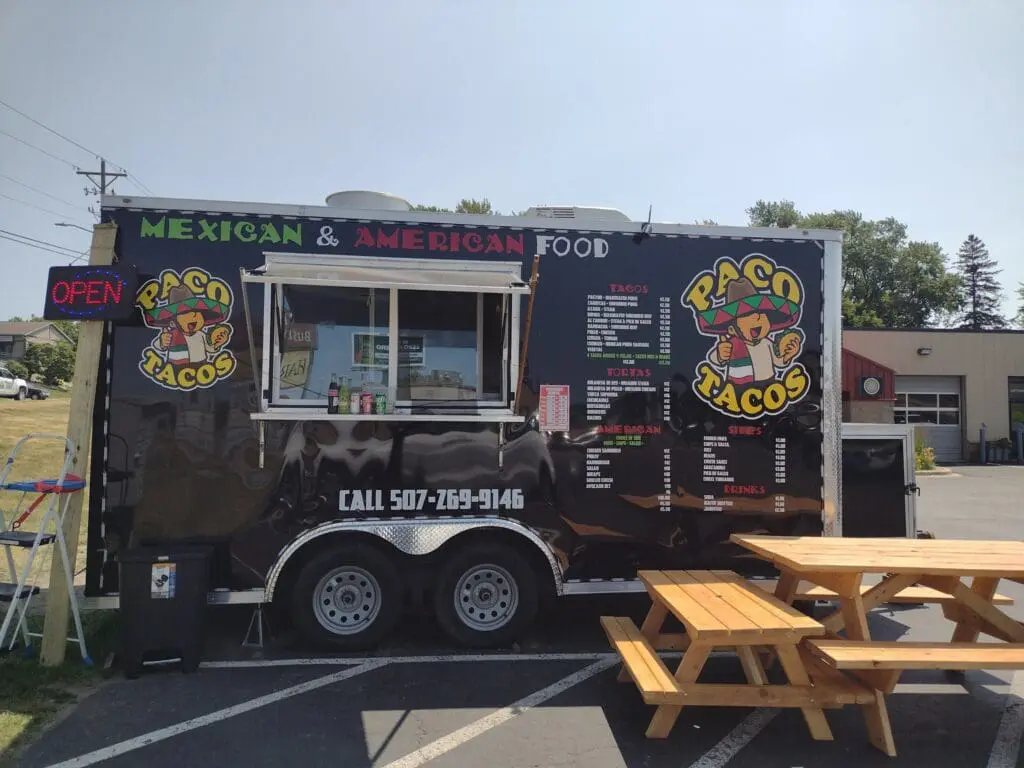 Paco Taco's menu is a combo of Mexican and American flavors. We love the huge variety of tortas — especially the Torta Suprema.  Don't miss ordering Coke in a bottle!
Location: 3270 19th Street NW, Rochester MN, 55906
Hours: Monday 11 am – 9 pm // Tues 11 am – 4 pm // Weds – Sat 11 am  – 9 pm // Sunday closed
---
Taco Lab specializes in finding new flavor combinations and experimenting with different cuisines…inside a taco!
Location: 1510 5th Place NW, Rochester MN, 55901 (across from Barlow Plaza)
Hours: Monday – Thursday: 11:00 am – 10:30 pm, Friday & Saturday: 11:00 am – 11:00 pm, Sunday: 11:00 am – 10:30 pm
---
According to their Facebook page: "Tacos, burritos and tortas, steak, carnitas, chicken, and barbacoa, rice and beans, everything fresh every day!"  Sounds good to us!
Location: 1704 3rd Ave SE, Rochester MN, 55904
Phone: (507) 319-5006
Hours: Wednesday – Friday: 3 PM – 10 PM, Saturday – Sunday: 9 AM – 6 PM.  Closed Monday and Tuesday.
---
They sell tacos, quesadilla, tortas, tortas cubanas, burritos, nachos, alambres, and more!  El Kora is located on 3rd Ave across from the fairgrounds. Check their Facebook page for hours!
Location: 1432 3rd Avenue Southeast, Rochester, MN 55904
Phone: (507) 923-9189
Hours: Monday, Wednesday – Sunday: 4:30 PM – 11 PM. Closed on Tuesdays.
---
El Sueno started as a taco truck and was then a restaurant and is now a taco truck! We are just glad to get El Sueño anyway we can. Order on Door Dash too!
Location: 924 7th ST NW, Rochester MN, 55901
Phone: (507) 910-8677
Hours: Check their Facebook for hours
---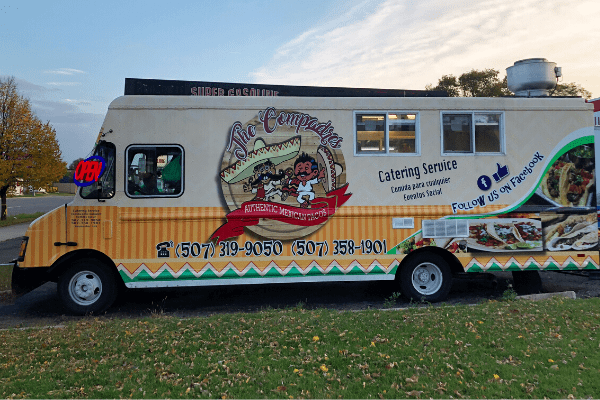 They're known for their authenticity and presence in the community. In addition to the taco truck, they have a restaurant in Byron and are also in the food court in Apache Mall. You can also find them downtown and at various events.
Location: 1764 Broadway Ave S, Rochester MN
Phone: (507) 319-9050
Hours: Monday to Friday, 11:00 am – 10:00 pm, Saturdays, 12:00 pm – 10:00 pm
---
*All Taco Truck Hours are subject to change due to weather and scheduling.
Some things to consider:
Have cash on hand
Some are to-go venues and will not have seating
Call for catering and event requests
Now go for a taco run!