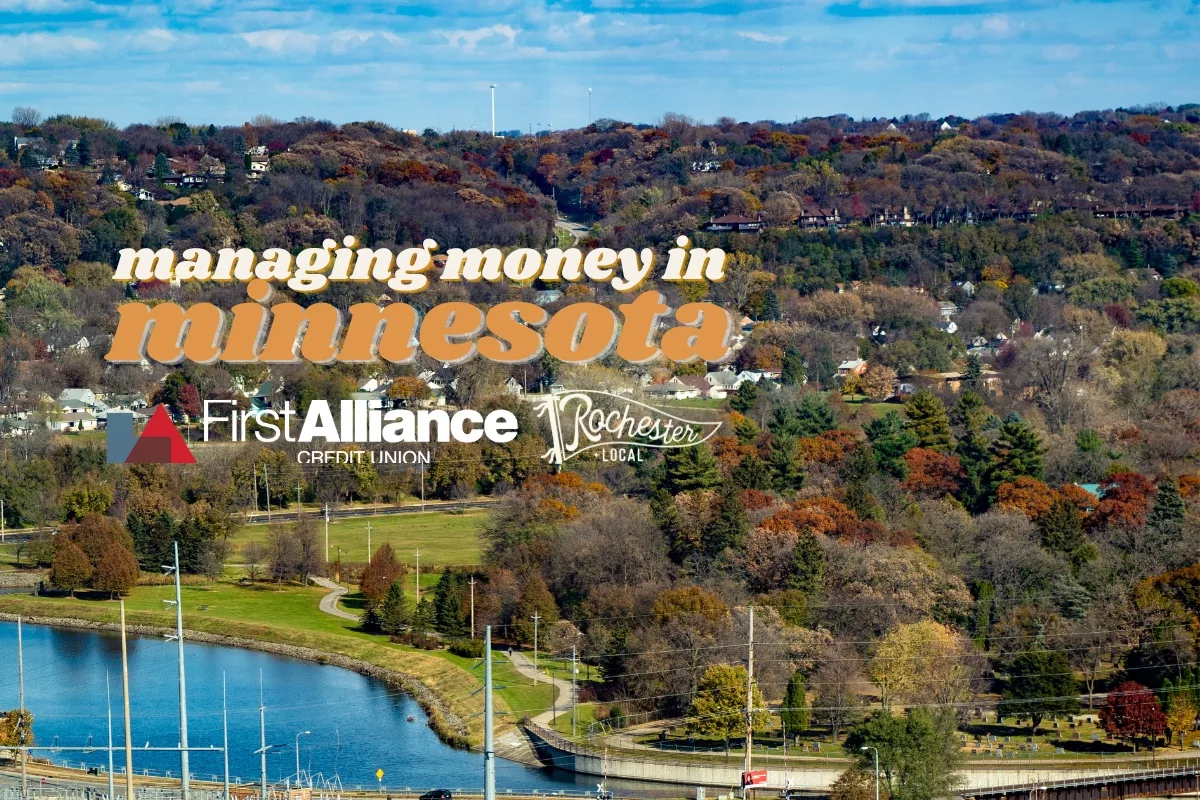 Your Money in Minnesota

First Alliance Credit Union serves almost 20,000 members across the 5 South East Minnesota Counties of Olmsted, Dodge, Goodhue, Wabasha, and Winona. Today, membership is open to anyone who lives, works, worships, owns a business, or attends school in our 5 county communities.
No matter where the future leads, First Alliance Credit Union is committed to assisting its members in managing their money in Minnesota, sharing resources, and providing lending options, in order to assist them in making smart financial decisions through every stage of life.
Your Money in Minnesota with First Alliance Credit Union
Each month, First Alliance Credit Union provides a tip to help you manage your money in Minnesota.  It's your money, make it work for you!  With expert help and advice on various relevant topics.  This is your one-stop-shop for your money needs.
Popular Money Related Podcasts
Popular Money Related Podcasts
Are you looking to expand your financial knowledge and gain valuable insights? Immerse yourself in the world of finance and discover a wealth of wisdom through these popular podcasts dedicated to all things money:
NerdWallet Smart Money Podcast: Get real-world financial questions answered by NerdWallet experts, empowering you to reach your goals faster and make smarter money decisions.
Planet Money: Explore real-world topics that connect back to the economy. Don't just understand the economy – understand the world.
HerMoney with Jean Chatsky: Join host Jean Chatsky as she guides women through the steps they need to take today, for a comfortable tomorrow. Get access to the latest research, tips, and personal advice.
Suze Orman's Women & Money: Suze Orman equips women with the financial knowledge and emotional awareness to overcome obstacles that have hindered their financial well-being. Take control of your money – and yourself.
Good Money Moves: Gain confidence in managing your money with tips and advice from hosts Andy Brownell from KROC AM and Jenna Taubel from First Alliance Credit Union.
These podcasts will help pave your path towards financial success. Don't miss out, tune in today!
Financial Considerations When Changing Jobs
Financial Considerations When Changing Jobs
We all know that changing jobs can be an exciting adventure, but don't overlook the financial impact of this transition. 
When transitioning between jobs, it's important to plan ahead for any gap in pay. You'll need to determine how long you'll have between jobs and make sure you have a financial cushion to cover living expenses until you get paid by your new employer. Other things to think about include:
Changing the due dates on your bills to align with your new pay schedule. 

Creating a budget and sticking to it can help you understand your finances

Trim expenses where you can, cutting back on costs while you wait to get paid. 
Furthermore, it's crucial to understand the changes to your entire paycheck, including the benefits package that comes with your new role. Don't hesitate to ask your new employer about PTO (Paid Time Off), health insurance coverage, and retirement benefits.
By equipping yourself with this knowledge, you'll be able to make informed financial decisions when changing jobs. Even better, you can utilize this free budgeting calculator to help establish a budget, track your monthly spending, and achieve your financial goals!
9 Tricks to Keep Back-to-School Expenses Under Control
9 Tricks to Keep Back-to-School Expenses Under Control 
Children can have mixed emotions about going back to school in the fall, with some excited to see friends and others unhappy about the end of relaxation and video games. Meanwhile, parents also experience stress, primarily due to the expense of back-to-school shopping.
The good news is that you don't have to sit back and accept these expenses. If you take the steps below, you'll be able to reduce the cost of back-to-school supplies. 
Search your home

Visit second-hand stores

Buy from Dollar Tree

Start your shopping early

Save over time

Avoid name brands

Look for coupons or discounts

Buy in bulk

Get outside help if you need it 
Plus, you can keep track of your back-to-school spending with First Alliance Credit Union's free back-to-school budget template which will help you plan how much you can spend on supplies and help you keep track of what you have already purchased. 
Should You Get a Joint Bank Account?
Should You Get a Joint Bank Account?
A joint account can bring numerous benefits to couples. The most significant advantage is the ability to track and monitor how money is being spent as a family. This fosters transparency and encourages you to openly discuss your spending habits, leading to stronger communication within your relationship. There are several other benefits to consider as well:
Benefits of a joint banking account for couples:
Helps promote trust: Being open about finances with your spouse builds trust in other areas of your relationship too. 

Helps in creating a budget: You'll quickly gain clarity on your earnings and expenses with a joint bank account. 

Easy access to family finances: If you both keep separate accounts and your partner gets injured (for example), accessing their account for medical expenses or bills may be difficult. 
Getting a joint account with your partner has a lot of advantages. It's time to talk with your spouse or partner about how you handle money and figure out if a joint account is right for you. 
Are Rewards Credit Cards Worth It?
Are Rewards Credit Cards Worth It? 
Credit card companies often lure in potential customers with enticing rewards, ranging from airline miles to cash back to discounts at theme parks. While the idea of receiving a reward just for using your credit card may seem too good to be true, the fact is that rewards cards can offer numerous advantages for consumers. So, is it worth getting a rewards credit card? The answer is a resounding "yes". If you really want to take full advantage of everything a rewards card has to offer you will need to follow a few guidelines.
Choosing a Rewards Credit Card: You'll want to select a rewards credit card that will benefit you with rewards you will actually use. 
Read the Fine Print: It's crucial to take a closer look at the fine print, as there are often terms and conditions that go unmentioned in the initial offer. Plus, you might discover some unexpected perks that come with your card that could save you money and enhance your experience.
Don't Ignore the Basics: While reviewing the rewards program don't forget to review the interest rates and annual fees. Understanding the financial implications is imperative to making informed financial decisions.
Adjust Your Expectations: It's best to look at the rewards you get as a nice extra, as opposed to being a goal in and of itself. If you do that, you're less likely to spend more than you intended and go into debt while chasing the next level of rewards. 
Charge Everything to the Card: If your rewards card doesn't limit where you need to spend in order to earn rewards, you should consider making this card the credit card you use for most purchases in order to maximize its effectiveness. 
Review Your Rewards: This is especially important since the points most rewards programs give you will eventually expire, and you'll want to reap all the benefits of the rewards you've accumulated.
Use our credit card comparison worksheet to see which rewards credit card is right for you. Download here >>> https://resources.firstalliancecu.com/credit-card-worksheet
Your Moving Checklist
Anyone who has moved before knows it's a hurricane of stress. You have a hundred tasks ranging from packing up dishes to disassembling bookcases.
That's where this moving checklist comes in—we've compiled all the information you need about moving to Rochester, MN so you can get settled into your
new home with more efficiency—and less stress.
Prepare to move: Create a schedule, create a moving budget, get your children's school transcripts, collect moving supplies, and find out if your moving expenses are tax deductible. Lastly, update your address and driver's license.
Work With a Moving Company: While many people are fine with renting a moving van and enlisting the aid of family and friends, there's no denying that professional movers can eliminate a lot of the stress involved with moving into a new house.
Unpack Efficiently: Clean everything, and unpack your bathroom and bedroom items, along with your kitchen items.
Furnish Your New Home: Visualize your living space by walking through each room to figure out how you'd like your home to look.
Switch to a Local Financial Institution: The process isn't difficult, but it can take up to 60 days, so you'll want to get started before you move if you can.
By using the moving checklist, you can settle into your new home with less hassle and more confidence!
SMART Goals
Setting financial goals doesn't have to be difficult. When you use the SMART goal framework you can create actionable and realistic goals for you and your family. SMART is an acronym for Specific, Measurable, Attainable, Relevant, and Time-bound. To use this framework, start by identifying the specific financial goal that you want to achieve. For example, if you want to save up for a down payment to buy a home, your SMART goal might look like this:
Specific: Save $10,000 for a down payment on a house
Measurable: Save $425 a month for 2 years
Attainable: Ask yourself if saving the money and 2 years time frame is reasonable given your current financial situation and resources? If not, reassess what is realistic for you.
Relevant: Ask yourself, does saving for a down payment on a house align with your overall
financial goals and priorities?
Time-bound: There is a clear deadline of two years to achieve the goal.
By using the SMART goal framework, you can set clear, achievable financial goals that are tailored to your specific needs and priorities.
Download your free SMART goals worksheet to get started with setting your financial goals!
Financial Tips for Couples
Money can be a heated topic in any relationship.
Being able to discuss your finances with your partner is one of the best ways to make a relationship last.
You can start this process by answering some fun money questions together:
What are your individual financial goals? (Ex: Paying off student loan debt or buying a newer car)
What are some financial goals you'd like to have together? (Ex: Buying a house, saving for retirement)
How do you like to spend your "fun" money? (Ex: Go to concerts, buy new clothes or electronics)
What are you currently wanting to save money for? (Ex: Vacation, down payment for a car)
What local charities do you want to support through donations or volunteering? Do you have any in common?
By talking about your financial hopes and dreams together you can start to create financial goals as a couple, which will strengthen your relationship for years to come.
Started setting your couple goals with this free financial goal-setting worksheet from First Alliance Credit Union!
Family Financial Literacy Activities
Family Financial Literacy Activities
Believe it or not, the biggest factor of financial success isn't how much money you have. What really determines financial success is financial literacy—the ability to know how to effectively use the money you have.
As a family, there are many fun ways to learn about managing money. One of the best ways is by playing games that include a financial element. There are plenty of family board games that can help teach financial principles, such as:
Life
Monopoly
Pay Day
Money Bags
Ice Cream Empire
Settlers of Catan
Day Trader
When you play these games with your children, you are helping them strategize and find ways to use their in-game assets wisely. This will help them understand the importance of budgeting and planning for the future, all while having fun.
More Money Tips and Expert Advice