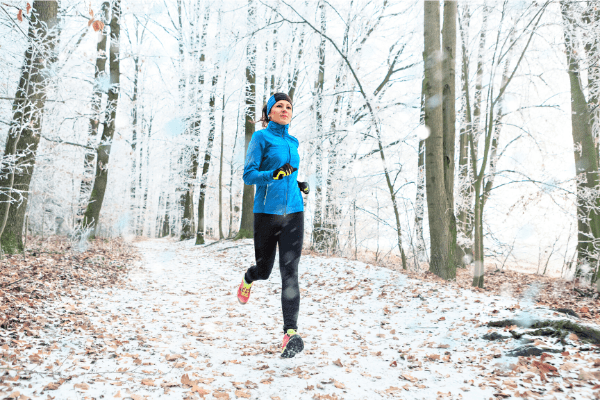 Nearly every time I mention to someone that I run outdoors in our lovely Minnesota winter weather, they give me an incredulous look and say, "But don't you freeze?!" I don't freeze…but I do dress appropriately for the temperature and wind! Winter sportspeople need a special level/variety of gear, and I've tried many different options. While most of my cold weather athletics center on running, I have used these same apparel layers for other winter sporting endeavors (such as snowshoeing, skiing, etc.). There is a myriad of technological advances in fabrics for outdoor winter fitness, and some of the qualities you want to consider are:
Sweat-wicking/breathability
Insulation/warmth
Wind blocking
If you can figure out the correct balance of those 3 qualities for the weather you will be running in that day, you are golden!
Layers I use in different combinations:
For your feet:
-Socks with some percentage of merino wool (my new favorite are the Smartwool Cold Weather pair I picked up this fall at TerraLoco)
-Footwear with a lower mesh % (allows less cold air in)
-Traction cleats for snowy/icy days (such as YakTrax Run). . .no one wants to land on their bum in the snow!
For your legs:
-Fleece lined running tights, or wool blend running tights. Pay close attention to the outer fabric of winter running tights. Some super-duper tights have breathable windproof fabric on the outside of fleece lining, and due to their magical combination of those qualities, they have a hefty price tag. Check out options from Athleta or Under Armour if you are ready to make that investment. You can achieve the same effect by layering more than one pair of tights…a wind-stopping pair on top of a fleece-lined pair. Unless it is super windy, a mid-range level of fleece lined tights will usually suffice to keep your legs toasty.
-Compression calf sleeves. I love wearing my Smartwool compression sleeves under my tights for a little extra layer of warmth.
For your upper body:
-Base layer with moisture wicking qualities so your sweat doesn't sit on your skin. I wear a tank with a built-in sports bra under my base layer and that tank is also a moisture-wicking fabric. Having a zipper at the neck of your base layer can help you adjust your temperature if you find yourself getting too warm.
-Vest and/or jacket for warmth. As I stated above, you'll want to have at least a quarter zip on this layer so you can unzip if you find yourself getting too warm during your activity. Don't go for anything super-impermeable unless there's a significant wind or precipitation, or you'll feel like your body heat is trapped.
For your head and other extremities…these are key areas to keep warm because they are far from your core and prone to feeling chilly sooner:
-An ear warmer will suffice for many cool temps, but as the temperature gets below 20 degrees, you'll probably want a hat that covers your whole head. I have a lightweight one with infrared technology that absorbs and retains my body heat that I adore (the brand is Under Armour). If the "feels like" temperature is below zero, I switch to a fleece lined hat.
-Warm gloves, or even upgrade up to ski style mittens if you decide to go out in sub-zero weather. I have a pair of fleece convertible mittens (with a top that folds back and stays open using a built-in magnet), and those are the ones I wear unless it is brutally windy and cold.
-Balaclava/neck gaiter. Some of these are just a basic tube of fabric, but some have two textures and cinching capabilities that make them multi-purpose…one I have used and enjoyed is the Polar BUFF.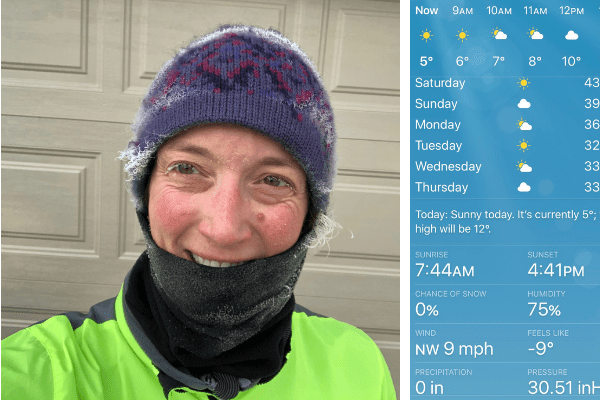 Features to be aware of on all types of gear:
-Zippers are a winter runner's best friend to help regulate heat. Make sure that at least one layer you have on top can be unzipped should you start to get too warm. Ankle zippers can provide you with a way to cool off your legs.
-Reflective accents are a must for a time of year when daylight hours are few and far between.
Be aware that after the first five minutes of activity when you are getting warmed up, it's actually not during the running (or skiing, fat tire biking, snowshoeing…the list could go on and on) when you will feel cold…it's after! Make sure you change out of your sweaty base layer soon after you finish your exercise so you don't get chilled. As my running group likes to say, "there's no bad weather, just bad clothing choices!"
We are bound to have many cold months here in Minnesota, but the opportunities for outdoor fun abound! Here's hoping you can layer on some outdoor fun this year!