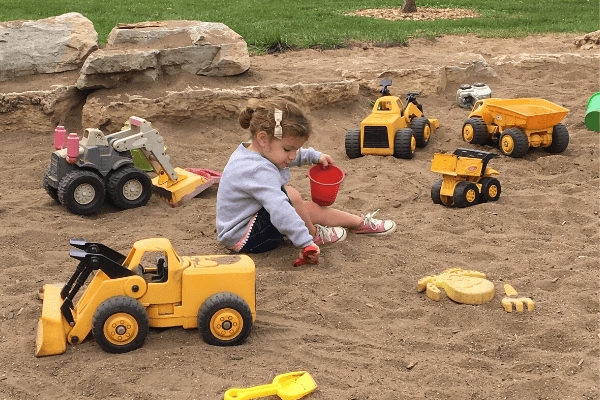 *Post updated May 2023*
Finding appropriate places to bring your toddler to play and learn can be hard especially when they're two years of age and under. They need constant stimulation in a safe and clean environment surrounded by children their age. Look no further! Here is a comprehensive list of age-appropriate things to do and places to see for those little toddler minds, and very busy bodies, in and near Rochester, Minnesota.
Arts & Culture
SPARK
Apache Mall, Rochester // (507) 218-3100
Play is at the core of what they do. SPARK invites you to interact with exhibits, not just watch. It's an immersive experience aimed at opening the minds of young learners to greater possibilities and learning by doing.
Rochester Public Library
101 2nd St SE, Rochester // (507) 328-2300
Catch concerts, dance parties, reading events, character visits, and more throughout the year at our treasured Rochester Public Library. Watch their public Events Calendar for detailed information. For a more casual experience, check out the coloring room equipped with markers, pencils and plenty of paper to let the kiddos doodle. Grab a book on arts, culture or diversity and enjoy a story with your little one.
Sargent's Gardens
811 2nd St SW & // (507) 289-0022
The Wee Wednesday program is one Wednesday a month (9:30 am. and 10:30 a.m) April through December. Designed for preschool through kindergarten aged kids (and their favorite big person), classes include hands-on activities, a story, and a tasty treat. Cost is $10. Registration required.
Rochester Art Center
30 Civic Center Drive SE, Rochester
Offering a variety of family-centered activities year-round, the Rochester Art Center is a great way to get young kids interested in the arts! From Free Family Days, to Families in Motion, and more, Rochester Art Center has free or low-cost options. Keep an eye on their Event Calendar for future offerings!
Miss Angie's Place
222 South Main Street, Pine Island // (507) 251-3684
Each week Miss Angie's Place provides a crafting element for the kids to allow them to create whatever their little heart desires. While the kids are being creative and using their imaginations caregivers connect with one another to develop lasting relationships. This is a time for support, openness and building community. All family members are welcome. Drop in anytime during the 90 minute session.
Please register the night before to ensure seats are available and supplies are ready.
Indoor Play
Air Insanity
1607 Hwy 14 East, Rochester // (507) 218-8385
Rochester's indoor trampoline park has 130+ interconnected trampolines, a toddler zone, open jump arena, fidget ladder, obstacle course, climbing wall, nerf zone and much more! Join Toddler Time Saturdays and Sundays 10:00-11:30 am.
Monkey Junction
500 60th Ave NW, Rochester // (507) 254-9205
This indoor play space is open seasonally: late October through early April.  It is hosted by Life Lutheran and offers a large gymnasium filled with ride-on toys, balls, climbing equipment and slides for ages 0-6. Admission is $1/child and hours are from 8:30 a.m. – 1 p.m., Tuesdays, Wednesdays, Thursdays & Saturdays during the fall and winter.
2300 Superior Drive NW // (507) 328-0673
The first of its kind in Rochester, this Toybrary offers onsite play, hot coffee and comfy seating for parents, and an extensive library of toys that kids can check out and bring home! With affordable monthly or annual memberships, kids can check out toys, attend events, and play with other kids onsite all year round. Join Nana Gogo for Musical Storytime every Wednesday at 10 AM! Drop-in play is $7.50/child and memberships are available.
Oxbow Park and Zollman Zoo
5731 County Rd 105 NW, Byron, MN 55920 // (507) 328-7340
Oxbow Park & Zollman Zoo have just opened their amazing new Nature Center! Explore the nature center with play space perfect for toddlers and younger kids, indoor animal displays, and exhibits that are open year-round– rain, snow, or shine!
Pipsqueaks
903 W Center St, Rochester // (507) 328-2525
This seasonal space (available November through April) has a lot of activity in one great space! Pipsqueaks features a climb and slide area with new play equipment, imagination zone, riding toys, mini rollercoaster, and a toddler/crawler space. Located in the gymnasium of the United Way building. Free parking is onsite and admission is $2 per child per day (free for children 0-6 months of age) or buy a punch card (6 visits) for $10. Open 9:30 a.m.-1 p.m, Monday-Saturday. Closed on holidays. 
Movement & Music
Jets Gym
2440 Clare Ln NE, Rochester // (507) 285-9262
Let your child ages 1-4 explore basic tumbling and apparatus work during JETS pre-school open gymnastics. No staff supervision; parents must supervise children.  Open Fridays: 10:30 am – noon. Cost is $7 for members and $10 for non-members.
ROGA (Rochester Gymnastics Academy)
292 Penny Ln NE, Rochester // (507) 322-6997
Preschool open gym times allow parents to view children from the viewing room as the trained staff help kids navigate the gym. No adults (other than staff) allowed on gym floor.  Open Tuesdays & Thursdays 11:15 am- 1:15pm. Cost is $15 for members and $20 for non-members; punchcards available.
Mapleford Studio
9374 Fabian St, Byron // (507) 775-2266
Offering a variety of music exploration and programming for kids 4 months of age and older, Mapleford is dedicated to creating a lifelong love of music through singing, dancing, movement, and instrument play. Check out their website for class information, schedule, and pricing.
Outside With Nature
Chesterwoods Park
8378 14 Hwy SE, Eyota, MN 55934 // (507) 328-7350
This park has a great swimming beach with dressing rooms and showers and 12 miles of natural trails for hiking. Spot a diverse population of wildlife, woodland birds and native prairie plants while enjoying your time outside. It's worth a short drive to Eyota for a full day of fun. Admission is FREE! Beach hours vary and park hours are from 5 a.m. – 10 p.m.
Quarry Hill Nature Center
701 Silver Creek Road NE, Rochester, MN 55906 // (507) 328-3950
Seated in the City of Rochester's Quarry Hill Park, find 8+ miles of paved and hiking trails, a pond and a historical sandstone cave carved in 1882. Explore the admission-free center which houses live animals and nature exhibits and a quiet reading room for your little one to learn. Year-round classes, day camps, trips and recreation activities are also offered. 
Oxbow Park and Zollman Zoo
5731 County Rd 105 NW, Byron, MN 55920 // (507) 328-7340
Jaunt over to Byron's Oxbow Park & Zollman Zoo! This incredible local zoo houses over 30 native Minnesota animal species and a nature center full of educational activities, exhibits, and artifacts. Tour the Path of Imagination, a 2-acre natural playscape full of art, education, and adventure. Also, 30 campground sites are available with modern restrooms, showers, and a community playground — in close proximity to the natural playscape and Zollman Zoo. 
Silver Lake Park
840 7th Street NE, Rochester, MN 55906 // (507) 328-2525
Take a lap (nearly 2 miles) around Silver Lake and reconnect with nature on one of our gorgeous spring, summer or fall days in Rochester. Pack a picnic and explore the Children's Adventure Playground, a completely wheelchair and handicapped accessible facility, or enjoy a day of swimming at the outdoor pool. With plenty to see at Silver Lake Park and places to play, it may take a while to make it all the way around!
Story-time
SPARK
Tuesdays and Thursdays at 10:00 am
1201 12th St SW #632
Rochester, MN 55902
Phone: (507) 218-3100
Other Resources
For more things to do with your children, check out the following:  Guide to Fabulous Free Fun in Rochester MN, Rochester MN Guide to Summer Swimming and Restaurants and Coffee Shops with Play Spaces.
And, don't forget Community Education provides classes for family members of all ages (baby through grandparent). Preschool, youth and adult class catalogs are sent through the U.S. mail and are also available online.