Sometimes you just need a slice of rich, velvety chocolate cake. Ok, maybe the word "need" is a little strong, but when we're really craving chocolate or wanting to make a celebration a little extra decadent, chocolate cake is the answer! Not sure where to get the slice you're looking for? We've taste-tested and reviewed slices of chocolate cake from restaurants in Rochester for you!
Address: 2365 Commerce Drive NW, Rochester, MN 55901
Hours: Monday – Sunday, 11 am – 10 pm | Tuesday – Saturday, 11 am – 11 pm
(Kitchen closes at 9 pm)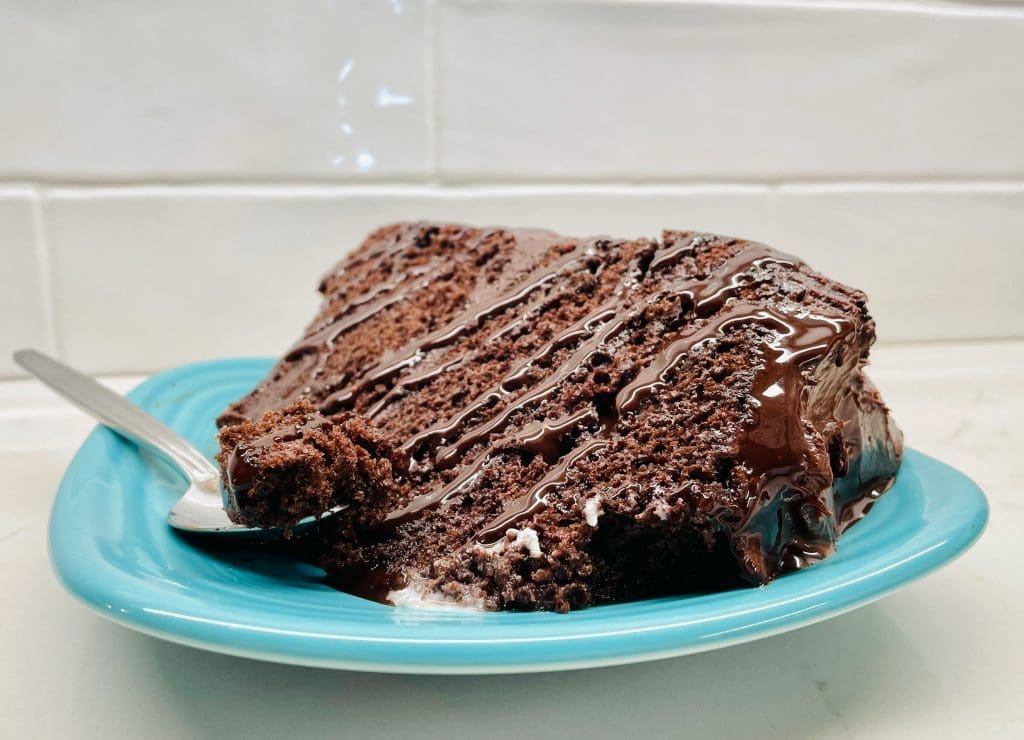 Chocolate Cake (for two) 
Price: $12
This decadent, four-layer chocolate cake is nearly 6.5″ tall and absolutely delicious. Once our eyes adjusted to the beauty that was in front of us, we quickly were confused again and couldn't figure out where to start. Again, we composed ourselves once the drooling subsided, and we dug into the first layer and tasted a little of the chocolate ganache…WOW! We looked at each other and thought, this has to be the most delicious, mouth-watering chocolate cake we've ever found at a restaurant. You know, the kind you dream about or maybe your grandma used to make? It was a full-blown taste bud explosion of rich deep chocolate and gooey frosting, which was perfectly placed between each layer! And yes, I'm trying very hard not to use the "M" word. BUT DANG, THIS CAKE IS MOIST! Run, don't walk, over to The Tap House West End to see for yourself! – Elise
---
Address:

220 Broadway Ave S, Rochester, MN 55904
Hours: Breakfast: 7 am – 10 am | 11 am – 10 pm (full menu starts at 3:00 pm)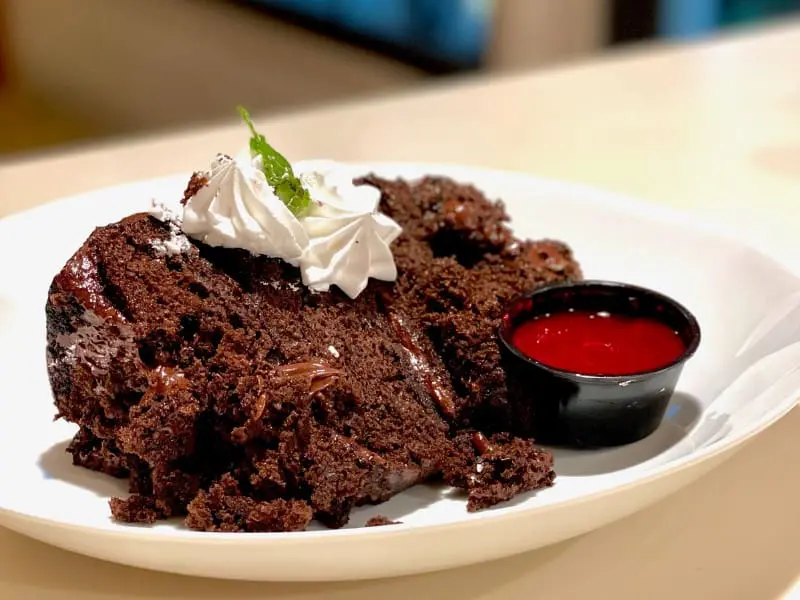 Towering Chocolate Cake
Price: $10.95
The first thing you need to know is that the photo does not do the size of this chocolate cake justice. To take a photo I removed it from its to-go container and moved it to…a serving bowl. This 4 layer cake can *easily* serve 4 people.  What I loved most about this chocolate cake is that the texture was really light and fluffy.  The cake was not dense at all, but still extremely rich tasting.  This was great because, given the size, a dense cake wouldn't NOT be a good time! The crumb of the cake was so moist: not even a hint of being dry. It definitely leans more dark chocolate than milk chocolate. The chocolate icing of the cake was really whipped and velvety, not like a buttercream texture, but more like a whipped pudding.  I appreciated that there wasn't a huge layer of frosting on the outside of the cake.  It was the perfect amount! This cake is also not overly sweet. Same with the raspberry coulis.  I was grateful it came on the side as I'm not generally a fan of fruit and chocolate, but this just works. Yum! – Becky
---
Address:7 1st Ave SW, Rochester, MN 55902
Hours: Monday – Sunday, 10:30 AM – 9 PM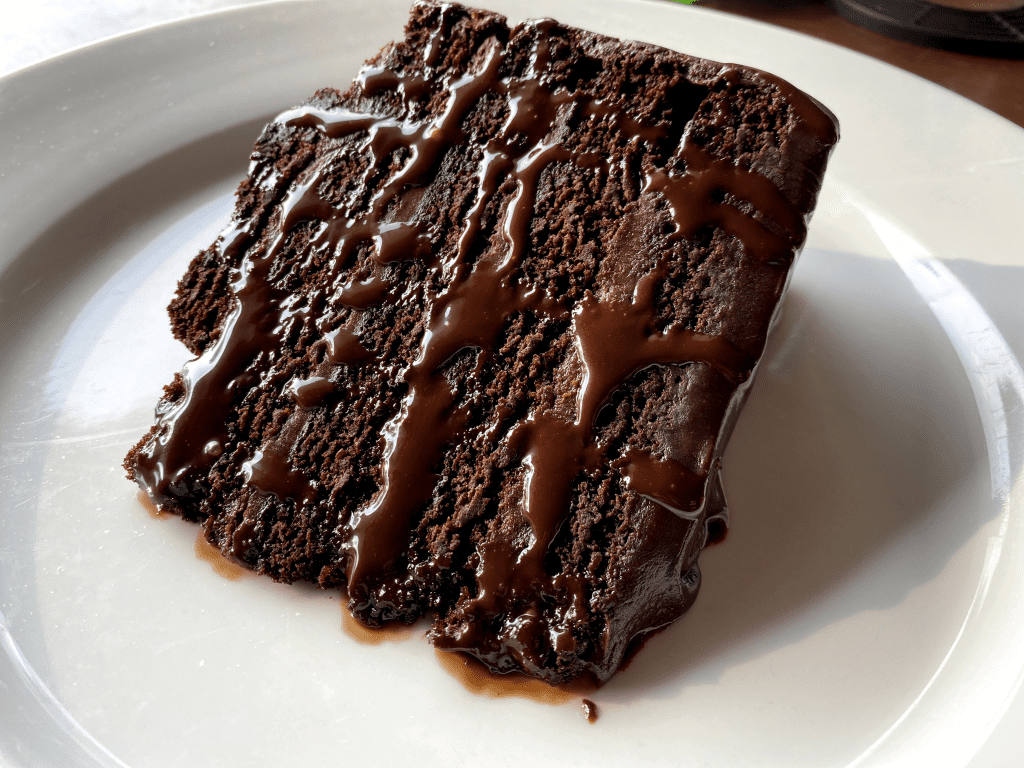 Old Fashioned Chocolate Cake
Price: $9
The Victoria's Old Fashioned Chocolate cake is classically delicious. It ticked all the boxes for me: moist, a variety of forms of chocolate, and a decent-sized portion. When I first opened up the take-out box I thought it was pretty and a piece I could down myself. I was wrong! It was the perfect size to share with others. It is rich, moist, creamy, and layered. Definitely a solid option for chocolate cake in Rochester! – Erica
---
Address: 300 1st Ave NW, # Lowr, Rochester, MN 55901-2830
Hours: Tuesday – Wednesday, 5:00 PM – 9:00 PM | Thursday – Saturday, 5 PM – 10 PM | Sunday – Monday, Closed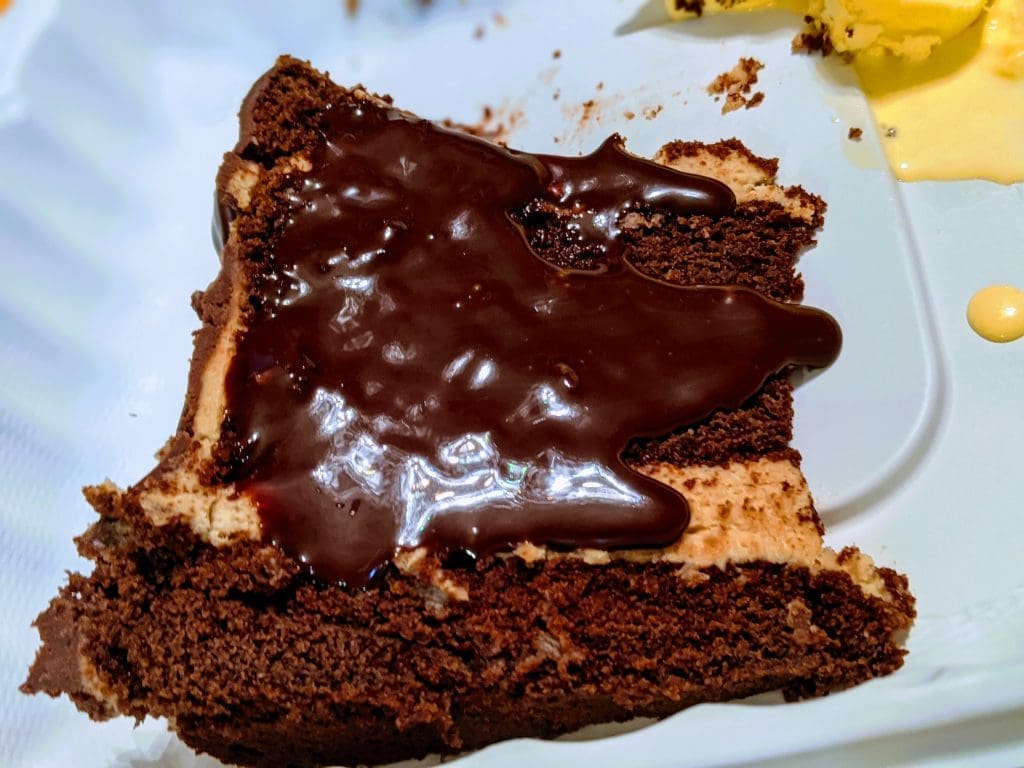 Chocolate Peanut Butter Cake
Price: $7
After living in Rochester for 6 years and saying we will go there soon, this week, I got to share Chocolate Peanut Butter Cake with my sweet husband from the Redwood Room. I got excited to try this out and because two friends' birthdays were near, I decided to buy two more slices as a treat for them.   Maybe it makes me feel less guilty too. 😊
As per the description found online, it's a chocolate cake, layered with peanut butter mousse, and smothered in chocolate ganache and served with vanilla ice cream.
I love cakes! All kinds of cakes!  So when I had the opportunity to review a piece of cake, no one must twist my arm!! I will be honest, I rarely buy cakes in restaurants, as I deal with a nut allergy at home, and so I bake most of all we eat.
The cake was packaged nicely, got home, and enjoyed the ice cream smoothness and the cake. I loved that the icing was not too sweet.  I loved that the cake was moist, I also really liked the portion size. I had no idea there was peanut butter in there, as when I ordered the cake it was in person at the bar before reading the menu. I won't lie, that kind left me bummed out. But my other two friends really enjoyed the cake. – Lucy
Vive le chocolat!!
---
What is your favorite slice of chocolate cake? Tell us in the comments! Did we miss one? Add that too, and tell us what makes it the best!