This post was updated September 2023
Planning a date night is easier said than done. Not only do you have to find someone to watch the kids, but you also have to put on actual pants and then choose a place to eat. Sounds like a lot of work, doesn't it? Well, don't worry, we've got you covered! 
Rochester Mom has compiled a list of restaurants that are perfect date night spots. Each restaurant on our list is unique and special, and you won't find any chain restaurants in our guide. Whether you're celebrating a special occasion or just getting a night away from the kids (we know you're overdue for one of those!), you're bound to find a place on this list! Oh, and sorry…you'll have to put on your own pants.
This information was current as of the writing of this article. Make sure to call ahead to confirm your plans. Enjoy! 
---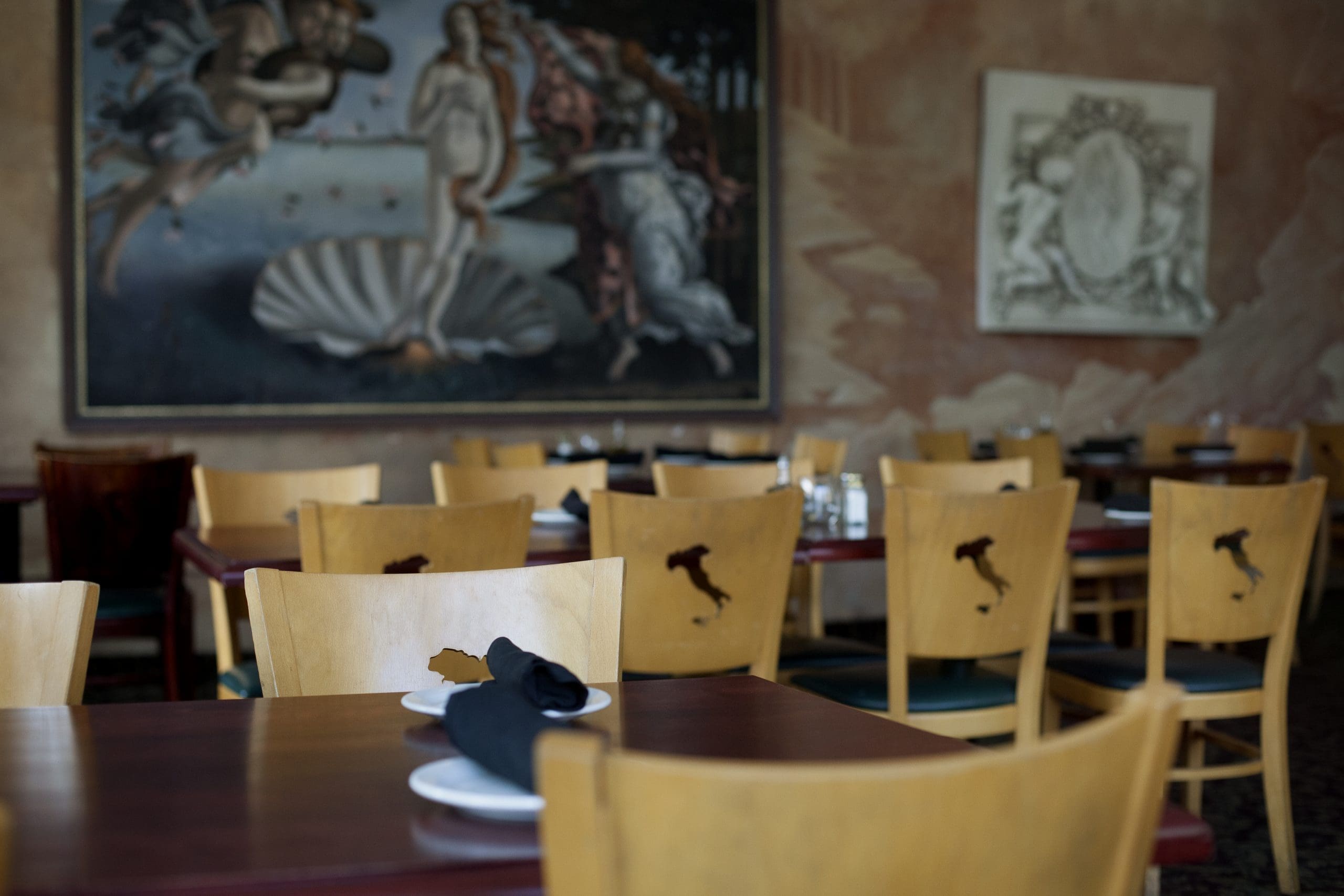 Victoria's Ristorante and Wine Bar is a longstanding favorite of many Rochesterites. Nestled on a corner lot downtown in the newly renovated Heart of The City, Victoria's is the perfect spot for a night out. They have indoor and outdoor seating, so when the weather is nice you can enjoy your meal street-side. They have a large wine menu, and the desserts are to die for! Check out our review of their Old Fashioned Chocolate Cake here.  
Location: 7 1st Avenue Southwest
Phone: (507) 280-6232
Hours: Daily 10:30  am-9 pm
Our Pick: For the veggie lovers – try Patron's Creation. It's a pasta dish filled with vegetables sautéed in olive oil. You also can't go wrong with a classic plate of spaghetti made with their homemade marinara sauce. 
---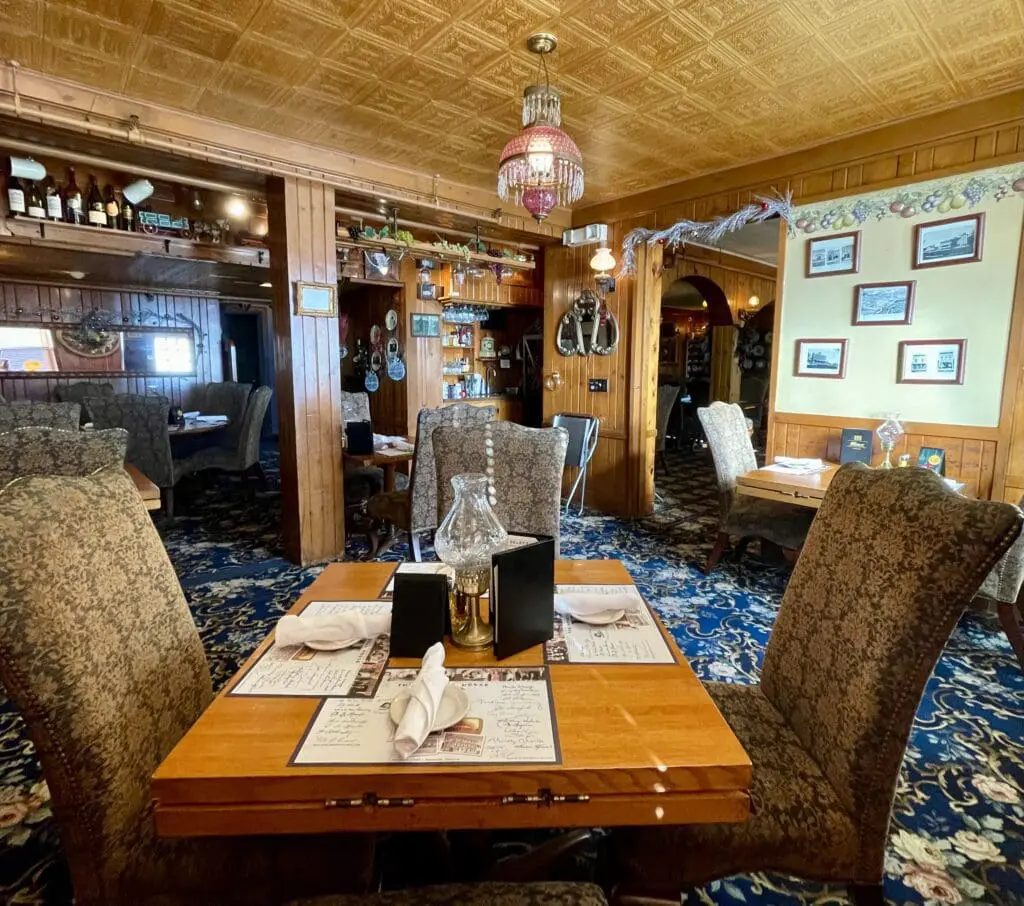 Iconic in the SE Minnesota dining scene, The Hubbell House is full of rich tradition and history. The Hubbell House sits stately on Main Street in Mantorville, just 20 mins from downtown Rochester.  First built in 1854, the Hubbell House served as the local saloon and guest house for those traveling West. Level 3 Sommelier Ruth Wendler pairs the signature entrees with a growing wine list and cellar. The menu includes supper club favorites such as steak, prime rib, shrimp, and some new flavors as well.
Location: 502 N Main St, Mantorville, MN 55955
Phone: (507) 635-2331
Hours: Weds – Thurs: 4 pm – 8 pm, Fri: 4 pm – 8:30 pm, Sat: 11:30 am – 8:30 pm, Sun: 11:30 am – 7:30 pm. 
Our Pick: Salmon Au Poivre Pasta is divine.  It features cavatappi noodles with pesto cream sauce, parmesan cheese, and cracked black pepper.  If you're looking for a delicious cocktail, The Hubbell House makes a delicious Old Fashioned, bonus if you drink it at the newly renovated bar.
---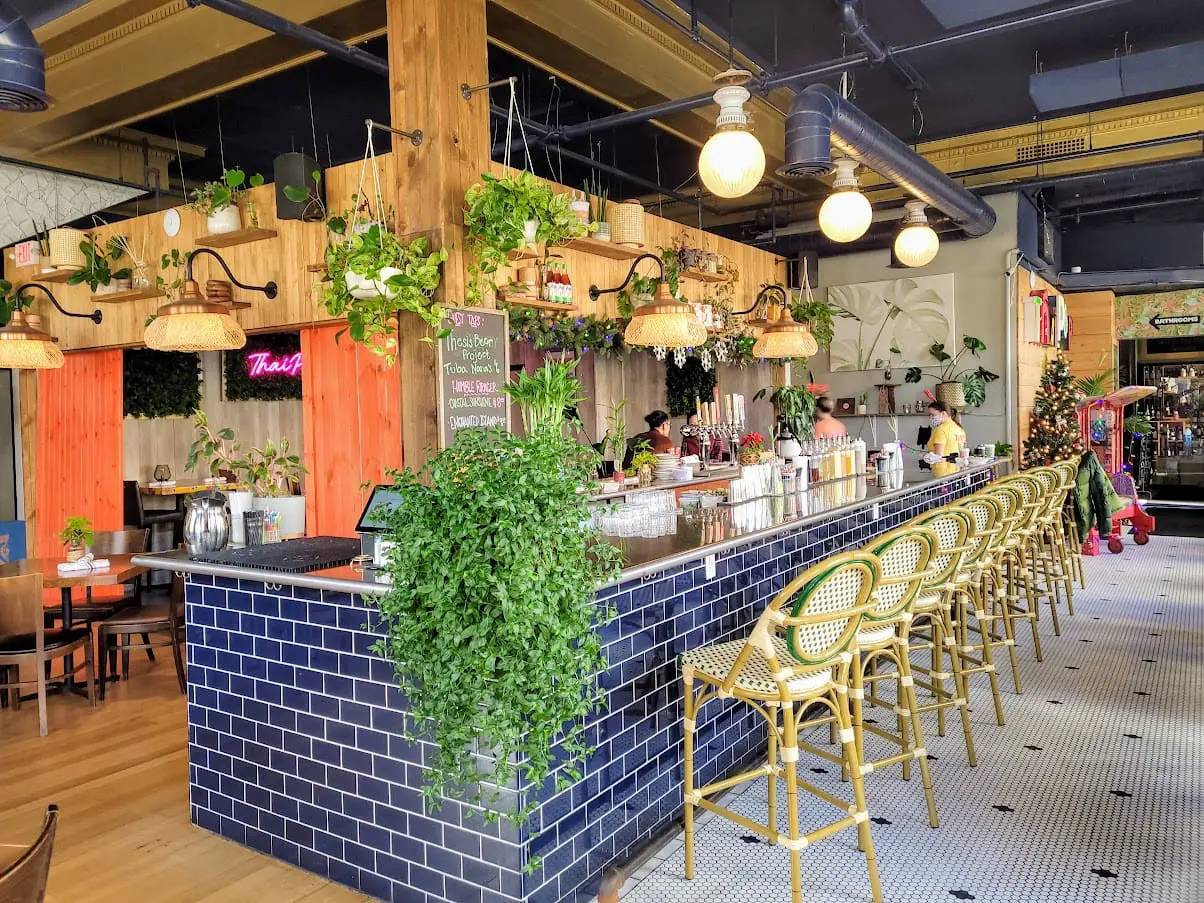 ThaiPop is an amazing flavor journey. You NEED TO check it out! As you enter the restaurant, you're instantly transported to another world, where culture and food come together to delight your senses. Greenery surrounds you and the eye-catching Thai décor adds to the fun atmosphere of the space. Don't forget to check out their signature drinks – and their mocktail menu too!
Location: 4 3rd St SW
Phone: (507) 226-8146
Hours: Monday 4 pm-9 pm, Tuesday-Thursday 11 am-9 pm, Friday and Saturday 11 am-10 pm, Closed on Sundays
Our Pick: The sprouts are a must-try at ThaiPop. Think a bowl of Brussels Sprouts but fried with caramelized palm sugar and fish sauce. For your meal, try the Yum Yum Wings, a favorite of many!
---
The Well is the newest restaurant from Powers Ventures.  This beautiful restaurant is located on 1st Avenue SW and features a stunning greenery wall to help provide the ambiance of well-being from Earth's natural elements. The Well's menu specializes in comfort food prepared with a unique style.  Entree specialties include Citrus Grilled Salmon, Lobster Linguine, Roasted Turkey Sandwich, and Ramen.
Location: 255 1st Avenue SW, Rochester MN, 55902
Phone: (507) 258-5001
Hours: Monday – Thursday, 11 AM – 10 PM, Friday – Saturday, 11 – 11 PM, Sunday, closed
Our Pick: Parmesan-crusted cauliflower on the Starters menu is top-notch.  So tasty!  You won't regret ordering these.
---
Our Paladar first started as a pop-up restaurant concept with various locations around Rochester.  However, in late summer 2023, Our Paladar opened its permanent location in the Historic Railroad depot on 4th Street SE.  Our paladar references Chef Nick's Cuban roots and the chef-run restaurants in Cuba in the 1990s.  These restaurants were run primarily out of the chef's homes and the menu varied and was based on market availability. Our Paladar offers housemade specialties such as gnudi, focaccia, pasta, and seasonal dishes based on availability and as the menu says, "whim."
Location: 20 4th Street SE, Rochester, MN 55904
Phone: 507-206-0483
Hours: Tues – Thurs: 4 – 10 pm, Fri – Sat: 4 – 11 pm, Sun: 2 – 9 pm, Mon: Closed
Our pick: Order the gnudi and you'll cry with delight.  Gnudi are gnocchi-like dumplings but are made with ricotta instead of potato and semolina flour.  They are light, flavorful, and so, so tender.  Be sure to order the focaccia to go with.
---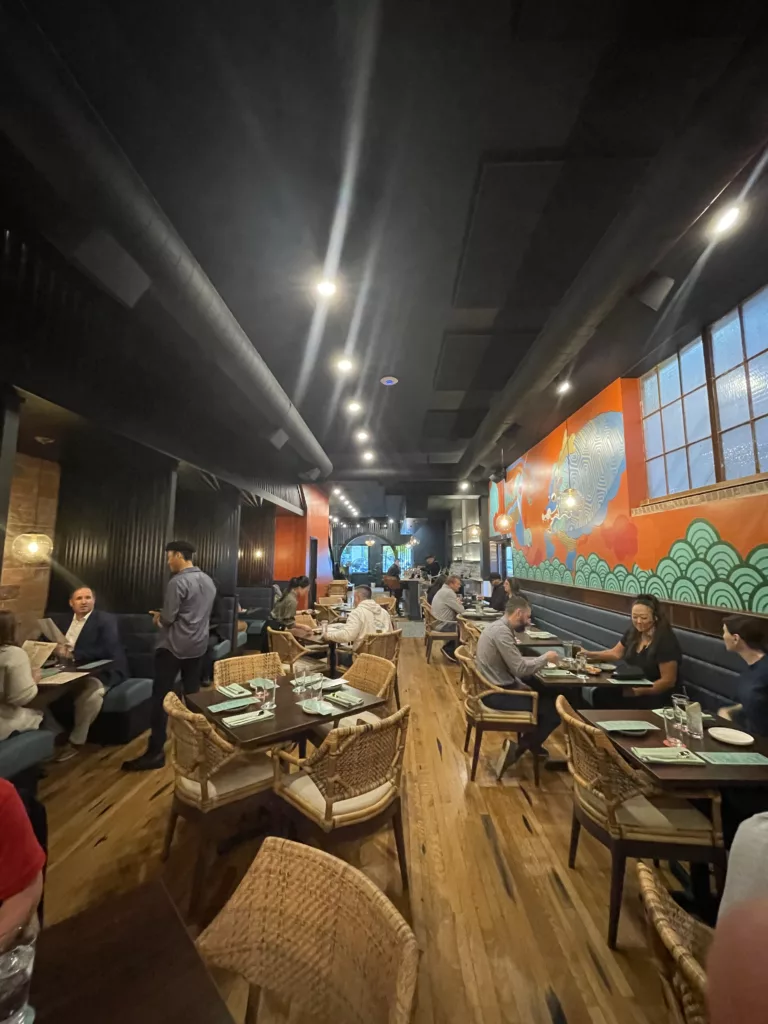 Bebap is Rochester restauranteur, Sammi Loo's, newest endeavor. She designed a menu full of dishes singing with color, flavor, and variety; a perfect addition to Rochester's ever-diversifying food horizons. Then she designed a space to match.
BEBAP's menu is seasonal, with recipes crafted for the late fall through winter, spring through summer, and late summer through early fall. Leading the pack of brothy, heart-warming recipes on the winter menu are dishes like kimchi-jjigae, a kimchi stew with pork belly and tofu and galbitang, a hearty, nourishing soup made with beef short ribs.
Location: 2216 1st Ave SW, Rochester, MN 55902
Phone: (507) 206-3009
Hours: Monday to Thursday – 11 a.m. to 10 p.m. //  Friday and Saturday – 11 a.m. to 11. p.m.
Our pick: dolsot-bibimbap – a dish of rice, veggies, egg, and red pepper paste served in a sizzling-hot, shallow stone pot which serves to crisp the rice's bottom and edges
---
Marrow also had its start as a pop-up restaurant underneath the restaurant that is now Thai Pop.  After searching for a few years for permanent space, Chef Justin and Sarah Schwenker moved into their new home at the corner of Broadway and 4th Street SE.  Chef Justin calls his food rich and flavorful and a combination of familiar flavors and dishes but with a fresh take or approach.  Marrow is housed in the Kelley building — a 164-year-old structure that has housed a saloon, a medical practice, and a law practice.
Location: 332 Broadway Ave S, Rochester, MN 55904
Phone: (507) 258-4184
Hours: Tuesday-Saturday: 5 – 10 pm
Our Pick: The Pistachio Crusted Chicken with flavors of sweetcorn, and apricot, accompanied with lobster tortellini is out of this world good.
---
We've got another basement restaurant on our list! There must be something about lower-level eateries that makes them feel romantic. The Redwood Room is cozy and intimate, with live music most weekends. It's the perfect place to spend quality time with the one you love. 
Location: 300 1st Ave NW 
Phone: (507) 281-2978
Hours: Tuesday-Wednesday 5 pm-9 pm, Thursday-Saturday 5 pm-10 pm, Sunday-Monday Closed
Our Pick: We chose the Apple Cider Pork entrée for the sweet-and-savory lovers out there! 
---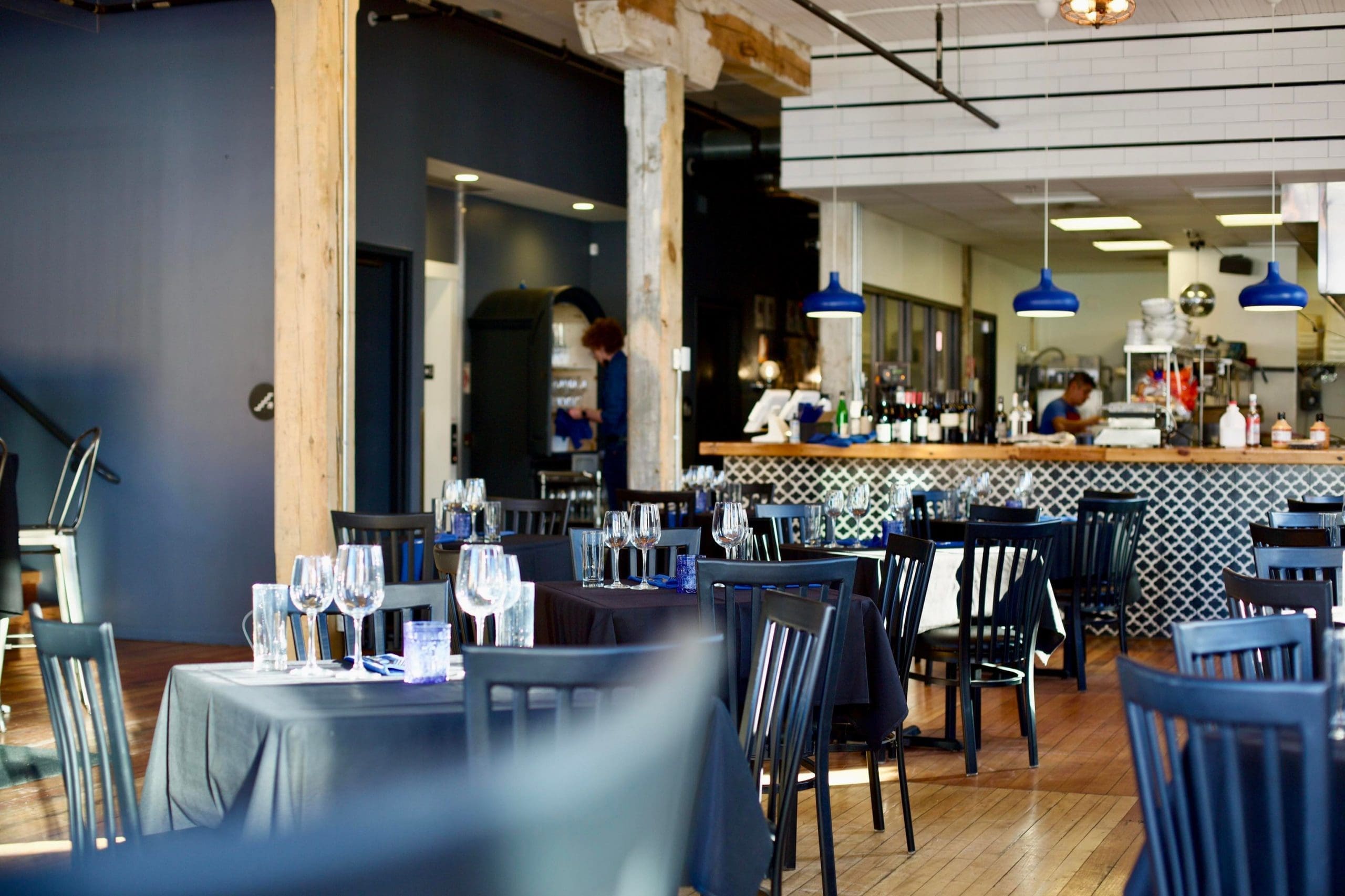 Bleu Duck Kitchen is located in the historic Conley-Mass building. The sophisticated character of the restaurant's interior shows the thought put into decorating the space. Don't forget to try to find the blue duck! An open-kitchen concept allows you to see the chefs preparing dishes. Bleu Duck has won best restaurant in 2019, 2020, 2021, 2022, and 2023. Go check them out!
Location: 14 Fourth Street SW
Phone: (507) 258-4663
Hours: Monday-Saturday 5 pm-10 pm
Our Pick: We think you'll love trying out Bleu Duck's oyster bar. They've got the freshest and largest oyster menu in Rochester. 
---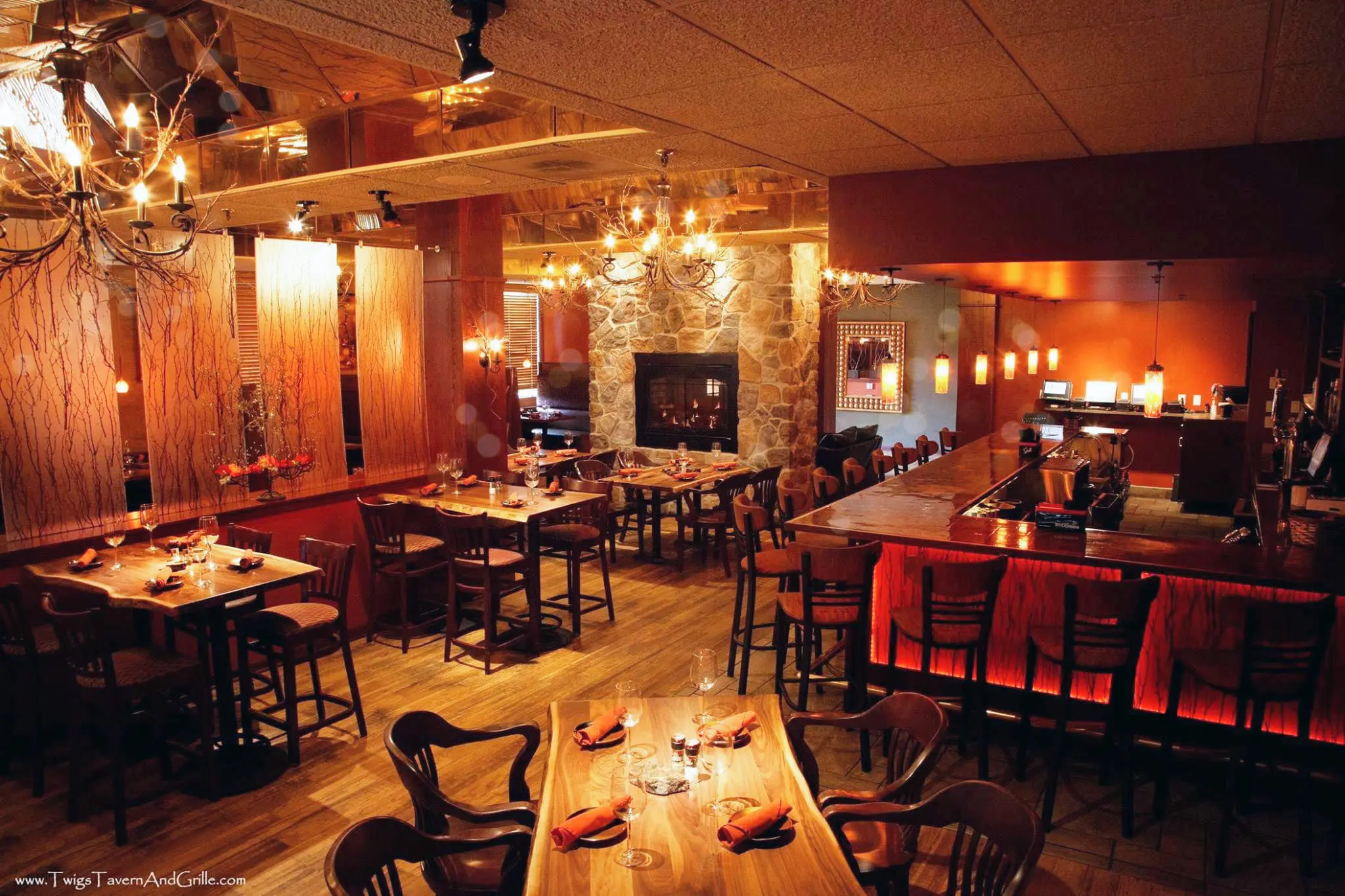 Twigs is a great place to spend a night out with a special someone. It has a warm and cozy feel that will make you happy inside. The space is filled with wood and the lights above resemble twigs…get it? Their outdoor space is beautiful in the warmer months. Whether you enjoy a few of their small plates together or get entrees of your own, you won't be disappointed. Twigs also have a gluten-free menu, with all items on it cooked in their separate gluten-free kitchen! 
Location: 401 6th Street SW
Phone: (507) 288-0206
Hours: Monday-Thursday 11 am-10 pm, Friday and Saturday 11 am-11 pm, Sunday 5 pm-9 pm
Our Pick: Check out the hot rock grilling menu. This experience is so unique, and is perfect for a date night! After you select your choices, your meat or seafood is brought to your table with a 650-degree rock – you get to cook and season your food how you like!
---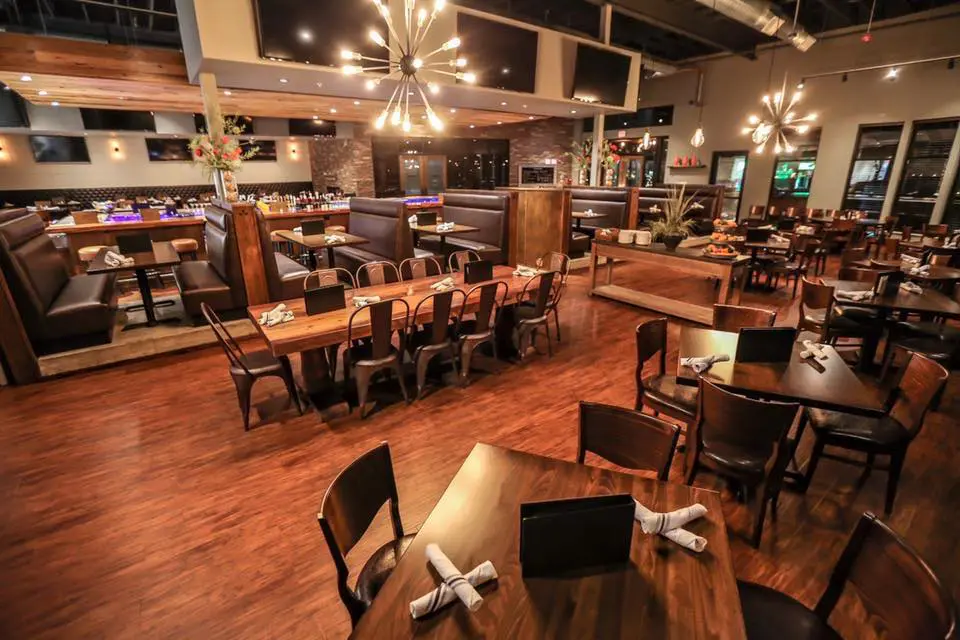 The expansive interior of Five West has room for all of the Rochester date-nighters to enjoy. Their open-ended booths are spacious, and the massive bar is ready for you to enjoy drinks before or after dinner. They also have a large outdoor seating area that has several different areas as well as its own bar. 
Location: 1991 Commerce Drive NW
Phone: (507) 361-5555
Hours: Monday-Friday 7 am-10 pm, Saturday and Sunday 1:30 pm-10 pm
Our Pick: If you're in the mood for a salad, we suggest the Blackened Chicken Quinoa. It's topped with mango yogurt dressing and a champagne vinaigrette. Leave some room for dessert – try the Chocolate Chippers! They also have different cheesecakes, so be sure to ask.
---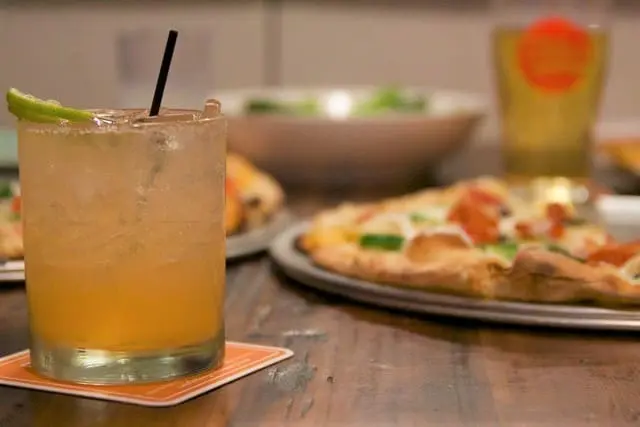 One of the many pizzerias that have popped up in Rochester, Tilda's is perfect for a cozy date for pizza lovers. The open layout of the space's interior is simple and charming, and the outside deck is great for when the Minnesota weather cooperates. Their wood-fired pizza is made with fresh ingredients and has a super tasty crust. 
Location: 300 1st Ave NW
Phone: (507) 361-3636
Hours: Monday through Sunday: 4:00 pm-9:00 pm
Our Pick: Tilda's has so many pizzas to choose from, that it's hard to pick just one! Why not create your own pizza using your favorite ingredients? Don't forget to try the s'mores dip for dessert. You can thank us later.
---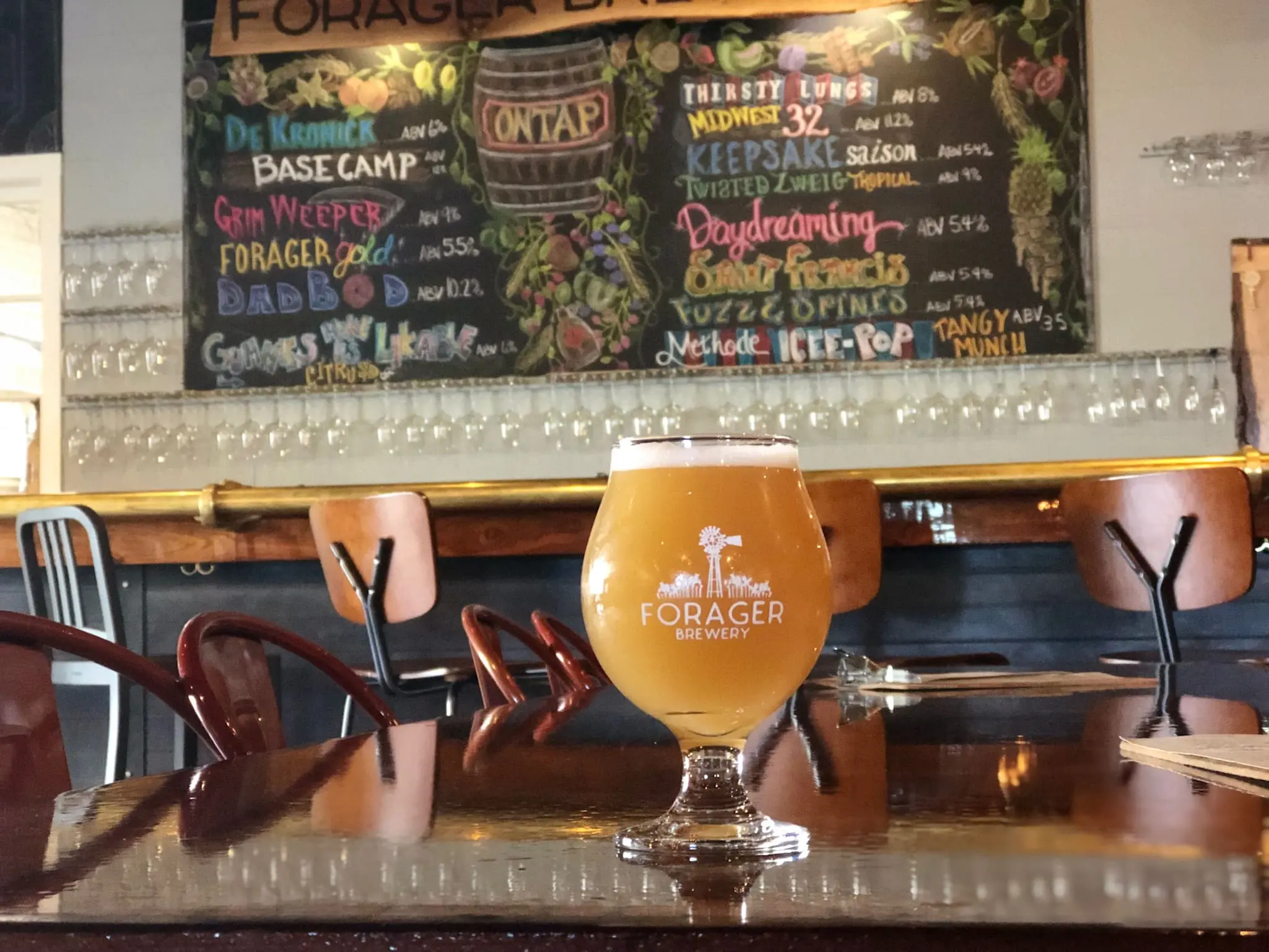 Forager Restaurant and Brewery is the perfect place if you're looking for a laid-back night out. This unique space has so much personality, and there's a piece of décor to admire at every turn. Check out the penny-covered tables, the wall displaying their beer labels, and the library room. Another great thing about Forager is the live music. Check them out on Facebook to find out who's playing, and when!
Location: 1005 6th St NW 
Phone: (507) 258-7490
Hours: Daily 11 am-10 pm
Our Pick: Try their newest menu item, the Blackened Salmon. Or go for a favorite of ours, the Cast Iron Mac and cheese, made with panko and kimchi! 
---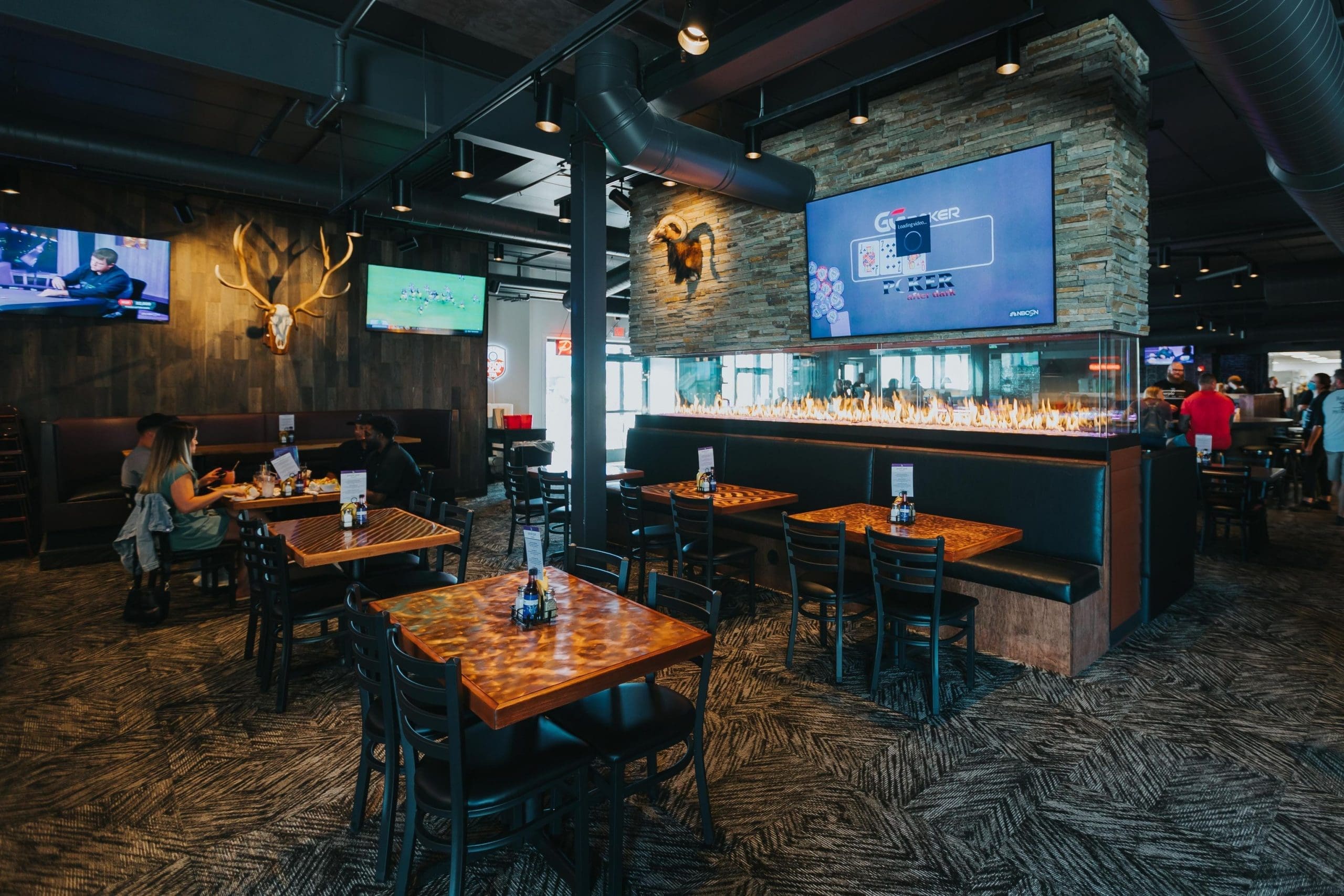 If you want to have a more casual date night, check out The Purple Goat. Inside you'll find a large seating area with tables and booths. The center fireplace gives the space a warm touch. The bar area has TVs, and there's a large patio area outside that's dog-friendly! 
Location: 3708 N Broadway Ave
Phone: (507) 361-5144
Hours: Sunday-Saturday 11 am-11 pm
Our Pick: Try the Strawberry Goat Salad, with candied pecans…yum! They also have a great drink menu, including punch bowl cocktails.
---
If an upscale steakhouse is your vibe, Pittsburgh Blue is the place to go. Located in the Hilton Hotel building, the quiet atmosphere is great for conversation, especially in their deep booths. They hand-cut their steaks and have an extensive wine menu. 
Location: 10 East Center Street
Phone: (507) 361-2560
Hours:  Monday-Saturday 4 pm-10 pm, Sunday 4 pm-9 pm
Our Pick: We suggest the Jumbo Shrimp Cocktail for starters and whatever cut of steak is your favorite, you can't go wrong! Try the Parmesan Fries as a side.
---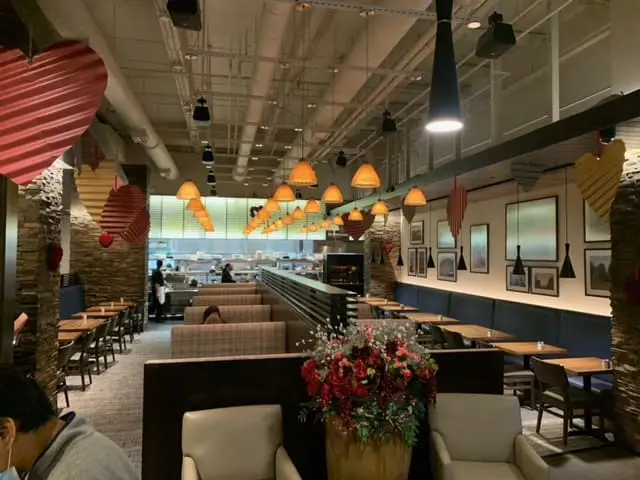 Located in the Heart of the City, this American eatery offers a variety of seating areas. There's a sophisticated indoor space with low lighting and two patio areas (one is indoors). When the weather is nice, the outdoor patio is available adjacent to the Peace Fountain with a great view of the artwork installations in the plaza.
Location: 11 Broadway Ave S. #108 in The Shops at University Square
Phone: (507) 424-1211
Hours: Monday-Thursday 10:30am-10pm, Friday 10:30am-10pm, Saturday 11am-10pm, Sunday 11am-10pm
Our Pick: If you're looking to share some appetizers, we suggest the Rotisserie Chicken Wings and the Bacon Mac and Cheese Balls!
---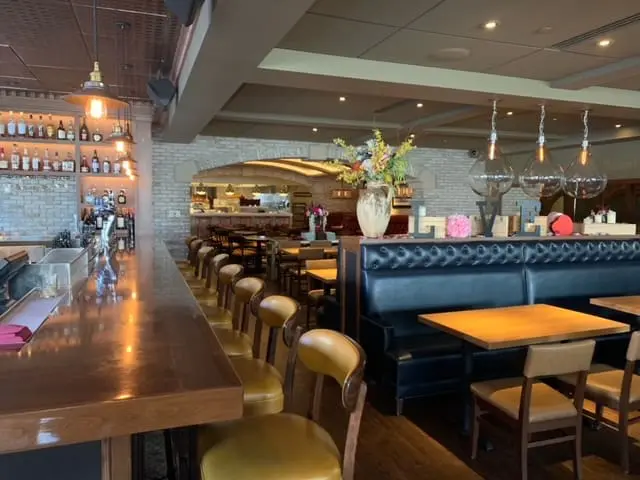 Located in downtown Rochester, Terza serves classic Italian food in an upscale space. The brick walls and arches throughout create an ambiance that's great for a date night. Their pasta is made in-house and they have an extensive wine list. 
Location: 30 3rd Street SE
Phone: (507) 216-9590
Hours: Sunday-Thursday 3 pm-9 pm, Friday and Saturday 3 pm-10 pm
Our Pick: The Jumbo Chicken Meatball appetizer is a must-try. We also suggest the Fettuccine Alfredo for dinner.
---
Located in the Heart of the City, this authentic Irish pub is a cozy place to spend date night. The interior is filled with mahogany and leather, stained glass windows, and various knick-knacks. The space was built to make you feel like you're sitting in a pub in Ireland. 
Location: 19 1st Ave SW
Phone:  (507) 258-4607
Hours: Sunday-Wednesday 11 am-10 pm, Thursday-Saturday 11 am-11 pm
Our Pick: It's hard to choose, but we think you'd enjoy a dish from the Traditional Fare section. They've got a fish and chips dish with Guinness beer-battered cod, and bangers and mash topped with their Guinness gravy.
---
At SMOAK you'll find modern Texas-style barbeque. The large industrial interior space has several seating areas including various high-top bar-facing sections, as well as open-ended booths, wall-adjacent booths, and lower tables. They also have a nice, open patio seating area for the warmer months.
Location: 2291 Commerce Drive NW
Phone: (507) 361-7427
Hours: Monday-Friday 11 am-10 pm, Saturday and Sunday 9 am-10 pm
Our Pick: We think you'll love everything at SMOAK, but if we had to choose a few starters for you, we'd pick the Brisket Burnt Ends and the Texas Twinkies (brisket and cream cheese stuffed jalapenos wrapped in bacon). Is your mouth watering yet?
---

Photo by CraveLocated at the top of the Hotel Indigo in downtown Rochester, their rooftop has great views of the city, and is open all year! In the warmer months, the roof retracts so you have an open-air experience like no other in town. 
Location: 220 Broadway Ave. South
Phone: (507) 512-3800
Hours: Monday-Thursday 7am-10pm, Friday 7am-11pm, Saturday 9am-11pm, Sunday 9am-10pm
Our Pick: We think you'll love the truffle parmesan fries. They also have various poke bowls and sushi!
---
Red Cow is Rochester MN's newest burger joint. However, it's Red Cow's unique take on the burger that makes the experience interesting.  The Red Cow is a modern tavern that elevates its burger and cocktail experience.  The bar at Red Cow just earned the Best New Bar title in Rochester for 2023!
Location: 220 Broadway Ave. South
Phone: (507) 361-7910
Hours:  Monday – Saturday: 11 am – 10 pm, Sunday: Closed
Our Pick: The Red Cow signature burger is the 60/40. Made with 60% certified Angus beef and 40% ground bacon patty and topped with Wisconsin-aged cheddar, beer mustard, and candied bacon – it's a showstopper!
---
It's all in the family at Sorrelina's.  Opened by cousins, Nadia Victoria and Jordan Victoria, the family's other restaurant is Victoria's Ristorante & Wine Bar (also on our list). While keeping a lot of Victoria's favorites, the menu has its own twist, thanks to the large pizza oven that is the focal point of the restaurant.
Location: 1155 16th St. SW, Rochester, MN 55902
Phone: (507) 516-0641
Hours:  Monday – Saturday: 11 am – 9 pm, Sunday Brunch: 9 am – 1 pm, Sunday Dinner: 1 pm – 8:30 pm
Our Pick: The pizza takes the cake here, and we love the Just Peachy pizza pie for a fun, fruity twist.
---
We hope you found one, or more spots for your next date night!  Have a favorite date night spot? Tell us about it in the comments!