Becky
Rochester Local was founded by Becky Montpetit. Rochester Local first launched as Rochester MN Moms Blog in October 2015 and then rebranded to Rochester Mom in early 2020 and now is now Rochester Local. Becky was born and raised in Rochester and considers herself a Minnesota girl through and through.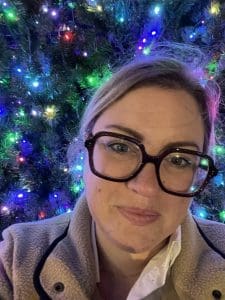 Best described by her friends as "secure in her uniqueness," Becky has never been one to turn down the more challenging and risky options in life.  A Harry Potter lover with a bad case of wanderlust, she's always looking for the next big adventure. This has served her well while looking for new and exciting resources in the Rochester area.
Becky is married to AJ: a bigger risk-taker than she is. They never ever stay out of trouble. Becky became a mother in May 2014 when their daughter Evangeline Rose was born.  Evie is constantly singing and moving, twinkles wherever she goes, and feels big: she's basically a walking Disney Movie. Evie became a big sister to Theodore Charles in December 2015. Teddy is equal parts super sweet and super hilarious. He makes grown adults laugh and cry with his humor and tenderness.
In a past career, Becky had the opportunity to see many corners of the world. For now, she is navigating the biggest adventure of her life: motherhood.  Her passion for her city and motherhood made it a natural combination to bring Rochester Local to the area.  Becky is driven to connect people to community and networks and she strives for the site to be a resource to encourage, equip and empower the moms of our unique city.
When not pursuing a new idea, you can find Becky baking an elaborate cake, hosting her friends and family in her 1960's vintage lower level, or exploring her beloved Rochester.  For more snapshots of Becky's life, follow her on Instagram.
[button link="mailto:becky@rochesterlocal.com" bg_color="#283747"]Email Becky[/button]
Read all articles by Becky here.
---
photo by Marit Williams Photography.