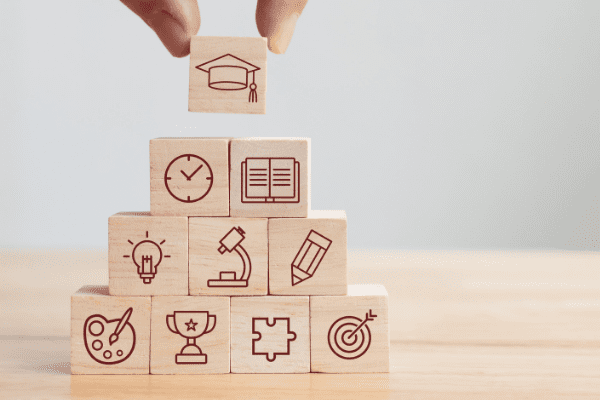 **updated January 2023**
Below is a comprehensive list of educational school options available in Rochester MN. We suggest asking about the experiences of your local friends, families, and neighbors as you begin the decision of choosing the option that's best for your family. We also recommend researching the schools that you are interested in. Talk with staff, attend an open house, arrange a tour, and talk with other families who attend.
Our Rochester MN Guide to Early Education provides a comprehensive list of educational options for children 5 and under.
---

Rochester Public School District 535 offers both 25 public schools, comprised of neighborhood schools and district-wide schools. Neighborhood Schools are assigned based on where you live and the boundaries set by the school district. Students are automatically enrolled at their neighborhood school when they are registered with the school district. You can find your neighborhood school here with the Find Your School feature on the public school's website. Registration for public school students is found in Room 124 of the Edison Building (615 7th Street SW.)
District-wide schools/programs are schools or programs located within the Rochester Public School District that may deliver the curriculum in a different manner than neighborhood schools. District-wide schools and programs are tuition-free for students. District-wide schools require an application for each child. The application period for incoming kindergarteners and sixth-graders begins each November for the following school year. It is important to remember that district-wide (sometimes referred to as "choice" schools) are not "better" than neighborhood schools, they simply offer a different curriculum than that neighborhood schools.
Applications are accepted through approximately the first week of January.  Applications are then entered into a lottery, and selected families are notified by phone during the second week of January. Though parents may apply for district-wide schools for their first-through-fifth graders, these grades are dependent upon the space available. There is no tuition cost associated with district-wide schools, and transportation is provided for eligible students. Siblings of current district-wide attendees are given preference in lottery selections. District-wide schools are listed below and are only offered for elementary ages (K-5) with the exception being Lincoln which houses K-8.
Public High Schools
Rochester Alternative Learning Center
Public Middle Schools
Dakota Middle School (Opening Soon)
Neighborhood Elementary Schools
Bamber Valley Elementary School
Churchill | Hoover Elementary School 
Franklin Elementary School (also a district-wide choice, see below)
Gage Elementary School (also a district-wide choice, see below)
Overland Elementary (Coming Soon)
Riverside Central Elementary School
Sunset Terrace Elementary School
District-Wide Schools
Gage Elementary School– Gage Elementary School's hallmark is a Spanish-immersion program, with 90% of a student's day spoken in Spanish. Students may be either first or second language English speakers. Coursework covers the same curriculum as the traditional program.
Longfellow Elementary School–Longfellow's calendar follows Rochester's only 45/15 schedule, which means that roughly 45 days of classroom instruction are followed by roughly 15 days of vacation. There is a six-week vacation in the summer. Longfellow promotes research-based teaching models that are able to meet the needs of various learning styles. It is a one-to-one technology school, and each student has an iPad for their use.
Lincoln K-8–Lincoln houses grades K-8. Its stated mission is to "empower and educate children in a family-oriented and creative community." The school offers integrated technology classes, an innovative science curriculum, and Spanish classes for all grades.
Montessori at Franklin–Franklin uses a Montessori approach to education, including individualized instruction, mixed-age groupings, a structured curriculum, and a prepared environment. Because Montessori is based on the internal motivation of a child, teachers are skilled at harnessing that motivation to enhance the child's learning.
Washington Core Knowledge–Washington uses a curriculum based on the Core Knowledge Sequence. It is described as "a rich and rigorous body of information in American and World history, geography, science, literature, music, and art." Teachers utilize a variety of instructional methods, and a "character education" program is incorporated into each school day.
---

The Alternative Learning Center in Rochester provides a setting for high school education if a student has not been successful in another high school environment. The ALC offers varying programs and resources to meet the needs of any learner.
Apex Recovery Program – This is a program for students in grades 9-12 who are committed to sobriety, and have either recently completed addiction treatment or have been sober for at least 20 days. Classes are held Monday-Friday from 9:40-3:35, year-round.
Bridge – Success Lab provides independent learning at individualized levels for students. Immediate feedback creates an opportunity for greater learning potential and credit recovery. This setting also allows for a quieter learning space and shortened school day.
Day High School – This is the 10th-12th-grade program of the RALC. Students are either referred by their home school or come directly from the 9th grade Bridge program. The program offers a vocational and career emphasis, as well as independent study options for students over the age of 16. The day school also supports parenting students, and there is a licensed child care facility on site.
Night School – Night School is for students in grades 10-12. Classes are held at the RALC from 4-7 pm Monday-Thursday. Students must be at least 16 years old, work a minimum of 20 hours per week, and have successfully completed all 9th-grade coursework.
Phoenix Academy – Rochester Phoenix Academy fosters and promotes personal and academic growth for all students by establishing high academic and social expectations for individual student involvement within the global community. Phoenix Academy is a setting 4 special education site that provides programming for students with disabilities and intense mental health and behavioral needs. Programming is designed to meet mental health, behavioral, and academic needs in students K-12 grades.
Rochester Academy for Independent Living (RAIL) – Rochester Public Schools offers Rochester Academy for Independent Living (RAIL) to help young adults with disabilities integrate into the community and work settings. The program's goal is to assist the adults at RAIL in developing the independent living and social skills needed to become active, productive, and integrated members of their community.
---
Rosa Parks Charter High School – Rosa Parks (formerly Rochester Off-Campus) is a charter high school. There is no tuition cost associated with charter schools. To enroll, students must submit an application and schedule an interview with an administrator. Rosa Parks is considered a project-based learning environment, in which students pursue their own interests and demonstrate their learning through projects. Students are still responsible for fulfilling all of the Minnesota Academic Standards but do so in a way that best supports their own learning styles. Rosa Parks follows a schedule similar to that of Rochester Public Schools.
Rochester Math and Science Academy – RMSA is for students in grades K-8. Like other charter schools, there is no tuition cost for RMSA and is approved by the Minnesota Department of Education. RMSA has a specific vision to meet the needs of students who have newly arrived in the United States and promotes a diverse, respectful environment.
Rochester Beacon Academy – RBA is open to students in grades 7-12 for the 2017-2018 school year. The school provides general education while providing necessary supports to transition students to young adulthood. RBA includes students with executive functioning challenges such as organization, socialization, and sensory differences.
Rochester Stem Academy – Located in a city known for its medical and technology industries, RSA is among the very first STEM high schools in Minnesota.  RSA creates multiple community partnerships to expose its students to STEM through internships, apprenticeships, mentorships, field trips, specialized programming, enrichment, and by continually bringing specialists working in STEM fields into its classrooms.
---

Homeschooling gives parents the ability to choose the curriculum they feel is the best fit for their child, as well as the ability to set their own schedule. Although parents choose their own curriculum, there are homeschooling groups and co-ops in Rochester to provide social outings and additional education opportunities. Some of these resources are listed here.
Christ Community Church Homeschool Co-op – This co-op offers 6-week course sessions, taught by individuals in the community, for children in preschool through 8th grade. Courses include art, science, public speaking, history, and more. Fees for the courses vary, depending on the age of the child. Members of the co-op may also participate in a parent support group and field trip opportunities.
Learning Together Rochester – Learning Together Rochester is a secular, liberal homeschool group that holds monthly parent meetings, weekly playdates (often on Thursday afternoons), and a variety of other activities and field trips.  Interested parents can search for our Facebook group to learn more.
Classical Conversations – There are 4 Classical Conversations communities in Rochester. These communities are for parents who utilize the Classical Conversations homeschool curriculum and meet weekly at various local churches. The Classical Conversations mission is to "Know God and make Him known". During weekly sessions, trained parent-tutors model skills and facilitate activities. Students are given an opportunity to complete academic work with others, and the group also provides support to parents. Fees are associated.
RAACHE –  Rochester Area Association of Christian Home Educators is a group of about 200 home-educating families working together as a Minnesota non-profit corporation.  They offer a choir, homeschool graduation ceremonies, science fairs, and many other cooperative learning experiences.
---

Ambassador Academy–Non-denominational Christian education for grades K-6.
Faith Christian School-Small, non-denominational Christian education for grades K-12.
Rochester Arts and Sciences Academy– RASA provides the International Baccalaureate Primary Years Programme (IB PYP) for preschool (age 3) through 6th grade (grades 7th and 8th will be added in 2023 and 2024). IB schools aim to develop inquiring, knowledgeable, and caring young people who are motivated to succeed. 
Rochester Catholic Schools – Rochester Catholic Schools includes 4 elementary/middle schools (grades PreK-8) and 1 high school (grades 9-12). These include Holy Spirit Catholic School, St. Francis of Assisi, St. John, St. Pius X, and Lourdes High School.
Rochester Central Lutheran School – Grades PK-8.
Resurrection Lutheran School – Grades PK-8.
Rochester Montessori School – Rochester Montessori School provides Montessori education for ages toddler (18 months) through 8th grade.  The Middle Years Program (grades 6-8) is an authorized International Baccalaureate World School, which means it has passed the authorization process and meets the high standards of the International Baccalaureate Association.
Schaeffer Academy – Non-denominational Christian education for grades K-12.
Seeds of Wisdom – Non-denominational Christian education for grades K-6. Also offers daycare and preschool programs.
Victory Christian Academy – Baptist education for grades K-12.
As always, please let Rochester Mom know if you have additional educational resources to add to this list by emailing us at info@rochestermom.com Although decisions about your children's education feel overwhelming, remember that you know your child best. Research, listen to others, and then make the best decision you can with the information you have.