This post may contain affiliate links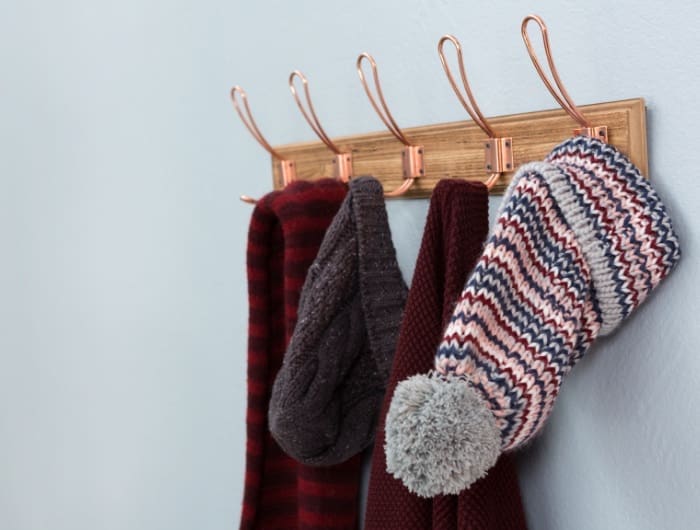 As a Minnesota transplant, I was unprepared to truly navigate the Minnesota winter experience. However, 17 years later I have come to embrace the truth of the saying, "There is no such thing as bad weather, just bad clothing!" New to Minnesota or looking to improve your winter gear game? Here are some tips and a round-up of Rochester Local personal favorites!
Note: Dressing for a Minnesota winter can be a bit pricey. Winter coat hand-me-downs between friends and neighbors are a great way to save some money.  A lot of kids will only wear their coats for 1-2 seasons before needing the next size.  Be sure to check Facebook Marketplace and some of the children's consignment shops (Once Upon a Child and Children's Exchange) as well as some of the second-hand stores around town…we regularly find incredible deals at these shops!
Layers, Layers, Layers
Layers are your friend. Whether you are heading to work, running errands, or grabbing dinner with friends, living in Minnesota means there will be days your body has to be comfortable at -20℉ and then at 75℉ a few minutes later! Dressing in layers lets you transition between indoor and outdoor temperatures comfortably. This also works if you are recreating outdoors and working up a sweat midway through that cross-country ski adventure.
The Bottom Layers
Base Layers and Thermals
If retaining heat is your goal you are going to want a nice pair of thermals in your drawer. If it's in your budget, merino wool will both wick moisture away from your body and help you retain heat. This is important if you will be active outdoors. If simply retaining heat (think sitting in the bleachers) is your goal and you won't be working up a sweat there are many synthetic options that will do nicely.  Pick base layers that are formfitting so that you can easily layer other pieces of clothing over the top, but don't make them skintight. You want to be able to move comfortably while wearing them.
Favorites: 
Pants
If you plan to hit that sledding hill with the kids you will want a pair of waterproof pants. You can either choose a traditional style of snowpants which combine a warm layer with a waterproof one or choose just a waterproof pant to layer over your base layer and regular pair of pants. Bonus of the waterproof pant option is that when spring and warmer temperatures come they are useful for continuing to get outdoors during the thaw and keeping dry while exploring.
Favorites:
The Middle
You will want a few staple midweight items for your upper body in your closet to get you through the season. While a traditional style sweatshirt will do, consider adding a few items that offer a quarter or half-zip. This allows you a bit more control of airflow without completely removing your outer layer when outdoors. 
Favorites:
The Coat
There are two items that you will want to invest in and this is one of them. Many Minnesotans swear by the down coat as it offers maximum warmth with minimal bulk. However, there are many great synthetic options on the market. Things to consider when selecting your coat are: length, pocket accessibility, hoods, zippers, and vents. Want to feel like you are wrapped in a blanket when you brave February? Choose a longer coat. Need to be able to move around easily outdoors? You might want a coat with a two way front zipper and side vents that can be opened and closed. Another great feature is a detachable hood so that you have the option of removing the weight and bulk of the hood (especially while driving!) and packing a hat instead. 
Tip: Many retailers have their coats discounted for the season by December. If you are looking to replace a coat you can get great deals after the Christmas season. 
Favorites:
The Boots
This is your other investment piece. If your feet are cold, the rest of your body won't matter. Minnesotans adopt an entirely other mentality when it comes to "fashion" and feet in the winter! It is perfectly acceptable to tromp into a formal event dressed to the nines and sporting your winter boots. In fact, expect the coat closet to be full of them as women switch to heels upon arrival! There are many choices here, but important considerations are how much of the boot is waterproof, weight and the height of the boot itself. It is not uncommon to encounter snow in a parking lot that comes up to your knees so take that into consideration when making this purchase. If you plan to get outdoors for winter walking you will want a warm, fully waterproof, and lighter-weight boot. 
Favorites:
The Socks
Just like the rest of your body, layers on your feet are also important. Wool socks in a variety of weights will get you through most of the season. The add warmth, wick away moisture, and come in a variety of colors, styles, and weights. 
Favorites:
The Accessories 
Hats, gloves, mittens, scarves, gaiters, fleece-lined leggings, flannel lined jeans, oh my! Can we just say that we are eternally grateful to whoever made the blanket scarf a thing?!?! 
Favorites:
Favorite local businesses to find warm winter gear: