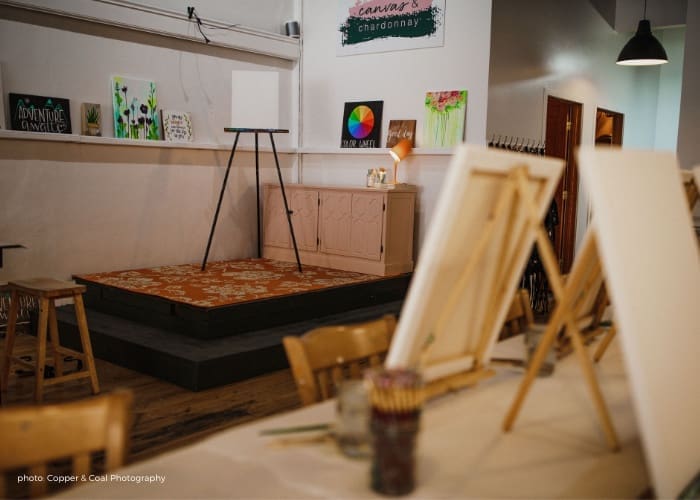 photo: Copper and Coal Photography
This post was updated in March 2023. 
Are you interested in creating or exploring art or dancing, or looking for a new way to express your creativity? Rochester MN has a wide variety of creative outlets available for visitors and residents alike. Our community encourages you to challenge yourself and push your creative boundaries to see what you're capable of through art exploration. Since creativity comes in many forms, your imagination has the power to take you anywhere. Try one (or all!) of these options and see for yourself. You may even relieve stress while finding new hidden talent!
---
317 S Broadway, Rochester, MN // (507) 319-0117
Studio art sessions are so much fun! From flower pressing to canvas art, you can find a class that's right for you! Check out the calendar of events
here
. Art Heads Emporium offers a wide variety of creative things to do, local art pieces for purchase, and unique classes to participate in. You get all the materials needed to create a unique piece of art along with a demonstration! Check their
website
 for more information.
30 Civic Center Drive SE, STE 120, Rochester, MN 55904
Fridays and Saturdays, 11:00 – 2:00 PM* through Friday, May 26, 2023 (no open studio May 27)
Drop in for an entree of creative projects or bring your own supplies and projects to the Rochester Art Center! Open Studio offers a community space for informal arts exploration. It's a great place to meet other creatives and art enthusiasts and experiment with different ideas and mediums. 
Cost: Open Studio hours are included with regular daily admission; Members and youth (21 and under) are invited to participate at no cost.  Youth ages 15 and under must be accompanied by an adult.
222 S Main St, Pine Island, MN 55963 // (507) 351-3684
Miss Angie's place seeks to be a place to feel safe, secure, and wanted. Miss Angie's Place is focused on 4 PILLARS that have been with the owner throughout her life: Art, Nature, Spirituality, and Movement. Read more about Miss Angie's Place here.
Neon Green Studio has a large variety of take-home art kits readily available to order now. Additionally, they provide Art Parties and a pop-up art cart during the summers in downtown Rochester MN!  Check the
website
 for more information to order.
Gallery 24 is a non-profit collaborative fine art gallery in Rochester, MN with both 2D and 3D art. They support local artists through showcasing their work and community education. Their
calendar of events
includes opportunities to create art through classes led by various artists.
Paint your own pottery
, on your time, in the comfort of your home!  Jessica provides you with everything you need to create beautiful painted ceramic creations.  Choose what you'd like to paint from her 
huge collection
, 
pick your glazes
, and then pick everything up from her studio in SE Rochester! Once you've finished painting, return to Jessica to be fired in her kiln.  She'll let you know when it's ready for pick-up!
424 1st Avenue SE, Stewartville MN
Craft Lab is the perfect place to get creative, have fun, and get messy with your kids! Each class offered at Craft Lab provides children with creative learning adventures and hands-on exploring of the materials used.
Are you looking for a new option for a night out with friends? Are you ready to DIY a fun new project without having to buy all your own supplies and make a mess at your house? Then get ready for  Board and Brush, where you can create your own wood sign in one of their workshops. Check their calendar!
30 3rd St SW, Plainview, MN  // (507) 244-1942
Offering a place for artists looking to expand their reach and enhance their skills, The Cre8tive Place is a place like none other! Purchase Art Kits from a variety of different artists, who provide art tools, supplies, and step-by-step intstructions to make your own project at home.
Art Entertainment at its finest! 
Wine and Canvas
 offer classes with detailed painting instructions from local artists while guests enjoy an adult or non-alcoholic beverage. All supplies are provided and guests leave with their own masterpiece. Check the 
events page
 of their website to find the next painting session!
608 18th St SW, Rochester, MN // (507) 884-9166
Join Willomina in her art studio where she hosts art classes for people of all ages!  From summer art classes to adult classes, homeschool options, parties, private instruction, and more, Willomina truly has something for everyone.  Her whimsical style will leave you smiling and inspired.
The Rochester Public Library is an incredible resource for our community.  Not only do they provide so many useful services for adults, youth, and children alike, there are so many opportunities for children and adults to create!  Kids can stop by their art room to color, draw, paint, and cut & paste to their hearts' delight. Oftentimes, there are special projects that families can attend.  These are posted on their event calendar.
125 LIVE is a state-of-the-art facility designed specifically to focus on the diverse needs of individuals 50+ in Rochester MN while also providing wonderful all-age community opportunities. Registration is required to attend classes and events at 125 LIVE, but there are several creative groups you could attend. For example, woodcarvers, quilters, and knitters all have weekly/monthly gatherings. Check their calendar for in-person and virtual offerings.
Jill at 
Riverwood Studio
offers youth art classes, drama classes, summer camps, adult and family classes, and more!  She also has a special monthly adult art class calendar.  Jill's passion is for helping people of all ages build skills and broaden artistic experiences in a relaxed, cozy, collaborative environment.
Learn to dance and change your life! Blue Moon Ballroom offers private lessons for couples or singles. Blue Moon Ballroom also hosts several dance events each month. Check their website for more details!
Learn to Social Dance! Dancing is a creative and fun way to stay fit and healthy. At Dahl Dance, you will learn a new skill and make some great friends along the way! There are a variety of classes, private lessons, and even wedding couple options to choose from.
1219 2nd Street SW, Rochester, MN // (507) 398-8439
Sweet House Bakery is a delicious bakery offering baked goods at several locations around the Rochester Area. They also do themed cake-decorating classes. Check their Facebook page for more information regarding upcoming cake decorating classes.
This post was originally published in September 2018.