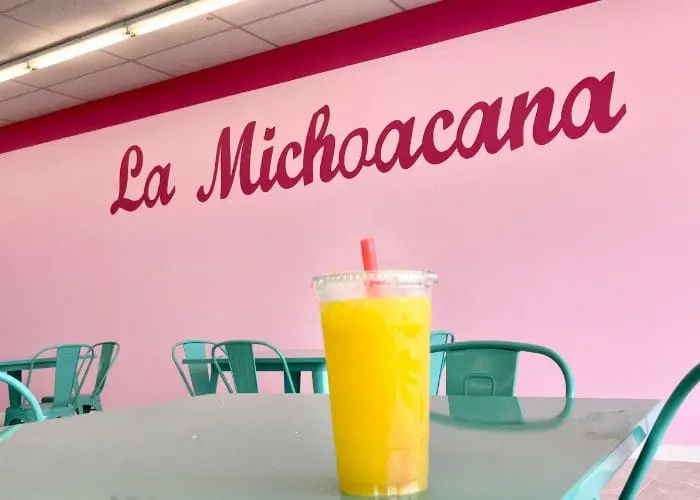 La Michoacana Purépecha
Location: 28 9th St SE, Rochester, MN 55904
Hours: 10 AM – 9 PM, everyday
La Michoacana Purépecaha is now open in Rochester MN! This shop is a paleteria…a super popular type of ice cream shop in Mexico.  If you're unfamiliar with this type of shop, let us help you get familiar.  Settle in and get ready for a gastronomical feast!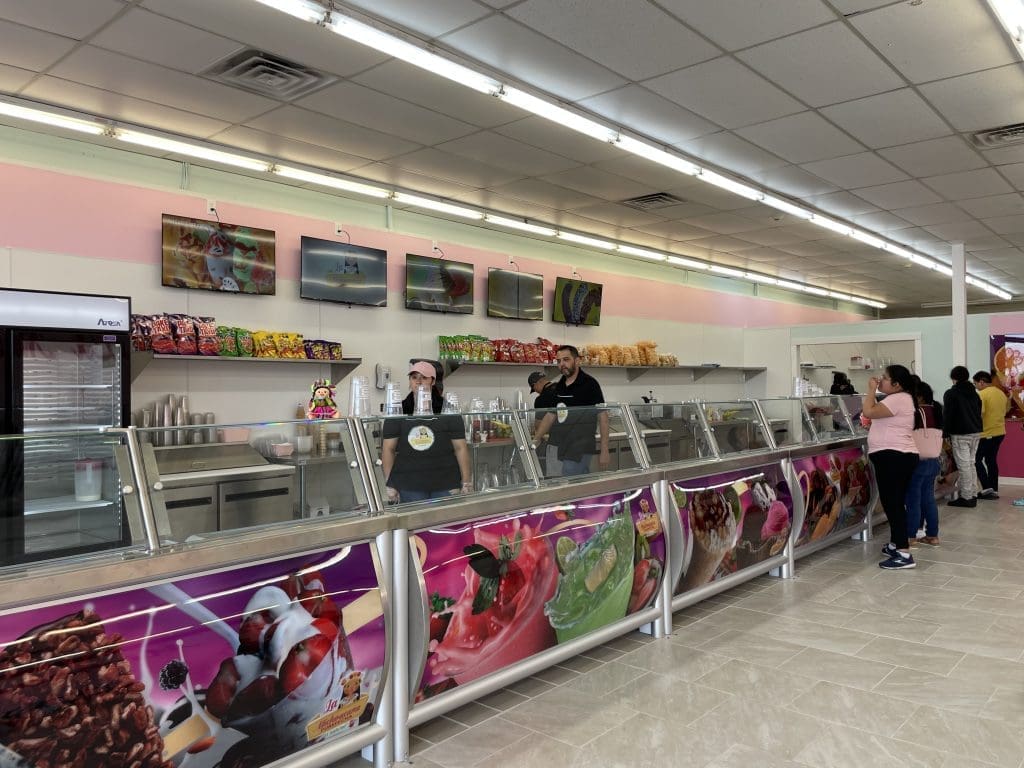 First, the origin story. What is a Michoacana?  To sort out the origins of La Michoacana, we need to know about the paleta. Paleta can be translated into English as "popsicle." The word "paleta" is derived from the Spanish word for stick – palo.  By most accounts, two enterprising men from Tocumbo in the Mexican state of Michoacan brought the concept of a paleteria (a shop that sells paletas) to Mexico City. Their shops became popular, and soon they were lending money to friends and family to open up their own shops in their home state of Michoacan, and then those shop owners did the same.  Soon, there was a network of paleterias all across Mexico that could trace their beginnings back to Tocumbo.  This is how Tocumbans in the state of Michoacan became known as the "popsicle kings of Mexico."
La Michoacana is used to describe a paleteria in the same way that we use "Kleenex" for facial tissue.  In the case of the newly opened Rochester MN shop, Purépecha is the name of an indigenous people group centered in the northwestern region of Michoacán, Mexico.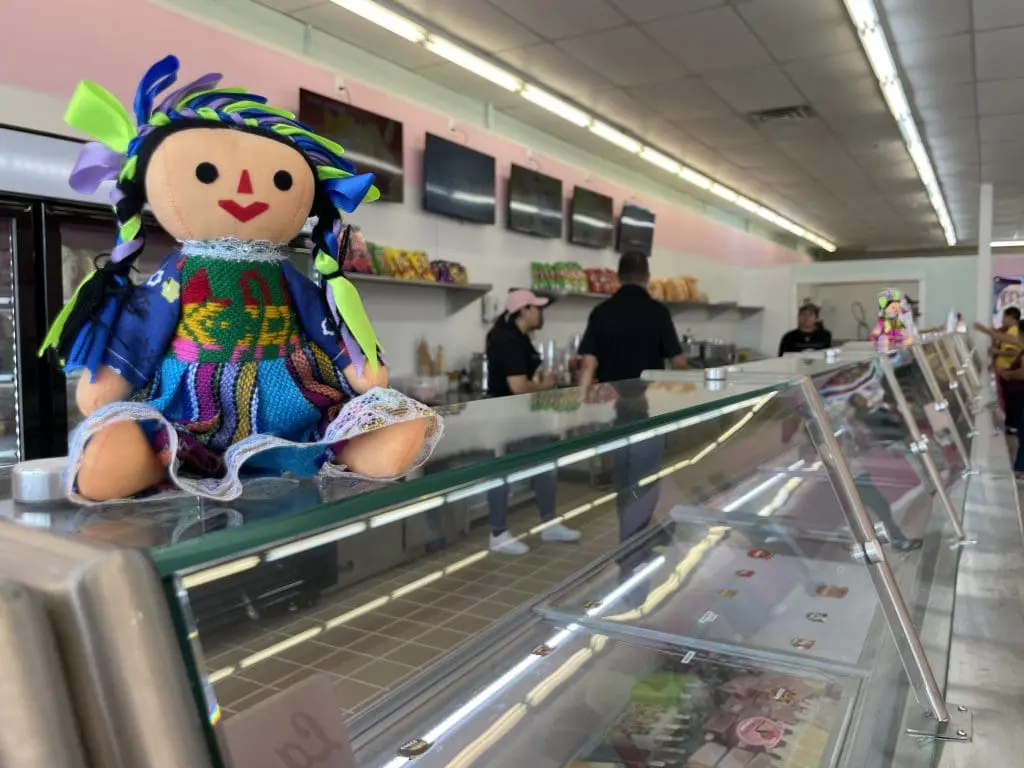 La Michoacana Purépecha is a new location from the super popular stores of the same name in the Twin Cities area.  Make sure you are following the local La Michoacana Purépecha Facebook page to stay up to date on all locations.
The best part of La Michoacana is everything. There are literally countless options of amazing things to eat. And it's not just limited to ice cream!  Below, we'll give an overview of some of the most popular menu items. Keep in mind that nearly everything is customizable. Want a paleta but want it dipped in chocolate? Done!  How about toppings? No problem! Amazing ice cream concoctions are their specialty.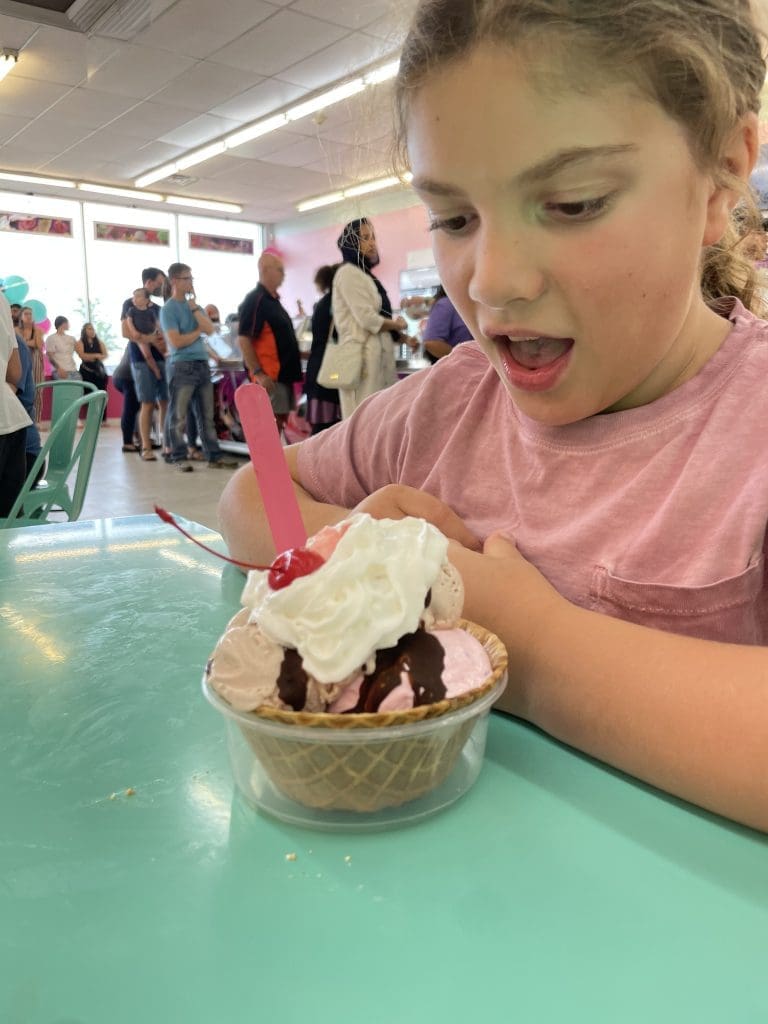 Mangonadas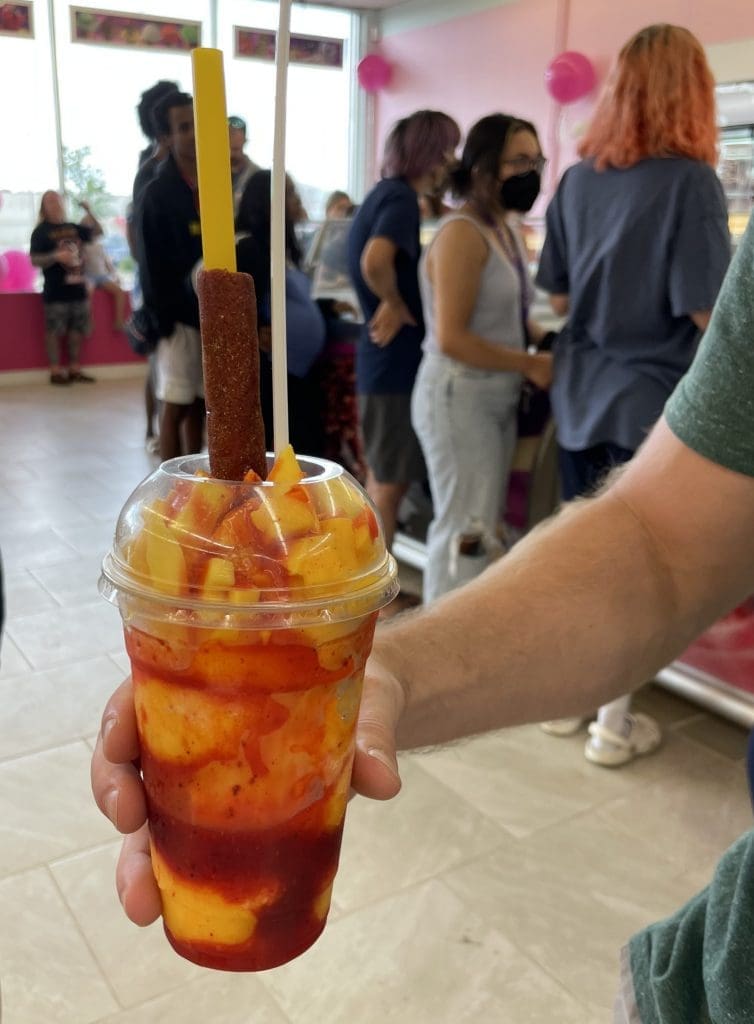 Probably the most well-known menu item at La Michoacana Purépecha. A Mangonada is a layered fruit and icy treat made with mango sorbet, agua fresca, fresh mango, Tajín, chamoy, and a tamarind straw.  It covers all the flavors!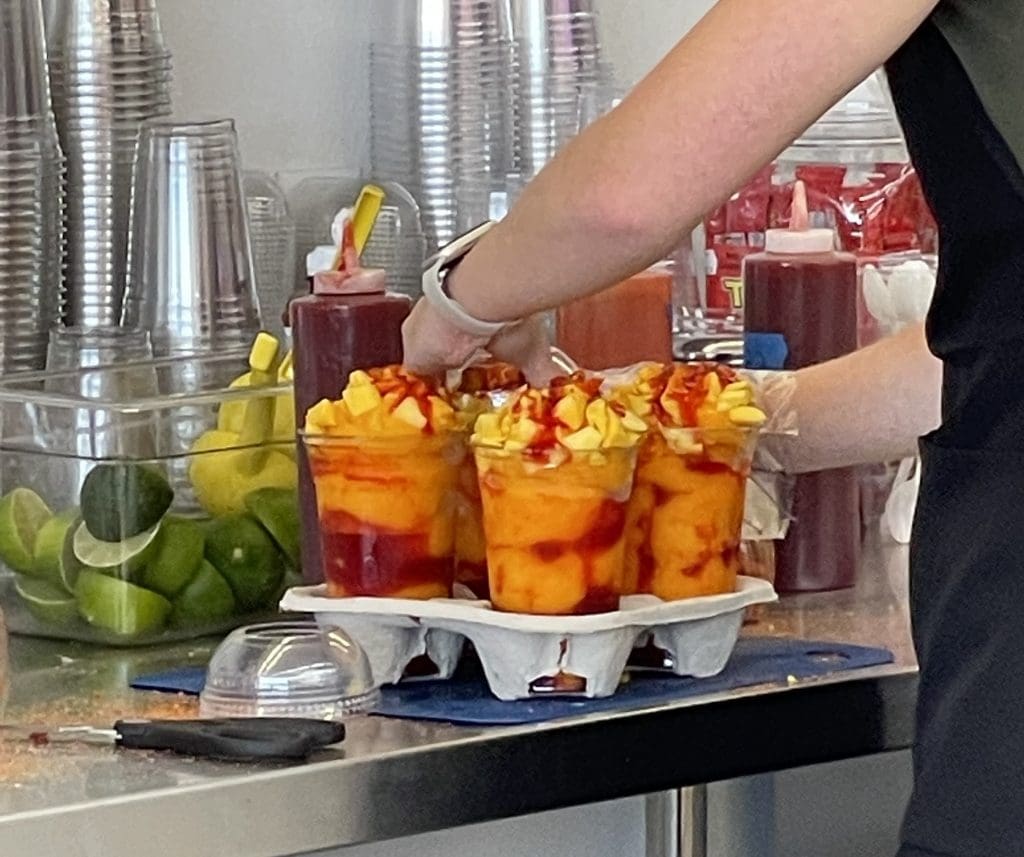 Paletas
Again, you have options.  There are paletas de agua (popsicles made with water) and paletas de crema (popsicles made with cream). There are super amazing flavors like Spicy Watermelon, Chamoy, Cucumber, Pineapple Cheese, Melon, Guava, and way more.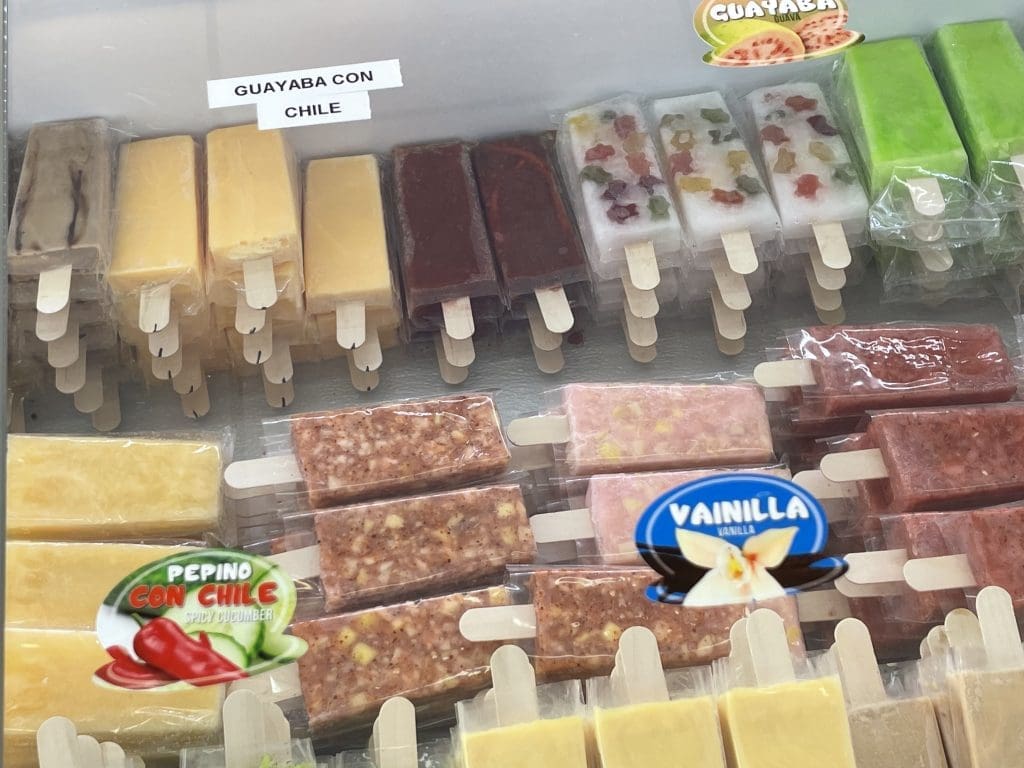 Esquimales
Choose one of the paletas above and ask for it covered in chocolate (like Magic Shell) with any sort of topping you'd like! They've got sprinkles, nuts, coconut, granola, and more.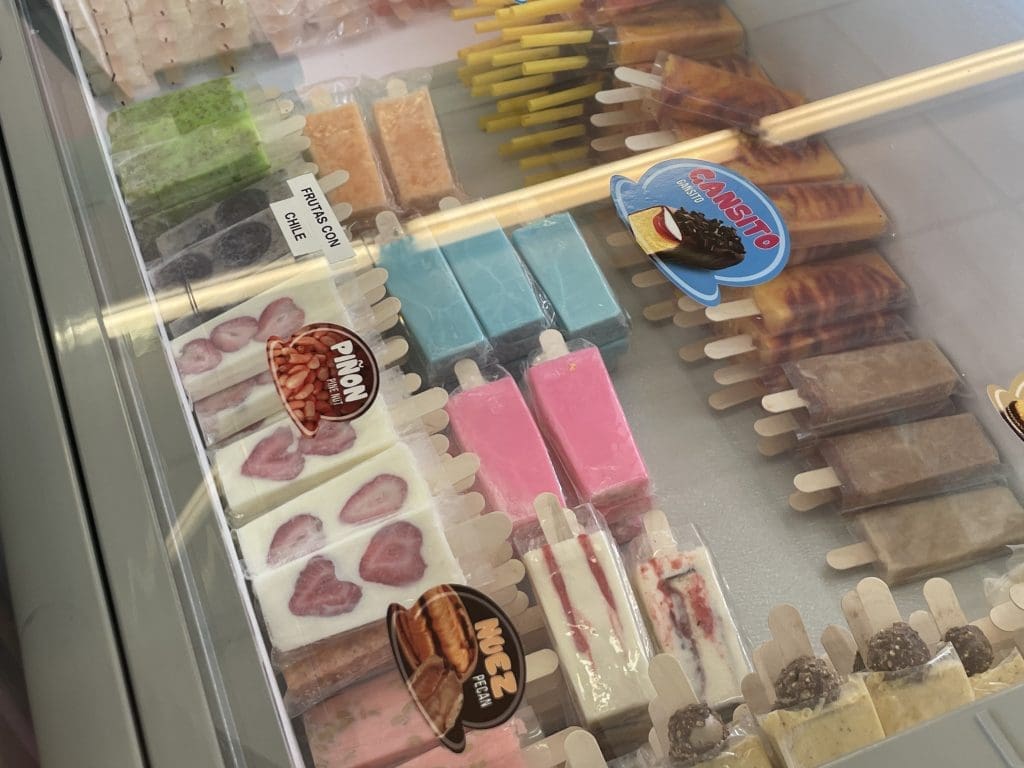 Chocobananas 
Everything you just read about paletas and esquimales above…just swap out the paletas for frozen bananas!
Aguas Frescas / con Leche (Milk)
Aguas Frescas are super popular throughout all of Mexico. They are simply made by blending fruit with water, a little bit of sugar, and some lime juice.  They offer a huge variety of flavors and also offer them made with milk or cream.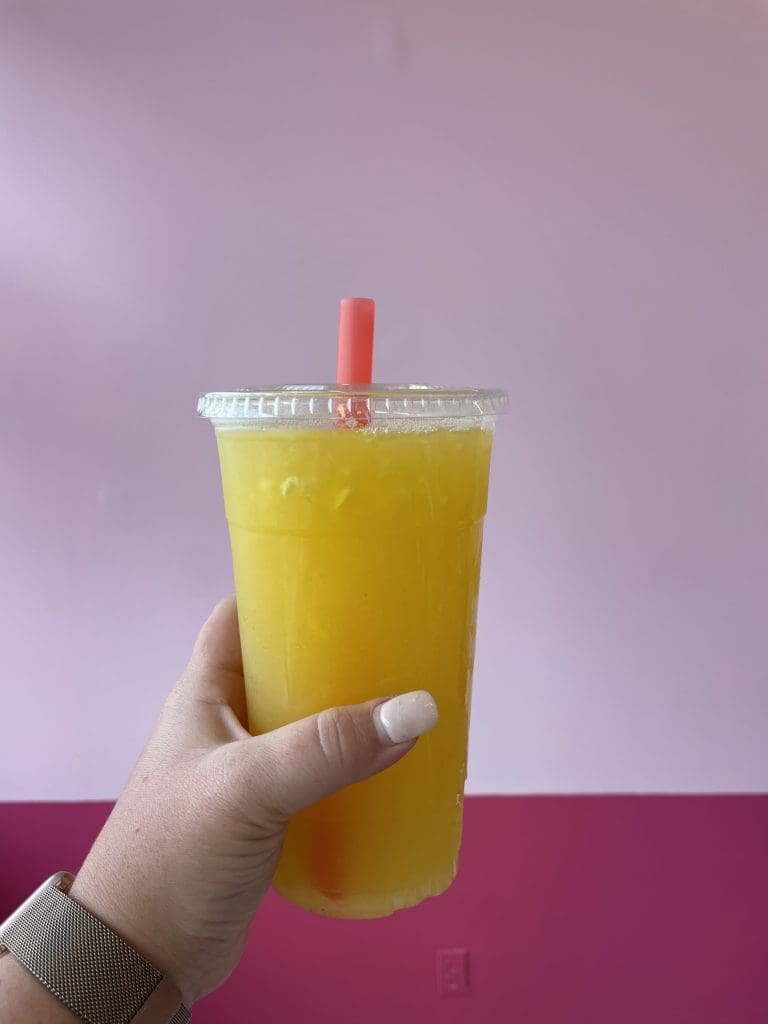 Frutas Preparadas
This is a huge fruit and vegetable cup and includes things like mango, pineapple, cucumber, jicama, etc.  It's often big and sticks out tall from the cup it's served in.  Most often, these are topped with chamoy (a fermented fruit sauce) and Tajín (chili lime seasoning).
Snacks
Sweet treats aren't the only thing you can order at La Michoacana Purépecha. These shops are also known for their amazing snack creations, most often including a bag of your preferred chips like Doritos, Tostitos, or Cheetos.
Cheetos Preparados: This is quite literally a bag of Cheetos cut open lengthwise and drizzled with nacho cheese and all the fixings.  Genius!
DoriLocos: Doritos with your choice of toppings.  We saw one order that included onion, cheese sauce, spicy sauce, corn, and cacahuates japoneses (a peanut with a crunchy shell made with soy).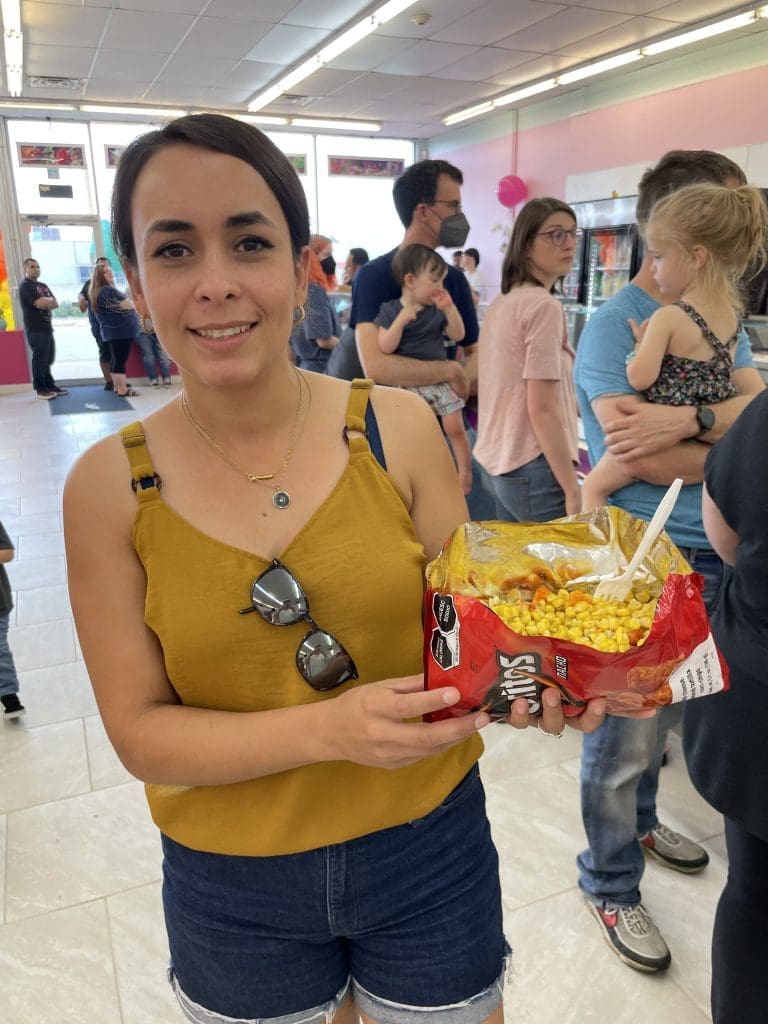 Chicharron Preparado: A huge sheet of chicharron stacked high with all of your favorite fixings.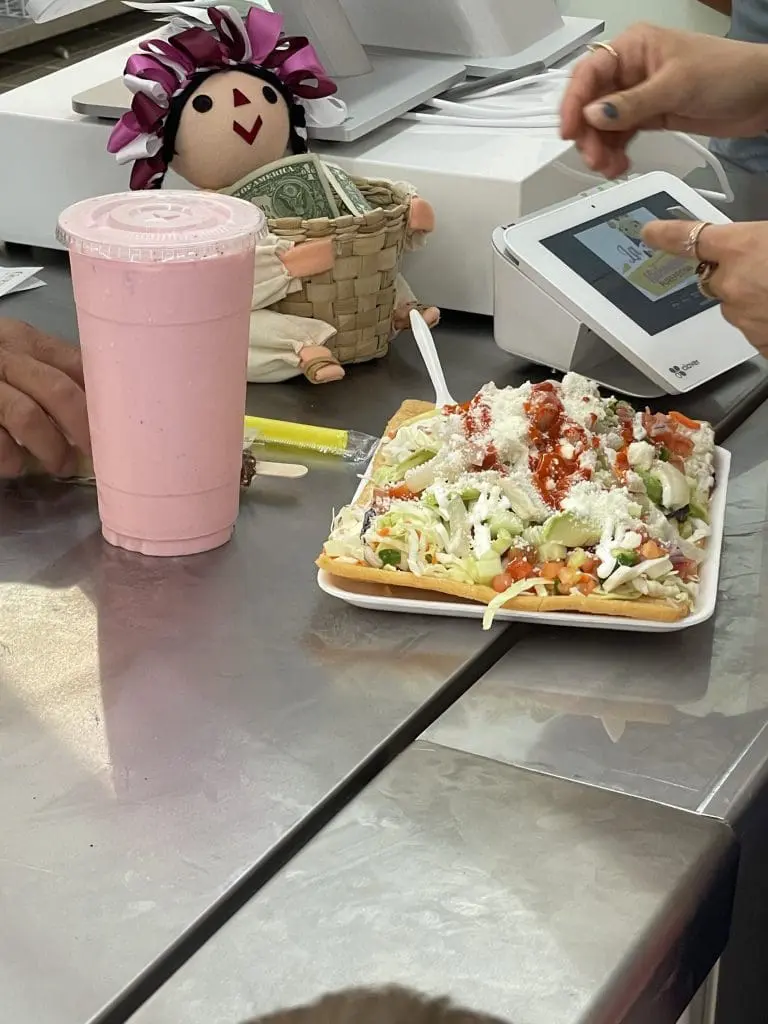 The choices are seriously endless, so be sure to check out the full menu. The staff a La Michoacana are super friendly and are happy to walk you through all there is to offer at the shop.  If you're looking for a recommendation, look for something someone else ordered and ask for all the details.