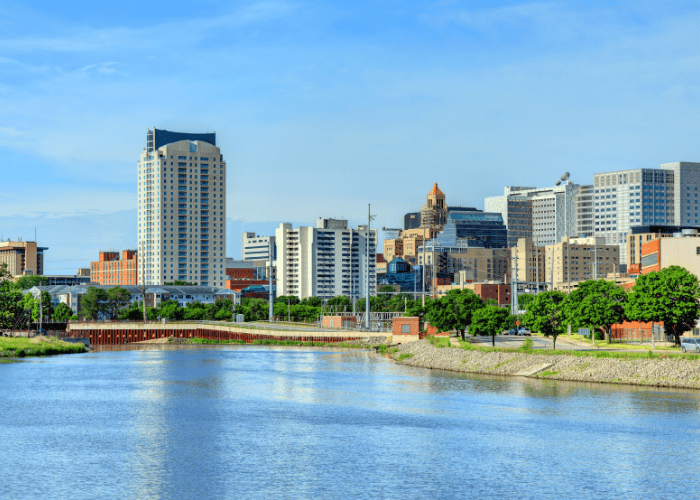 Updated June 15, 2023
Summer is here! We've put together a list of over 20 FREE things you can do with your family this summer. Whether you want to bask in the sunshine or beat the heat indoors, there's something for everyone on this list!
When: June through October 2023 / 10 am to 8 pm Monday-Thursday, 10 am to 4 pm Friday & Saturday
Where: Central Park & Peace Plaza
Lawn games. Board games. Games you play with family, friends, or yet-to-be friends. Above all, fun is the name of the game here. The Games on the Go cart will be open for all ages to partake in free outdoor fun. So…game on!
Tip: While we provide paddles and ping pong balls, we encourage you to bring your own equipment when using the Central Park ping pong table, as we cannot guarantee supplies will always be available!
When: June 6th, June 13th, June 27th, July 11th, July 18th, July 25th / 6 pm
Where: Soldier's Field Memorial Track
Meets are FREE for kids 2-15+ years old and open to the public. Para-athlete/wheelchair inclusion – independent or parent assisted are encouraged to participate. Kids are welcome to participate in as many sprints/races and field events as they'd like. One purple participation ribbon is awarded to each participant per evening. First, second, and third place ribbons are given in each heat and overall for each age group in the long jump.
Parents are requested to pre-register their child(ren) once for the six-week season. Registration is good for all meets attended.
When: Tuesdays and Fridays June 16th through September 30th / 12 pm to 1:30 pm
Where: Peace Plaza
The Neon Green Studio pop-up art cart is back for creative activities on the Peace Plaza! Each week, our artists will provide a new FREE activity for artists of all ages and abilities.
Our pop-up art cart brings materials and inspiration from our studio to various locations throughout downtown Rochester and the broader community. Free weekly activities are made possible with funding from a portion of the City of Rochester's American Rescue Plan Act dollars awarded to the Rochester Downtown Alliance. Additional creative kits are available for purchase on the art cart, at Threshold Arts, and in our online store.
When: Tuesdays and Fridays through September 15th / 12:30 pm to 1:15 pm
Where: Peace Plaza
Get your foot tapping to the beat of Sidewalk Sessions' musical performances! This free small concert series showcases local and regional musicians in Peace Plaza. So grab your lunch from a nearby restaurant, find a chair, and listen to the fantastic music of all genres while watching downtown Rochester come to life! Click here for the schedule and artist list.
When: Every Wednesday through August 23 / 8:30 pm to 10:30 pm
Where: Four Daughters Vineyard and Winery 78757 MN-16 in Spring Valley 
Enjoy a free movie every Wednesday night at Four Daughters Vineyard & Winery. Full menu is available to order right from the movie area until 8:30 pm (before the movie starts). Bar will be open for the entire movie! Popcorn and movie candy are available for sale throughout the movie. Bring your own blankets or chairs. No outside food or drinks will be allowed. Weather permitting. Keep an eye on their Facebook page for updates.
When: Sundays from July 9 through August 6 / 7 pm to 10 pm
Where: Mayo Park (located behind the Rochester Art Center/Mayo Civic Center buildings)
Pack your lawn chairs, and coolers, and head down to the riverside behind the Mayo Civic Center for live music on Sunday nights this summer. Enjoy family-friendly concerts from artists in multiple music genres. Some of this year's artists include Eve 6, Charlie Parr, and En Vogue. Click here for the full schedule.
When: Zollman Zoo and Nature Center are open daily from 10 am to 4 pm, and Oxbow Park from 5 am to 10 pm
Where: 5731 County Road 105 Northwest in Byron
Pack a lunch and spend the day at Oxbow Park and Zollman Zoo! Between the zoo itself and the outdoor Path of Imagination playscape area, your kids will stay busy for hours. Keep an eye on their Facebook page for events!
When: Thursdays from June 15 through August 10 / 11 am to 8:30 pm
Where: 1st Avenue Southwest and Northwest, 3rd Street Southwest, and Peace Plaza
Thursdays Downtown is an event we look forward to all year long! Enjoy the block-party vibes you get from this fun and free community event. Expect music, food, and various vendors as you stroll through the streets of downtown Rochester. Check out our guide and you'll be ready to go!
Brought to you by Rochester Civic Music, this summer's Global Music Series is something you don't want to miss! It encourages community and introduces your family to music from across the globe. Performances are happening at various events in Rochester this summer.
There are many opportunities for staying cool in Rochester and the surrounding areas this summer. Some area pools offer free swimming days, and most area beaches are open at no cost.  Check out our guide to summer swimming, and click here for our guide to Rochester area beaches.
Did you know that in Rochester kids bowl for free all summer long? For more info, check out this post. 
When: The Nature Center is open Monday-Saturday 9 am to 4 pm and Sundays from 12 pm to 4 pm
Where: 701 Silver Creek Road Northeast in Rochester
If you're looking for something to do in the air conditioning this summer, head to Quarry Hill Nature Center to learn all about animals. You can see (and sometimes touch) snakes, bugs, frogs, lizards, and more! Kids can climb up and around the reading tree room and do some bird watching too. Check out this post for more.
When: Saturdays May – October 7:30 am to 12 pm and Wednesdays June to October 3 pm to 6 pm
Where: Graham Park (Olmsted County Fairgrounds) 35 Fairgrounds Avenue Southeast in Rochester
The Farmer's Market is a wonderful place to be during the summer. The kid-friendly market has locally grown produce and handmade goods for your family to purchase. The market also has music and other special events happening frequently, so make sure to check out their Facebook page to find out more. And here's our guide to the market to check out before you go.
When: June 7th through August 30th / 5:30 pm to 8 pm
This concert series will keep you moving around the city as each ward hosts their own concert for a total of six all summer long! Click here to see if there is one close to your home, and head to another ward to check out the tunes and meet some new people.
When: June 17 – 25, 2023
Daily on-stage entertainment, ABC 6 News Weather Lab, a jigsaw puzzle contest, and a drone race are just a few of the things happening at this year's Rochesterfest celebration. Don't miss two Family Fun Nights on Wednesday, June 21 from 4 pm-8 pm and Thursday, June 22 from 4 pm – 8 pm with games and activities for everyone! To see the full schedule of events, click here.
When: Saturday, June 24th at 2 pm
Click here to see this year's parade route.  For other parade fun, check out our Guide to Area Parades to keep the floats & marching band vibes going all summer long.
To celebrate the 4th of July this year, head to Soldiers Field Park. Bring your own lawn chairs and coolers to enjoy the diverse music lineup and a virtual pet parade. Come for the music, fun, and food trucks, but stay for the fireworks! The event starts at 6pm. Click here for more information.  For more area fireworks, check out our Guide to Rochester Area Fireworks!
Warm weather hits – and it's festival time! Check out our guide to what's going on in the area this summer. You're bound to stay busy as there's at least one festival happening every week all summer long!
When: July 24th-30th
Where: Olmsted County Fairgrounds – 1403 3rd Avenue Southeast in Rochester 
Enjoy food and fun at this year's Olmsted County Free Fair! Head to the animal barns to see cows, lambs, birds, and more. And don't forget to check out the Miracle of Birth Center where you can see all sorts of baby animals and milk the cow! (Don't worry – it's not a real cow!)