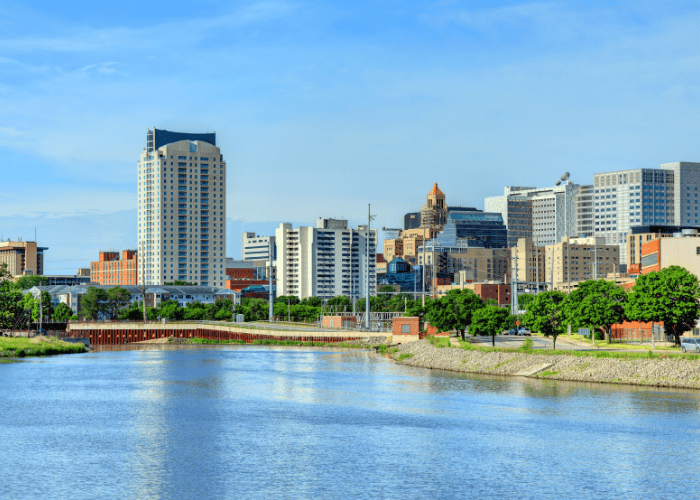 Summer is here! We've put together a list of over 20 FREE things you can do with your family this summer. Whether you want to bask in the sunshine or beat the heat indoors, there's something for everyone on this list!
When: July 2, 16, and 30, August 13 and 27, and September 10th / 4pm to 10pm
Where: July and August markets will be held in the parking lot at the Riverfront Building at 307 East Center Street in Rochester / The final market on September 10 will be held outside at Mayo Civic Plaza
The Night Market started in 2021 to bring cultures together and highlight BIPOC vendors in the area. This year's market will have fewer vendors for a more intimate experience similar to one you'd have at a market in Asia. Expect the same inviting and diverse atmosphere where you can eat, shop, and enjoy live entertainment. Check out the event on Facebook.
When: Daily from June 1st to September 30th / 10am to 5pm
Where: Central Park
If games are your thing – you're in luck! Head to Central Park to choose a game from the cart and enjoy some friendly competition. There's a variety of games to play from boardgames to yard games, so you're bound to find something that suits you!
When: Tuesdays – June 7th, June 14th, June 28th, July 5th, July 12th, July 19th, Makeup Date – July 26th / 6:00pm
Where: Soldier's Field Memorial Track
This Rochester family favorite is back for it's 51st year! Races are open for kids 2- 15+, and completely free. Kids can participate in as many (or as few) races as they wish, and every participant receives a ribbon. Races are held for each age group: 2 year olds, 3 year olds, all the way up to 12+. They can also try long jump and hurdles. No prior sign-up required. Simply sign a permission form (one permission form per kid, good for the entire summer series), and get ready to run! Bring water, tennis shoes, and snacks.
When: Mondays and Fridays May 16th through September 30th / 11:30am to 1:15pm
Where: Peace Plaza
Neon Green Studio brings you FREE art in downtown Rochester all summer long. Not an artist? Don't worry! They've got an activity suited for all abilities and interests! Click here for the schedule.
When: Mondays and Fridays through August 5th / 12:30pm to 1:15pm
Where: Peace Plaza
Head down to the Peace Plaza to enjoy music by local musicians two days a week. Click here for the schedule and artist list.
When: Every Wednesday through August 24 / 8:30pm to 10pm
Where: Four Daughters Vineyard and Winery 78757 MN-16 in Spring Valley 
Enjoy a free movie every Wednesday night at Four Daughters Vineyard & Winery. Bring your own blankets and chairs – but no outside food is allowed. Keep an eye on their Facebook page for updates.
When: Sundays from July 10 through August 14 / 7pm to 9:30pm
Where: Mayo Park (located behind the Rochester Art Center/Mayo Civic Center buildings)
Pack your lawn chairs, coolers, and head down to the riverside behind the Mayo Civic Center for live music on Sunday nights this summer. Enjoy family friendly concerts from artists in multiple music genres. Some of this year's artists include Nur-D, Mavis Staples, and En Vogue. Click here for the full schedule.
When: The first Sunday of every month / 9am to 5pm
Where: Spark in Apache Mall Suite 632 – 1201 12th Street Southwest in Rochester
**PRIOR REGISTRATION IS REQUIRED** Take advantage of a free day at Spark! Every first Sunday of the month you can play all day at no cost. If you have a blast (and we think you will), check out their membership options before you leave. It's a wonderful place to bring your kids all year long! Their newest exhibit, Spark City teaches about how our cities operate, but this time the kids are in charge!
When: Zollman Zoo and Nature Center are open daily from 10am to 4pm, and Oxbow Park from 5am to 10pm
Where: 5731 County Road 105 Northwest in Byron
Pack lunch and spend a day at Oxbow Park and Zollman Zoo! Between the zoo itself and the outdoor Path of Imagination playscape area, your kids will keep busy for hours. Keep an eye on their Facebook page for events and check out our post for more that the zoo offers!
When: Thursdays from June 16 through August 18 / 11am to 8pm
Where: 1st Avenue Southwest and Northwest, 3rd Street Southwest, and Peace Plaza
Thursdays Downtown (formally Thursdays on 1st and 3rd) is an event we look forward to all year long! Enjoy the block-party vibes you get from this fun and free community event. Expect music, food, and various vendors as you stroll through the streets of downtown Rochester. Check out our guide and you'll be ready to go!
Brought to you by Rochester Civic Music, this summer's Global Music Series is something you don't want to miss! It encourages community and introduces your family to music from across the globe. Performances are happening at various events in Rochester this summer.
There are many opportunities for staying cool in Rochester and the surrounding areas this summer. Some area pools offer free swimming days, and most area beaches are open at no cost.  Check out our guide to summer swimming, and click here for our guide to Rochester area beaches.
Did you know that in Rochester kids bowl for free all summer long? For more info, check out this post. 
When: The Nature Center is open Monday-Saturday 9am to 4pm and Sundays from 12pm to 4pm
Where: 701 Silver Creek Road Northeast in Rochester
If you're looking for something to do in the air conditioning this summer, head to Quarry Hill Nature Center to learn all about animals. You can see (and sometimes touch) snakes, bugs, frogs, lizards, and more! Kids can climb up and around the reading tree room and do some bird watching too. Check out this post for more.
When: Saturdays May – October 7:30 am to 12 pm and Wednesdays June 15 to October 2 pm to 6 pm
Where: Graham Park (Olmsted County Fairgrounds) 35 Fairgrounds Avenue Southeast in Rochester
The Farmer's Market is a wonderful place to be during the summer. The kid-friendly market has locally grown produce and handmade goods for your family to purchase. The market also has music and other special events happening frequently, so make sure to check out their Facebook page to find out more. And here's our guide to the market to check out before you go.
When: June 8th through August 31st / 5:30pm to 8pm
This concert series will keep you moving around the city as each ward hosts their own concert for a total of six all summer long! Click here to see if there is one close to your home, and head to another ward to check out the tunes and meet some new people.
When: June 18 – 25, 2022
Daily on-stage entertainment, an ice cream social, and a magical afternoon party with princesses are just a few of the things happening at this year's Rochesterfest celebration. Don't miss Family Fun Night on Wednesday June 22 from 5:30-8:30pm with games and activities for everyone! To see the full schedule of events, click here.
Rochesterfest Parade 
When: Saturday June 25th at 2pm
Click here to see this year's parade route.  For other parade fun, check out our Guide to Area Parades to keep the floats & marching band vibes going all summer long.
To celebrate the 4th of July this year, head to Soldiers Field Park. Bring your own lawn chairs and coolers to enjoy the diverse music lineup and a poetry recitation. Come for the music, fun, and food trucks, but stay for the fireworks! The event starts at 4pm. Click here for more information.  For more area fireworks, check out our Guide to Rochester Area Fireworks!
Warm weather hits – and it's festival time! Check out our guide to what's going on in the area this summer. You're bound to stay busy as there's at least one festival happening every week all summer long!
When: July 25th-31st
Where: Olmsted County Fairgrounds – 1403 3rd Avenue Southeast in Rochester 
Enjoy food and fun at this year's Olmsted County Free Fair! Head to the animal barns to see cows, lambs, birds, and more. And don't forget to check out the Miracle of Birth Center where you can see all sorts of baby animals and milk the cow! (Don't worry – it's not a real cow!) Read our Guide to the Olmsted County Fair first to make your trip to the fair all fun and no fuss.