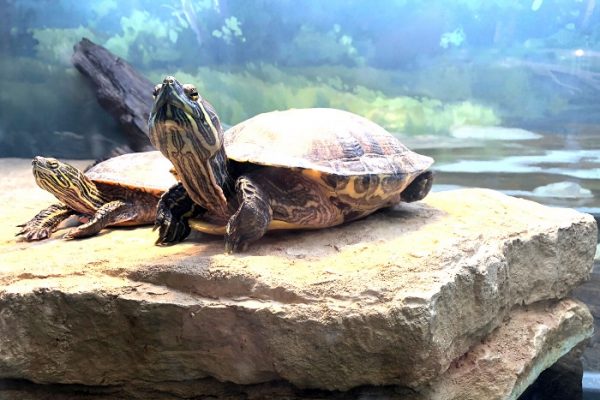 If you were went to public school in the Rochester, MN area in the last 40 years, Quarry Hill Nature Center is most likely a fond memory of your childhood and education.  Opened in 1973 under their first director Harry Buck, Quarry Hill has served as a nature education center for thousands of school-aged students and the Rochester community as a whole.  It is a cherished, well-loved resource for our community.
From their website:
"Quarry Hill provides features 8+ miles of paved and hiking trails a pond, and a historical sandstone cave carved in 1882. In the winter months, cross country skis and snowshoes are available for rent to use in the park. The Friends of Quarry Hill Nature Center staff the nature center building which houses live animals and  an admission free Exploration Hall. Year-round classes, day camps, trips, and recreation activities are  offered by the Friends of Quarry Hill Nature Center professional staff."
As a born and raised Rochester resident, Quarry Hill holds a very special place in my heart.  I have incredibly fond memories of my time spent there: I first learned about a frog's transition from a tadpole, I fed monarch butterflies, I banded and released a black-capped chickadee, I learned to rock-climb, I hunted for (and found) trilobites, I brought visiting friends from the Twin Cities here (countless times – it's their favorite too!), I had a second date with my now husband, flew kites, took walks, and now bring my young children to Quarry Hill.
Needless to say, when I first stepped into the newly renovated Quarry Hill, I cried.
Big, happy, sentimental tears of joy.
It is beautiful…stunning.  The legacy of this place is firmly rooted and the commitment to educating children through natural science discovery will live on for a long, long time.  I could not be more excited for the future of Rochester school children and families.
What I loved best about the renovation, is that it still *feels* like Quarry Hill, but with a face-lift.  I even had to ask if some of the new design was, in fact, new as it was so seamlessly integrated into the building.
Here's a few very special facts about the renovation:
healthy habits for the animals and improved filtration was an important aspect for this renovation
many of the new fixtures and fittings are made with reclaimed barn wood, recycled steel, and concrete surfaces that have a lower impact on the environment and are more sustainable
the mural that covers all of the walls in Exploration Hall was created by Beth Zaiken, who was born and raised in Rochester.  She is now the muralist for the company (Blue Rhino out of Eagan, MN) that created the new fixtures and structures inside of Quarry Hill.  This was a very special project to her.  (Look closely at the mural…you might discover a few hidden Rochester scenes!)
The mural was inspired by the oak savannah on the Quarry Hill property.
There are three fun in-floor dioramas near the fireplace.  This shows life underneath the ground in habitats found at Quarry Hill: the forest floor (you'll see magnified micro-organisms that you would find in soil in this display!), the prairie and the pond.
This new installation has taken 7 weeks.  However, planning began on this special renovation process over 5 years ago.
Below is a gallery of images showing aspects of the new renovation.  Here you'll see:  
new in-wall enclosures for aquatic life
renovated enclosures for reptiles
the new (AMAZING) aquarium for lake fish. This fun feature includes tunnels that allow you to observe fish from underneath!
some of the new displays that feature the recycled materials that were previously mentioned
The large tree sculpture that spreads across the ceiling and acts as a canopy over Exploration Hall
The new reading nook complete with a tree climbing area, reading spots and interactive spaces