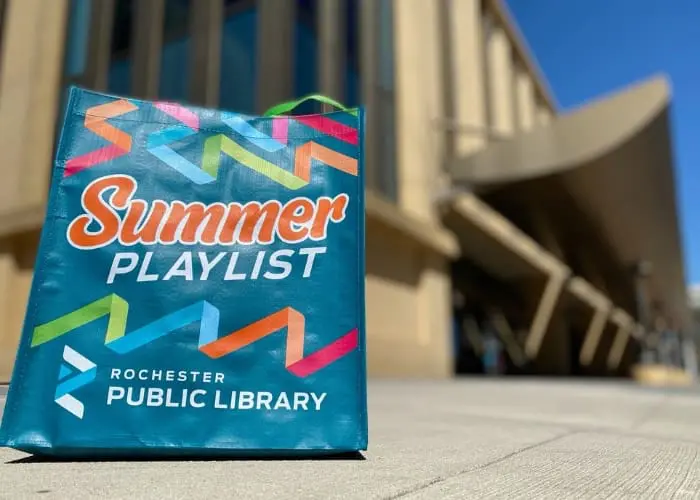 Updated on June 19, 2023.
There is a LOT happening at the Rochester Public Library and the Parks this summer! Here are just a few of the events and programs happening this summer. For more, check out our guide to 20+ FREE Things To Do This Summer.
This all-ages reading and adventure program will inspire you to read, explore, connect, relax, and find joy all summer long. Complete the reading playlist between June 1 and August 31, and receive a free bookbag, sticker, and more!
Find the Summer Playlist printable here.
The BookBike & ArtCart are a fun way to check out library materials, listen to story time, and create some art each week. The carts will be at parks around the downtown area all summer long. Catch them at one of the locations and times below!
Visit the BookBike & ArtCart each week June 14th through August 25th :
Wednesdays, 10 am – 11 am at Soldier's Field (Near the playground on George Gibbs Drive SW), 800 Soldiers Field Dr SW
Thursdays, 10 am – 11 am with Storytime at 10:30 am, Slatterly Park, 950 11th Ave SE
Fridays, 10 am – 11 am with Storytime at 10:30 am, Silver Lake Park (Near Three Links Shelter), 840 7th Street NE
Come support the library on June 25, 2023 from 1 pm – 4 pm! Shop the collection of used books, offered at great prices, all to help benefit the Rochester Public Library! This event is run by voulunteers and all books have been donated, so that 100% of the profits are used to support the library and its programs.
This summer series of six concerts, held in parks in each of the six wards of Rochester is designed to bring the community and neighbors together outside of the downtown area. With local bands opening for larger national/international headliners, this series is sure to be great! Food trucks will be on-site for each event. Make an evening of it with the family!
Check out the schedule and lineup here!
This is a great activitiy for kids to get outside and play, and to visit different parks around Rochester! Each park highlighted has suggested fun activities and missions, a spot to collect stamps from each offering location, and places to make notes about favorites.
Print your own Passport to Parks here!