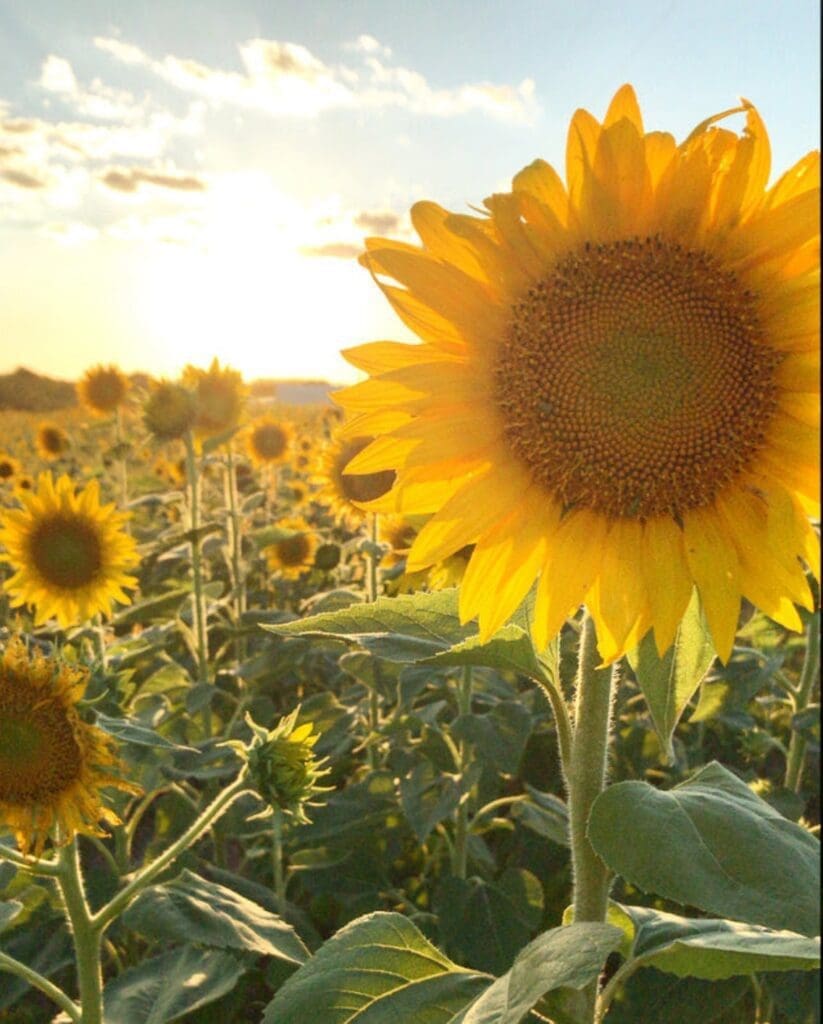 Visiting sunflower fields is something that we look forward to each summer. As sunflower season approaches in Minnesota, we have compiled a list of the sunflowers fields to add to your day trips bucket list for your family to enjoy these gems of nature. All of these are within driving distance of the Rochester area.
We are lucky to have so many sunflower fields around Rochester to visit this season!
Sunflower Fields to Visit Around Rochester in 2023
They will not have sunflower fields this year – with the drought, they have not been able to get the sunflowers to germinate properly.
6945 150th Ave SE, Chatfield, MN 55923
U-Pick flower fields are self-serve Monday – Saturday, 8 am – 9 pm.
---
14421 90th Street South, Hastings, MN 55033
At Afton Apple, you may cut your own sunflowers!
$3 / 1 bloom,  $5 / 2 blooms, $10 / 5 blooms. Their hours vary due to weather and picking conditions. Always call 651-436-8385 for picking conditions and schedule before going to pick.
---
N1972 420th St. Maiden Rock, WI 
Lake View Organic Farm is located on the bluffs above Lake Pepin and the Rush River Valley in the Driftless area of Western Wisconsin. William and Sarah Brenner run a self-serve farm market providing unique, seasonal, and delicious farm products. They grow row crops, hay, straw, and some vegetables. We also raise beef, and press sunflower oil.  Their sunflower field is in bloom from late July through mid-August. WEBSITE
---
W2363 County Rd D, Nelson, WI 54756
Township 23 is a Farm distillery & tasting room in Nelson WI. The sunflower fields outside of Nelson, WI were farmed by the Hetrick family as Village Edge Farms and in 2022, Zach Hetrick formed a new vision to use their family's knowledge of crop farming to grow grains to distill spirits.  There is still a sunflower field at the distillery for customers to enjoy! WEBSITE
---
8102 72nd St NE, Monticello, MN
While sunflowers are in season, the field is open 7 days a week sunrise to sunset.  While Fresh Acres Farm is open, they will not be staffed. Payment can be made in cash at the pay box or via Paypal/Cash App/Venmo. Admission is $8 per person for the sunflower fields and $2 per stem for a cut-your-own bouquet.  Bring your own clippers to cut the stems of your choice.
---
26501 MN-65, Isanti, MN
At Green Barn Garden Center, there will be several crops blooming throughout August. Each crop blooms for about a week – 10 days. Food trucks are scheduled Friday –  Sunday in August starting August 5th.
---
53407 Government Rd, Rush City, MN
Treasured Haven Farm will be opening in late July. Their goal is to provide you and your family with a safe, genuine farm experience to enjoy the successive blooming sunflower fields and the woodland trails of this century family farm.
---
8174 Lake Dr, Lino Lakes, MN
Waldoch Farm will be open with Joyer Adventure Farm daily, 10 am – 5 pm with timed ticketing. They open for the season on June 15th.
---
1532 6 1/2 Street, Almena, WI
The farm does not have a website, but they do have a Facebook page with all updates for their 2023 season! The following is the most recent update: Hello friends, some people have been wondering about the upcoming sunflower season and yes we have the sunflowers planted! They were planted in late May but they (like everything else) are struggling because of the lack of rain. We are anticipating a bloom around the second or third week of August. They might be a little later this year because of the lack of water, generally, the bloom lasts a good two weeks from start until finish. But hopefully, we get some more rain and they pull through! We will keep you posted on the progression of them as they start to put buds on.
Check their Facebook page often for updates! FACEBOOK PAGE
---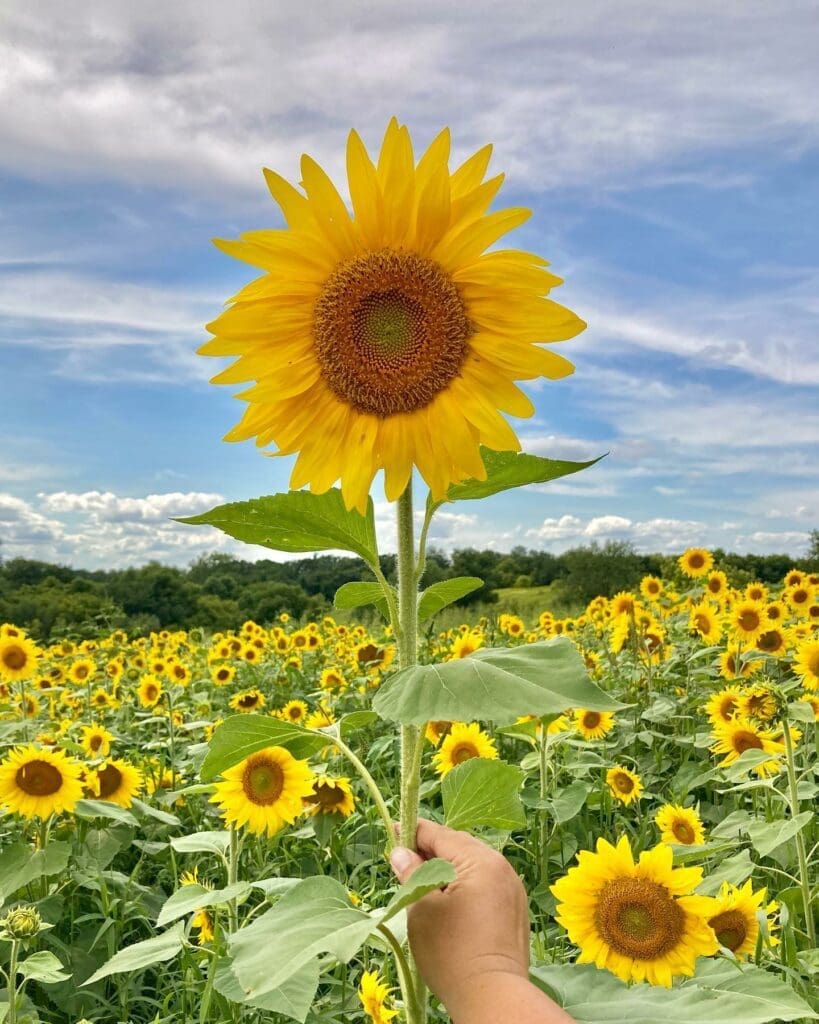 When to see Sunflowers in MN and WI
Sunflowers often start in late July, through August. Once they bloom they often last about 10 days. Most fields will plant at different times to ensure there is always something blooming. It varies by farm.