We don't know about you, but as soon as the calendar indicates a season change, the mornings are a bit more crisp and we see that first brightly colored leaf on our evening walk…it seems our taste buds change.
Suddenly we are craving fall comfort food: everything spiced, every single soup, and cozy dinners.  To be honest, these are not the healthiest options, but they are oh-so-good and fun to feature on a night when you want to treat yourself, your friends, or your family.  So go ahead! Enjoy that fall treat…as we know all too well, our favorite season doesn't last too long around here.
---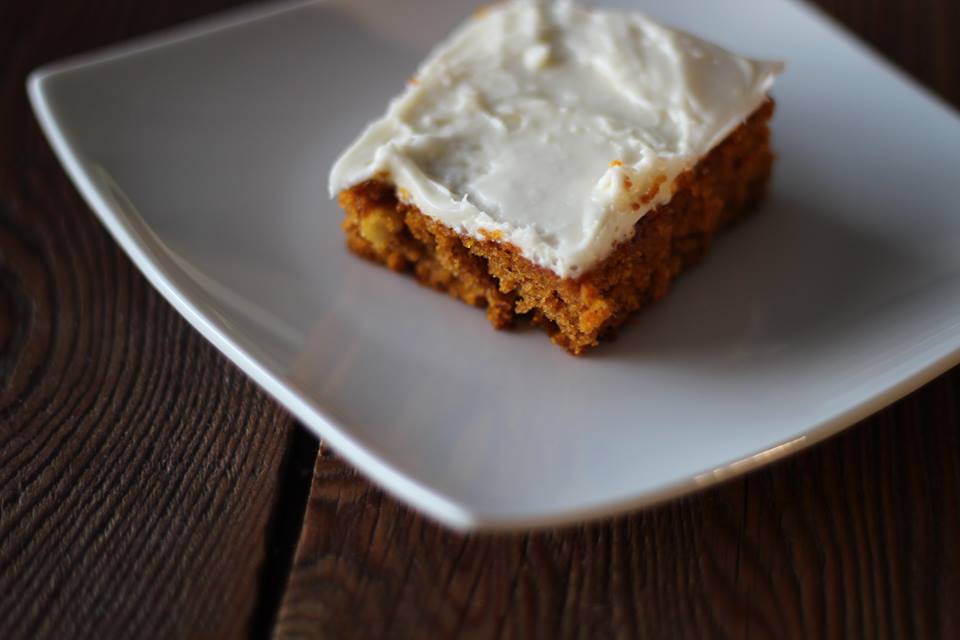 Fall brings on the BEST food ever in our home! I love the coziness of the season and all the squash, pumpkins, and homemade dinners that this fabulous season involves. One of the staples in our home is pumpkin bars! This quick and easy recipe…Enjoy!
Preheat Oven to 350 degrees.
Ingredients:
4 eggs
1 c. oil (I use whatever I have on hand)
2 c. sugar (You can halve the sugar if you like/ 1 part white and 1 part brown)
1 15 oz can of pumpkin
2 c. flour (you can use whole wheat or white)
2 t. baking powder
1 t. baking soda
2 t. cinnamon
1/2 t. ginger
1/2 t. clove
1/2 t. nutmeg
Directions:
Mix together all wet ingredients.  Combine dry ingredients and then mix in with the wet ingredients. Pour batter into a greased 9×13 pan. Bake for 25-30 min.
Frosting: 
8 oz cream cheese
3/4 stick of butter (unsalted)
—I put out the cream cheese and butter at room temp—
4 c. of powdered sugar
1 T. milk (I use almond milk)
Frost the bars at room temp! One thing that you can do is sprinkle/sift on cinnamon to the top of the frosting! It looks and tastes pretty.
---
Heather's Butternut Squash Soup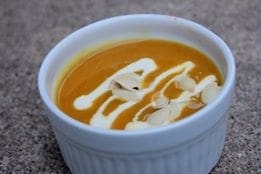 One of our favorite fall-time recipes that we come back to year after year is butternut squash soup. This one can be made in a crockpot (6 to 8 hours on low) and then blended, but I've included stovetop instructions as well.
Ingredients: 
1 butternut squash
drizzle olive oil
1 red onion, chopped finely
1 celery heart, chopped
3 small apples, chopped
6 C chicken broth
2 tsp curry
2 tsp salt
1 tsp pepper
1 T minced garlic
1 tsp nutmeg
1 tsp cinnamon
Whipping cream or Greek yogurt (optional)
squash seeds, baked (optional)
Directions:
Peel and chop your butternut squash into 1-inch cubes. Remove the seeds. If desired for topping, bake them for 15 to 20 minutes at 325 degrees and set aside. Drizzle olive oil in your stock pot, and add onions and celery over medium heat, cooking until onions are translucent. Add apples, squash, and chicken broth. Simmer for 1 hour, stirring occasionally. Blend with an immersion blender and then add spices to taste. Top with a drizzle of whipping cream or Greek yogurt and squash seeds.
Brittany's Creamy, Easy Crab Bisque
Ingredients:
1 medium Russet potato, peeled and diced
1 cup carrot, peeled and diced
1 cup white onion, diced
1 clove garlic, minced
2TBSP Extra Virgin Olive Oil
3oz tomato paste
1 cup white wine
1 cup chicken stock
1 bay leaf
1 TBSP oregano
1 TBSP thyme
1 ½ cup cream
12-16 oz lump crab meat
salt and pepper to taste
Directions:
Sauté potato, carrot, onion and garlic in olive oil until soft. Add tomato paste, mix well. Add bay leaf and herbs, wine and chicken stock, simmer for 15 minutes. Add cream, return to simmer and heat for 5 minutes (do not boil). Let cool for 15 minutes. Remove bay leaf and transfer mixture to blender, add half the crab meat, start blender on low and blend for 20 seconds (eventually blending at higher speed). Add remaining crab, salt and pepper, blend on low for 5 more seconds. Enjoy!
---
Becky's Perfected Apple Pie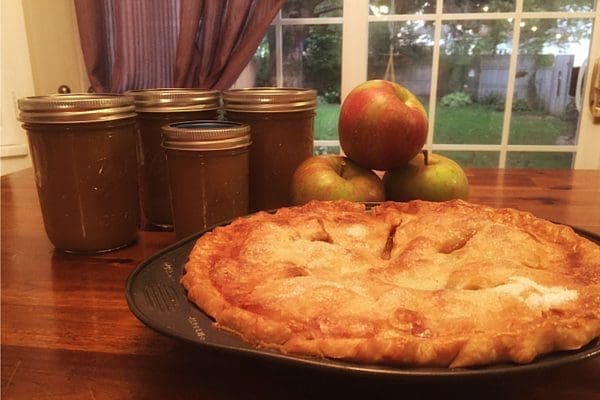 I've been on a quest to perfect my apple pie recipe for years.  It has seemed like an insurmountable task: the crust was too hard, the apples too mushy or the filling too runny. Recently, I turned to Google to help me determine what I have been doing wrong.  Turns out the perfect apple pie comes down to science. The first bit is choosing the right apples: choose something with a low pH…this makes the apple more stable and less likely to turn to mush.  My favorite is Golden Delicious, but I also throw in Haralson for tartness and Honey Crisp for sweetness. Here's the second bit of science:  If you par-boil the filling BEFORE it goes into the oven, the enzymes in the apples convert the pectin into a more heat-stable form, therefore making it less runny.  That sentence officially makes me a nerd.  But if it yields the best apple pie…that's something I'm willing to deal with.
Ingredients:
Filling
2 1/2 – 3 pounds of apples (combo of Golden Delicious, Honey Crisp and Haralson)
2 tbsp fresh lemon juice
1/2-2/3 cup sugar (use more or less to your taste)
6 tbsp butter
1/4 tsp nutmeg
1/2 tsp cinnamon
pinch cloves
optional: zest from half an orange
1 egg, beaten slightly
Crust
I'm a faker.  I don't have the time to mess with the perfect crust.  I'll leave that for another science project.
My favorite pie crusts are Trader Joe's or Wholly Wholesome (at your local co-op), both in the freezer section.
Make the filling:
Peel and core the apples. Cut each apple into 8 wedges and toss with sugar and lemon juice in a bowl. Melt 4 tablespoons butter in a large skillet over medium-high heat. Add the apple mixture and cook, stirring occasionally, until the apples begin to soften but still hold their shape, about 7-8 minutes. Sprinkle with the flour, cinnamon, cloves and nutmeg and toss until the juices begin to thicken, about 1 minute. Remove from the heat and cool completely. (Letting the filling cool completely is important)
Make the pie:
After letting the pie crust thaw, roll out one crust into a 9 inch pie plate. Pile the filling into the crust (Be careful not to overfill.  It can be full, but not overflowing.) and dot with the remaining 2 tbsp of butter.  Cover with the remaining crust and crimp the crust closed (get fancy with the crimping if you'd like!).  beat the egg and brush the crust brush over the top of the crust sprinkling with cinnamon and sugar. Be sure to cut vents into the top of the crust.
Bake the pie.
Preheat the oven to 375 degrees F. Place the pie on a baking sheet (I like to line the baking sheet with tin foil) and bake until the crust turn a golden color and the filling is bubbly, 55 to 60 minutes. (Cover the edges with foil if they start to brown too quickly.) Make sure you let the pie cool for at least 2 hours before you consume.  This is the tricky part.
---
Amarilys' Favorite Pumpkin Chipotle Soup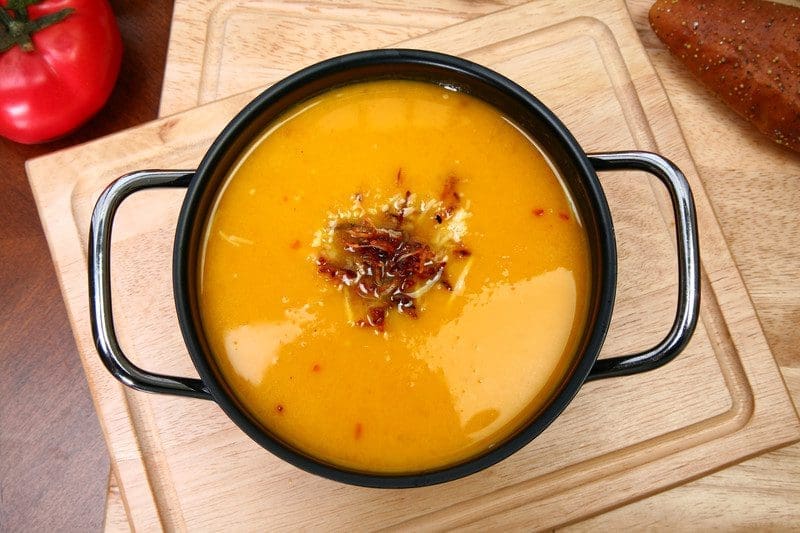 The chilly temperatures of fall call for a little kick!  this Pumpkin Chipotle Soup make a great combo of soothing creaminess and heart-warming fall goodness.  Plus, the diced avocados make a midweek meal feel fancy!
Ingredients:
1 tablespoon Worcestershire sauce
Directions:
Melt the butter in a large saucepan over medium heat. Stir in the flour and cook until the flour has turned golden brown, about 3 minutes. Whisk in the vegetable stock and bring to a boil over high heat. Whisk in the pumpkin puree until no lumps remain, then add the chipotle peppers, half-and-half cream, sofrito, Worcestershire sauce, salt, and paprika. Return to a simmer, then reduce heat to medium-low, and cook for 8 minutes until thickened and hot.
---
Kelly's Apple Cake Muffins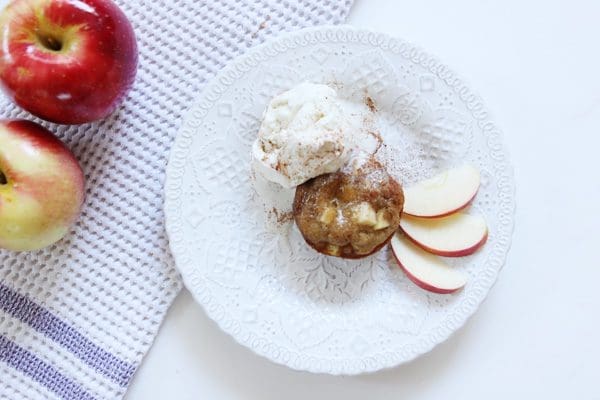 After my friend brought these over, I had to have the recipe! She adapted it from an apple cake recipe, hence the name. The topping is the key to these muffins, a gooey delicious glaze that tastes perfectly fall. I served them right out of the oven topped with vanilla bean ice cream.
Ingredients:
3 eggs (beat one at a time)
1 1/2 c. oil
2 c. sugar
1 tsp. salt
1 tsp. soda
1 tsp. cinnamon
1/2 tsp. nutmeg
1/2 tsp. cloves
1 tsp. vanilla
3 c. flour
3 c. diced apples (6-7 apples) I used Granny Smith.
Topping:
1 1/2 c brown sugar
1 stick butter
1/2 c. milk
Mix the first 9 ingredients well, then add flour and mix. Fold in apples. Spray muffin pan and fill up the cups to the top with batter. Bake at 350 for 15-20 minutes.
Mix topping while muffins are in oven. Remove muffins after 15 minutes and pour topping over muffins while hot. Bake muffins for another 5-10 minutes.
Makes 24 muffins. Thanks to Michelle for sharing the recipe with me!
---
Katherine's Favorite Pumpkin Cookies
Ingredients:
2 1/2 cups  all-purpose flour
1 teaspoon  baking soda
1 teaspoon  baking powder
1 teaspoon  ground cinnamon
1/2 teaspoon  ground nutmeg
1/2 teaspoon  salt
1 1/2 cups  granulated sugar
1/2 cup  butter (1 stick), softened
1 cup canned pumpkin
1 large  egg
1 teaspoon  vanilla extract
Cream Cheese Frosting

1/2 cup butter, softened

1 teaspoon vanilla extract
Directions:
Preheat oven to 350° F. Grease baking sheets. Combine flour, baking soda, baking powder, cinnamon, nutmeg and salt in medium bowl. Beat sugar and butter in large mixer bowl until well blended. Beat in pumpkin, egg and vanilla extract until smooth. Gradually beat in flour mixture. Drop by rounded tablespoon onto prepared baking sheets. Bake for 15 to 18 minutes or until edges are firm. Cool on baking sheets for 2 minutes; remove to wire racks to cool completely.
For Frosting:
In a medium bowl, cream together the cream cheese and butter until creamy. Mix in the vanilla, then gradually stir in the confectioners' sugar. Store in the refrigerator after use.
Frost the cookies when completely cool.
Cookie recipe courtesy of Very Best Baking and frosting recipe courtesy of All Recipes.
---
Do you have a favorite fall recipe?  Share it with us in the comments below! We'll share a few of your recipes in the upcoming weeks!