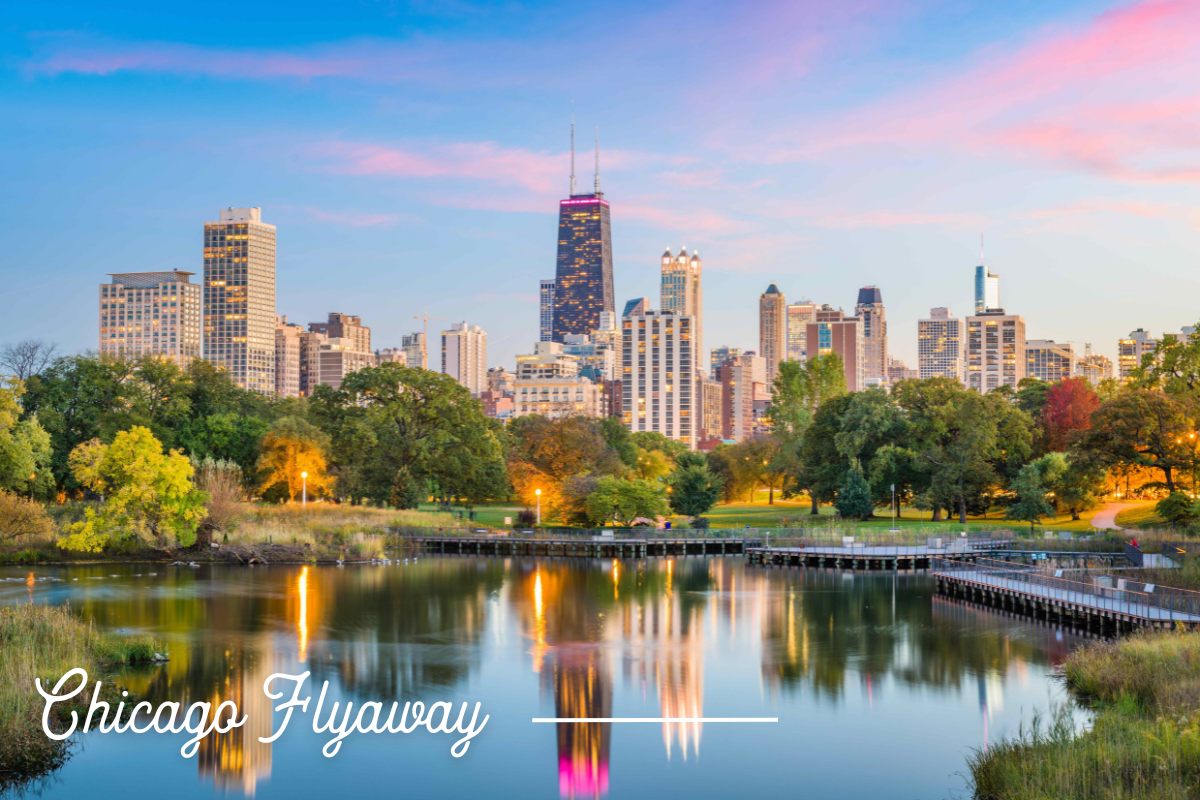 Chicago is an easy getaway trip from Rochester. Many of us have been there a time (or two). Perhaps we have friends that live there, or perhaps we like to get away for a little (or a lot) of shopping, dining, and sightseeing. None of which are in short supply!
Or maybe…you've never visited. If not, let this guide be your sign to book the trip!  Chicago is an incredible destination full of things to see, eat, and do. It's a short trip — even faster if you fly.
Lucky for us, we're able to get to Chicago quickly and conveniently by flying in and out of Rochester International Airport. With daily flights on American Airlines to Chicago O'Hare, there is a getaway itinerary that can accommodate nearly everyone's schedule.
The following guide is meant to serve as a starting point to help you plan your trip to Chicago. Perhaps you're a seasoned Chicago visitor.  Whatever the case, flying to Chicago from RST makes the trip a breeze.  What's your favorite thing about flying out of the Rocester airport?
Click on each image below to jump to that section.  To navigate back to the beginning, click "Back to Top" at the bottom of each section.
Chicago Basics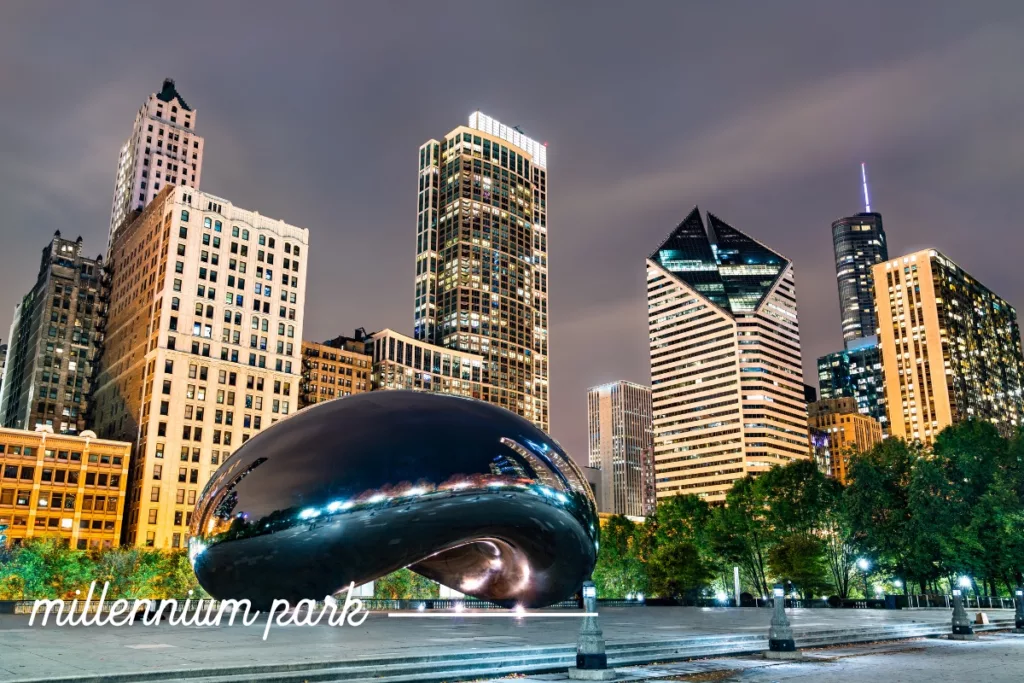 When visiting Chicago, you'll certainly come across some verbiage, landmarks, and locations you will want to familiarize yourself with. This will make your trip to Chicago easier to navigate and help you feel confident as you make your way around the city!
Michigan Avenue runs North/South adjacent to Lake Michigan in the very heart of downtown Chicago. This is where you will find other famous Chicago landmarks such as the Art Institute of Chicago, Millenium Park,  the Chicago Water Tower, and the Magnificent Mile — a very well-known and popular commercial shopping and dining district on Michigan Avenue.
The Loop is the most central part of downtown Chicago circled by the Chicago River on the north and west and Lake Michigan to the east. It is the very center of the Chicago downtown Area.
Millenium Park is located within the Loop in downtown Chicago and is situated next to Lake Michigan. It is a 25-acre public park that features outdoor spaces, terraces gardens, public art, and venues.  Millenium Park is also home to the world-famous Cloud Gate by artist Anish Kapoor. (sometimes referred to as "the bean.")
The Chicago L  is a rapid transit system that serves the city of Chicago and some of its surrounding suburbs. The L gained its name because large parts of the system run on an elevated track.
Navy Pier is a 3300-foot-long Pier on Lake Michigan in the downtown area of Chicago.  It is home to over 50 acres of parks, attractions, shops, restaurants, carnivals, and more.  It is one of the top attractions in the Midwest and Chicago's 2nd most visited tourist attraction.
Other Tips:
Book theatre, museum, and restaurant reservations in advance
Don't attempt to drive downtown if you haven't before
Purchase a Ventra card and use public transportation and the L to get around
Keep in mind that many attractions, restaurants, and shops are closed on Mondays.  Check ahead before going.
How to Travel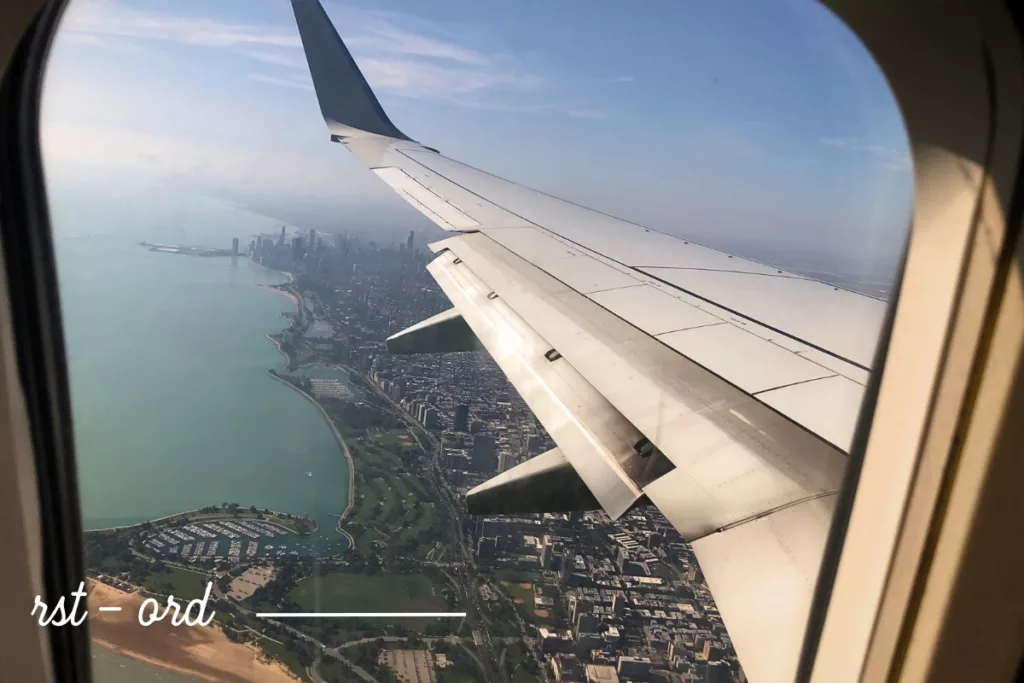 Flying to Chicago
Rochester International Airport offers three daily flights to Chicago ORD on American Airlines.  Flying through RST is fast, convenient, and easy.  Parking is a breeze and economical at $9/day (with weekly rates set at $54).  Security lines are short, and if you have TSA Pre-Check, your wait time is even shorter. The TSA agents are regularly commended by travelers for their friendliness — see for yourself!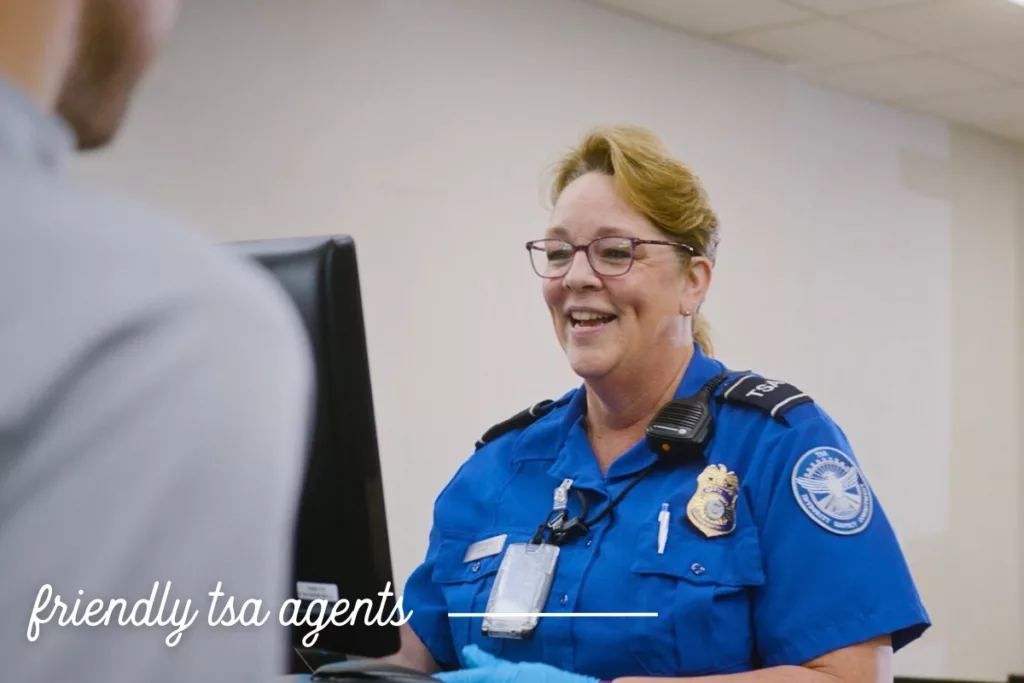 Rochester International Airport also provides other helpful amenities such as free WiFi, Quiet Rooms, CaringTails Pet Therapy, and more all designed to make your travel experience as smooth and stress-free as possible.
Tailwind Concessions is the on-site restaurant and full-service bar at Rochester International Airport. With breakfast, lunch, and dinner offerings, every traveler has the option to enjoy a tasty meal no matter their schedule. Tailwind Concessions menu offers healthy ingredients, cultural needs, dietary restrictions, and medical needs of travelers.
With a total flight time of about 1 hour and 20 minutes from RST to ORD, cut the long day of driving and get to the fun stuff faster!  And consider the actual cost of booking out of MSP or another airport before doing so.
Public Transportation 
Chicago Transit Authority or CTA is responsible for the city's trains and buses. The trains are referred to as the "L." The name is derived from some of the city's elevated train lines. The trains connect the city via above-ground, street-level, and subway trains, and serve 145 rail stations all over town.
CTA buses run all throughout Chicago with stops every few blocks.  You can ride the L or buses with a Ventra card or pay cash for a single trip.
The regular fare for the L train is $2.50, and for a bus trip, it's $2.25. Purchase a one-day CTA pass for $5, a three-day pass for $15, or a seven-day pass for $20. The L train fare from O'Hare International Airport is $5. Reduced or free fares are available for children, students, seniors, people with disabilities, and active military.
Purchase disposable single-ride, one-day passes, and three-day passes at vending machines at any L station with either cash or a credit card (if you choose the former, you may transfer up to two rides within two hours at no extra cost). However, you can also purchase a Ventra Card and load it with value or one of the day passes, or add the Ventra Card to your smartphone or AppleWatch (or other smart-watch) via the Ventra app.
Metra Rail is a high-speed commuter train connecting the outer suburbs of Chicago to the heart of downtown.  It's a fast and easy way to travel, with convenient parking lots to leave your car parked. Find route maps and fares here.
Driving
Driving from Rochester, MN to downtown Chicago will take about 6 hours. However, if you have not had a lot of experience with driving in large cities, we'd encourage you to think twice about downtown driving.  Consider many of the other options available to easily navigate around as you sightsee and avoid the hassle of parking, getting stuck in traffic, and potentially stressful situations.
If you do choose to drive, consider using some of these helpful apps and websites to help you navigate the city:
Where to Stay
33 West Illinois At the corner of Illinois St & Dearborn St, Chicago, IL 60654-4957 // (855) 605-0317
Just steps away from Michigan Avenue and halfway between the entertainment area and the Loop (business area), Hampton Inn & Suites is super convenient for a weekend away. When booking, be mindful that not all Hampton locations in downtown Chicago are suite locations…this one is. So, a heads up if that's important to you!   Add in amenities like free breakfast and free Wi-Fi, and you cannot beat the value of staying at this Hampton Inn & Suites.  It's also close to I-94, Lakeshore Drive, and all forms of public transportation.  As it's located downtown, this hotel also doesn't look and feel like a typical Hampton Inn & Suites giving it that much more special of a "getaway" feel.
1 W Washington St, Chicago, IL 60602-1603 // (312) 940-7997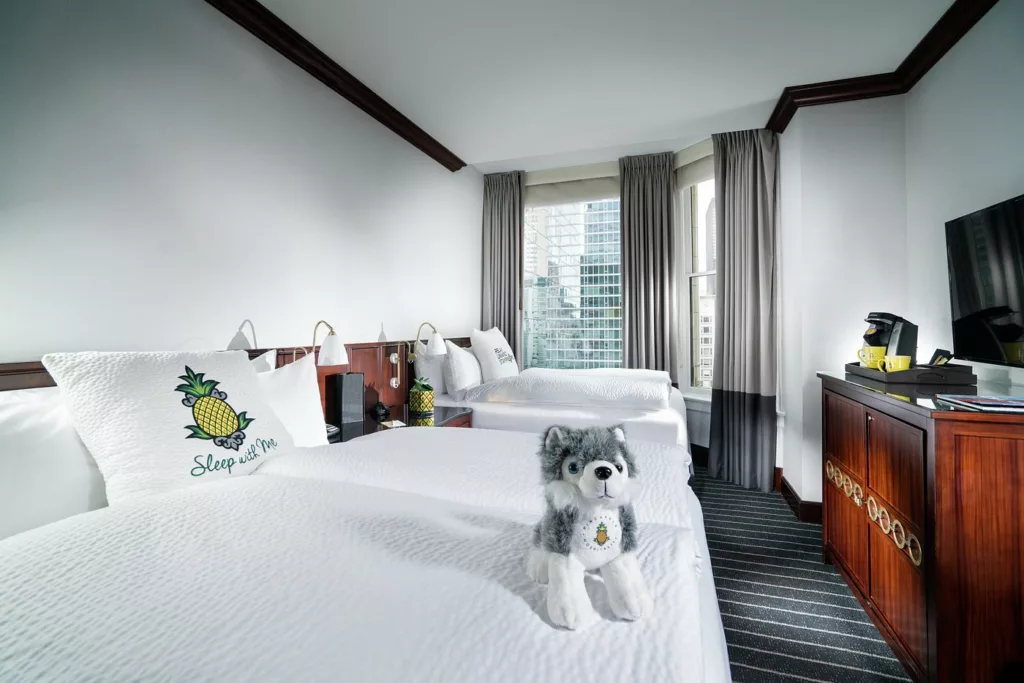 If you're looking for something more unique, and out-of-the-box, but still in the heart of it all, Staypineapple is it. This boutique hotel is housed in a National Historic Landmark building and is steps away from Millennium Park, the Theatre District, Magnificent Mile Shopping, and more! If you love a funky vibe but still want a great location, Staypineapple is for you.  We especially love the historic features of the feeling juxtaposed with the modern branding of the hotel — rooms are pineapple-themed! The entry-category rooms here are incredibly affordable while still providing that boutique feel. Keep in mind that the rooms are smaller so pack light and get creative with storing luggage. Tip: Book the Millenium Park View Suite for views of Lake Michigan and Millenium Park!
616 N Clark St, Chicago, IL 60614 // (773) 231-7300
If staying directly downtown is not your idea of a good time, The Neighborhood Hotel might be more your speed.  Founded by travel enthusiasts, The Neighborhood Hotel looks to provide a home-away-from-home atmosphere while traveling in the heart of the Lincoln Park neighborhood.  This apartment-style property features 14 suites of 1-3 bedrooms with kitchens, washers/dryers, and thoughtful decor and art throughout the suite.  Nearby attractions and sightseeing include Lincoln Park Zoo, Fullerton Beach, and so much great dining and shopping.  Keep in mind that The Neighborhood Hotel building dates back to 1893 and does not have an elevator. But it does have a beautiful, grand staircase that leads to the suites. Think of it as your own personal grand entrance!
Where to Eat
Choosing where to eat in Chicago is an almost impossible decision. With endless options in every cuisine, you could spend days, weeks, and months exploring every corner and still not eat it all.  From world-renowned dining to hole-in-the-wall eateries — there is truly something for everyone.  We can't possibly recommend all of the great restaurants, so we'll talk about famous Chicago foods and make some recommendations!
Chicago Deep Dish Pizza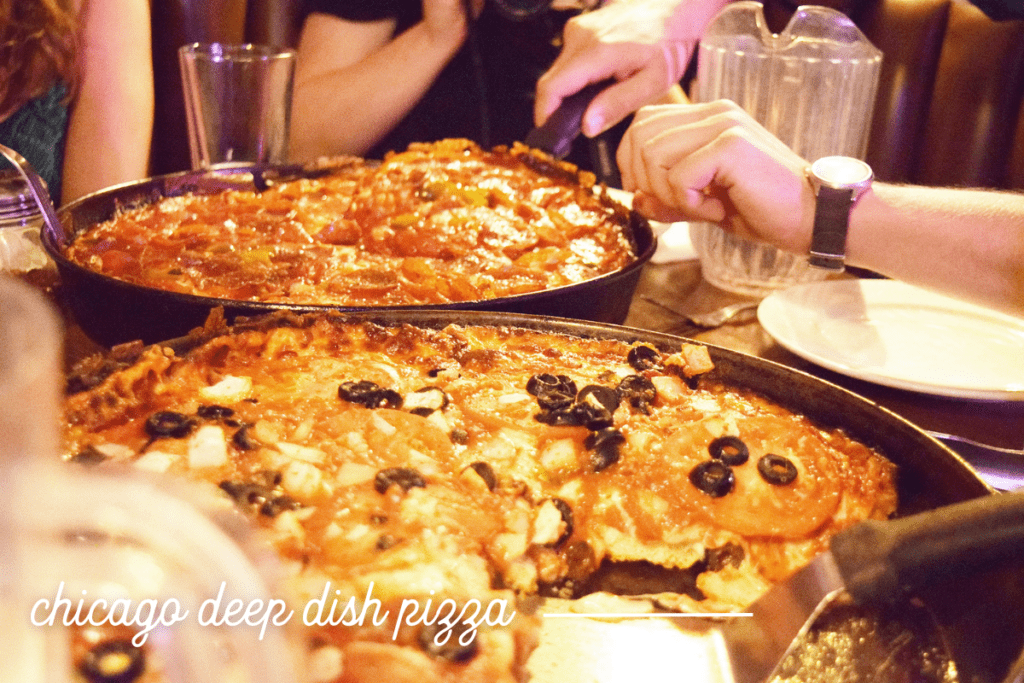 Synonymous with Chicago food, Deep Dish pizza is made by pressing dough along the bottom and up the sides of the pan.  Then the crust is filled with a thick layer of cheese and other ingredients and toppings.  It's a staple believed to have first been served at Uno's Pizzeria & Grill.  You can find Deep Dish Pizza all over Chicago, but if you want famous Deep Dish pizza (note that we did not say the best deep dish) try Lou Malnati's, Gino's East, and Giordano's.
NOTE: Thin crust, super crispy, tavern-style pizza is having a moment in Chicago right now. (Actually, all across the US!) Check out tavern-style pizza at Pat's Pizza and Ristorante.
Chicago Style Hot Dog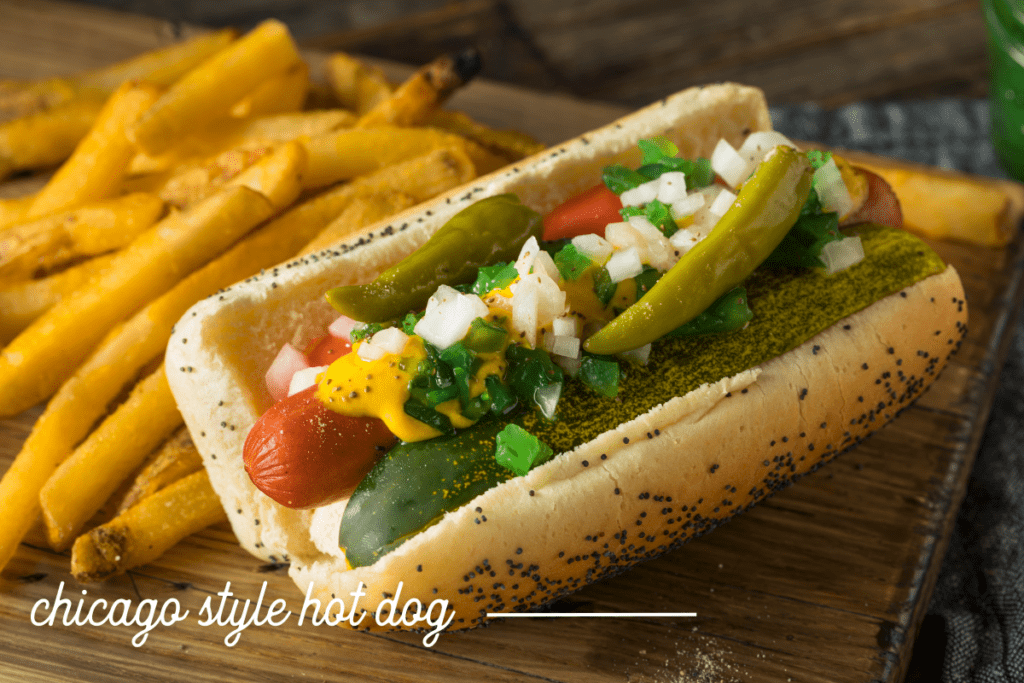 A true Chicago Style Hot Dog is an all-beef frank nestled in a steamed poppy seed bun with yellow mustard, sweet pickle relish, minced white onions, a dill pickle spear, tomato wedges, pickled sport peppers, and celery salt. No ketchup.  This is an unbreakable rule for any Chicago Style Hot Dog connoisseur.
Find Chicago Style Hot Dogs everywhere — everywhere — in the Windy City.  Try these establishments for an exceptional dog and other delicious eats: Red Hot Ranch, Superdawg, The Hot Dog Box, and Chicago's Dog House.
Chicago Style Popcorn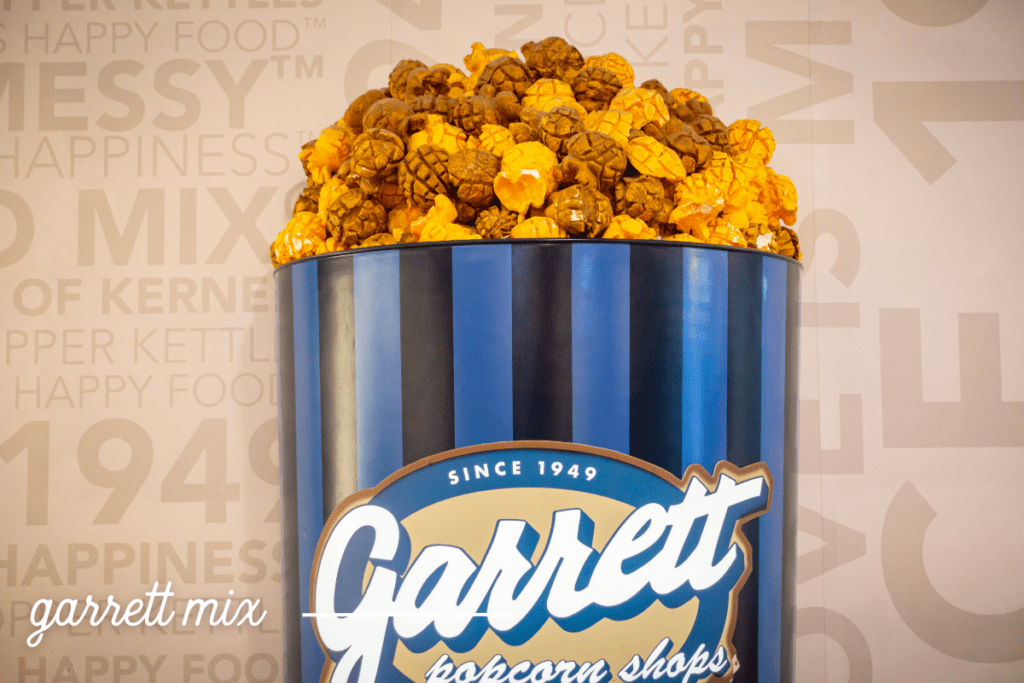 Chicago Style popcorn is a blend of sweet caramel popcorn and salty cheddar popcorn. This was made famous by Garret Popcorn customers who wanted a sweet and salty treat.  This special blend became known as the Chicago Mix and was quickly picked up by other popcorn purveyors across the city.  That is until 1992 when Minnesota-based company, Candyland, trademarked Chicago Mix® and Garrett Popcorn was forced to use the name Garrett Mix to describe the blend that made them famous. Get Chicago Style popcorn at Garrett Popcorn, Mr. Poppa Gourmet Popcorn, Let's Get Poppin, and Nuts on Clark.
International Cuisine
Chicago has vibrant and rich ethnic diversity.  It has one of the richest Immigration histories in all of the United States. This, of course, is reflected in the cuisines available to residents and visitors to Chicago.  Fortunate for us!
Chinatown is located on the south side of Chicago (southwest of the Loop).  Chinatown was first established after 1869 when the first Chinese arrived in Chicago to escape anti-Chinese violence that had erupted on the West Coast. Take a day to explore this amazing neighborhood and eat your way through the streets!
Visit the Lincoln Square neighborhood for German food from restaurants such as Himmel's, Gene's Rooftop Beer & Wine Garden, and Prost.
The Polish Triangle, just northeast of the Loop, is where you'll find Chicago's oldest Polish settlement.  Try Podhalanka, Kasia's Deli, and Staropolska Restaurant. It would be a mistake to not order pierogis at any of these restaurants!
Humboldt Park is a great neighborhood to visit for a bustling cultural corridor, bright, colorful murals, and its rich Puerto Rican roots.  You'll need to try a jibarito — a plantain-based dish invented right in Humboldt Park.  Try El Picosito Jibaro or Jibaritos y Mas.
What to Do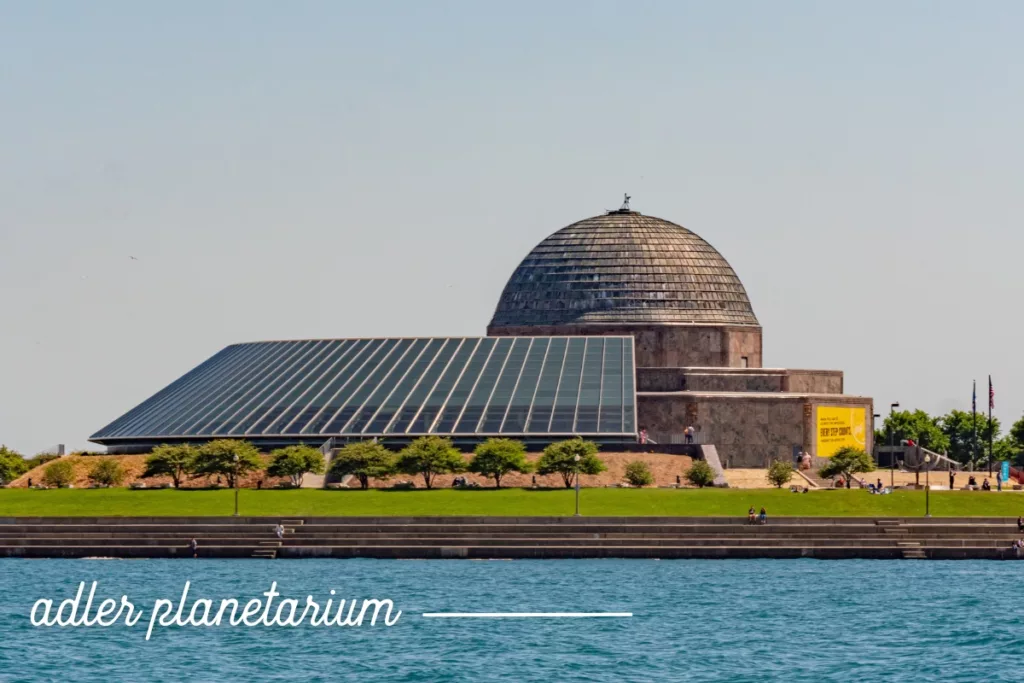 Like the What to Eat list, this list could go on forever.  The options for fun, sightseeing, and things to do are absolutely endless.  Below are some of our favorite things to do, plus a few things that are absolute Chicago classics.
Navy Pier is an iconic Chicago destination.  Ride carnival rides such as the Centennial Wheel, see attractions, take a boat tour, attend free public programs, take in culture, and much more.  It's like a city in itself!  If you visit between Memorial Day and Labor Day, don't miss the fireworks on Wednesdays and Saturdays.
Chicago Riverwalk is a 1.25-mile long path that has been constructed in phases over time and includes four distinct districts; The Confluence, The Arcade, The Civic, and the Esplanade. See permanent and rotating public art, dine at one of the many restaurants, and enjoy family attractions.  The Chicago Riverwalk is oftentimes called the city's second waterfront (after Lake Michigan, of course).
Maggie Daley Park is a 20-acre park in the Loop near the Art Institute of Chicago and Millennium Park.  It features mini-golf, a climbing wall, a huge playground, picnic groves, and in the winter, ice skating.
Stargazer's Hub, Adler Planetarium's first exhibit since 2019, includes a look at many rare astronomical objects including one of the oldest known telescopes in existence. Take a look at the tools used throughout the centuries to discover the night sky.  Adler Planetarium is the country's first — definitely worth a visit.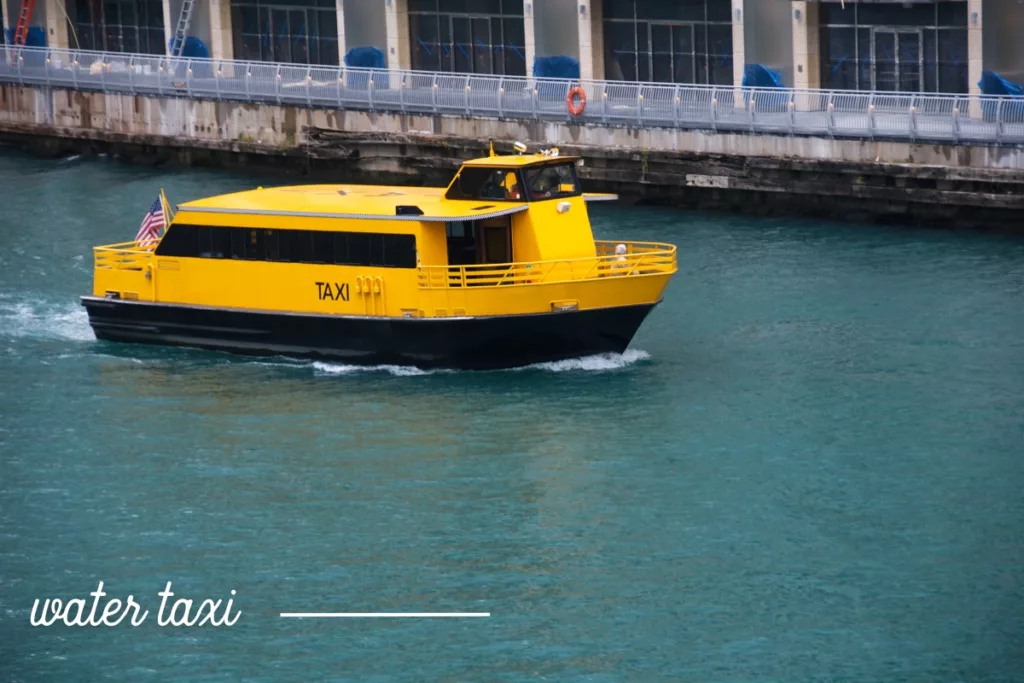 Take a Water Taxi along the Chicago River to travel between destinations along Michigan Avenue.  This is a super fun way to see the city buildings and the river at the same time.  Kids (and adults!) will love traveling on the bright yellow boats!
Shedd Aquarium is the 3rd largest aquarium in the Western Hemisphere. It is the first inland aquarium with a permanent saltwater fish collection. The aquarium has received numerous awards and distinguished honors and the building itself has been designated a National Historic Landmark.
Field Museum of Natural History is very popular for the caliber of its educational and scientific programs.  Permanent exhibitions include fossils, current global cultures, conservation efforts, and other artifacts.  The museum staff maintains a collection of over 24 million specimens and objects as part of ongoing research and programming efforts.
CAMP Chicago is a unique shop/play hybrid store. Inside each CAMP store are rotating themed experiences.  These experiences blend seamlessly with play and product. CAMP stores have expertly curated products, engaging activities for families to enjoy together, round-ups of top toys, tips on play trends, and more.
The Cauldron Chicago is a wizard-themed restaurant and bar set inside an old bank with an iconic vault. You will have to plan ahead to secure a reservation to sip on magic wand-poured cocktails. Or, book a potion-making class with alcoholic and non-alcoholic options.   The Cauldron is open to kids 5 and up during limited slips before 5 p.m.
It's Sugar on Michigan Avenue opened in 2022. This 11,400 candy shop is a sweet-tooth's paradise. Expect candy-shopping stations, and the store to be organized by candy type.  Did we mention it's colorful? Because it is.
Lincoln Park Zoo was founded in 1868 making it the 4th oldest zoo in the US.  This 35-acre Zoo is also FREE making it one of the only free zoos in all of North America.  The zoo started when the Lincoln Park Commissioners were given a gift of two pairs of swans from New York's Central Park Commissioners.
Where to Shop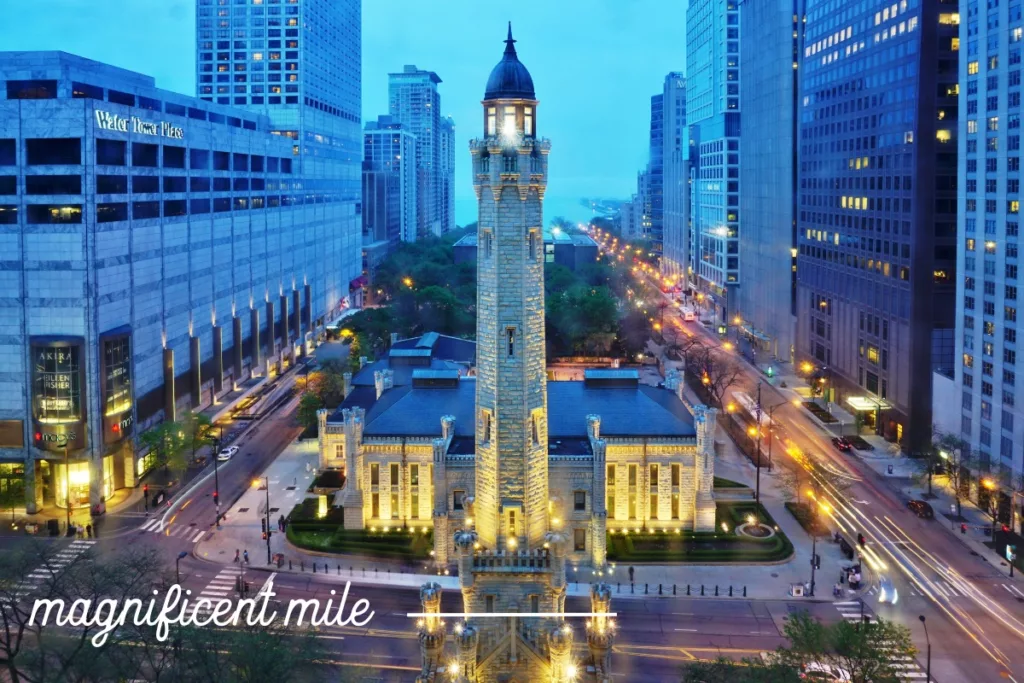 Similar to eating, there are so many incredible shops and boutiques in Chicago it is truly a shopper's delight.  From high-end fashion to indie-vintage outlets, you'll find it all. Instead of listing individual stores, we'll list shopping areas and what defines them. Have fun!
The Magnificent Mile is probably the most iconic of all shopping in Chicago.  This 13-block bustling corridor is the city's premier commercial district.  It stretches from the Chicago River on the south to Oak Street on the north.  You'll find 460 shops and boutiques, 275 restaurants, 60 hotels, and amazing skyline views.
Head to State Street in the Loop for some of the city's best shopping. You'll find modern malls, historic department stores, bargain shopping, specialty stores, and more.  Make sure to stop at Macy's and view its grand exterior facade and just as stunning interior with its shimmering Tiffany ceiling.  This building is a National Historic Landmark.
Wicker Park/Bucktown Shopping is full of vintage shops, eclectic curated goods, and independent boutiques.  You'll also find plenty of fair-trade coffee roasters, record stores, and other unique wares.  We love the quirky, funky personality of this shopping neighborhood!
The Andersonville Shopping Village is known as the "locally owned capital of Chicago."  This historic neighborhood, known for its Swedish roots, boasts restaurants, boutiques, shops, cafes, and more.  Take in the 19th-century row buildings while browsing the shops but don't miss the Andersonville Galleria with three floors of local vendors selling handmade and vintage goods, plus artwork, giftware, gourmet treats, and accessories.