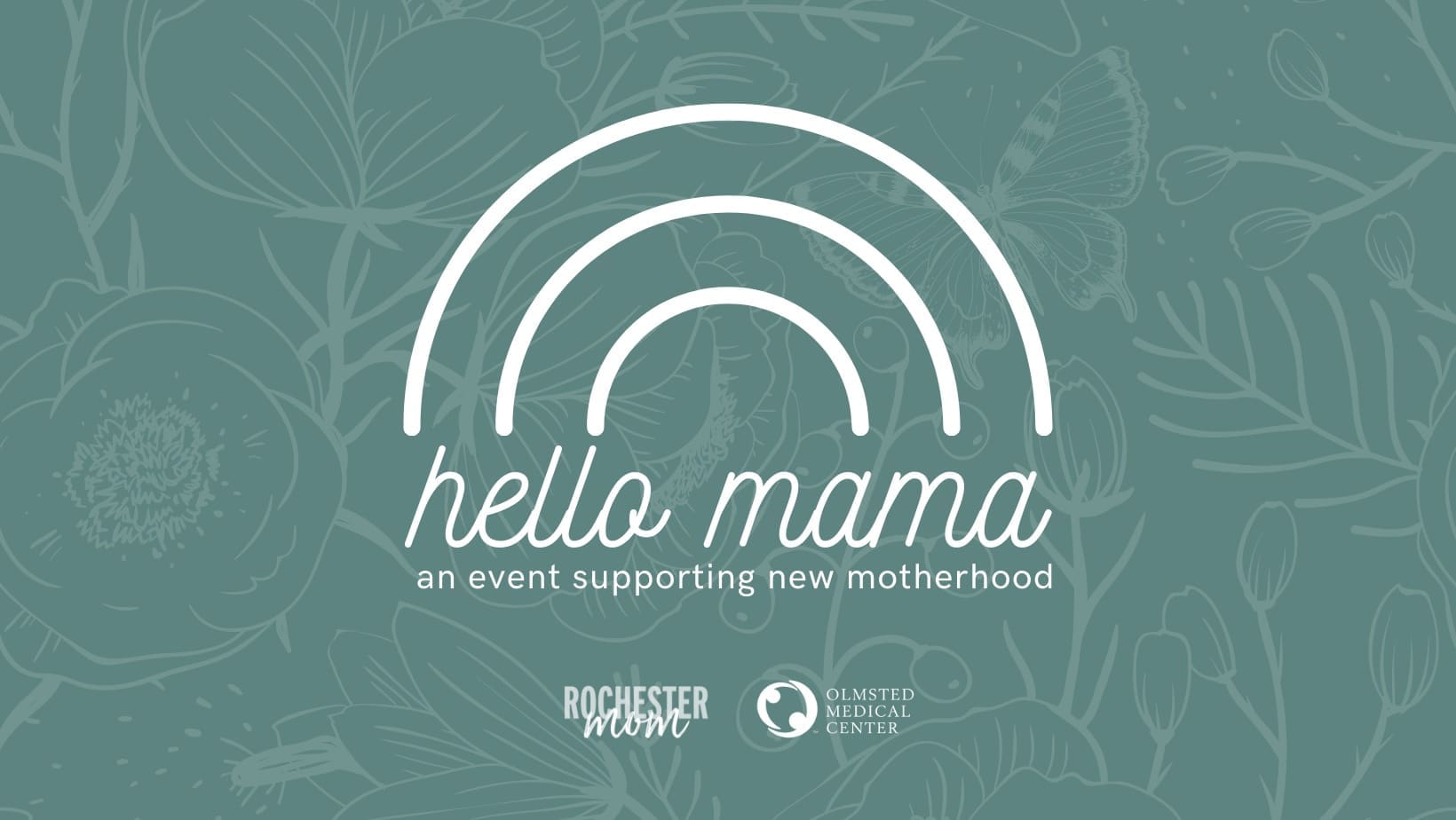 Presented by Olmsted Medical Center & Rochester Mom
SCROLL TO THE BOTTOM OF THE POST FOR THE REGISTRATION LINK!
Who :: all Rochester Area moms (you do not have to be expecting to attend!)
What :: We are thrilled to present our 7th annual event for baby, new, and expecting mamas  – Hello Mama: An Event Supporting New Motherhood. This event is entirely VIRTUAL to ensure the health and safety of all.
Why :: Whether you're expecting for the first or third time, are fostering, adopting, have a newborn at home, or are working your way through the toddler years and thinking of expanding your family in the future, this event is for you. Come enjoy a virtual morning of educational resources, giveaways and swag, fun experiences, and connecting moms and families with relevant local resources!
When :: Saturday, April 30th, 9 AM. This is simply the time of the live event.  If you are unavailable, you may watch the content whenever it works for you!  You will be able to comment for giveaway and swag bag prizes through Saturday, April 30th at 10 PM.  We will draw for giveaways on Monday, May 2nd at 8 PM.
Where :: from your computer, tablet, or phone (and from the comfort of your couch)! Hello Mama will be a virtual event.  Once you have purchased your ticket, request to join our Hello Mama Private Facebook Group where the virtual event will happen live on April 30th, 2022! (You will receive an email with a link to request to join!)
REGISTRATION IS FREE!
Includes access to the virtual event and 20+ high-end giveaways, and 5 "tickets" to use for entering giveaways.
NOTE :: Registration CLOSES April 28th at 10 PM. 
Registration includes the following:
Access to the private Facebook group and live event and all of our virtual event hosts, expert panel, giveaways, surprises, and more!
Opportunity to win a swag bag loaded with goodies
5 "tickets" to enter the giveaways of your choice
*Disclaimer: In order to qualify for the giveaways and swag bag drawings, you must attend the online portion of the event on Saturday, April 30th, at 9 AM. Comments will be accepted as entries until Saturday, April 30th at 10 PM.
Our Title Sponsor

We are so pleased to have Olmsted Medical Center as our Title Sponsor for the 6th year. OMC provides incredible support and education to Hello Mama attendees through their Expert Presentations and panel. Be sure to ask any questions you have to learn about their beautiful birth center, midwifery program, perinatal education, lactation consulting, and more!
"Understanding that labor is a healthy, natural process, OMC encourages families to become active participants in the entire birth experience."
"Offering family-centered care from early pregnancy to baby's arrival, our BirthCenter's facilities and caregivers work hard to provide the best possible birthing experience for you.
We know your birth experience is one of the most important events in your life. Most likely, you are experiencing strong emotions, dreams, and uncertainty in anticipation of your child's birth. Our staff will walk with you on your journey, providing exceptional medical care, support, and understanding."
Hello Mama Video Presentations & Expert Panel Members
We are delighted to welcome professionals and experts to present 8 different video presentations. Regardless of what stage of motherhood you're in, there's always something to ask or something new to learn.
2022 Hello Mama Video Presentations & Expert Panel Members
All video presentations will be emailed out prior to Bloom!  Be sure to watch these presentations and fill out the accompanying quiz to be entered to *WIN* a Graco TriRide 3-in-1 Convertible Car Seat!
You'll also have an opportunity to have your questions answered by our Hello Mama experts!
Your Hello Mama Experts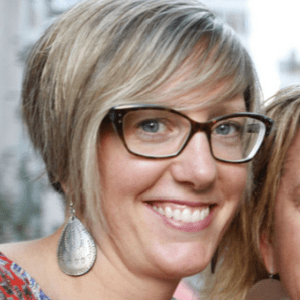 The Power of a Woman's Body: a Physiologic Birth
presented by: Amy Ntoburi, Certified Nurse Midwife
Olmsted Medical Center
Olmsted Medical Center's thriving midwifery service now has 5 Certified Nurse Midwives who attend births at the Women's Health Pavilion. Midwives view pregnancy and birth as normal life events that can be a healthy time in your life. They are experts in knowing the difference between normal changes that occur and symptoms that require extra attention. Midwives specialize in providing support and education in addition to regular health care and offer health care that respects the goals and choices of each individual woman and family.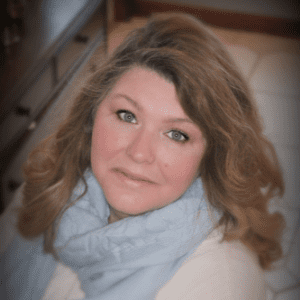 Pumping: Realistic Expectations and Reducing Guilt
presented by: Toni Koehler, RN, BSN, IBCLC
Olmsted Medical Center
Tonya has been a part of the OMC Lactation department team for over 15 years.  She became an Internationally Board Certified Lactation Consult in 2009 and continues to rotate her time between OMC Birthcenter and Lactation Service departments.  Her husband Kurt and she have 4 children that have impacted her passion for breastfeeding and working with moms in our community.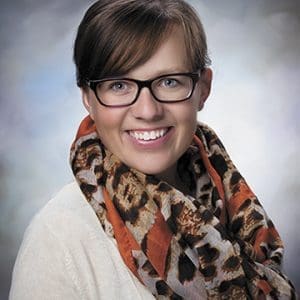 Giving Birth during COVID-19
presented by: Dr. Melissa Richards, M.D.
Olmsted Medical Center
Melissa Richards M.D. is the department chair of the Obstetrics and Gynecology department at Olmsted Medical Center.  Dr. Richards enjoys a full-spectrum practice providing healthcare to patients throughout their life. As an obstetrician, Dr. Richards believes every patient should be well-informed and confident in the care received by her healthcare team.  Dr. Richards is proud of the ongoing response of the OMC staff to provide safe and personalized care during the COVID-19 pandemic. She is also amazed by the resilience of the patients and families navigating through a life-changing event during life-changing times.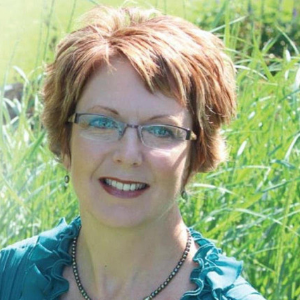 Perinatal Education Services at Olmsted Medical Center
presented by: Amy S. Fry, BFA, CD, ICCE, CLC-Coordinator
Olmsted Medical Center
After teaching art in the schools for 15 years, Amy became a DONA certified Doula in 2001, and an ICEA certified Childbirth Educator in 2005. Amy has taught various prenatal classes at OMC since 2002. She is currently the Prenatal and Family Education Coordinator and a Certified Lactation Counselor. Amy and her husband Jeff have 3 grown children, a son and daughter "in-love", 2 grand puppies, and 2 grandsons.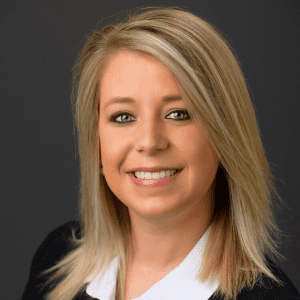 Planning Your Baby-Centric Budget
presented by: Danielle Sommerfeldt
First Alliance Credit Union
When it comes to adding a new baby to your family, there are more costs and expenses to consider beyond the bottles and car seats. In this presentation, Danielle will share important tips and advice you may not have thought about to help you successfully prepare your family for your new baby-centric budget.
My name is Danielle Sommerfeldt. I have been working in the finance industry since 2007 when I started as a part-time teller in my hometown.  I joined the First Alliance team in 2019 as a Branch Manager for our Commerce Drive branch. In my free time, I am a full-time mom of a beautiful, energetic 3-year-old girl! This June my husband and I will celebrate our 7 year anniversary. In our spare time, we like to be outdoor and hiking around our land and we love spending time with our friends and family!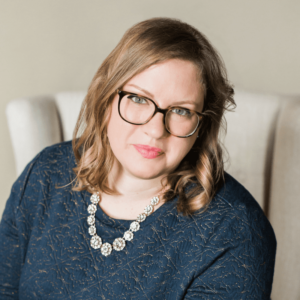 Navigating #RochMN as a Parent
presented by: Becky Montpetit
Owner, Rochester Mom
Starting a new family can be overwhelming.  Throw in that you're now looking for resources, and businesses and things to do that have never come across your mind pre-kids! Becky is born and raised in Rochester MN and has made this city her home with her husband and young family.  She'll talk about why she loves the city, how to navigate and look for resources to help you and your family, where to go, and little secrets along the way.  Bonus…this will be a LIVE presentation and you'll be able to ask questions in real time!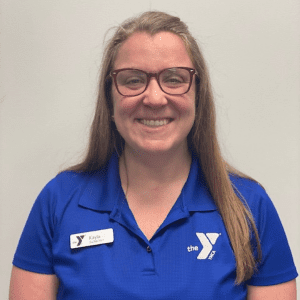 What Sets the YMCA – Early Childhood Learning Center Apart? 
presented by: Kayla Gannon, Child Care Program Director
Rochester YMCA – Early Childhood Learning Center
It's never too early to consider childcare!  In this video, Kayla Edwards, Child Care Program Director for the YMCA – Early Childhood Learning Center in Rochester MN, tells what makes the YMCA – ECLC so unique.
Learn about the values and goals of the YMCA -ECLC and also go on a virtual tour to see what the center looks like and imagine how your child might spend their day!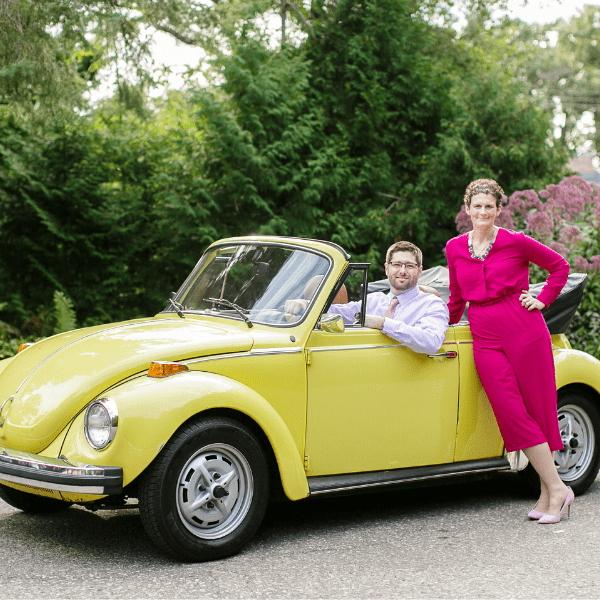 Loneliness, Motherhood, and Mental Health During the Pandemic 
presented by: Allison Loftus MA, LPCC, PHM-C, and Derrick Loftus
Flourish Counseling
Two years ago the world went on lockdown. For moms, it has been two years of struggle, grief, isolation, and survival. As if adjusting to life after baby isn't hard enough! Try throwing in a pandemic. No wonder statistics are showing that anxiety and depression in moms have more than tripled.
In this session licensed professional counselor and certified perinatal mental health specialist, Allison Loftus, and her husband, Derrick, have a candid conversation on the impact of loneliness during the pregnancy and postpartum period and share practical ways you can care for your brain.
Giveaway Sponsors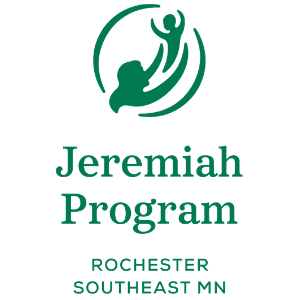 Who doesn't love a good giveaway? We're excited to present you with so many great items to win, all thanks to our wonderful giveaway sponsors!  Each registration includes five giveaway "tickets" to enter the giveaways of your choice but you have the opportunity to receive more!
Jeremiah Program offers one of the nation's most successful strategies for transforming families from poverty to prosperity two generations at a time. Jeremiah prepares determined single mothers to excel in the workforce, readies their children to succeed in school, and reduces generational dependence on public assistance. The Rochester MN campus broke ground two years and close to 40 families are now being served in the newly opened Rochester campus!
$5 will get you two extra giveaway "tickets" and $10 will get you five giveaway "tickets."  The more you donate, the better your chances of winning – it's that simple! We hope you will participate in this important initiative of giving back to moms and families in our community. When completing your registration, please indicate how many giveaway tickets you would like and these donations will go directly to Jeremiah Program.
Swag Sponsors
Those registered for Hello Mama have an opportunity to WIN an incredible swag bag full of wonderful goodies and products for you to enjoy from the businesses listed below! Use the digital passport in the Hello Mama digital magazine sent to you prior to the event to help you comment on each business's videos and all of the event posts.
The more you comment, the better your chances of winning an AMAZING swag bag (your chances are high that you'll win…we have a LOT of bags!) Swag bag pickup will be at the Olmsted Medical Center Women's Health Pavillion from May 2nd through May 6th.  You will receive an email prior to May 2nd if you've won a swag bag.
REGISTER BELOW!
**Please Note** Registration will not be available on the day of the event. ALL registration must occur beforehand. By purchasing a ticket you are permitting Rochester Mom to take photos that may include your name at the virtual event for promotional use. All registrants will be added to the Rochester Mom email list for communication purposes.