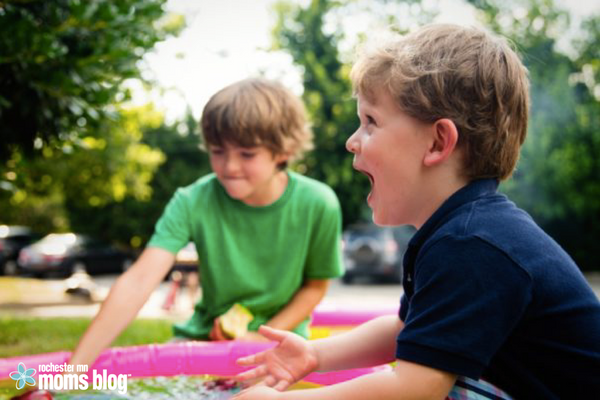 As many moms know, a scheduled playdate is just as great for moms connecting with one another as they are for kids getting their wiggles out. Rochester is filled with an abundance of kid-friendly spots, you just need to know where to find them. Whether you're looking to meet up for a playdate in winter or summer, weekday or weekend, our Rochester, MN Moms Guide to Playdates is here!
Find Other Parents to Meet Up With
First off, if you're new to town or looking to connect and meet other parents over a playdate, be sure to join our Rochester MN Moms Blog Community and Conversation Group on Facebook. With nearly 800 local moms in the group, you're sure to find one who also wants to get out! You can also find your neighborhood group if you're looking for other moms to meet up with at the neighborhood park or in a local, public location.
Indoor Play Spaces for Playdates
During the chilly winter months, or humid Minnesota summer days, staying inside can sometimes be the best option. Although some of our local indoor play spaces are seasonal, all are bound to be a good time for your kiddos. Check out our comprehensive Rochester MN Moms Blog Guide to Indoor Play for a great list of indoor playdate spots.
Restaurants and Coffee Shops with Play Spaces
If you're planning a playdate around a mealtime or want to meet another mom for coffee while the kids can play nearby, Rochester has a handful of restaurants and coffee shops with kid-friendly activity spaces connected.
A Few to Consider:
Old Abe Coffee: If you've been in Rochester for a while, it's likely you know about Old Abe's coffee bike, but did you know there is a brick and mortar coffee shop as well? Located next to Cooke Park, Old Abe recently opened a neighborhood cafe featuring a selection of coffee drinks and other beverages, along with a selection of vegetarian food. The coffee shop also has a play area for kids so mamas can enjoy their coffee while kids are at play. Bonus: you can rent out free pickle ball equipment at the shop to enjoy a match on the pickle ball courts at Cooke Park!
McDonald's Apache: Located next to Apache Mall, McDonald's Playplace is a great option if you want to grab a quick meal with your friends and then let the kids loose to play .
Chick-Fil-A: Meet for lunch and let the kids play at the new Chick-Fil-A Ear of Corn in Rochester. The restaurant offers an indoor play area for kiddos to play with their friends after they enjoy their meal.
Playdate-Friendly Parks and Pools
By the time spring hits in Minnesota, there's really nothing better than getting out into the great outdoors. (Isn't it amazing what fresh air does to our kids after months being mostly indoors?!) Rochester is filled with public parks and pools to entertain kids for hours! Both Silver Lake Park and Soldier's Field Park have massive play structures with a lot of variety for all ages. Most local schools and neighborhoods also have their own parks so be sure to see what is open near you with this park guide by the City of Rochester! For pools, check out our Guides to Summer Swimming here.
Outdoor Cold Weather Playdates
Are you a little more adventurous and don't mind facing the cold with your little ones? If you can find an equally adventurous mom, schedule a playdate over a sledding or ice skating outing! Be sure to dress warm and bring along some hot cocoa for a warm treat after. Rochester has two designated sledding hills, Judd Hill located at 3rd Street and 36th Avenue NW and Schmidt Park located at 6300 block of 24th Avenue NW. Check out our Guide to Skating for a list of kid-friendly locations.