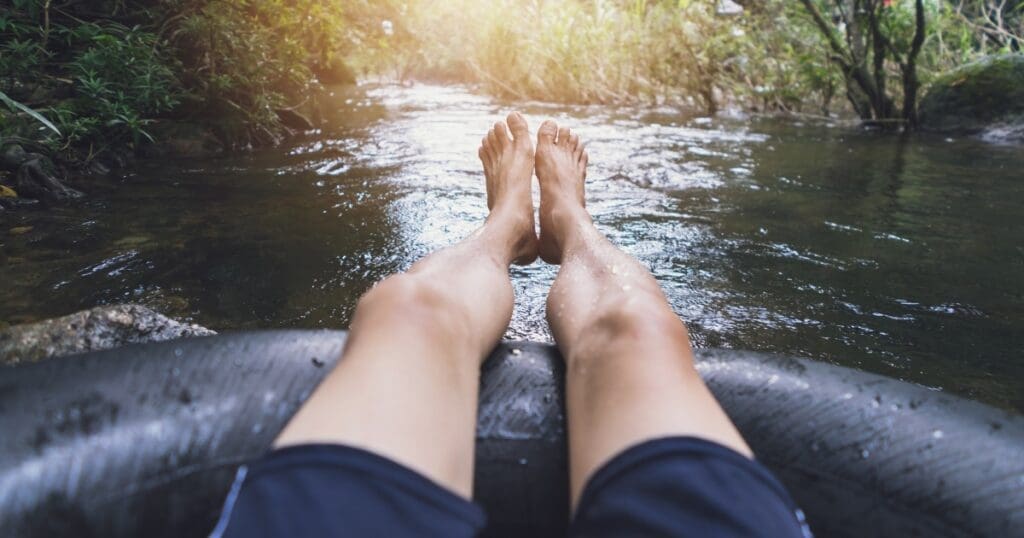 Updated June 19, 2023
You've made it a fair way into our beautiful Minnesota summer, and you've already checked out the pools featured in the Rochester MN Guide to Summer Swimming. Looking for new water activities or new ways to get out on the water? We have you covered! These water activities are for the whole family, and would also make a lovely date night. Enjoy!
Rent a paddleboat, canoe, or kayak at Silver Lake Fun.  If you've used the amazing trail system here in Rochester, you've likely seen Silver Lake from shore.  Check out a new vantage point from a paddleboat, canoe, or kayak.  Rentals are available by the hour or by the day.  The Silver Lake Fun boathouse is located off of West Silver Lake Drive, near the intersection with 7th Street Northeast.
Go tubing on the Root River with Root River Outfitters in Lanesboro. They offer two different tube trips, with the shorter trip ranging from 2.5 – 3 hours and the longer trip lasting 4.5 – 5 hours. If your child weighs less than 90 pounds you will need to bring an appropriate personal flotation device for them. They also have canoes and kayaks for rent.
Check out a Minnesota State Water Trail.  They recommend trips on the website, including some overnight options, as well as whitewater paddling options for experienced paddlers. If you would rather take a guided tour, check out Broken Paddle Guiding based in Wabasha.  Their extensive tour offerings include both kayaks and stand-up paddleboard tours.
Go for a sail on Lake Pepin, with Sail Pepin.  Sail Pepin offers daily morning, afternoon, evening, and sunset cruises from Pepin, WI, and Lake City, MN.  They also offer youth sailing outings as part of a team in their Full Sail Team Programs.
Hang glide over Lake Pepin with Eagle Hang Gliding. From their webpage, "You will have a highly-skilled certified tandem instructor by your side at all times. The glider is towed up to altitude using a platform launch system via Boat. After the pilot and you have reached the desired altitude, he will release you from the tow line. Each flight experience is customized to take advantage of the conditions that exist at the time of your flight, so flight times do vary. We may tow to over 3,000 feet, or we may release from the tow line at 1,500 feet and gain altitude from the thermal lift, or we may soar the upward lift produced from the ridges and bluffs that surround the lake." The whole crew was a lot of fun and we truly enjoyed our "flights."
Cruise on the Mississippi River via the Winona Tour Boat (departs from Winona), or the La Crosse Queen (departs from La Crosse, WI).  The Mississippi River played an important role in the history of our region and also offers amazing views of wildlife.
Rent a houseboat from Fun 'N The Sun rentals in Alma, WI.  Houseboats range in size and can accommodate up to 12 passengers.  Houseboats sail from Great River Harbor, which is 3 miles south of Alma.  Navigate and fish the Mississippi and St. Croix rivers, enjoying the river towns and beaches along the way.
Enjoy these fun water activities, but remember to be safe!