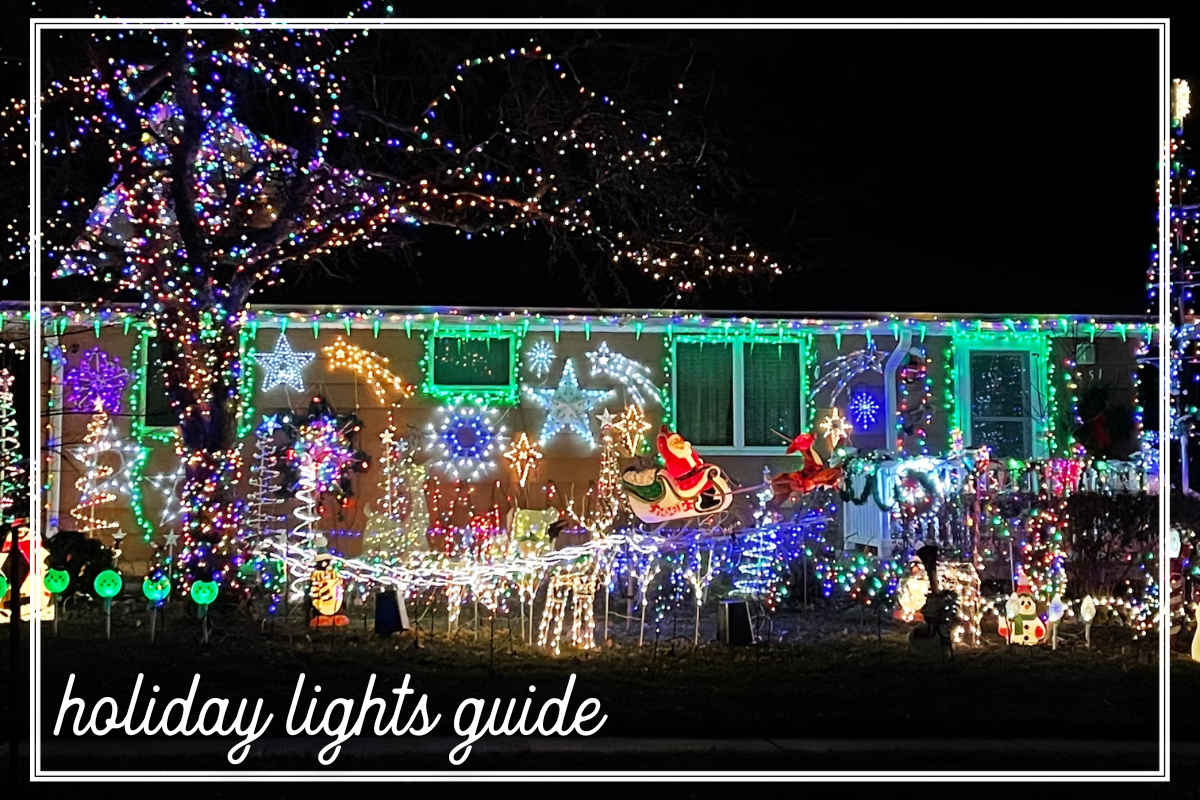 **Last updated 11/25/23** It is early in the season, and this guide is based ONLY on the last update from the 2022 lights guide. It will change as the season progresses!
A beloved holiday tradition is to bundle the entire family into the car, pack some snacks and hot chocolate, and drive around to look at Christmas lights. This year, it seems that so many people wanted to bring Christmas cheer after a tough year that the light displays are bigger and brighter than ever!
Earlier in November, we asked for submissions for light displays and were completely overwhelmed by the response. Thank you for helping us build this guide!
All of the displays below have been submitted by readers, community members, or displays we have seen ourselves.
This list is always subject to change. We do our very best to keep this guide updated, but cannot guarantee that a light display on this list will always be there or on.  
Here's how to use our guide:
We color-coded the areas of town for convenience and ease when driving around.
We also took into consideration how close the displays were to each other when we typed out the addresses.
The entire map is posted below.
You are able to filter the areas you'd like to visit by clicking the layers on the left-hand side of the map (on desktop) and clicking "view map legend" on mobile.
Legend:
NW: Red
NE: Purple
SE: Blue
SW: Green
Highlights: Yellow
Have a display or an update to add to our list?  Please fill out the form below!  **Displays listed are subject to change but are as accurate as possible.**
Have fun!! Also, don't forget to print the Holiday Bucket List off here!
NORTHWEST ROCHESTER
Chippewa Drive NW and Itasca Ct NW (The Enchanted Forest!)
7010 Indigo Ct. NW
6375 Granite Dr NW
Knotting Hill Lane NW
6364 Sunset Hill Place NW
Hillsboro Drive NW (the Grinch!)
5900 Manor Ct NW
54th Ave NW
5348 51st Street NW
3415 Arbor Drive NW
5603 23rd Ave NW
3915 46th Ave

NW

1627 46th Street NW
1500 38th Street NW
35th Street NW (cul de sac)
1123 Knoll Ct NW
1138 Knoll Ct NW
1143 Knoll Ct NW
Elton Hills Court NW
3011 5th Ave NW
28th Street NW between 30th Street NW and 9th Ave NW
2551 13th Ave NW (two for one at this house!)
2525 17th Avenue NW
Oak Knoll Lane NW
2012 Valkyrie Dr NW
702 Westwood Court NW (Blue Christmas!)
1405 3rd Ave NW
19th Street NW and Viking Drive NW
827 10th Street NW
23 9th St NW
1003 2nd Street NW
2209 22nd St NW
3805 7th St NW
Manor Drive NW
Manor Woods Drive NW
4414 6th St NW
328 36th Ave NW
154 Interlachen Ln NW
176 Westchester Dr NW
4822 3rd St NW
4707 4th St NW
NORTHEAST ROCHESTER
1413 4th St NE (lights at the house go to music!)
724 12th Avenue NE
1229 East Center Street
1108 12th Avenue NE
1854 Kerry Drive NE
2711 Osjor Ct NE
1434 13th Ave NE
1828 Wilshire Dr NE
1664 Wilshire Dr NE
1435 City View Court NE
915 Sierra Lane NE (National Lampoon's Christmas Vacation themed!)
604 23rd Street NE
1739 Northern Valley Drive NE
Northern Heights neighborhood
Northern Heights Drive NE just off of Broadway (The Crystal Forest)
Rocky Creek Lane NE
Cassidy Ridge Dr. NE
2216 Jade Place NE
3512 Jasper Ln NE
SOUTHEAST ROCHESTER
435 12th Ave SE (visit Santa's Workshop and meet the man himself!)
420 10th St SE
1034 6TH AVE SE
720 15th St SE
1617 8th Ave SE
215 18th ST SE (Rudolph theme and lights synced to music!)
Spruce Meadows Dr SE
814 25th Street SE (all homemade light displays!)
2008 24th street SE (Pokemon Christmas display)
24th Street SE
4029 Countrywood Drive SE
4511 Sandywood CT SE (Lights synced to music, tune to FM 95.9 on radio)
1430 Fairlane Ct SE
1227 50th ave SE
820 50th Avenue SE
328 36th Ave SE
307 Brookestone Dr SE
SOUTHWEST ROCHESTER
Plummer Building SW
Annenberg Plaza NW (between Mayo and Plummer Buildings)
St. Mary's Hospital Nativity Scene
608 5th Street SW
624 9th Avenue SW
621 10th Street
Pill Hill Neighborhood SW
Solider's Field/Old SW Neighborhood SW
621 10th Street
28 Conner Cir SW
Wimbledon Hills Drive SW
Eagle Lane SW
4147 8th St SW
604 23rd Ave SW
305 19th Avenue SW
Hill Place Southwest
Younge Park Neighborhood SW
Fox Knoll Drive SW
960 Fox Knoll Dr SW
1131 Foxcroft Lane SW
Lad Lane SW
2201 Baihly Heights Dr SW
1357 Woodland Dr SW
Autumn Ridge Road SW
Autumn Lake Ct SW
Wright Road SW
1735 Juniper Ln SW
566 36TH ST SW
2251 Galileo Place SW
Scenic Oaks Neighborhood
South Pointe Ct Neighborhood
4060 Autumn Lake Ct SW
OUTSIDE ROCHESTER — WORTH THE DRIVE!
Sommerby Golf Club, 975 Somerby Parkway NE, Byron MN 55920 (Huge tree covered with thousands of white twinkle lights!)
611 Golfview Court, Mantorville MN (Over 10,000 lights choreographed with computers for a fantastic display. Display covers front one acre of yard and includes house.)
Lights of Lewiston – 27069 County Rd 29, Lewiston, MN | 35,000 lights synched to music via radio station 99.5
ADD A LIGHTS DISPLAY TO OUR LIST!