This post is sponsored by Rochester International Airport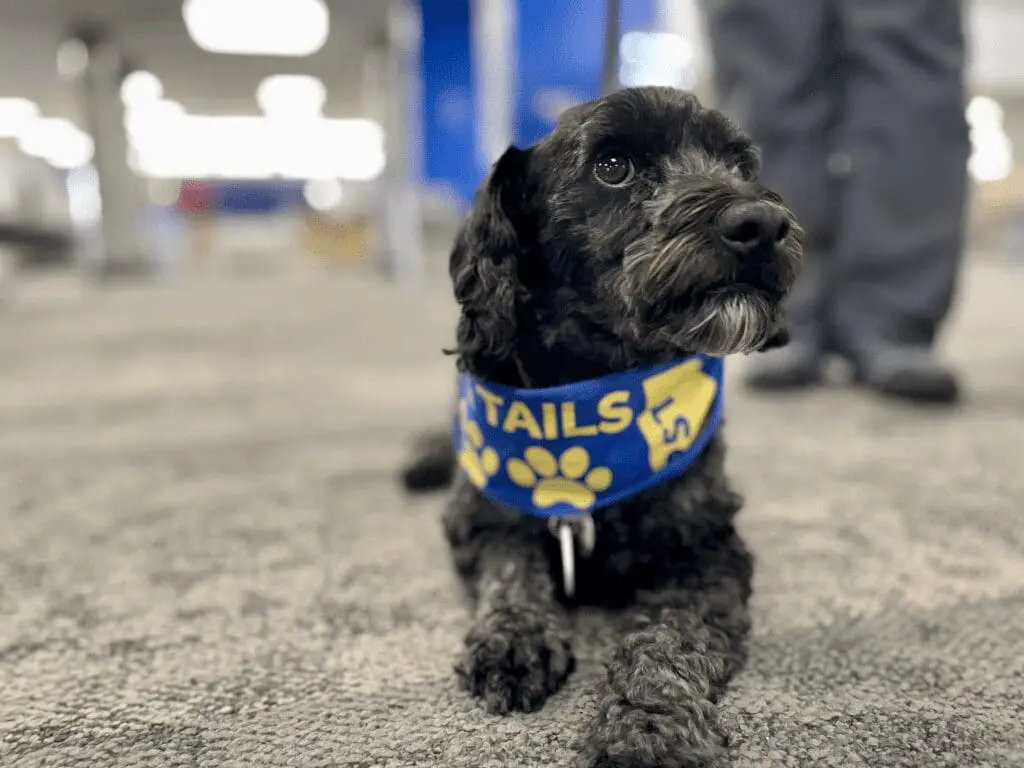 Rochester International Airport is dedicated to taking the stress out of traveling. One of the innovative ways they are doing this is with the Caring Tails Therapy Dogs program. Caring Tails provides stress relief, comfort, and care to travelers.
Gayle and Buddy
As Gayle and Buddy, a 4-year-old Cockapoo (Cocker Spaniel & Mini Poodle mix) make their way around Rochester International Airport, Buddy often takes the lead on who they stop and interact with. "Buddy gravitates toward people. He breaks the ice, and then I'll ask whether they have a pet at home, and then the conversation opens up."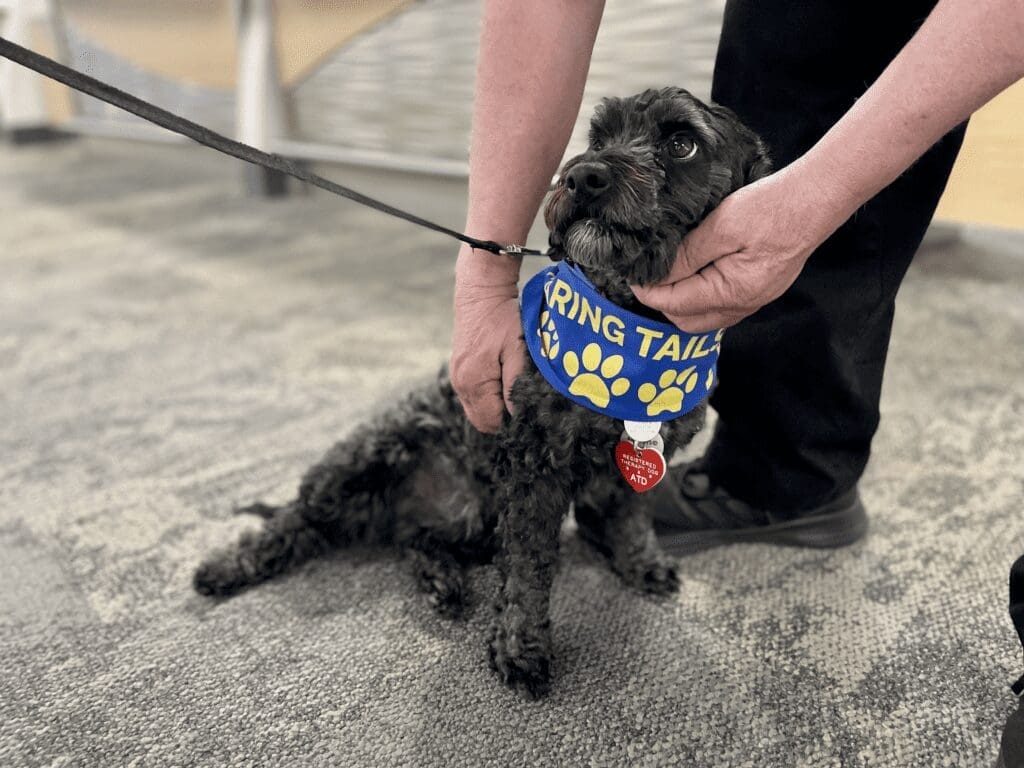 Buddy and Gayle are a team working with Caring Tails Therapy Dog program at the Rochester International Airport. "I've always loved airports. After Buddy completed his therapy dog testing and registration with the Alliance of Therapy Dogs, we were connected with Amy Roberts at Rochester International Airport in October 2022. The program had been shut down during COVID, and it's so good to have it up and running again."
Caring Tails is a unique program offered at Rochester International Airport where registered therapy dogs and their handlers bring comfort, stress relief, and smiles to travelers through the airport. "I've been really surprised by the people who want to interact with Buddy. I had assumed it would be mostly kids who would want to pet him, but really it's mostly adults who connect with Buddy. As we walk around, if anyone looks interested or smiles at us, we'll stop and ask if they want to pet him." Buddy may be the registered therapy dog, but Gayle is just as instrumental in the therapy team as Buddy. While the person connects with Buddy by petting him, they will often open up and talk with Gayle. "We really are a team. As they pet Buddy, they will often share a lot about themselves with me. I just try to be a good listener to them."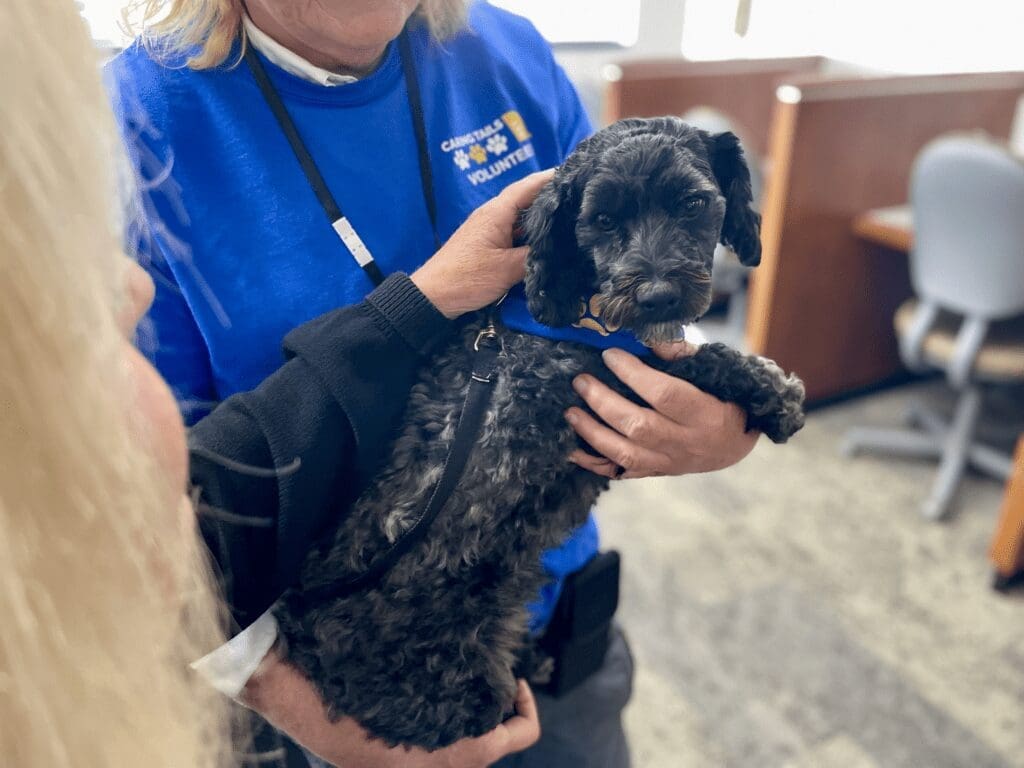 Gayle and Buddy have made memorable connections with passengers coming and going from Rochester for many reasons. "Therapy dogs are such a stress reliever for people. And it's not just travelers– we frequently interact with RST Airport employees as well. It's a great stress reliever for them in their workdays."
Buddy's Path to Becoming a Therapy Dog
Gayle and Buddy's path to Caring Tails started as a personal one. Gayle's granddaughter, who has cerebral palsy, had surgery and had to be mostly in bed for 6 weeks during her recovery. Gayle and Buddy spent a lot of time with her, and Gayle noticed how Buddy gravitated toward her granddaughter and was a wonderful companion to her during that difficult time. "That's when I first thought Buddy might be a good therapy dog," she says. "She had been visited by therapy dogs while at Gillette Children's Hospital and said how much they helped with the pain."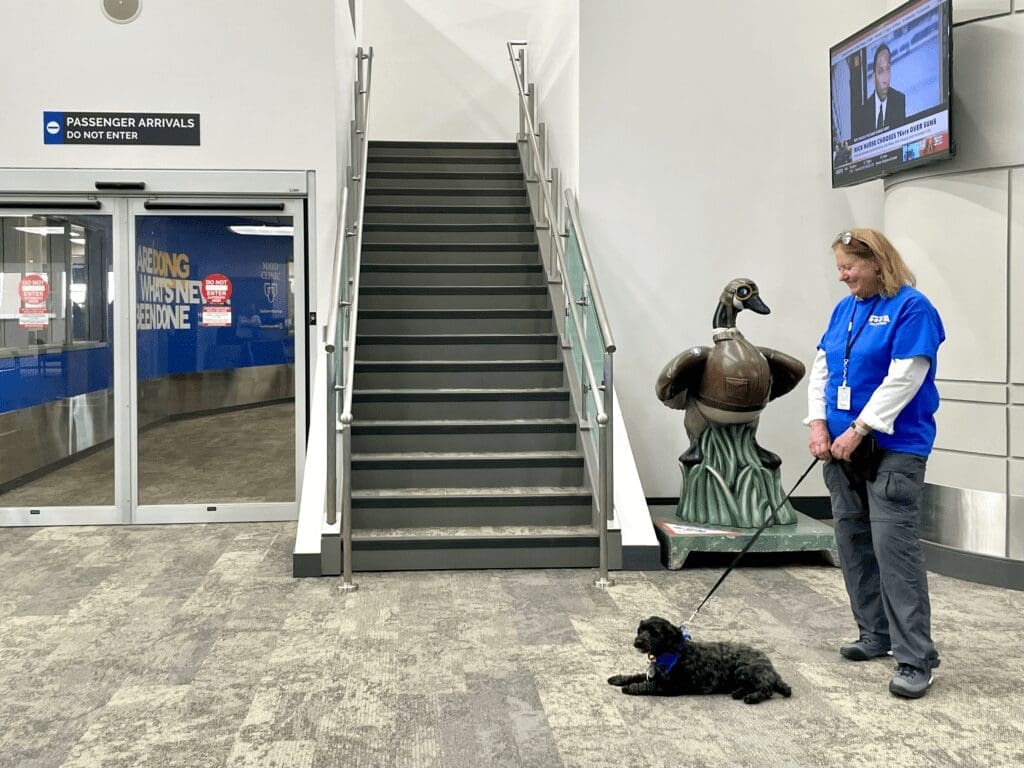 The process for getting Buddy registered as a therapy dog was an involved one. To be registered, dogs need to prove that they are appropriate for this line of work, and can be calm and dependable in a wide range of situations. "After he passed his basic obedience training, we had to go to several different places as part of our testing," Gayle says. These locations included places with a lot of medical equipment, like a nursing home and a memory care facility, and faced other potential triggering objects or situations. "At nursing homes there will often be walkers with tennis balls on the bottom. Some dogs go crazy for tennis balls, so the dog has to show they will leave the tennis balls alone. If food scraps fall to the floor in the dining room, they will not go after the food. They are tested around balloons, as some dogs are afraid of balloons." Gayle and Buddy went to a retail setting to show that Buddy would leave shoppers alone, not be distracted by other dogs, not bark, and not strain on the leash. They went on escalators and elevators, into public bathrooms where the noisy hand dryers were going off. "You have to know how your dog is going to react in a wide range of unpredictable and potentially stressful or noisy situations." Buddy passed his testing, and he and Gayle have been providing comfort and stress relief to people ever since.
A Growing Need for Therapy Dogs
Gayle's experience with Buddy and Caring Tails has opened the door to many other therapy experiences. "We stay very busy! There is such a need for it [therapy dogs]. We get calls often from all sorts of organizations: medical organizations, nursing homes, memory care, schools during testing week, workplaces, and so many more. It's important to get the word out if people believe their dog would be a good fit as a therapy dog, as there is a lot of demand for therapy dogs."
Buddy and Gayle, and the many other members of Caring Tails at Rochester International Airport are just one of the many amenities that make flying in and out of Rochester a great choice. With ample, low-cost parking, short security lines, and both domestic and international connections, flying in and out of Rochester International Airport helps you get from here to there the easy way.