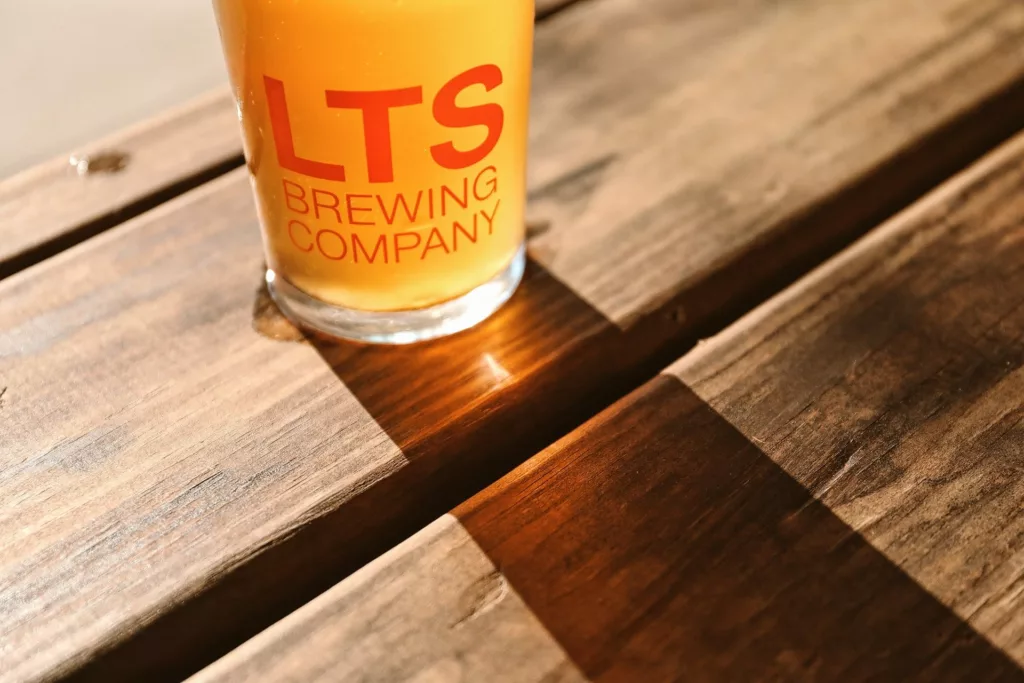 Brandon Schulz had brewed beer at home as a hobby for several years and knew that he loved brewing. The thought of starting a brewery was one that he had toyed with for a few years and was a dream he couldn't quite let go of. On a guys' fishing and breweries trip, the idea really took hold. "We kept saying 'Life's too short' and I decided life's too short not to go ahead with the dream," explains Schulz.  In 2015 along with friend and former co-worker Jeff Werning, LTS (which stands for Life's Too Short) Brewing Company became a reality.
Keeping it Comfortable
"We try to go for a chill and approachable atmosphere," says Schulz. LTS has a large patio and green space for guests to hang out outside or play games on nice summer or fall days. Indoors their spacious open design offers tables and seating available year-round. "You know it's a good place when people who work here come on their day off," remarks Carissa Darcy, operations manager of LTS Brewing Company.
Schulz says LTS is special. "It's a place to come and be comfortable and focus on the conversations with the person across from you."
Drink Good Beer…and Sodas Too!
Full-time brewer James Garner brews seven barrels of beer–a whopping 250 gallons of beer per batch–about two times a week. "We wanted a wide variety of stuff. We tend to focus on German/American beers. Then we added sours too. We try to have something for everyone," explains Schulz. Besides a wide variety of beers such as Karma (a Kolsch beer) and End of the Hike (a cream ale), LTS also offers hard seltzers and beer cocktails like Bahama Mamas or Karmargaritas. "We guide customers and try to find something similar to what they like to give them the best experience," notes Darcy, adding that customers can also try free samples of the beers to see what they like. Can't decide on which beer you want to buy? Get a beer flight with four different beers and find your new favorite.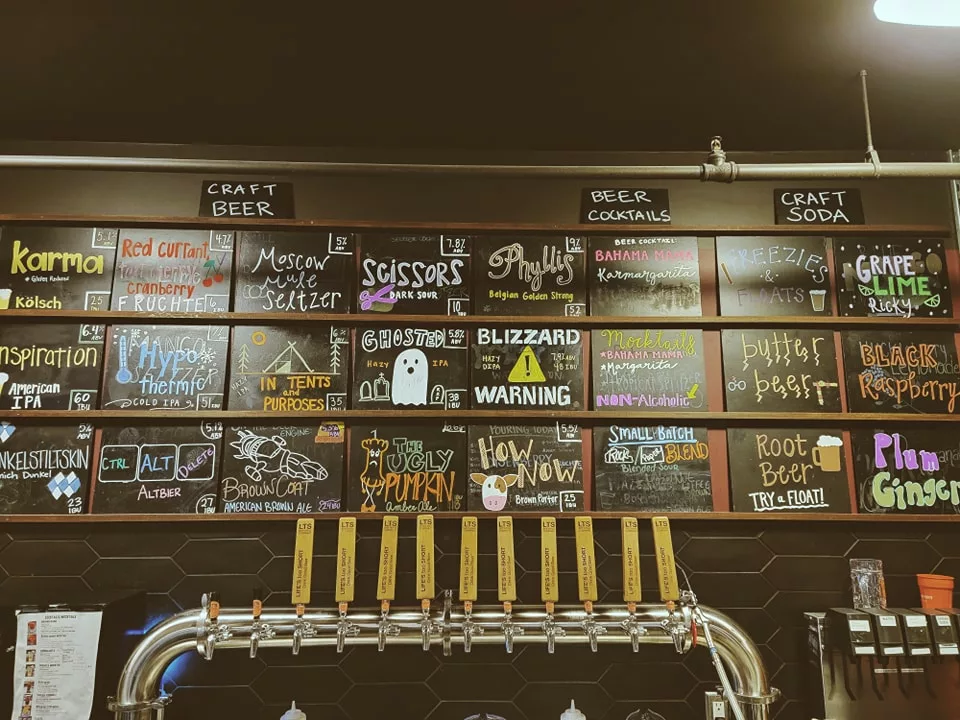 For non-alcoholic options, LTS makes its own craft sodas in-house. Just a few of their loooong list of rotating flavors include root beer, raspberry peach, and butter beer (shout out to Harry Potter!). For a fun twist, they serve floats or freezie pops – a perfect ice-cold treat on a hot day — all made with their craft soda! They also have mocktails on the menu for a refreshing alcohol-free sip.
Bringing People Together
LTS offers fun events many nights of the week, and weekends throughout the year. "Our goal was to bring people to where we'd want to go to have fun," says Darcy. Stop in for Monday Game Nights to try your hand at cribbage or other table games. Tuesday nights alternate between two fun activities: trivia and bingo. Bring your friends, grab a beer, and get ready to put your heads together to answer those tricky trivia questions on Trivia Nights, and stop by to play some classic bingo on free Bingo Nights on alternate Tuesdays. "People have a blast and it's just fun," says Darcy. On the last Wednesday of each month, stop by to get your chance for a solo at the open mic night, or grab a chair and listen to local talent.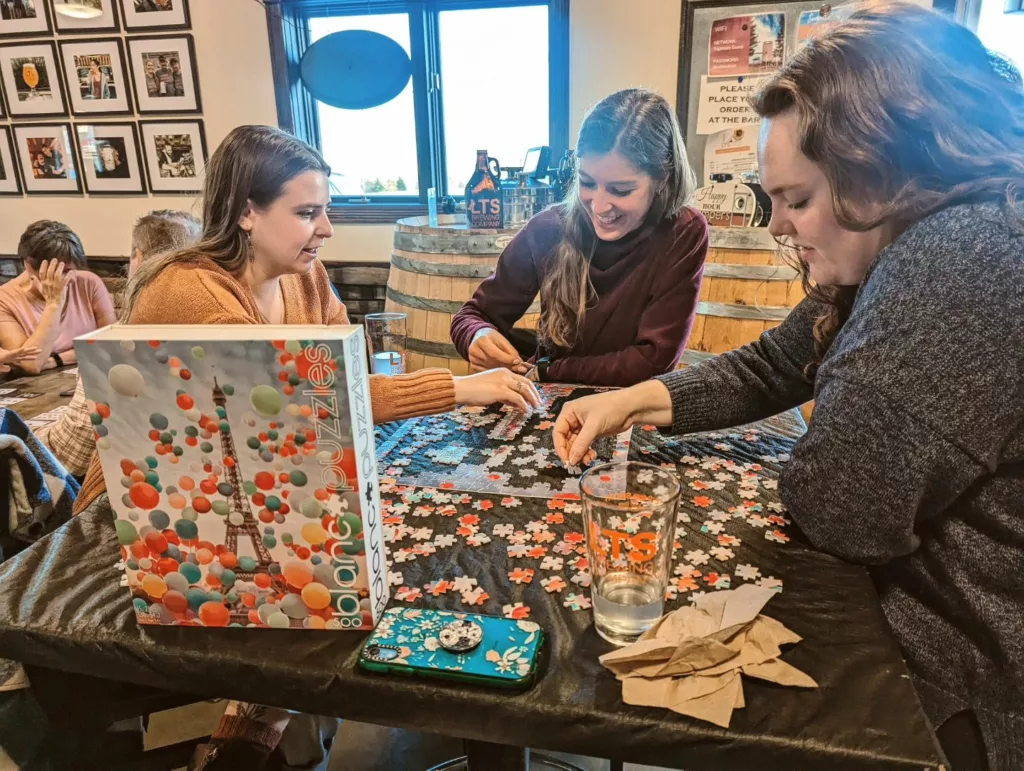 In the summer, Monday and Wednesday nights bring many bean bag leagues that compete outside LTS in the green space across the parking lot. Food trucks are a regular sight at LTS for various events, and LTS always serves pizza, soft pretzels, and snack pretzels. People can bring in food, too. LTS is family-friendly too, so bring your kids to an event or to come have a soda and play a board game!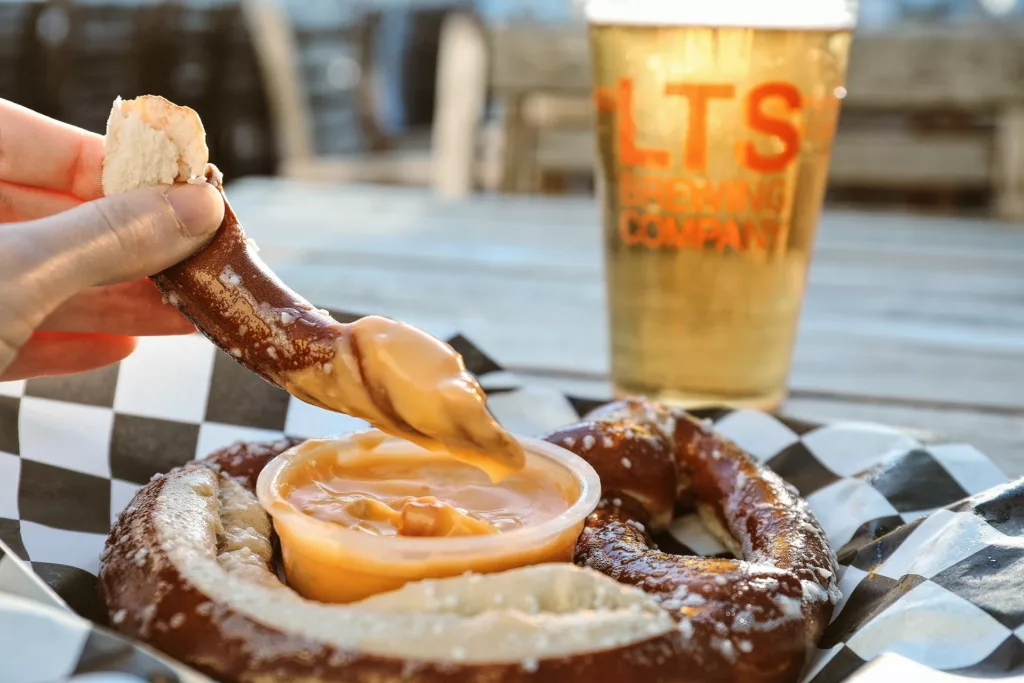 Year-Round Events at LTS
A variety of events are held during the year at LTS. One of the favorite annual events is the "Bow Wow Luau" in June, a perfect time to bring your dog to the patio at LTS. Get photos with your dog in the photo booth, grab some dog treats, and try some puppy pints for your pup. You can even meet dogs available for adoption through Camp Companion and Paws & Claws. Keep your ears perked up for the dog-themed playlist too! If you missed this fun event this year, bring your four-legged friend to the Pup Meet-up on the patio every Thursday at 6 pm or come to the LTS patio anytime.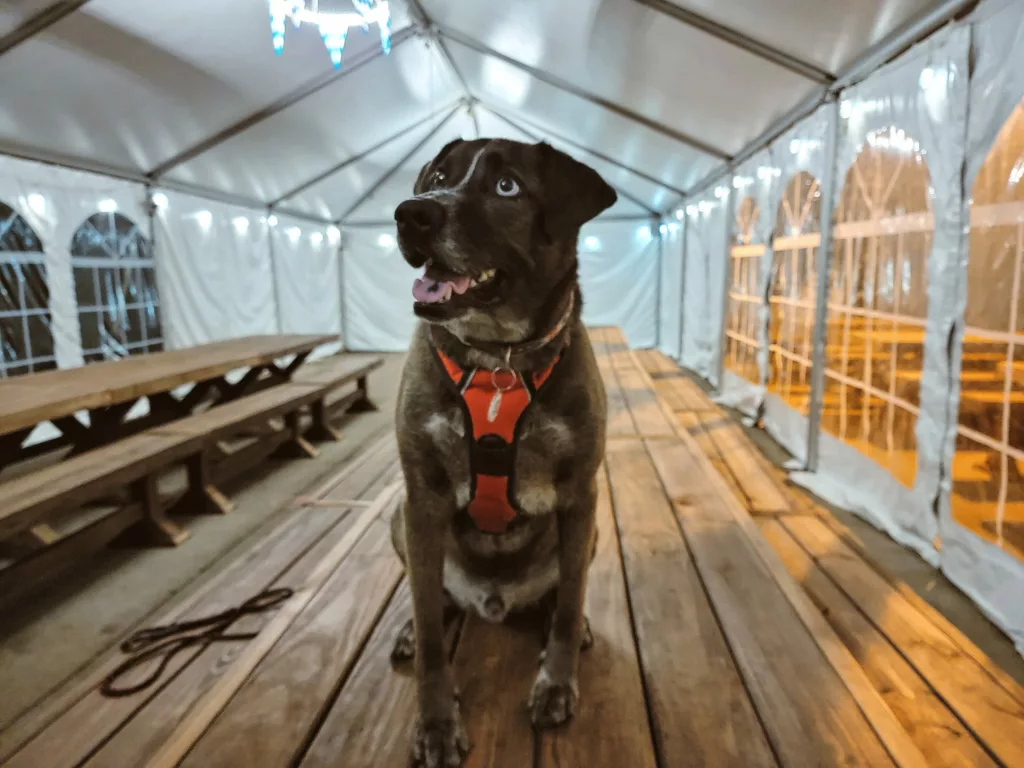 Another popular event, Oktoberfest, is coming up soon on Sept. 23 at LTS! Stop by for a taste of Germany with soft pretzels, bratwurst, beer, and more. "The Oktoberfest beer is a customer favorite," mentions Darcy. The Oktoberfest beer is a Munich-style Marzen lager, with a lighter option of Biergarten, a light Helles lager. Brett Vermilyea, an LTS staff member agrees, "It always has a warm reception." Keep an eye on LTS' calendar for Oktoberfest events in September!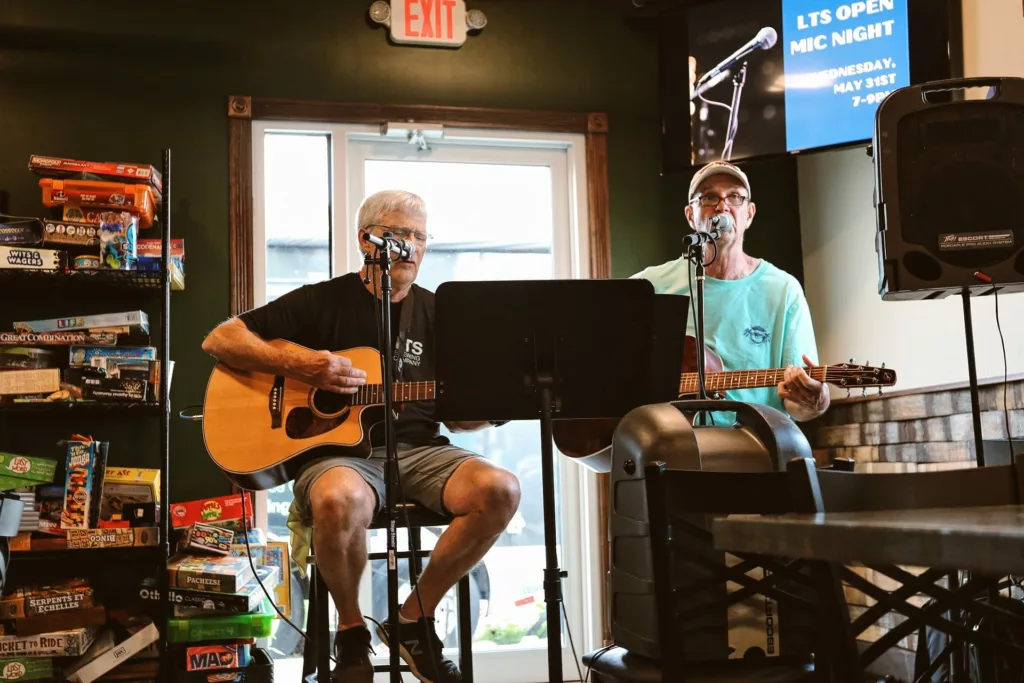 Good Beer, To-Go!
If you want to bring home a taste of LTS beer or soda, most varieties are available in crowlers to go. It's only a short jaunt off 19th St. NW, so stop by after your trip to Costco or your workout at the RAC. 
Find out more:
LTS Brewing Company
2001 32nd Ave. NW, Rochester, MN
Website: https://www.ltsbrewing.com/
Facebook: https://www.facebook.com/ltsbrewing
Instagram: ltsbrewing