This post is sponsored by Destination Medical Center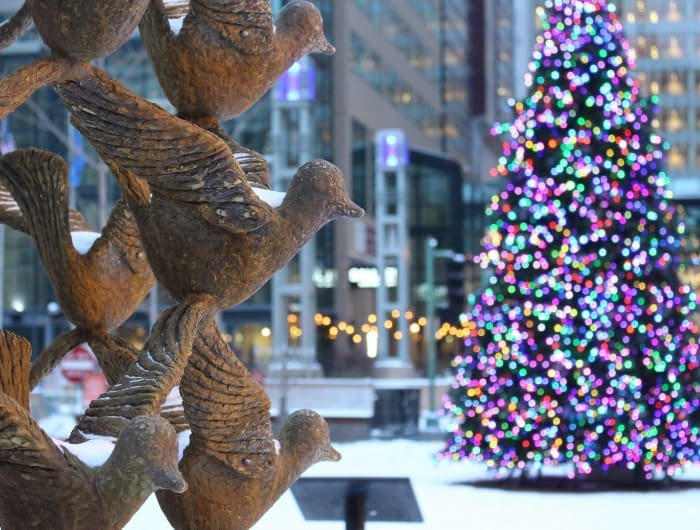 Downtown Rochester MN is all set for the holidays and cannot wait to welcome you to enjoy the season and everything downtown has to offer!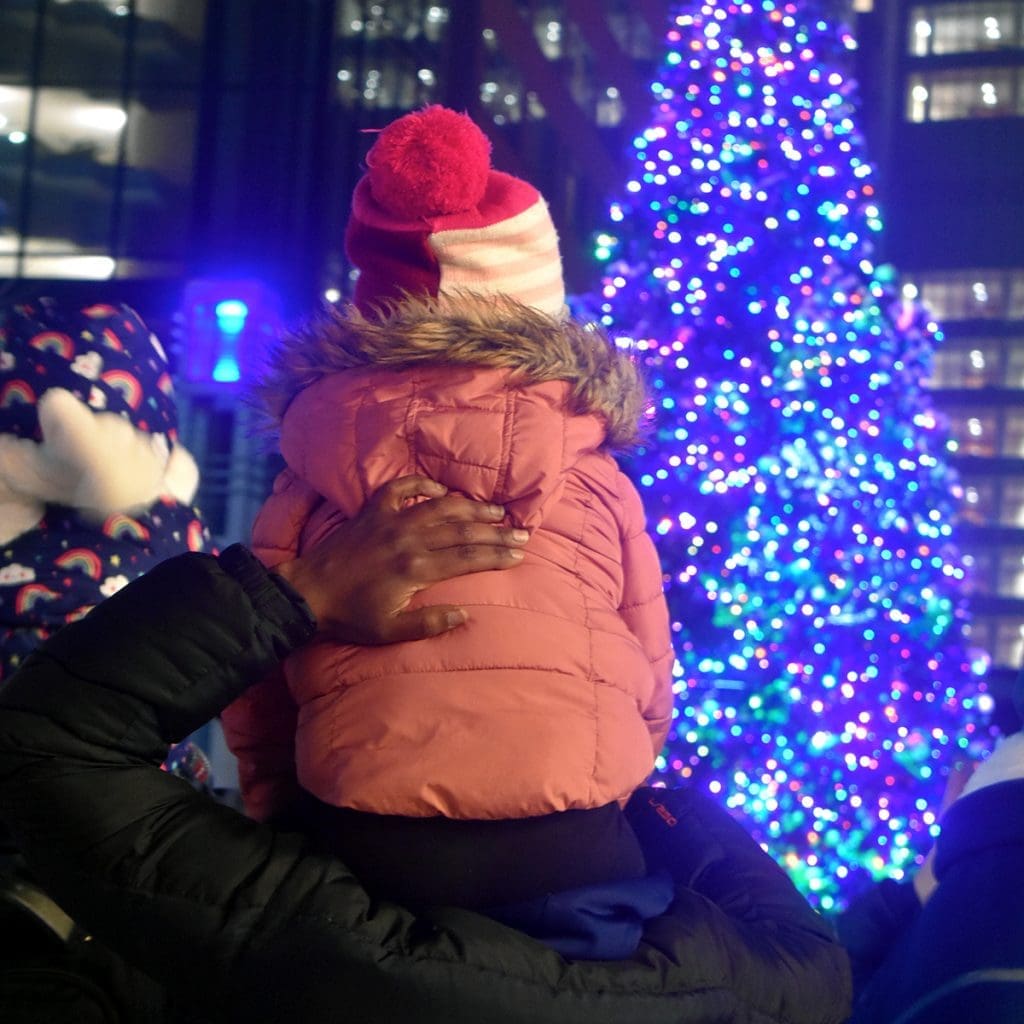 As Rochester Downtown Alliance so appropriately stated, "They are your next-door neighbor, good friend, or a friendly face. They are champions of downtown Rochester's business community. Be their champion this holiday season." We encourage you to shop local and shop local this holiday season. Rochester MN Downtown businesses are ready to help you with all of your gift-giving needs.  Check out special store promotions, and make plans to support these businesses on Small Business Saturday and throughout the holiday season! For a reference to the map below, click here for all store listings!

---
This year's Here Comes Santa Claus event, organized by Rochester Downtown Alliance, will be held Saturday, November 26th, from 2:00 – 5:00 PM. In addition to seeing Santa Claus get rescued from the top of Old City Hall by the Rochester MN fire department, you can enjoy a photo op with Santa Claus, cider and cookies, a craft, trolley rides around downtown, caroling, the Peace Plaza tree lighting, and more!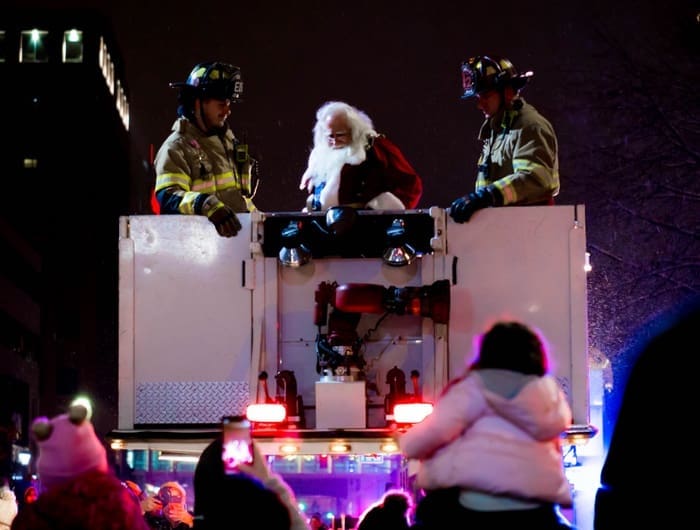 ---
The Festival of Trees, hosted every year by Hiawatha Homes, is once again coming to downtown.  This year, The Festival of Trees is at a brand new location, J. Powers at The Hilton. These two days will be full of special events, beautifully decorated trees, children's activities, entertainment, raffles, a silent auction, and opportunities to give back.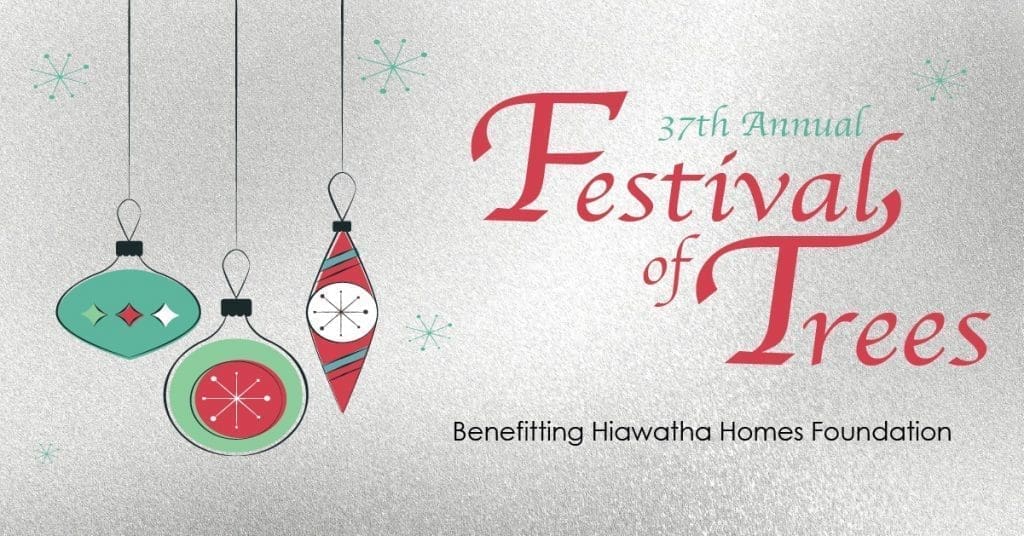 ---
The downtown Rochester, MN restaurants are ready to help you celebrate the holidays and are a perfect gift to give friends and family in your life.  Please view this website for an up-to-date list and information about ordering and see details about any gift card promotions!
---
Join Threshold Arts and the Night Market (Choochoo-ca-Chew) for a magical afternoon at the Historic Chateau Theatre (2 – 6 PM), featuring over forty artists and makers, plus food, drink, and entertainment options for shoppers and vendors to enjoy.
---
YourClassical MPR's fun, free event Bring the Sing is returning to Rochester! Minnesota Public Radio, Rochester Civic Music, Rochester Downtown Alliance, and Threshold Arts are partnering to invite everyone in Rochester and Southeast Minnesota to join in YourClassical MPR's Bring the Sing at 4 p.m. Saturday, Dec. 3, in the Peace Plaza. Join with friends, family, and neighbors in singing along with local musicians LaSonya Natividad, Dianna Parks, Mitch Stevenson, Eric Straubmuller, and Chris Wessel in a mass rendition of many festive, well-known winter and holiday favorites.
Song sheets will be provided. Don't miss out on the opportunity to enjoy musical fellowship in this inviting space. All are welcome.

---
Bleu Duck Kitchen Holiday Markets are back! Shop local artists, bakers, food producers, and more while you enjoy grab-and-go brunch and live music from Bleu Duck. It's the perfect way to support small businesses in our community while you check off your holiday gift list. Each weekend will have different vendors so check out each market. Markets are from 10 AM -1 PM every Saturday from November 26th to December 17th.
---
Drawing its inspiration from the wintery North, the Northern Lights Festival is Minnesota's newest holiday experience, proudly anchored at the Mayo Civic Center in Rochester. The Northern Lights Festival has something for people of all ages to enjoy; chances to eat and drink, enjoy our 25,000+ sq. ft. light park, shop in the Mini MN Christmas Market, winter storm yoga, countless photo ops (rumor has it Santa is making a few appearances), make-and-take experiences and more.
The Northern Lights Festival is put on by Fight For Something and made possible through the support of Experience Rochester.

---
Where to Park?
We have a helpful map that will show you just where to park. Ramp parking is so easy and really plentiful. Don't forget…parking is FREE after 5 PM Monday through Friday and FREE on the weekends. Additionally, you can park in the public parking ramps for 2 hours for free every weekday. Otherwise, you can find parking rates for all the ramps here. The red squares on the map indicate where the parking ramps are located.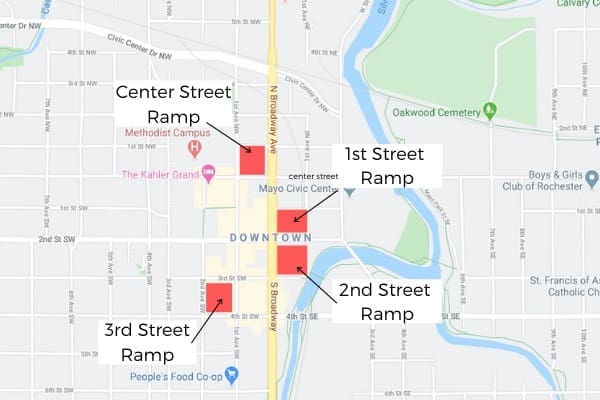 Center Street Parking Ramp – 11 Center Street
Head for the elevators, and then exit at ground level. Turn right and head south on the sidewalk and you'll be right in the Heart of the City and Peace Plaza.
1st Street Parking Ramp – 13 2nd Street SE
Make your way to the elevators, and head to the skyway level, and follow the signs for The Galleria at University Square. Once there, take the elevators or escalators down to the ground level and exit between Chester's Kitchen + Bar and the U of M Gear Store. You'll be RIGHT in all the action of Heart of the City and Peace Plaza.
3rd Street Parking Ramp – 100 3rd Street SW
Make your way to the elevators and head to ground level. You'll be right at 1st Avenue SW. Turning left (north) will take you to the Heart of the City and Peace Plaza.
2nd Street Ramp – 14 2nd Street SE
Make your way to the stairs or elevators. Turn west towards Broadway (away from the river), and walk two blocks to 1st Avenue SW.  Turn right and walk two more blocks to the Heart of the City and Peace Plaza.