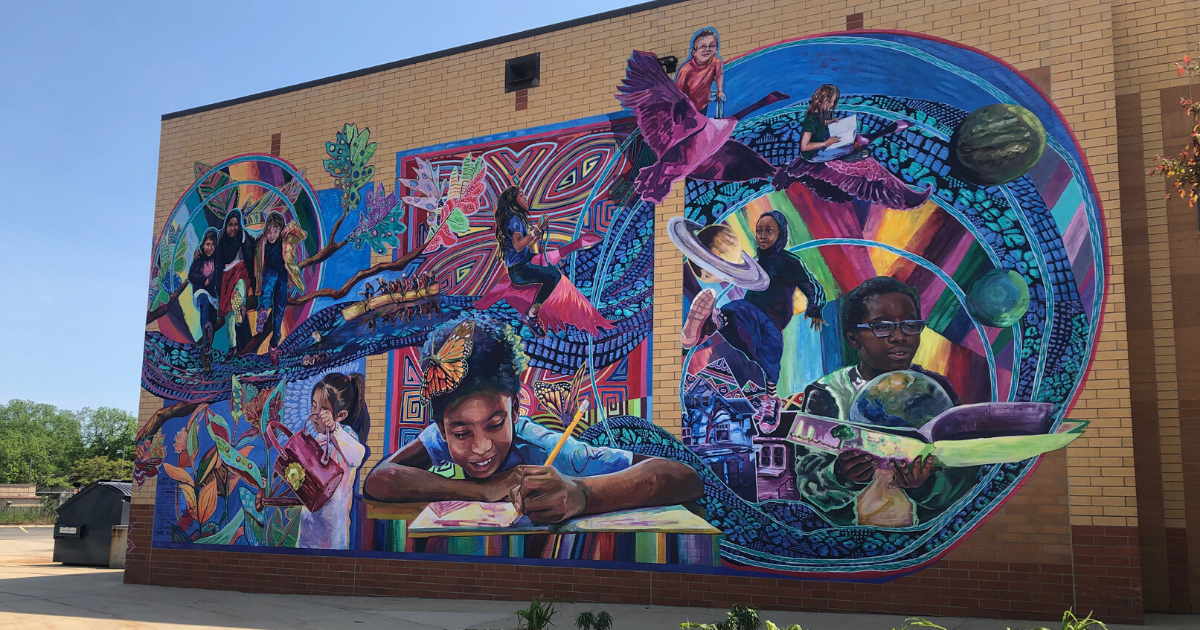 Public art in Rochester is a hot topic lately. Many community groups are pushing to expand our collection. Rochester is also a hot spot for new development, which means that new buildings are going up and old buildings are coming down. A side-effect of this is the loss of a few beloved public art murals. Recently my favorite mural was torn down: a vivid painting of jazz musicians. In some ways it feels like a time crunch to enjoy what is here now, before it disappears.
Spring break was a stay-cation for us this year. This was maybe for the best because early in the week both kids came down with nasty colds. After spending days at home recuperating, we were all needing fresh air and fun. My wish to visit and enjoy art and our desire to be outside got my creative juices flowing. I decided to take the kids on a treasure hunt: Rochester Mural Hunt!
Our Hunt – Stop One: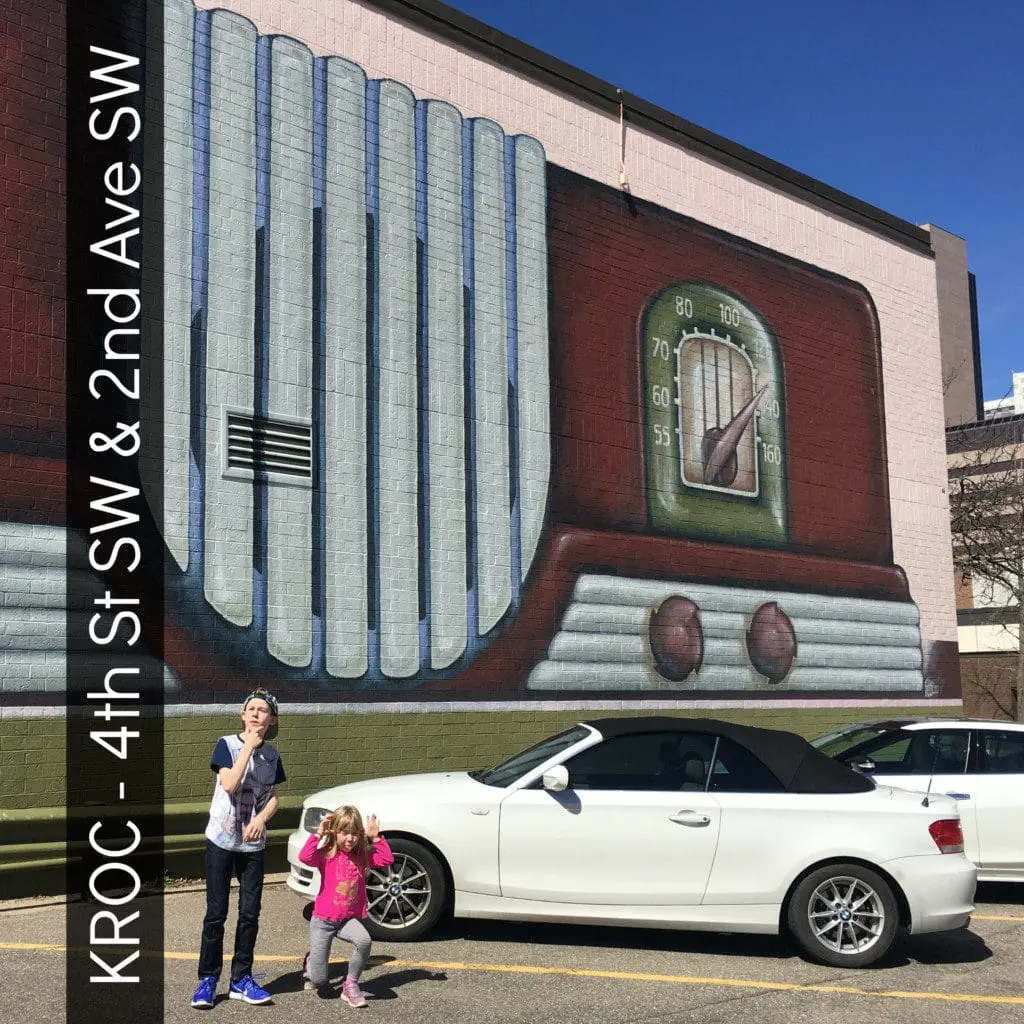 Visible from our first stop and an easy walk across 4th Street to the west, the KROC studio building is adorned with an old time radio. My daughter was very impressed that her favorite radio station was operating right inside that building!
---
Stop Two: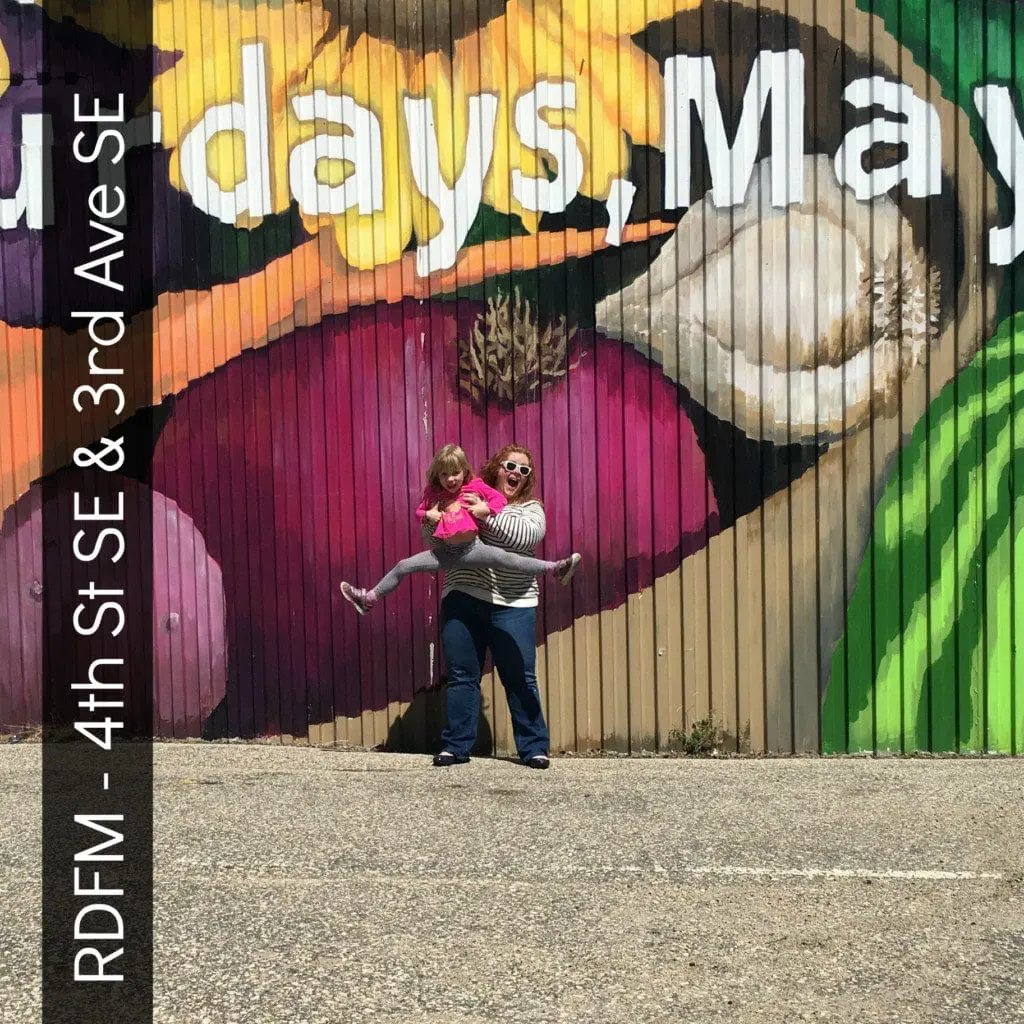 I have to admit that we chose to go with a car this day as our mode of transportation, but this hunt could very easily be done by bike or a combination of bike/foot.
Our next stop was a very familiar weekend stop for our family – the Rochester Downtown Farmer's Market. It was still too early this Spring for the Saturday market on 4th Street SE, but a visit to their bright mural of veggies and fruit was a must.
---
Stop Three: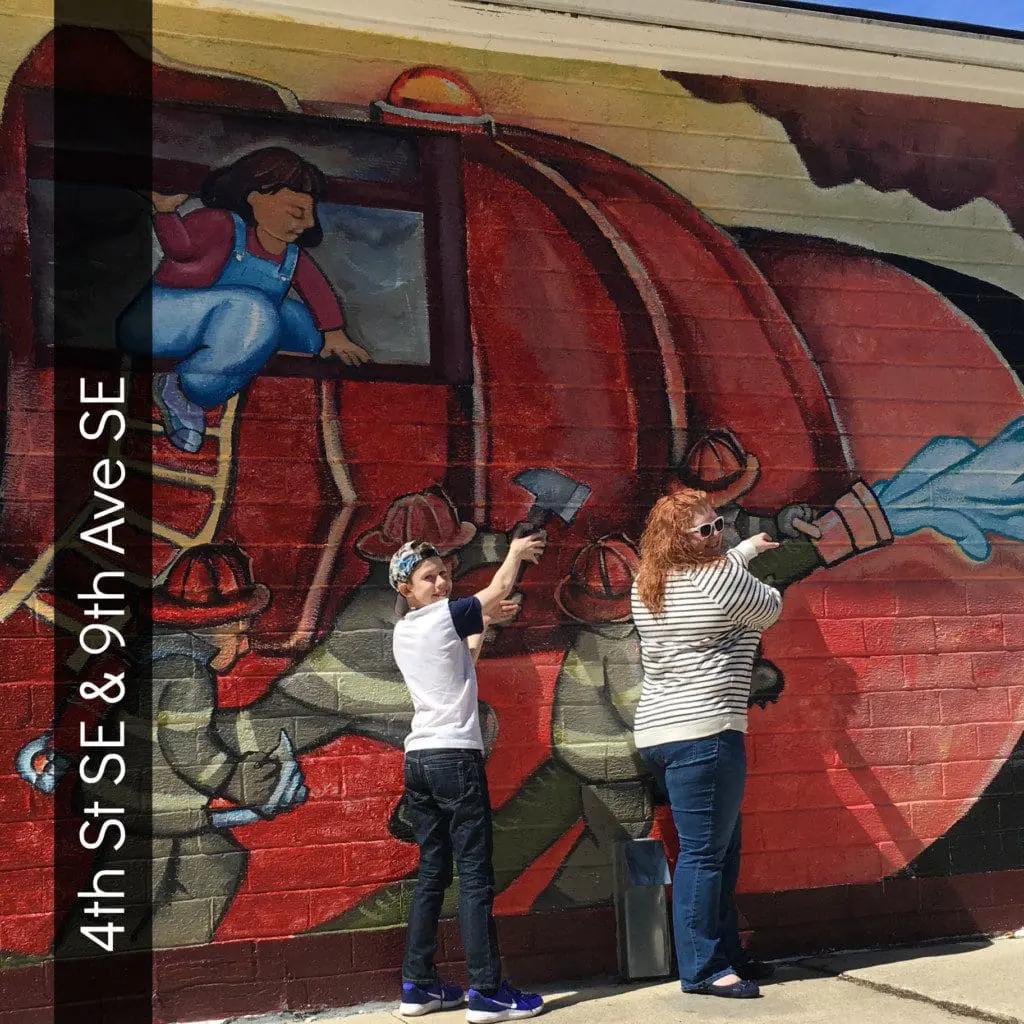 Just east on 4th Street is my new favorite mural on the side of the Rochester Fire Extinguisher Company building. Fire safety is the theme of this mural and it features first responders who are battling a blaze. I love this one so much, I am posting the full mural below: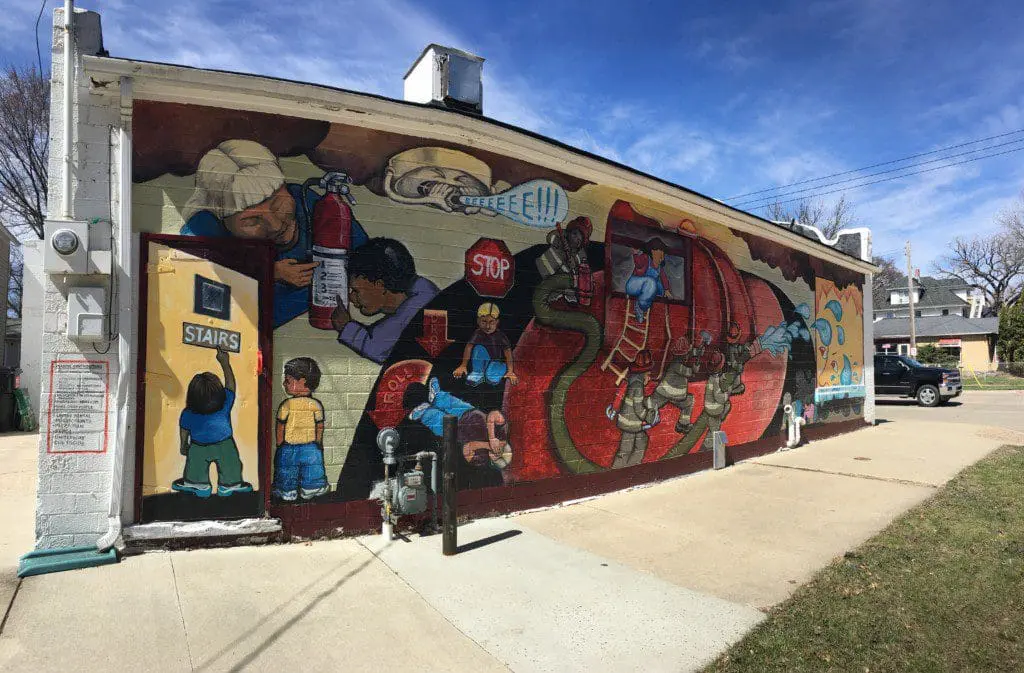 ---
Stop Four: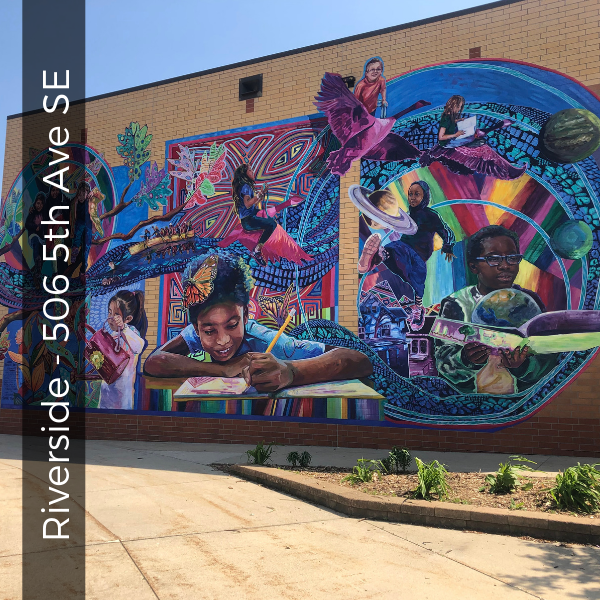 The last stop is Rochester MN's newest mural located at Riverside Elementary School.  This mural is part of the Riverside Identity Project and was created, inspired and designed by the students, staff, family and community of Riverside.  Created in partnership with GoodSpace murals, this is a MUST see.  It's a beautiful representation of our community and a true masterpiece.
---
Stop Five: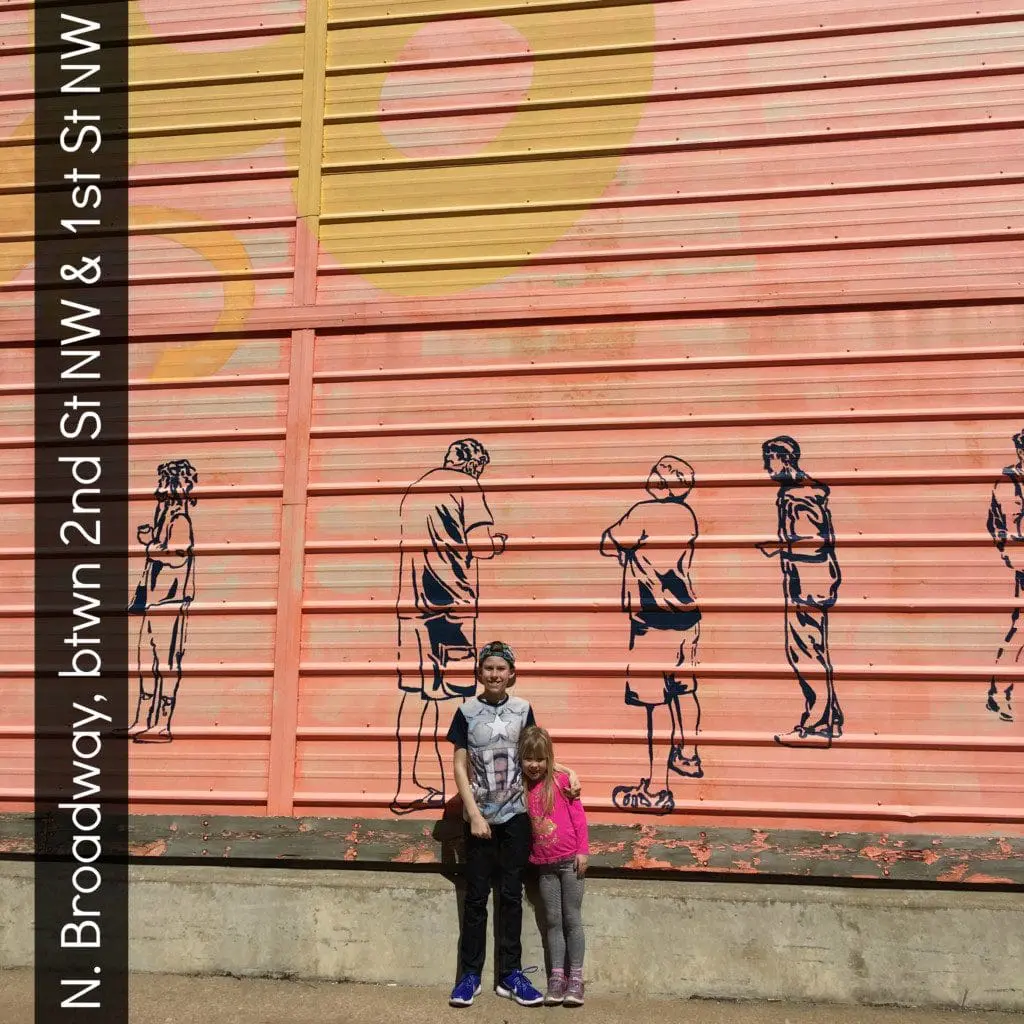 The next mural on our hunt is a bit off of the beaten path. If you look closely as you drive north on Broadway, you can catch a glimpse of the bright orange and red wall. The mural is on the side of 117 North Broadway, just south of the Castle Community. If you're hoping to get to this mural by car, please note that it can be a congested area with tight space to turn around. I'd suggest parking a block away and walking there, if possible.
---
Stop Six: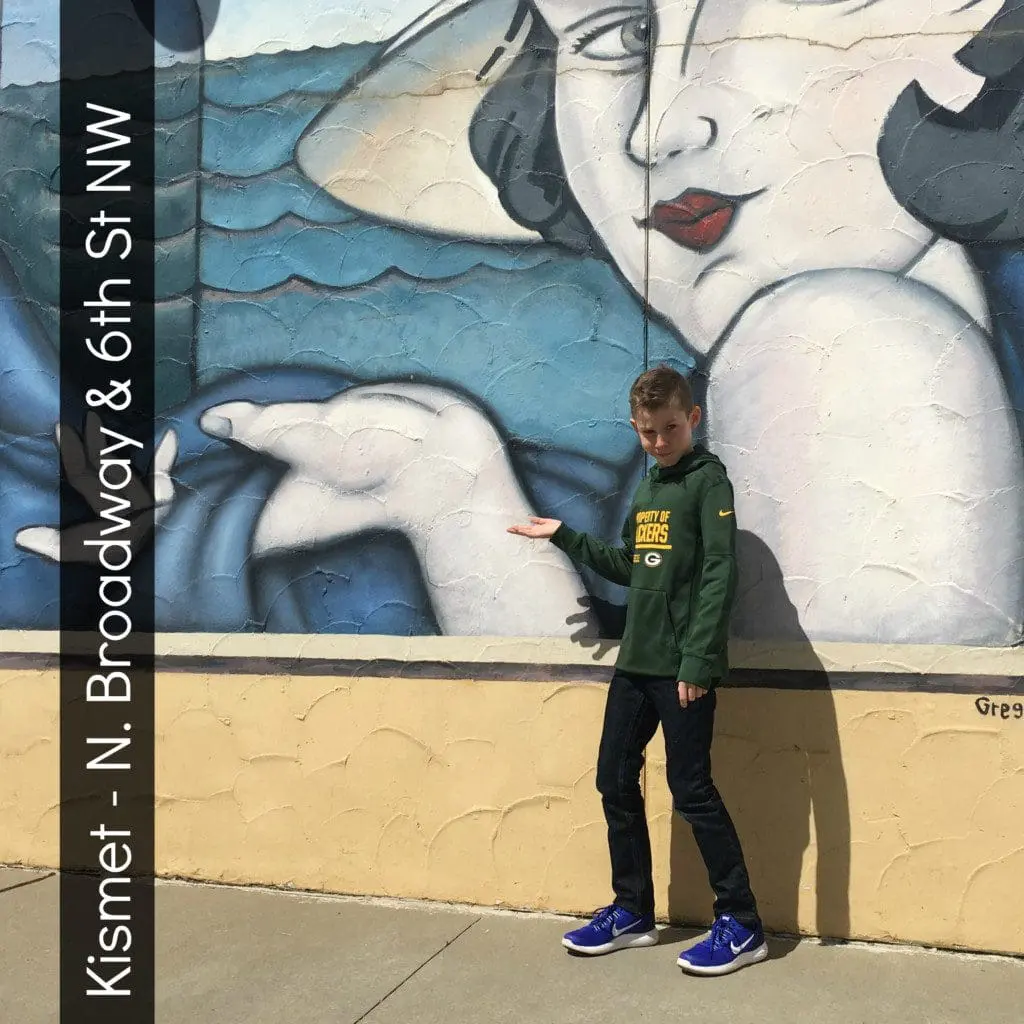 A bit further afield from downtown, you can find Kismet, a consignment and retail store with some really great murals and painted signs. Greg Wimmer, a local artist, made all of the paintings here and for the next two stops as well. This mural has a great vintage vibe and Benjamin really got in the act.
---
Stop Seven: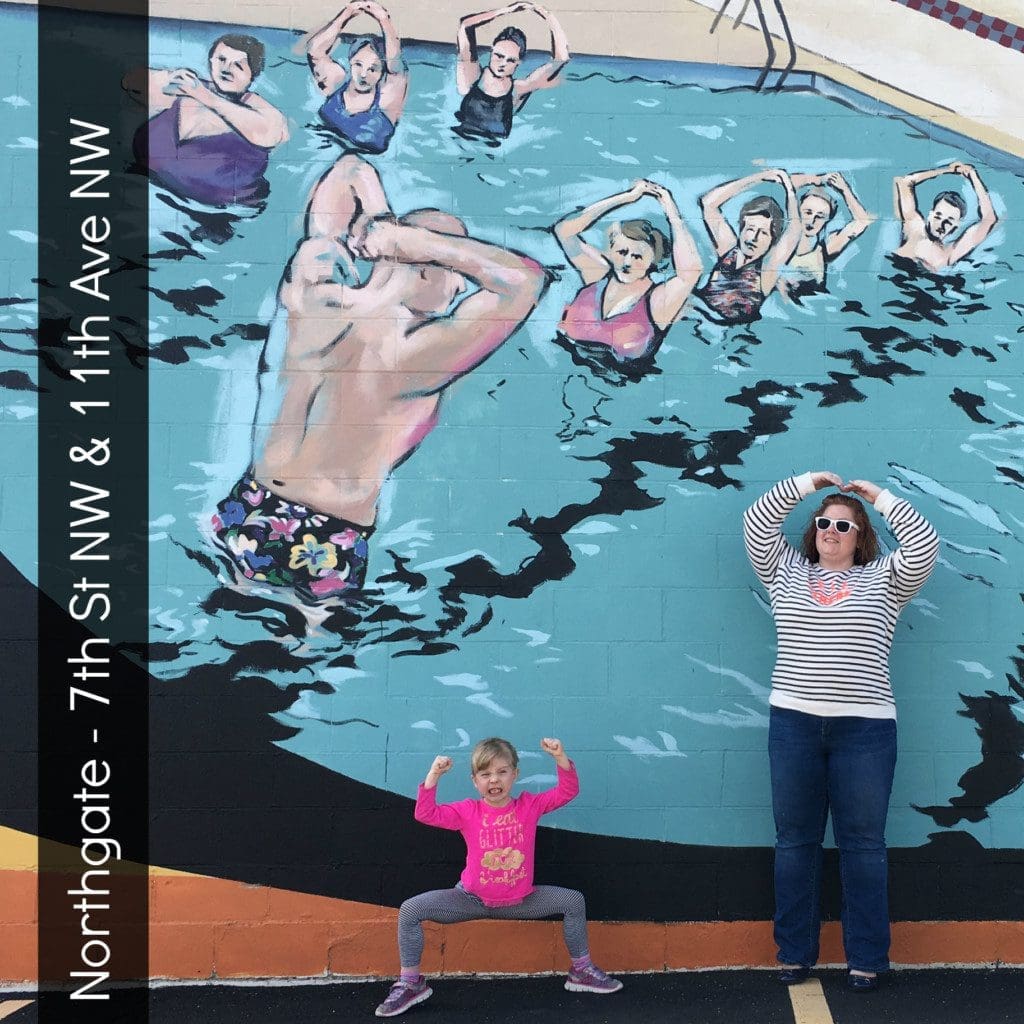 Northgate Health Club features a couple of different scenes painted by Wimmer, including this one of a water aerobics class. I love how this one features women of all shapes and sizes. Northgate Plaza is on the corner of 7th Street NW and 11th Ave NW, near Forager Brewery.
---
Stop Eight: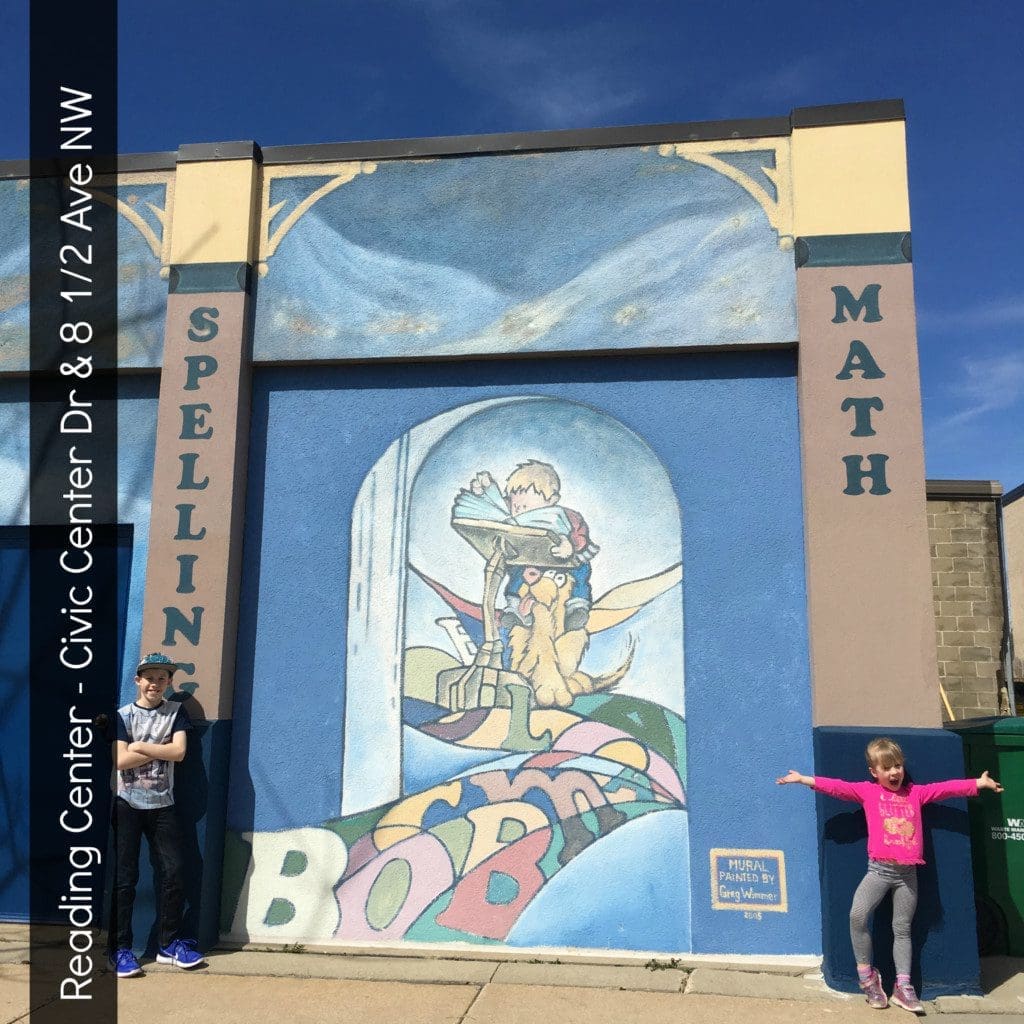 Our very last mural stop for the day is just off of Civic Center Drive at the Rochester Reading Center. We drive past this building pretty much daily, but we had never stopped to look at it up close. We all really enjoyed this panel (the whole building is painted in murals) with the boy reading to his dog.
Rochester MN Murals
A Complete (to our knowledge!) list of public murals in Rochester MN!  Enjoy!  If you know of a mural we missed, please email: info@rochestermnmomsblog.com
I hope you'll consider doing a mural hunt or public art hunt of your own. Whether you live in Rochester or somewhere else, you can find art in your city. Sometimes you just need to look a little closer at some of the places you pass everyday to see it, but it is there.