This post is published in partnership with Legal Assistance of Olmsted County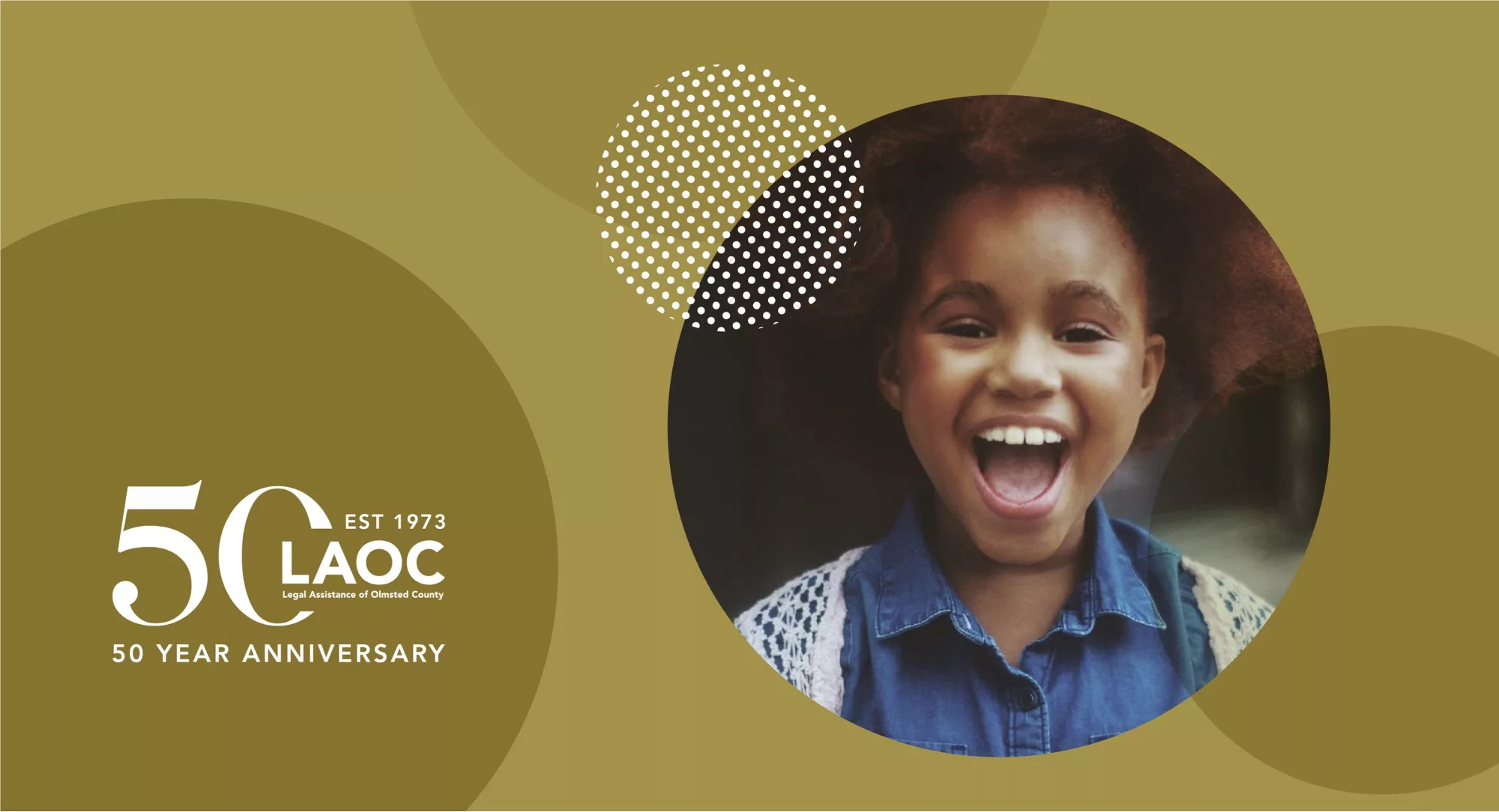 "I don't think you define a community by the accomplishments of the most fortunate or the most talented people in the community," shares Joshua Murphy, Chief Legal Officer at Mayo Clinic. "Instead, you define a community by how it takes care of the least fortunate people in that community. In Olmsted County and Rochester, we are a good community and a big reason why is the work Legal Assistance of Olmsted County does for our friends and neighbors."
An unsung hero in the community, Legal Assistance of Olmsted County (LAOC) is marking a major milestone this year: Five decades of providing meaningful access to justice to people who need it most.
Since 1973, volunteer lawyers, board members and staff with LAOC have rallied around the organization's mission to help thousands of people through some of life's most difficult events—eviction, domestic violence, custody disputes—ensuring poverty does not stand in the way of having a legitimate voice in the legal system.
Today, LAOC stands as one of only two single-county legal aid organizations in Minnesota helping people in poverty and those who are marginalized resolve critical life-altering legal issues. 
"Civil legal aid is a lifeline. It is a changing point for people who, without an attorney, would not be able to navigate the legal system and get an equitable result," says Karen Fairbairn Nath, Executive Director of LAOC. 
'Beginning of a better journey'
You have heard it before: In criminal cases, every defendant has the right to a speedy trial, an impartial jury, and access to legal representation, even if they cannot afford it. The rights are a cornerstone of the American legal system, spelled out in the Sixth Amendment.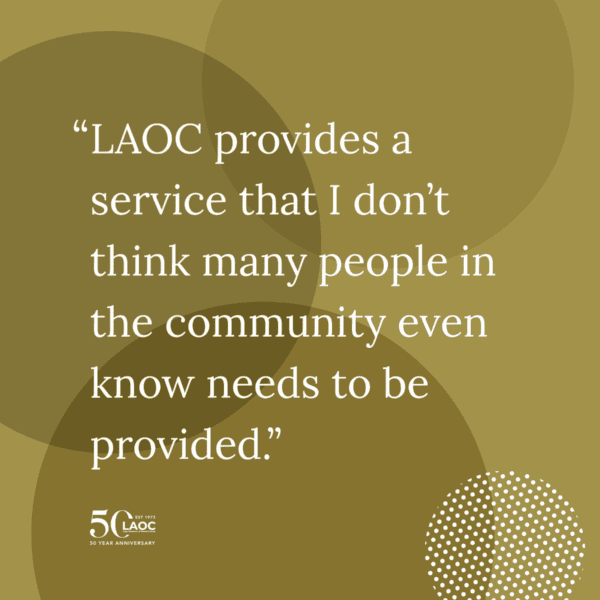 But what many of us may not realize is that the Constitution does not address legal representation when it comes to some of the most important cases affecting families. Unlike criminal cases, there is no right to a lawyer for civil cases, which involve critical issues like child custody, domestic violence and housing. 
As a result, 92 percent of all civil legal issues faced by low-income Americans go without any or adequate legal help, according to a study from the Legal Services Corporation. 
"LAOC provides a service that I don't think many people in the community even know needs to be provided," says John McBroom, senior counsel at IBM and a past Board president for LAOC. "The cases that LAOC is handling are things like housing and child custody and the types of things that I think all folks in Olmsted County understand are some of the most important things about a person's life."
He adds, "The more that people get this help and can make these difficult or painful transitions done with legal representation, it's going to make them a lot more able to handle the other responsibilities in their life."
Referee Gail Baker has been active in family law for some three decades and has seen firsthand the impact of LAOC's work. She says legal assistance can be invaluable for anyone who has ever been in a situation where they need it. Not only are they going to understand their rights, but they are going to have someone to talk to.
"People always feel better when they have had their day in court—that somebody has listened to them, and when they feel like they matter," shares Referee Baker, who previously served as LAOC's first full-time director. "Oftentimes, legal assistance can be the beginning of a better journey."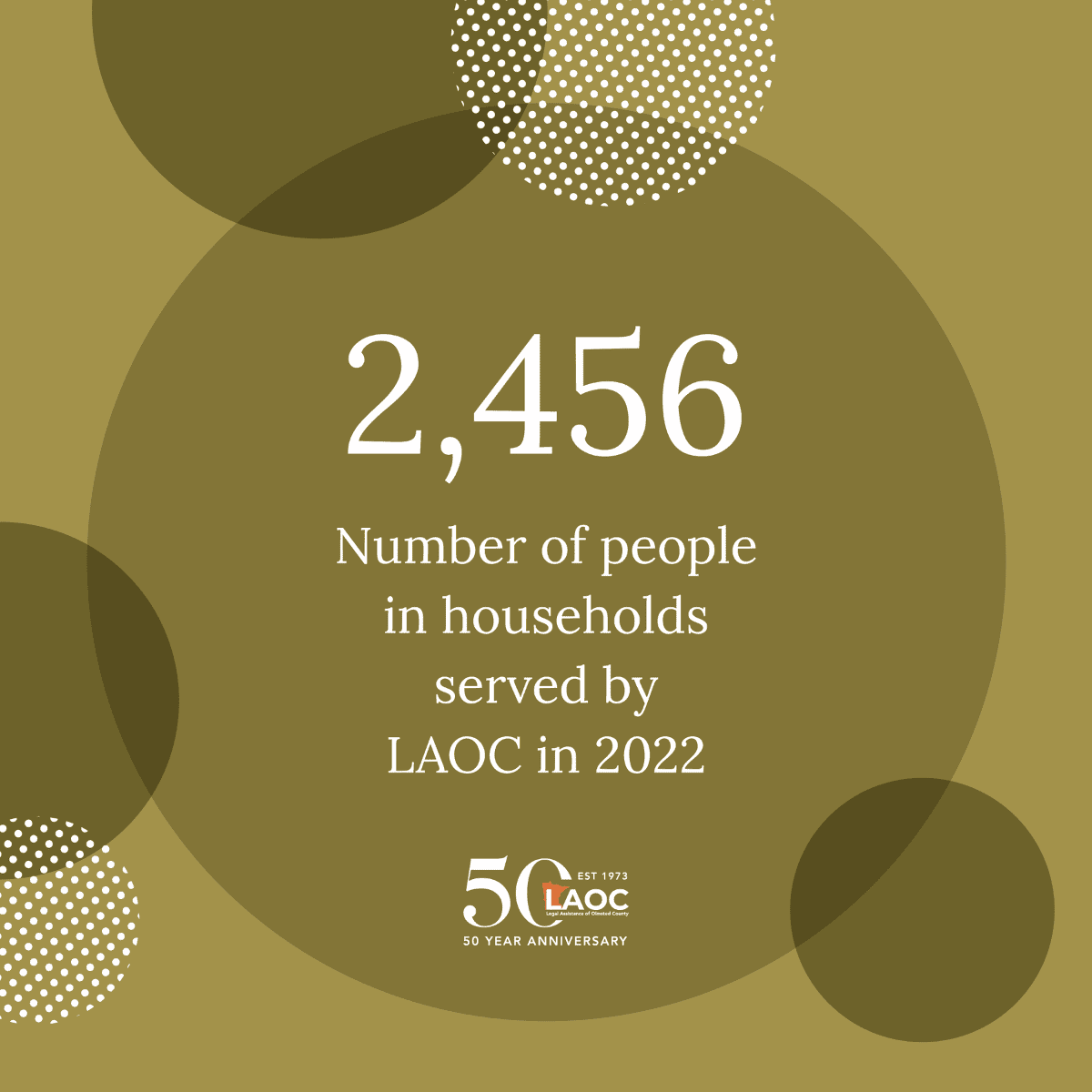 'Real healing to families'
LAOC's contributions to the community date back to 1973 when a group of lawyers from the Olmsted County Bar Association came together to address a growing gap in civil legal representation. Too often, they found, people with limited resources were struggling to navigate the legal system on their own.
To meet the demand, the lawyers—among them John Gowan, Larry Collins, A. M. "Sandy" Keith, Ben Hippe, Bob Patterson, Ron Seeger and Don Steiner—took it upon themselves to provide pro bono work to people in need. Soon after, other volunteers, part-time attorneys and interns joined the effort. 
Now 50 years later, LAOC maintains a small team of staff and lawyers who work tirelessly to represent clients in need. And like in its early years, the organization continues to see support from the local legal community, which McBroom says is a testament to the impact LAOC has on individuals, and the court system as a whole.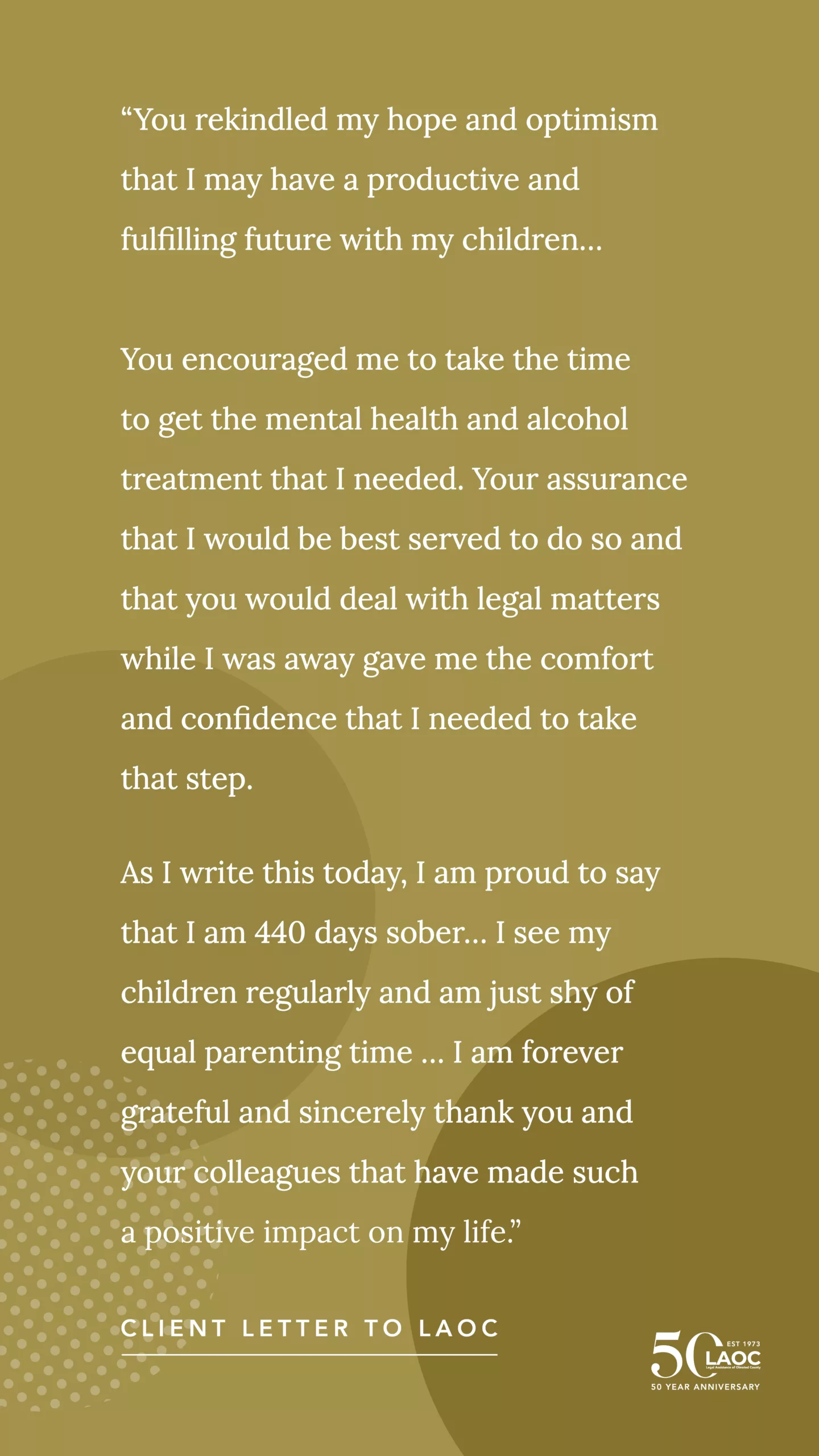 "The legal community sees how important the work is, and I think those volunteers from LAOC are true heroes," shares McBroom. "To be able to take on and do cases for the LAOC for free on top of your own family obligations, other things you may have interest in … is truly amazing."
LAOC's work, too, has a ripple effect across the community. It is estimated that for every dollar invested in civil legal aid, the financial return to the community is at least six-fold. LAOC's services also help to make the court system operate more effectively and efficiently, reducing backlog. 
Even still, where the real value lies is the human impact, says Murphy, who believes we all have an obligation to take care of people who, for reasons not of their own fault, have fallen on hard times and need help.
"At Mayo Clinic, we talk about—and I think rightfully so—about bringing hope and healing to our patients. And LAOC, civil legal aid does the same thing," he shares. "There are people whose lives have been fractured and they need help—not from medical experts—but legal experts. And when people like the talented, dedicated staff of LAOC meet with those people and provide legal solutions to the problems that they are dealing with, they can bring real healing to those families and their lives." 
How you can help
"From the time Legal Assistance was started, there has always been more need than there are people who can help," shares Baker.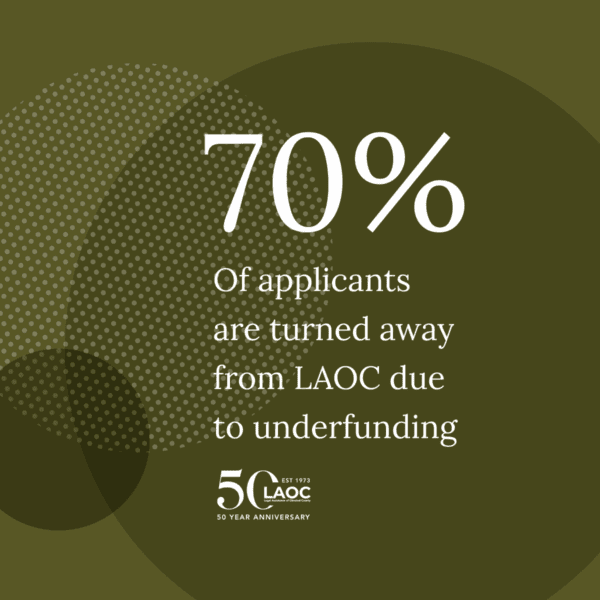 Community support is vital to LAOC's work. But even with the help and dedication of so many individuals, the organization continues to see demand for its services outweigh its capacity. 
To commemorate 50 years of service, LAOC has launched an anniversary campaign aimed at promoting awareness of the important work it does throughout Olmsted County. It has also set a goal of raising $50,000 to support its mission in 2023. 
To learn more about how you can help, either with your time or money, visit the organization's new website, www.laocmn.org. There you will also find information on the many critical resources and services provided by LAOC.
---
Looking for a little fun? Join LAOC at its annual "Night in Monte Carlo" fundraiser on Sept. 23 at the Rochester Art Center. Featuring live jazz music, charitable gambling, and silent and live auctions.