This event is sponsored by Destination Medical Center (DMC)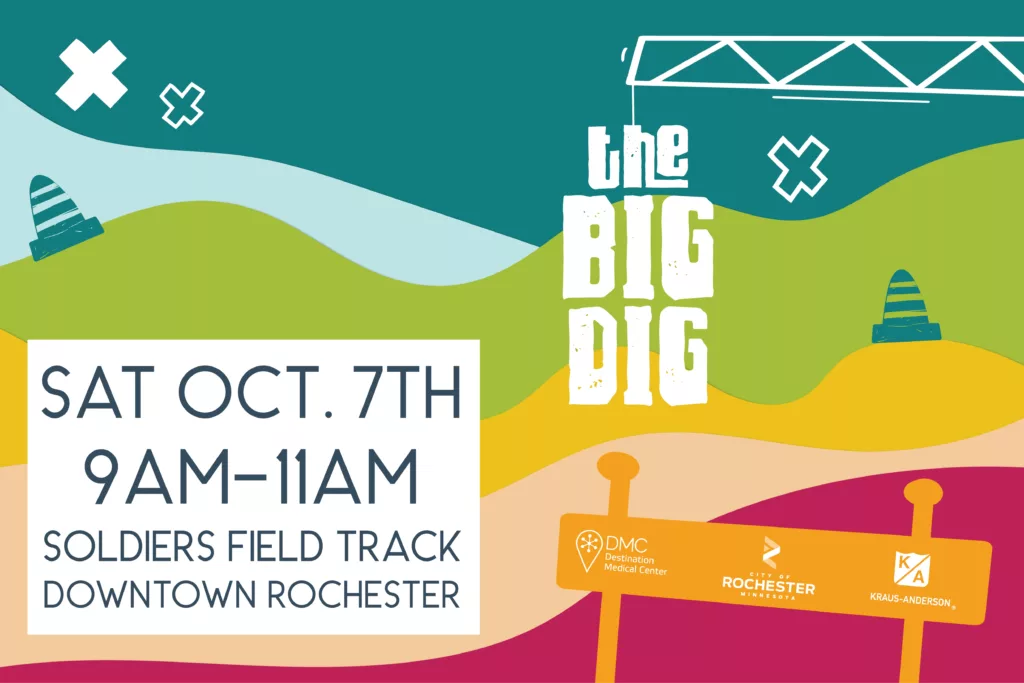 Destination Medical Center, Kraus-Anderson Construction, and the City of Rochester MN invite community families to The Big Dig — a hands-on family-friendly event to learn about the Soldiers Field Memorial Park Improvements Project just south of downtown Rochester MN.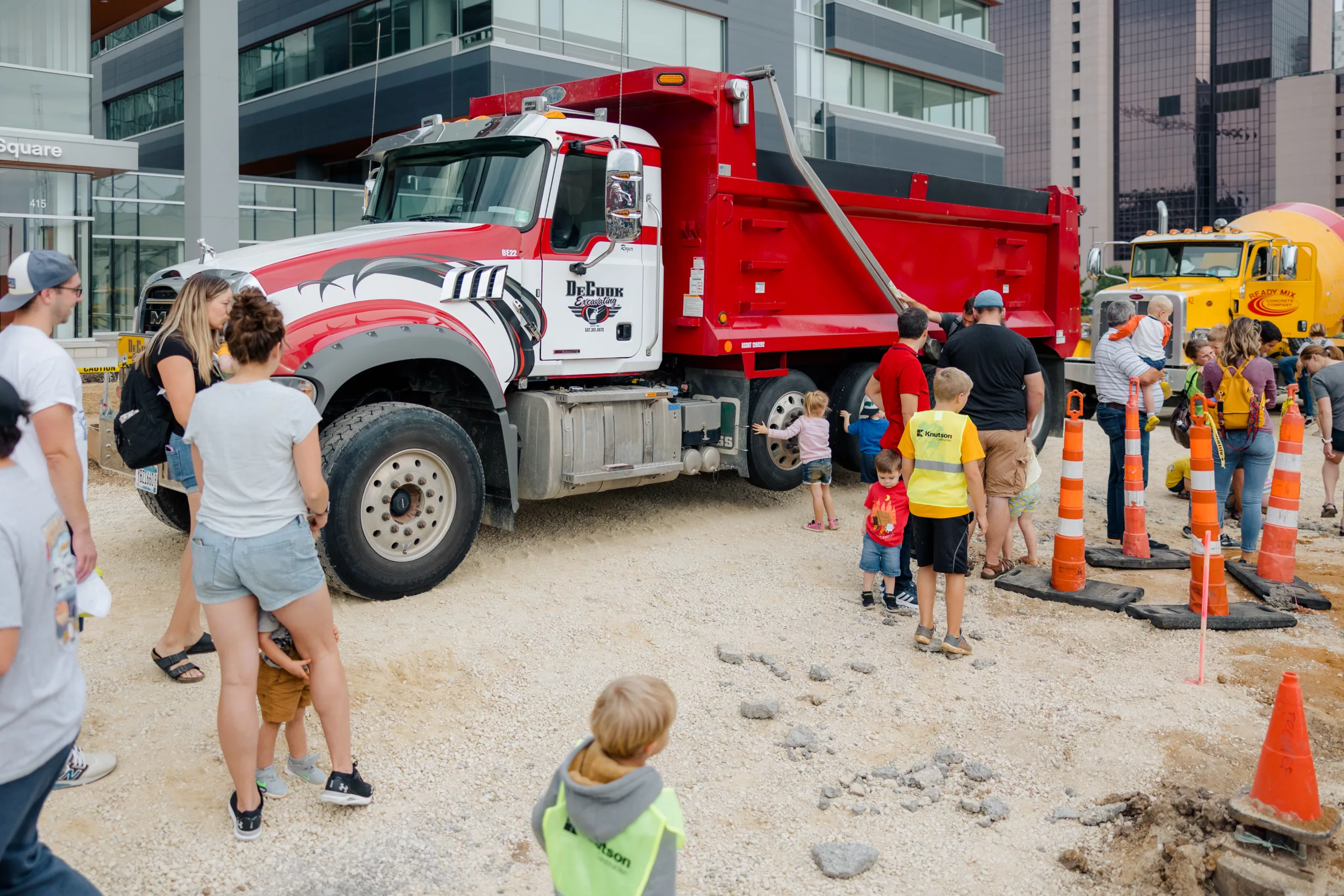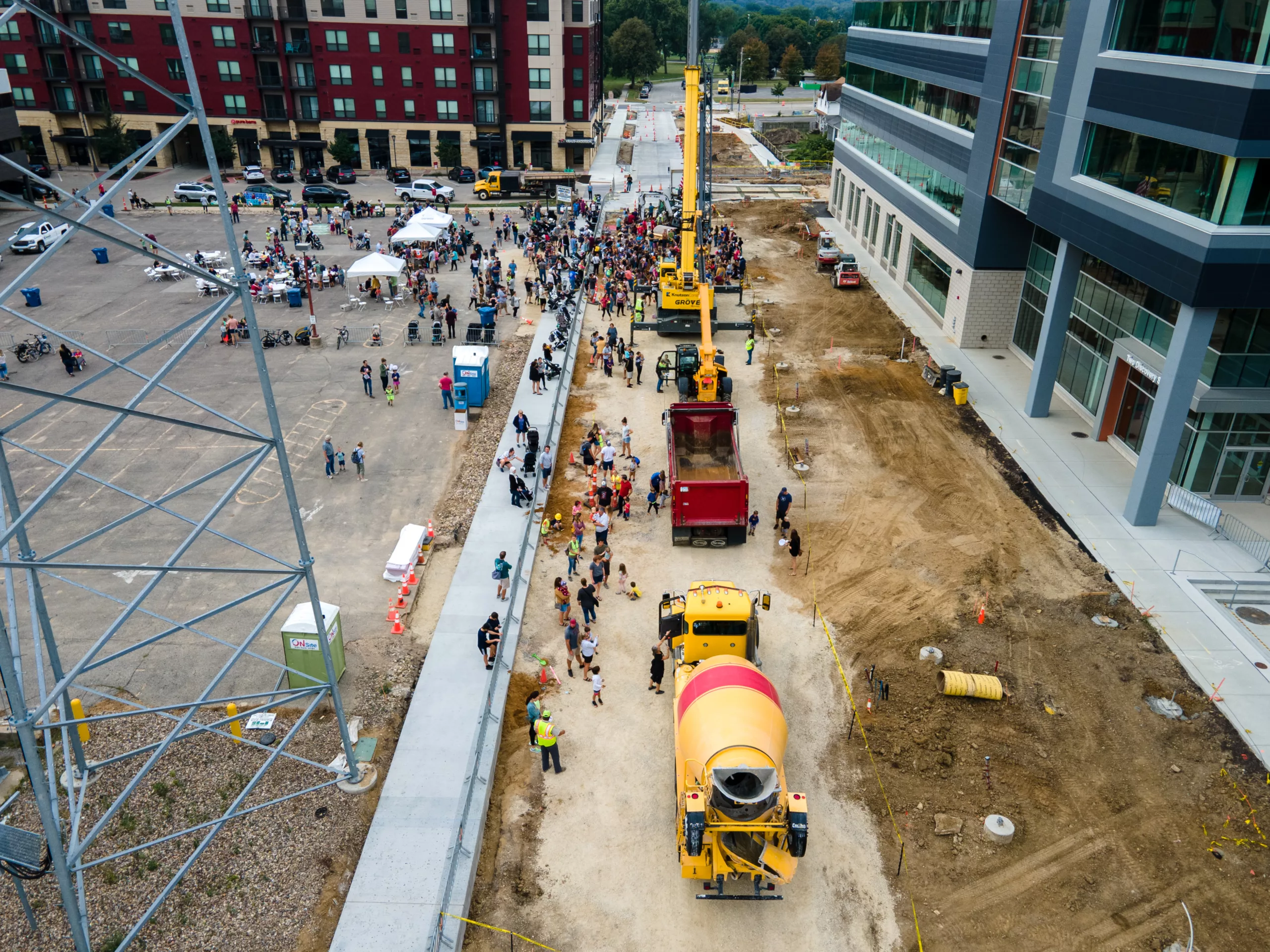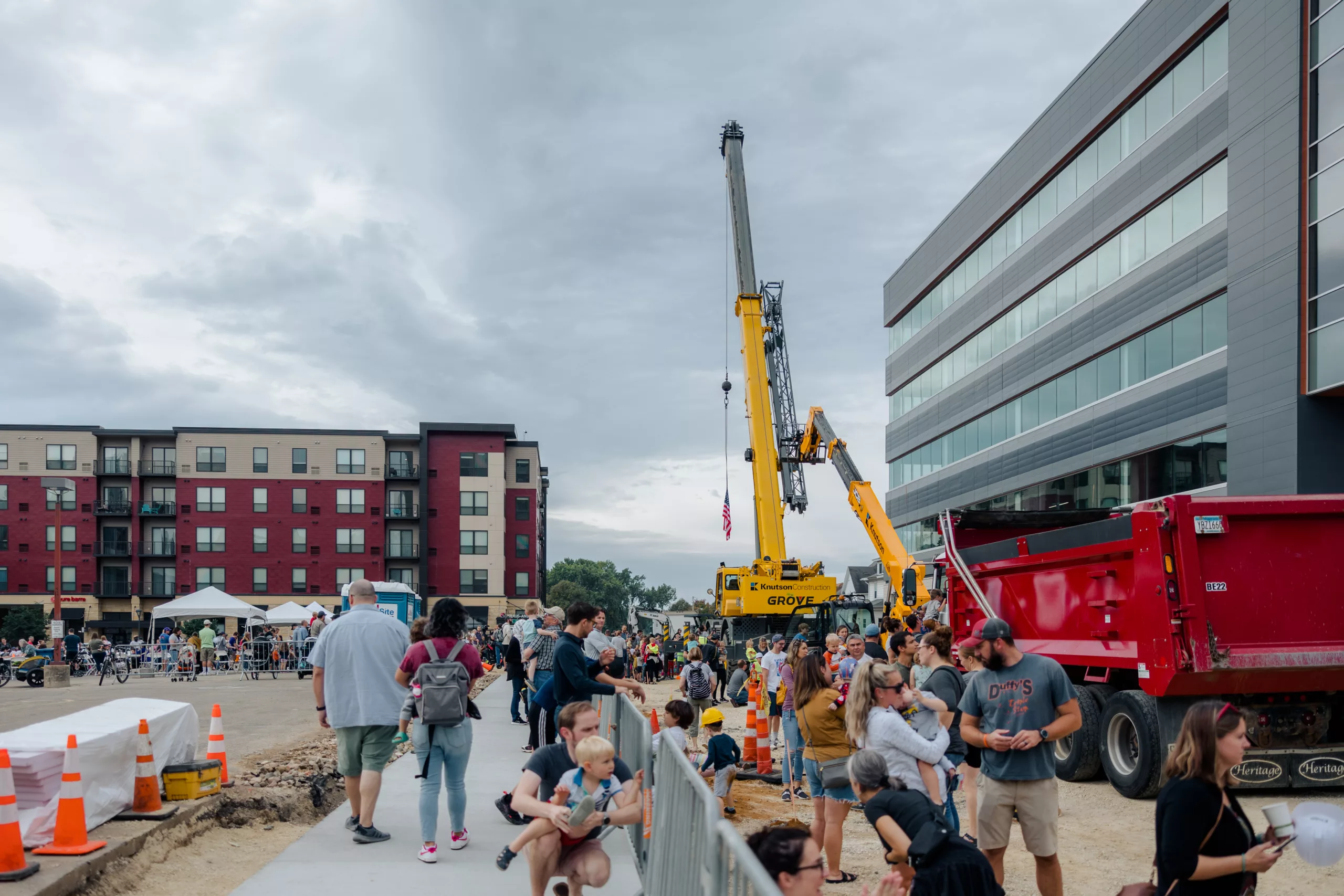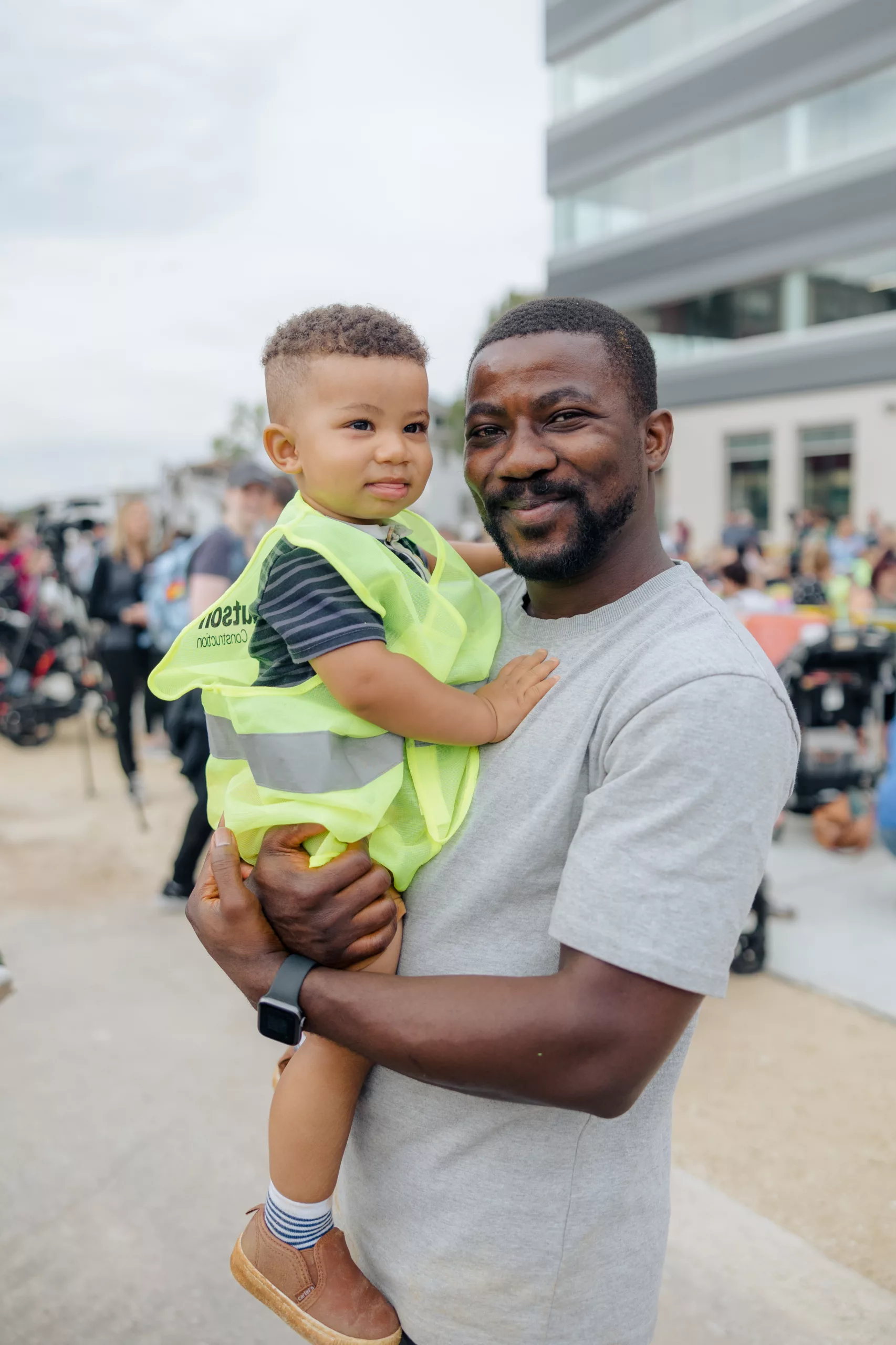 The Big Dig @ Discovery Walk – 2022
Kids will get a chance to play and dig in a giant pile of sand, and get close up to construction equipment while meeting the construction workers that operate the equipment and ask them questions. Families can explore Soldiers Field Memorial Park and have fun with the Go! Play! Explore! Mobile Recreation trailer loaded with games and equipment.
(Please note: Due to updated safety precautions, children will not be able to climb onto or in the equipment)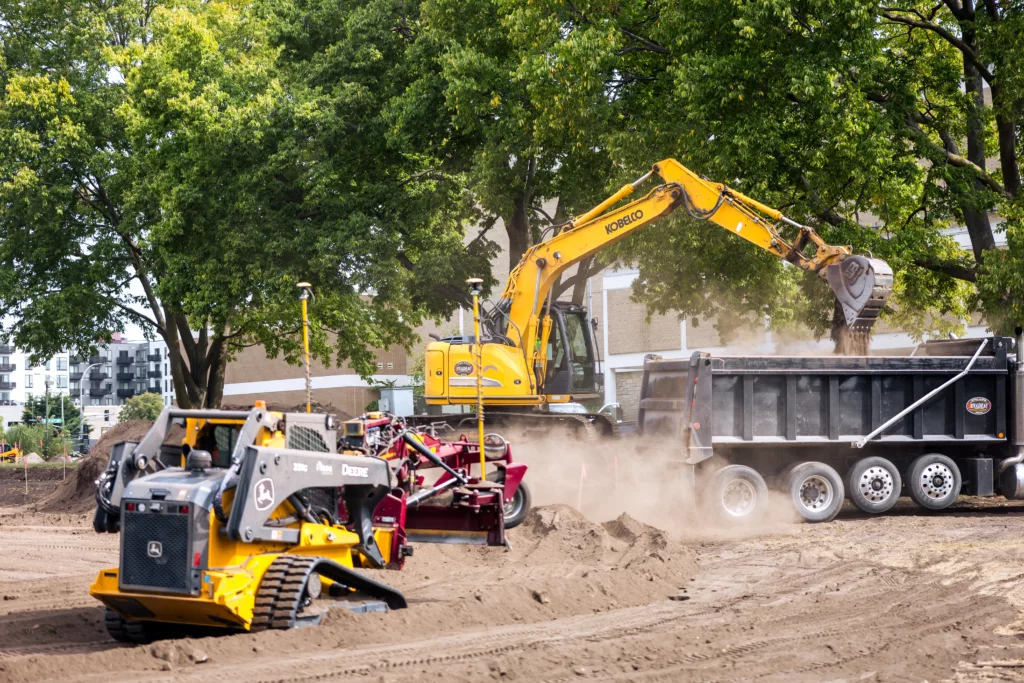 This community event provides an opportunity to learn more about the Soldiers Field Memorial Park improvements. Projects include a new aquatics area with a lazy river, three water slides, a 50-meter lap pool, a renovated bathhouse, shallow pool, splash pad, a new inclusive playground and shelter at Roy Sutherland playground on the east side of the park, new basketball courts, and a SW trail connection providing a boardwalk and multi-use trail.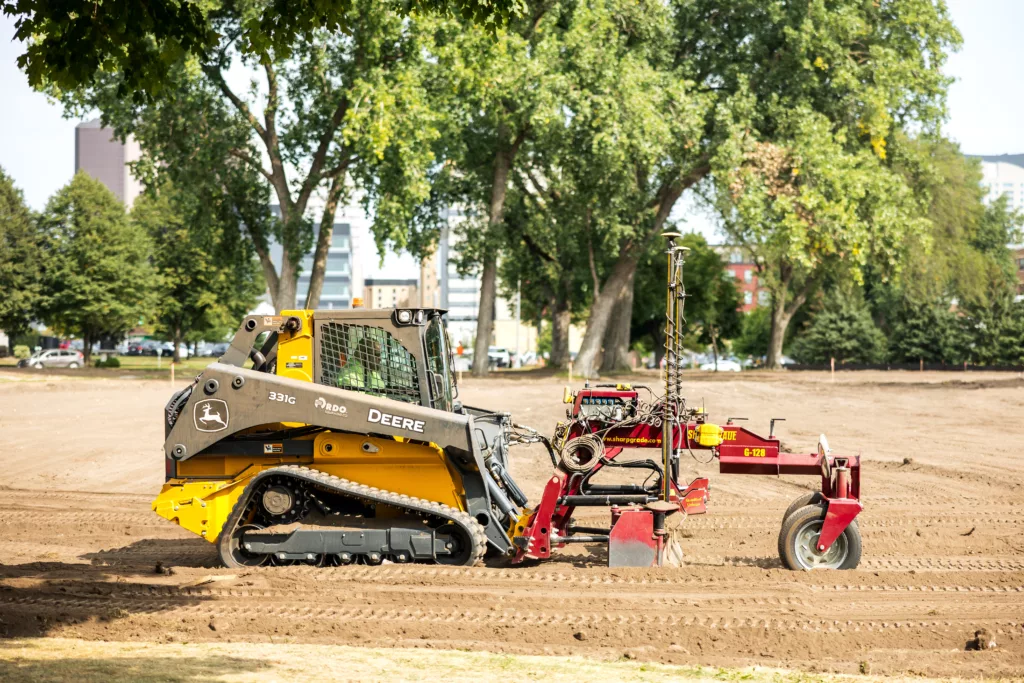 Time & Date
This event is FREE for your family to attend! Please RSVP to the Facebook event!
Date: Saturday, October 7th, 2023
Location: Soldiers Field Memorial Park Track
Time: 9 AM – 11:00 AM
Parking
This event is FREE and open to the public.
Parking is also free and available in various places: the Soldiers Field Veteran Memorial parking lot, The Soldiers Field Swimming Pool parking lot, street parking along 2nd Avenue SW,  and Soldiers Field Drive SW. Please note: George Gibbs Drive SW will be closed for the event.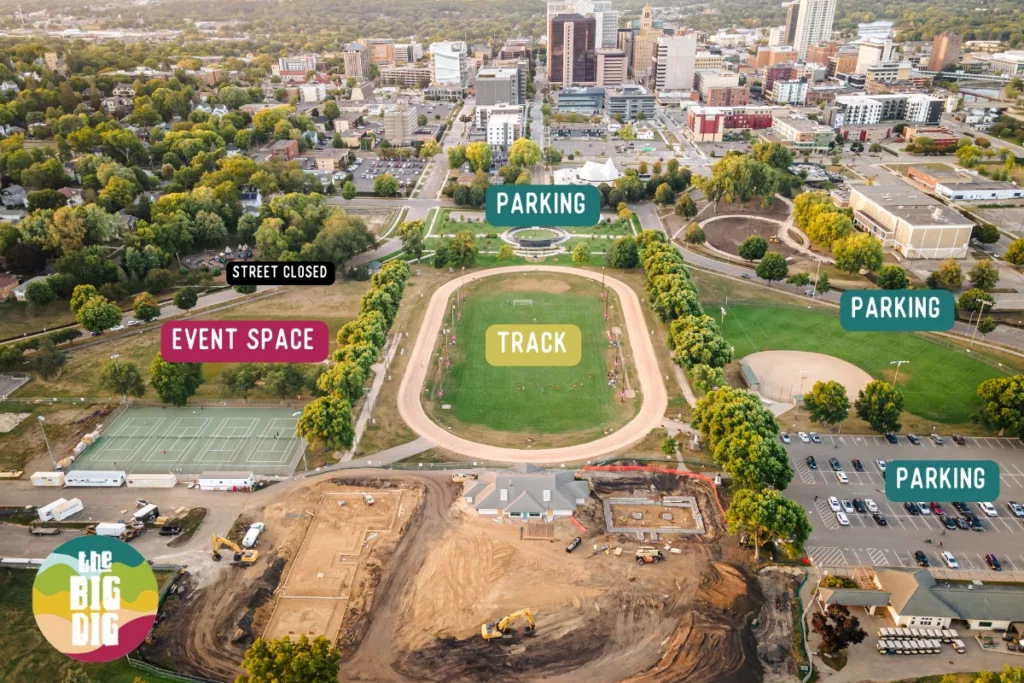 The Big Dig Event Details
The Big Dig is a fun family-friendly event. It's an open house style so you can come and go as you please. Have a great morning with the opportunity to have a ton of fun seeing construction equipment, meeting construction workers, and playing in the park. Your family will have all sorts of things to see and do:
Dig in the sand with shovels and tools
Get up close and touch the construction equipment
Take home your own construction hat from Kraus-Anderson Construction
Take photos with construction workers and ask them any questions about construction

Have fun with the Go! Play! Explore! Mobile Recreation trailer

See if you can complete the Fun in the Park! checklist
Dance to live family-friendly music mixed by Aventi DJs
and more fun!
Supplies are limited and available on a first-come, first-served basis so be sure to arrive early and have a great morning at The Big Dig!
---
Looking for something after The Big Dig? Head to the 50th Anniversary Celebration at People's Food Co-op from 10 AM – 1 PM right next to Soldiers Field Memorial Park!
Sample products from local farmers, producers, and vendors!
Build your own trail mix for kids!
Fill in your BINGO card for a chance to win PRIZES!
and more fun coming your way!