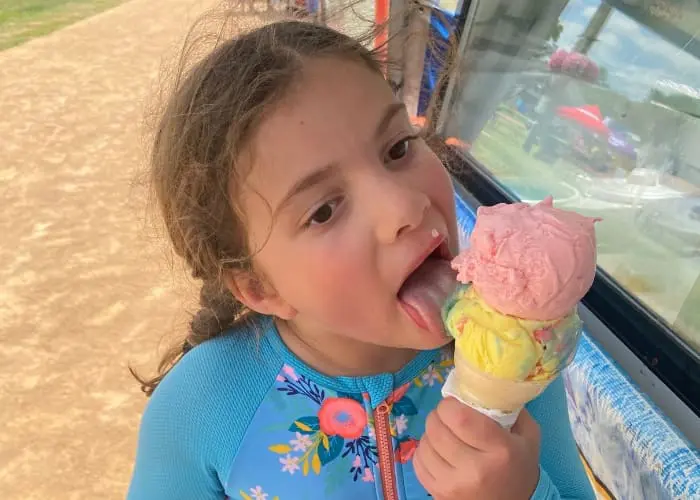 Some people are real ice cream purists, while others are just happy with any old frozen, sugary treat. In an effort to be inclusive, soft serve, gelato, frozen custard, and frozen yogurt are all included in the Rochester Guide to Ice Cream. People, it's summer; it's sweet! Yum!
---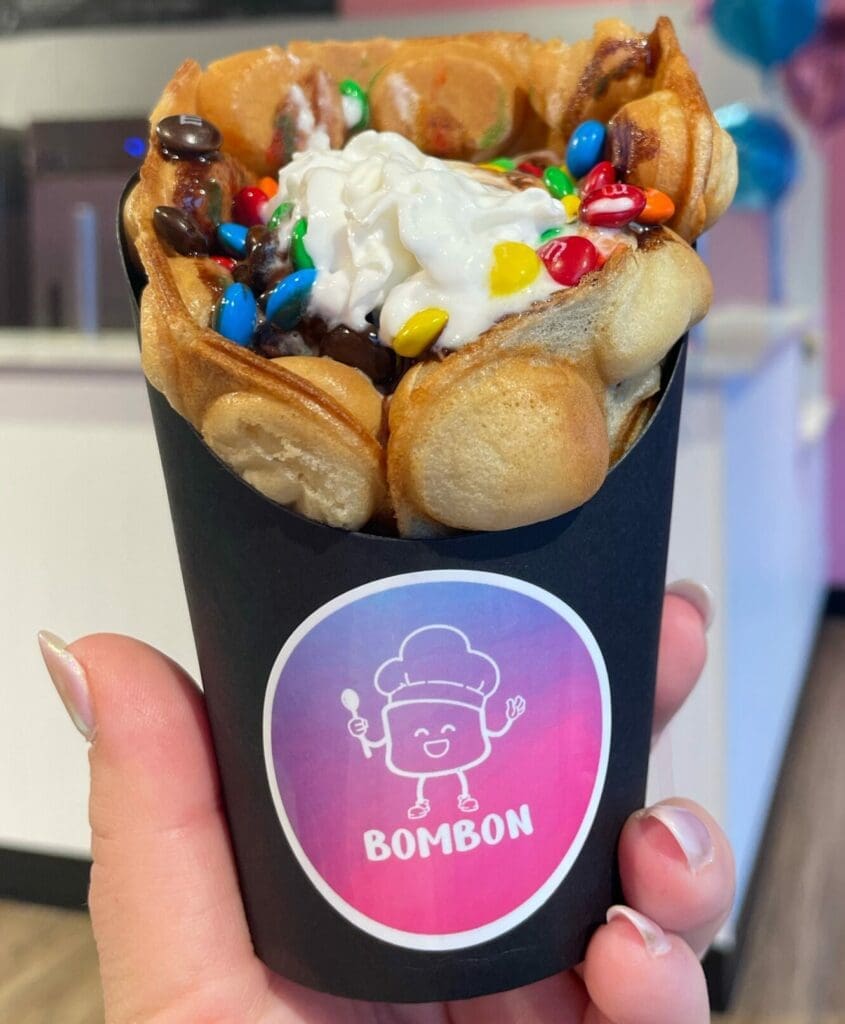 Bonbon offers up Mexican-inspired Ice cream treats, fruit cups, salty snacks, waffles, desserts, smoothies, and more!
 However, it's their specialty that will catch most people's eye. Bombon serves up borbuja or bubble waffles. These made-to-order waffles act as a holder for delicious fillings like ice cream, chocolate sauce, berries, fruity pebble cereal, whipped cream, and more!
You'll also find traditional Mexican ice cream treats on the menu like ChocoBananas (chocolate-covered bananas), flan, bionicos (a bowl of cut-up fruit, drizzled with crema and topped off with granola, and shredded coconut), aguas frescos, and other favorites!  If you love Chamoy and Tajín, this is your place.
Address: 12571 Clare Ln NE Suite #101, Rochester
Daily: Mon-Thurs, 11 AM – 9 PM // Fri, 10 AM – 10 PM // Sat, 10 AM – 10 PM // Sun- CLOSED Website
---
Lucky for us, not only does Café Aquí serve craft coffee beverages and delicious empanadas, they also offer ice cream! Café Aquí serves super-premium ice cream from The Chocolate Shoppe. Order up a hand-dipped cone or cup, milkshake or malt. With rotating flavors, there is always something new to try!
Address: 1811 2nd St SW Suite B, Rochester, MN 55902
Phone: (507) 884-8376
Daily: Mon-Fri, 8 AM – 7 PM // Sat, 8 AM – 5 PM // Sun, 9 AM – 5 PM Website
---
For frozen yogurt and all the candy you've ever dreamed of (according to my kids), Cherry Berry is the place. At this self-serve yogurt bar, simply fill your container with your yogurt of choice and whatever toppings you wish. Typically ten to twelve flavors are offered (they rotate regularly) and the array of toppings is vast (from fresh fruit to gummy bears and everything in between). The container is weighed and you pay by the ounce – 48 cents per ounce to be exact! Just monitor your kids carefully or you could end with a $10 bowl of yogurt.
Address: 123 16th Avenue SW, Suite 100
Phone: 507-258-4002
Daily: 11:00 a.m. – 9:00 p.m. Website
---
Amazing gelato made daily! Gelato is Italian ice cream and typically contains less fat than traditional American ice cream but has higher sugar content.
Located on the second floor of the Shops at University in downtown Rochester, Stam typically has about 20 flavor options which can be eaten from a cup or cone (or taken home in a pint to eat later). A few small tables outside the storefront allow customers to take a seat and enjoy their gelato. Bonus, Chocolaterie Stam has a huge selection of handmade chocolates.
Address: 111 South Broadway, Suite 208
Phone: 507-536-2722
Hours: Monday – Friday:11:00 a.m. – 6:00 p.m. Website
---
While the Chocolate Shoppe, located in Mantorville, MN, is well known for its delicious homemade chocolate treats, they also serve delicious old-fashioned ice cream made fresh in Madison, WI.
Address: 420 N Main St Mantorville, MN
Phone: (507) 635-5814
Hours: Tuesday – Friday 11:30 a.m. – 5:00 p.m. Sunday 12:30 a.m. – 5:00 p.m. Website
---
Clem's Cups & Cones is just a short drive west of Rochester located in Kasson, MN. If you're in the mood for a sweet treat, chances are they have exactly what you want! From ice cream pies to Dole Whips, they have you covered. My family loves trying the special creations! Check their Facebook page for special treats!
Address: 301 Mantorville Ave S Kasson, MN
Phone: (507) 254-2381
Hours: Tuesday-Saturday 12:00 p.m. – 8:00 p.m. Sunday 12:00 p.m. – 6:00 p.m. Website


---
Love that they have more than one location! Options people! We have options here in Rochester. You can find them on both the north and south side of town.
Cold Stone is all about having it your way. Select a flavor from their vast selection and then choose your own mix-ins (nuts, chocolate chips, crushed candy bars, etc.). The ice cream and mix-ins are then carefully blended on a slab of frozen granite and served in a cup or cone. Yum!
They have cakes, too!
South Location
Address: 2650 South Broadway, Suite 100
Phone: 507- 424-3717
Hours: 11:00 a.m. – 9:00 p.m. Website
North Location
Address: 3780 Marketplace Dr. NW, Suite 111
Phone: 507- 424-3374
Hours: 11:00 a.m. – 9:00 p.m. Website
---
Culver's is our local purveyor of frozen custard. Wondering what differentiates frozen custard from traditional ice cream? The addition of extra egg yolks!
With a north and south location in town, satisfying your frozen custard craving is simple! Chocolate, vanilla, or flavor of the day, served in a cup, cone, sundae, shake, or malt. With mix-ins, your flavor options become unlimited! Additionally, other flavors are sold in prepackaged pints in the store. These franchisees are independently owned, so check out their websites for the daily scoop on custard specials. Drive-thru makes this sweet treat fast and convenient.
Address: 3380 55th St NW
Phone: 507- 281-8538
Daily: 10:00 a.m. – 10:00 p.m.
Address: 36 28th St SE
Phone: 507- 529-5052
Daily: 10:00 a.m. – 10:00 p.m. Website
---
Dairy Queen
Dairy Queen is the place to go for classic soft-serve ice cream. From blizzards to twist cones to sundaes, DQ is a hit. With four locations in Rochester, you'll always be able to satisfy your craving. Another bonus – ice cream cake! Note: The North, Southeast, and North of Downtown locations are open April – October only!
Address: 4140 East Frontage Road, Highway 52 N
Phone: 507-281-0762
This location has a drive-thru and outdoor seating.
Daily: 10:00 a.m. – 10:30 p.m.
Address: 320 12th St SE
Phone: 507-282-8633
Daily: 10:30 a.m. – 10:00 p.m.
Address: 538 N. Broadway
Phone: 507-288-3863
Hours: 10:30 a.m. – 10:30 p.m.
Walk-up window service is part of the fun! Then grab a spot at the picnic table and enjoy your summer treat.
Address: 920 N Main St, Stewartville, MN 55976
Hours: Open every day 11 AM – 10 PM
---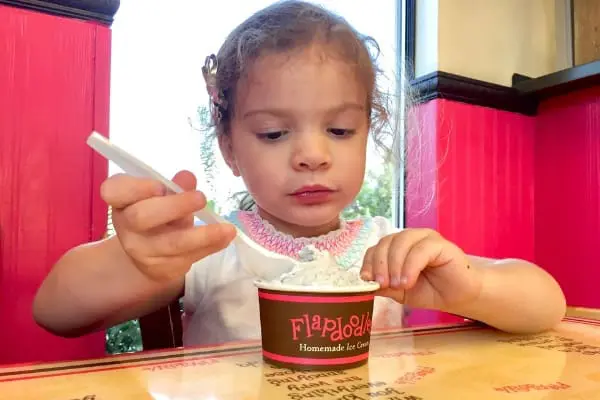 Who doesn't love LOCAL! Flapdoodles is truly our very own hometown ice cream shop. The north location boasts a drive-thru, but for those of you on the south side, that just means a trip inside. And who can resist all of the zany slogans, riddles, and stories on the walls and tables?
With unique flavors like Cookie Monster, Zoo in the Goo, and French Toast, plus classics like vanilla and chocolate, who wouldn't want to stop by? Now you can get ice cream cakes, too. Win Win!
Punch cards mean free treats. I won't tell you how many free ice creams we've earned at our house!
North
Address: 3525 22nd Ave NW
Phone: 507-288-3527
South
Address: 1710 Broadway Ave South
Phone: 507-322-0022
Hours: Monday-Sunday: 11:00 a.m. – 10:00 p.m. Website
---
Fuzzy's Italian Ice serves up all kinds of frozen treats and some unexpected delicacies such as baklava and other Middle Eastern desserts.  On the menu, you'll find Italian Ices, soft serve ice cream, frozen custard, traditional scoop ice cream, stuffed Italian ice cream, and on Tuesdays during the summer cotton candy!
Address: 318 1st Ave Sw, Rochester
Phone: (507) 206-4020
Hours: Mon-Sat, 10 AM – 10 PM Website
---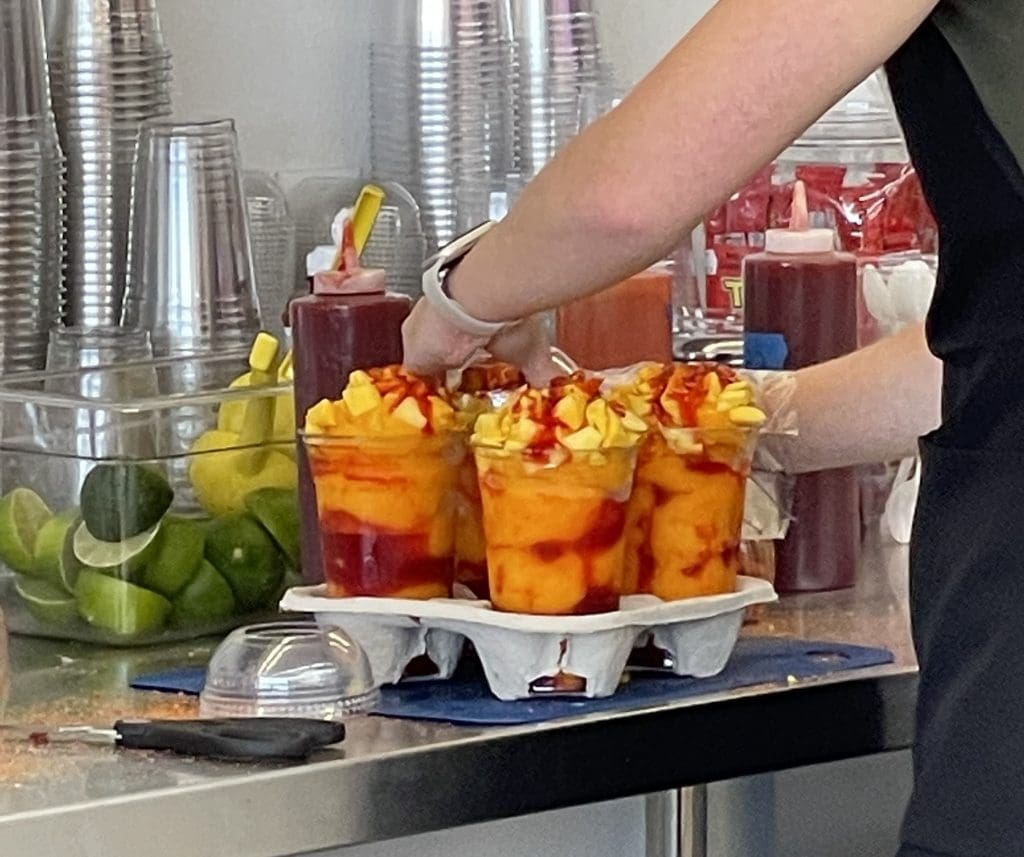 La Michoacana Purépecha offers an authentic, original experience of traditional La Michoacana shops. The phrase "La Michoacana" is shorthand for a paleteria or ice cream shop.
It's hard to understate the selection of treats. There are over 30 popsicles (or "paleta") flavors with both water base and milk base, aguas frescas (fruit water), horchata, chocolate-covered bananas (with your choice of toppings), milkshakes, ice cream cones, waffle bowls, 30 ice cream/sorbet flavors and growing, and so much more.  You can also get your favorite popsicle flavor dipped in chocolate with the toppings you want too.  This is called Esquimales. La Michoacana Purépecha is probably most well known for its Mangonada: a layered ice cream treat with mango sorbet, agua fresca, fresh mango, Tajín, chamoy, and a tamarind straw.  It covers all the flavors! Check out the full menu here.
Don't miss the other menu items such as Dorilocos, cheetos preparados, and tostilocos.  These genius snacks are basically the best version of a walking taco you'll ever have.
Address: 28 9th St SE, Rochester, MN 55904
Hours: 10:00 AM – 9:00 PM, every day Website
---
Enjoy many flavors of Sno Biz shave ice. Also serving iced coffee, slushies, soda and water.
Address: 905 37th Street, Rochester MN, 55901
Hours: Monday – Sunday: 1:30 p.m. – 8:30 p.m. // Watch Facebook or Instagram for additional information Website
---
Mrs. Patty and Dottie the Ice Cream Truck is a beloved sight on the streets of Kasson, Mantorville, and Dodge Center each summer! Follow Mrs. Patty and Dottie on Facebook for a schedule of where they will be next! Website
---
Southeast Minnesota's original homemade ice cream sandwich treat! While the recipe is a closely guarded secret, the treats are readily available at outdoor events and festivals throughout the warm summer months, including Thursdays Downtown!  Tribute Soda Fountain is located in Pine Island, MN, and has weekend hours.
Address: 115 South Main Street, Pine Island, MN 55963
Hours: Saturday 11 AM – 9 PM, and Sunday 11 AM – 8 PM Website
---
The Wandering Scoop is a mobile food truck that takes its delicious small-batch gelato all over the greater Rochester area! Bonus- their gelato is made using local ingredients!
Follow them on Facebook to see where they will pop up next! Website
---
Who's ready for some ice cream?