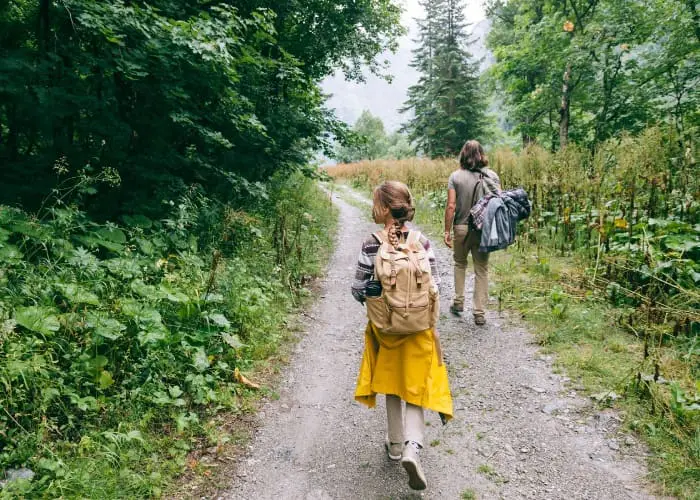 Are you an outdoor enthusiast? Or does the idea of leaving your car have you fearing being "eaten by bears?" Maybe you used to camp and climb and hike all. day. long.-before kids-and now you want to introduce your kiddos to the great outdoors. Whatever your experience level, the Midwest has fantastic hiking with unique characteristics and loads of natural beauty. Even better? There are some great trails and hikes just out your back door and there are some great ones for families!
For an added bonus, check out these 5 Family Fun Hikes!
Best Local Hiking Spots (all within 40 miles of Rochester, MN)
Oxbow Park Families with young children may be familiar with the Zollman Zoo portion of Oxbow Park, anchoring their environmental education program. However, over 620 acres are now dedicated to hiking, camping, and ski trails, making it a unique resource just 20 minutes west of Rochester.
Whitewater State Park is a true destination in our region. With over 2700 acres and year-round activities, Whitewater hosts easy, moderate, and challenging trails that take you from bottom land along the river to the bluffs and valley overlooks- all just 25 miles east of Rochester.
Elba Fire Tower is located just 30 minutes east of Rochester. This historic tower lookout will help you "get your steps in." Over 700 woodland steps made of railroad ties wind through the forest before reaching the 110-foot tall tower. Not for the faint of heart, the tower creaks and sways in the wind as signs warn people not to climb in rainy or windy weather and not to have more than six people in the lookout.
Root River Park is open from 5 a.m. to 10 p.m. 365 days a year and is located at 4012 80 St SE Rochester MN 55904. Located along the banks of the Root River 10 miles from downtown, this parcel of land adjoins roughly 265 acres of DNR-Forestry Land and provides views of the river and abundant wildlife.
Chester Woods Park is located on the headwaters of Bear Creek less than 15 minutes from downtown Rochester. Hard surface trails link the picnic areas, campground, and fishing areas.  There are approximately 12 miles of primitive trails winding through a variety of inviting natural habitats in the undeveloped areas of the park.
Best Hiking Spots For Families
Quarry Hill Nature Center is a local gem that makes a great morning or afternoon activity, even for the littlest hikers. Minutes from downtown Rochester with easy access to great parking, Quarry Hill has more than 8 miles of trails for all ages and abilities.
Indian Heights Park is another hiking spot practically in the middle of town, making it a great activity to burn off some energy without a long drive.
Douglas Trail is a fantastic option to get outside and still be "on the beaten path". The trail begins in NW Rochester, travels through the small town of Douglas (for which the trail is named), and terminates in Pine Island. It is generally level and stroller/wheelchair accessible.
Izaak Walton League is another quick excursion for shorter legs. Located in SW Rochester, this park has about a mile of trails in a unique wetland environment.
Essex Park features a natural area, archery, sand volleyball, horseshoes, paved and unpaved trails, a playground, picnic shelter, and rentable space. Seasonal cross-country skiing. There are lots of trails for exploring. Keep an eye out for bald eagles!  They like to build nests in the area.
Hiking essentials
The key to hiking with kids is keeping it interesting. Kids will want to know how much further, what's next, and why are we doing this? Ask them questions about birds and animals they may be reading about, and point out unique habitats. Consider printing out our spring and fall scavenger hunts for a fun activity! Stay positive, and make a plan for water and bathroom stops. Don't overdo it on your first family hike so everyone has a positive experience. There are bound to be moments of too tired/too hot/too cold so bring a backpack with a few essentials to keep everyone's spirits high!
water

snacks

bug spray/ wipes

sunscreen

band-aids and ibuprofen (For big hikes or overnight camping trips you can find a First Aid Kit crafted specifically for your outdoor adventure at many outdoor retailers.)

wipes

extra layers
There are plenty of ways to ease into the great outdoors in Rochester! Not ready for a hike? Try out the over 85 miles of paved, interconnected walking and biking trails, or one of over 100 parks! Don't forget to check out all of the Nearby State Parks for even more family-friendly hiking!