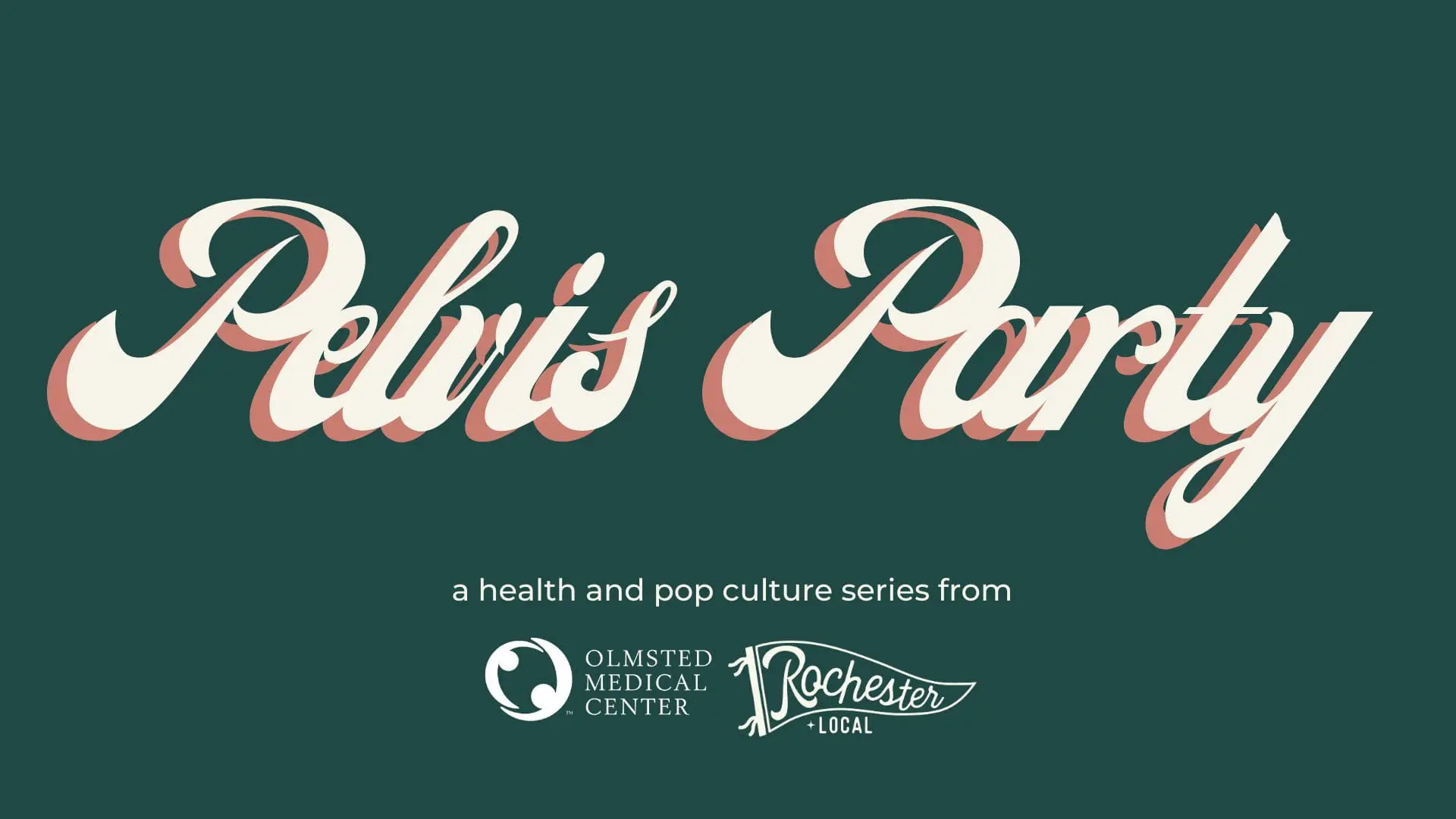 Welcome to Pelvis Party! Join three friends as they discuss women's health and how pop culture has influenced our thinking. We'll discuss the ins and outs of caring for your body and empower you to have conversations with your primary care provider. Ultimately, we want you to take your health into your hands…and understand that you don't have to settle.
Presented by:
Britt Marschall, Marketing & Communications – Olmsted Medical Center
Dr. Melissa Richards, Chair, Obstetrics & Gynecology – Olmsted Medical Center
Becky Montpetit, Owner – Rochester Local
Episode 1 | Pelvic Health and Its Importance
What is Pelvic Health and why are we talking about it?  Pelvic health ensures the best possible functioning of the bladder, bowel, and reproductive organs. Pelvic health plays an important role in physical, mental, and sexual well being.
Episode 2 | Incontinence and Organ Prolapse
In today's episode, we talk about incontinence and how normal it is to associate "peeing your pants" as you get older. Aka, sneezing, coughing, laughing…but does it have to be this way? We also talk about Pelvic organ prolapse (yikes!)
Episode 3 | Incontinence & Urogynecology
Today we're joined by Dr. Chris Klingele, Urogynecologist at Olmsted Medical Center. Dr. Klingele explains what urogynecology is (hint: they specialize in treating pelvic floor dysfunctions) and who might be a great candidate to see him.
Episode 4 | Everything IUD
Today we're talking all things IUDs. What they are, how they work, why someone would get them, whether are they painful to have placed, what are they used for (outside of birth control!), and a lot more.
Episode 5 | Smells & Discharge
The reality is discharge and smells are part of the anatomy of a pelvis. But it's normal. So normal, in fact, that it is experienced by almost every person. In this episode of Pelvis Party, we'll talk about it…when it's normal and not.
Episode 6 | Pelvic Organ Prolapse
In this episode, Dr. Klingele talks all about Pelvic Organ prolapse…what it is, what can be done about it, and why it's much more common than you think. If you think your pelvic organs are a bit saggy (it happens!!), this episode is for you.
Episode 7 | How Do You Clean It?
It can be tempting to think that you need fancy products to clean your pelvic area. Especially with all of the beautiful marketing and clever packaging. So truly, what's right for you?
Episode 8 | The Self Cleaning Oven
The vagina is an amazing and powerful organ. Did you know that the vagina cleans itself? It can be easy to think we need to do a lot to keep ourselves clean down there, but the truth is, water and a soft cloth will do just fine.
Episode 9 | Colposcopies...Let us Explain.
While scary sounding, having a colposcopy procedure prevents even scarier situations down the road. If there were abnormal cells on your PAP smear, a colposcopy is the next step. Listen in to hear all the details, the truth about the pain, and what you can expect!
Episode 10 | What's a Hospitalist
Meet Olmsted Medical Center's first full-time Hospitalist, Dr. Margaret Dow, OB-GYN (and Department Chair)! So what is a hospitalist? Also, what can you expect when you give birth at Olmsted Medical Center? We'll also hear how much the population grows in 24 hours and a few *crazy* birth stories.
Episode 11 | Midwifery at OMC
What's a midwife? Why do some people choose to have to see a midwife for prenatal care and their birth? How does a midwife differentiate from an OB-GYN but…how do they also collaborate and work together? So many questions were answered with our special guest Eyita Gaga on today's Pelvis Party.
Episode 12 | Holistic Postpartum Care
We continue our conversation with Eyita Gaga, Certified Nurse Midwife at Olmsted Medical Center on today's Pelvis Party. Eyita invites us to discuss head-to-toe postpartum care…not only how is the mother doing physically after birth, but how are they faring mentally? Emotionally?
Episode 13 | What IS Pelvic Floor Therapy?
Pelvic Floor Therapy…what even IS it? Kegels, right? Well, maybe. But, maybe not. In this episode of Pelvis Party, we talk with Gretchen Young, Physical Therapist at Olmsted Medical Center. She specializes in female urinary incontinence and pelvic pain and introduces us to exactly WHAT pelvic floor therapy is and essentially why it's considered core strength.
Episode 14 | Uncommon Questions
We have a goal at Pelvis Party…to ensure you never feel alone. That you feel equipped with the knowledge you need to address health issues or concerns you might have with your primary care provider. Sometimes, you might have a question that you feel is so uncommon, no one else could possibly have asked it…we got you.