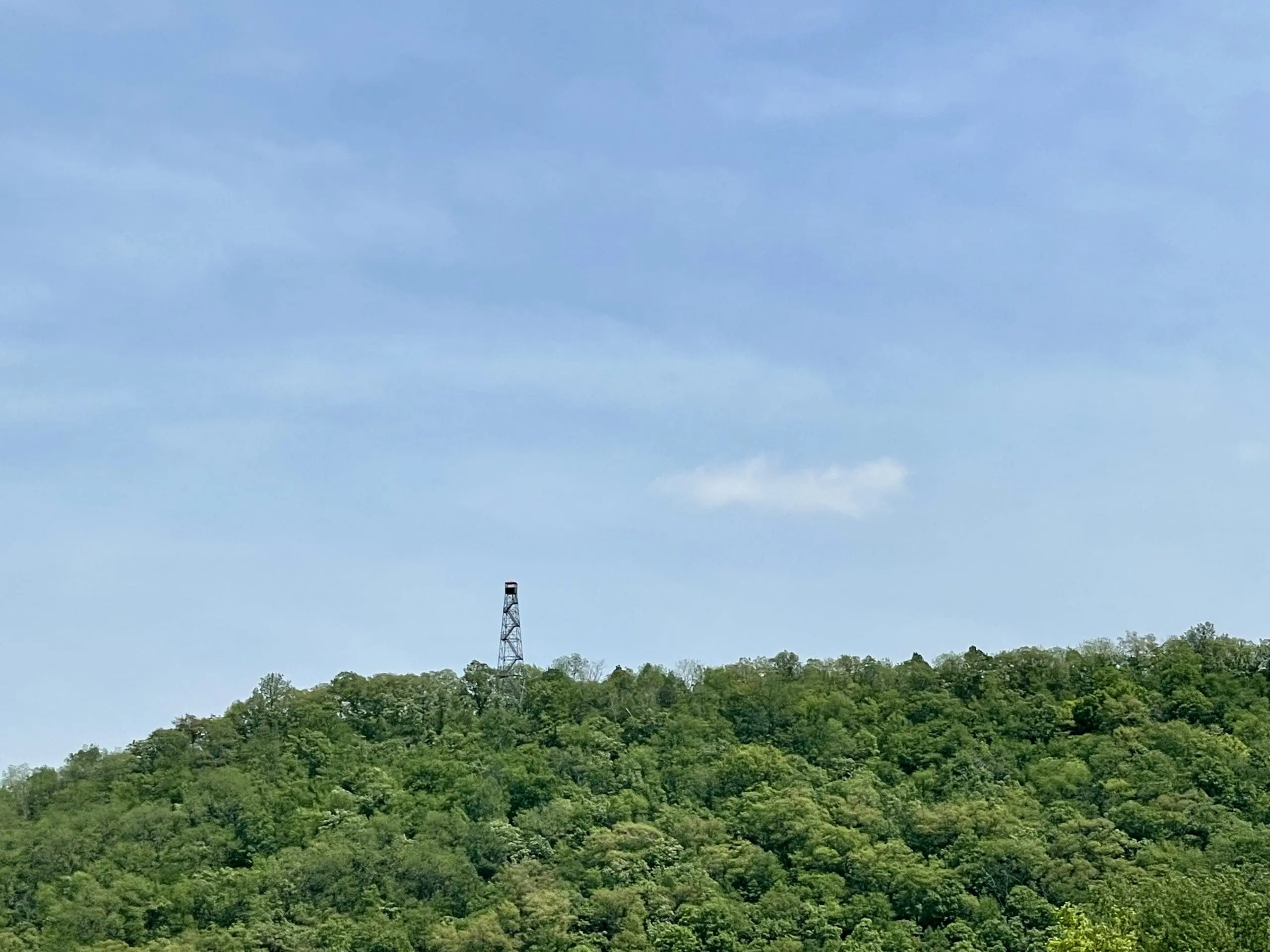 Updated June 2023
Looking for the ultimate hiking and climbing challenge this summer? Check out Elba Fire Tower!
Location: 1100 E Center St, St Charles, MN 55972
Hours: Open daylight hours April through October
If you have elementary and teenage kids this is the perfect get-out-of-the-house and push-yourself-to-new-levels activity. Adventuresome and energetic kids under five will also enjoy this but be prepared- this is a workout. No, I am not talking about rock climbing or scaling a bluff. Travel to the little town of Elba, Minnesota, and there just outside city limits you will find a relic from the past. The Historic Elba Fire Tower is your ticket to touching the clouds. This is the only fire tower available to climb in Southern Minnesota.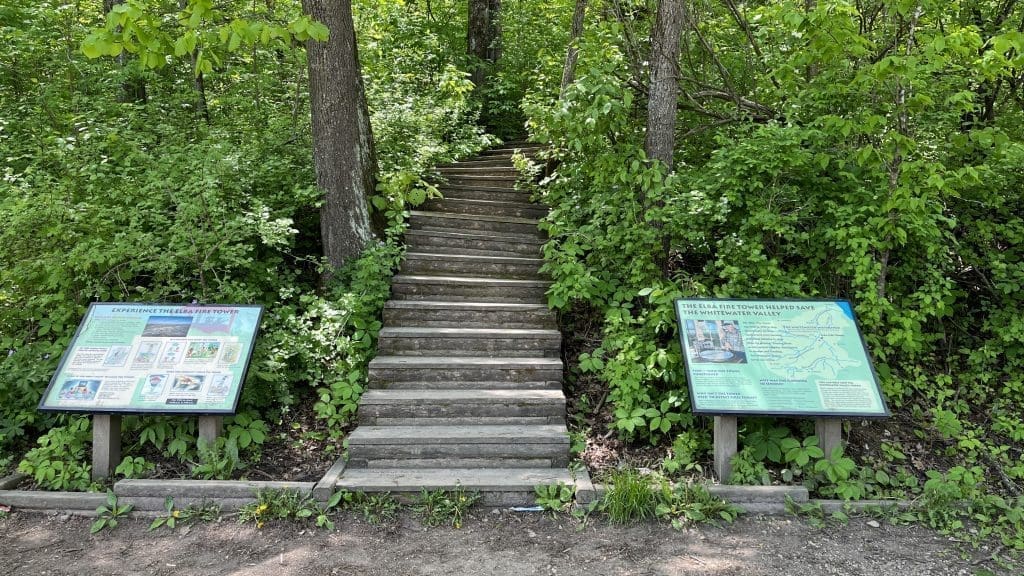 Located about 40 minutes East of Rochester, MN. The tower is managed by Whitewater State Park. The best way to find it is by GPS. When you enter Elba, MN look for the (below) sign. You are not far away, just drive a bit more up the road. Free and open to the public during day hours, you will NOT need a State Park sticker.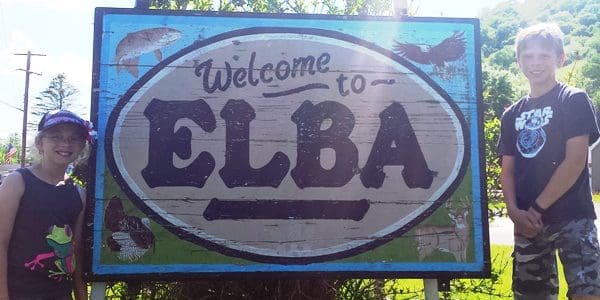 What you will need:
Tennis shoes or hiking shoes (no flip-flops)
Water or beverage
Bug Spray (This is Minnesota)
Sunscreen
Snacks or a light picnic (You can eat at the base of the tower)
Device to take pictures
Binoculars
*For young kids, I do not recommend they climb the tower by themselves*
Built-in 1936 by the Civilian Conservation Corps, the tower soars 110 feet into the air. Just to get to the base of the tower you need to climb approximately 600 steps. There are no bathrooms available once you begin, so if you need to plan ahead first stop at the Elba Valley Express. There you can purchase any last-minute drinks or snacks. If you did bring a lunch, you can enjoy it at the base of the tower, just remember that you have to carry it up 600 steps first.
Before you begin, read a bit about the history of the place and the work that has gone into preserving the site. As you climb up those steps, read the names of some of the people who donated to its preservation. If you need a breather it makes for a good excuse, "I just wanted to read the information on this step. Huff…breathe…Puff."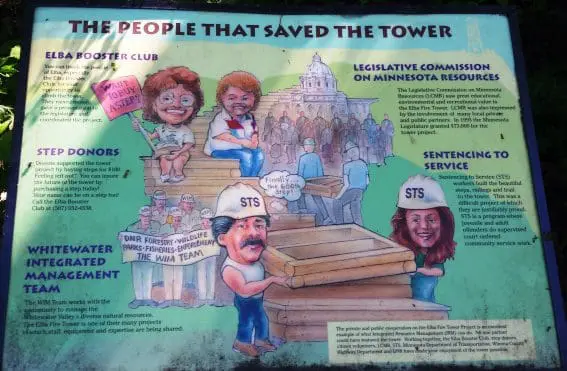 As a family, we found getting to the base of the tower was the hardest part of the climb. Once you finally arrive at the base, catch your breath,  take a moment to look around, get a drink of water, have a snack, and read the rules. Three people at a time on the tower. When you get to the top, you'll realize why. There just isn't space for more.
Then begin your ascent into the clouds. If you have a fear of heights, this is not for you. If you want a bird's eye view of the world and to be awed by the beauty of southeastern, Minnesota keep going. At the top, there is an enclosed lookout area. The view…"Amazing!" No spoiler alerts here. I'll let you find out for yourself. This is a beautiful climb to do in Autumn to appreciate all those fall colors.
If you have never climbed Fire Towers before and would like to do another one. Northern Minnesota has several more. Just follow this link to towers in other State Parks: Minnesota Fire Towers
Enjoy your climb!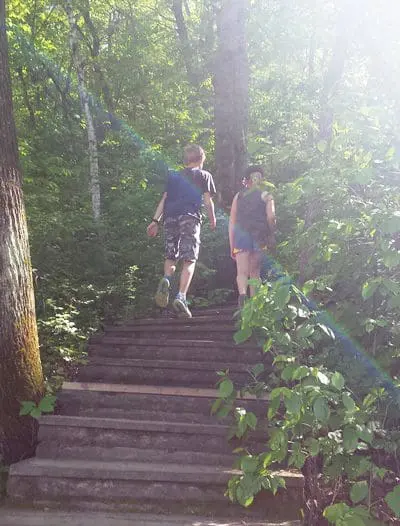 Check out our Field Trip Friday page for even more ideas!