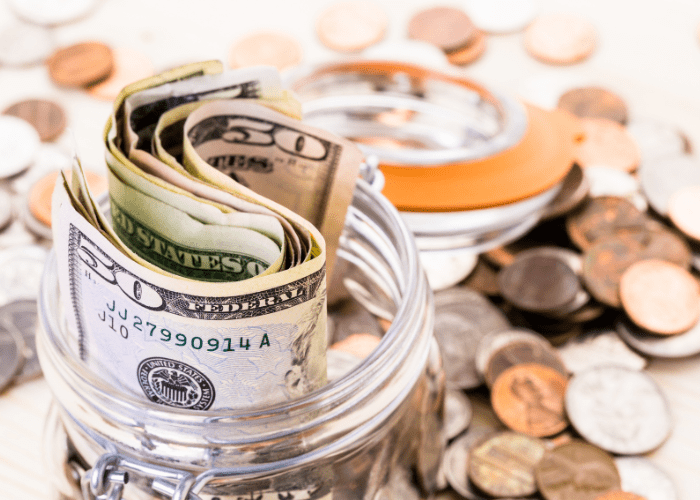 Anyone else feeling the pinch of inflation? Or maybe more like the wallop-upside-the-head of inflation? I have a feeling it's not just me who now feels a sense of dread when having to do grocery shopping. I make a list, try to estimate how much it will cost with new prices, then add about $20 more dollars to that. It's honestly become emotionally draining thinking about how our rent increase was more than my annual raise (so, it's like I got a pay cut), the rising cost of groceries and gas (sorry, road trip, you've sadly been postponed), and activities while kiddo is home for the summer. 
Whew. That was a lot.
But now that it's out in the open that times are challenging, and I've had some time for self-pity and mourn the loss of income, I've decided it's time to try to find some fun for the summer. I've been thinking about the importance of my mindset and how much it can impact, well, everything. We teach our child to "turn things around" when a meltdown is starting. He often does this successfully. I can do the same thing. So, when money is tighter than we want, how do we turn things around?
We've decided as a family to have a fun summer. Our child just finished Kindergarten, so this is his first summer vacation. And since he's in the 45-15 school, he starts first grade during the last week of July. That gives us about six weeks to have some fun things to do, while letting him enjoy the downtime. Let's talk about strategies for budgeting for this.
There are a zillion or so articles online about how to save money at the grocery store. It really does boil down to your family's preferences, though, as far as what can work for you. We have found that going through the pantry, fridge, and freezer at least every couple of weeks helps us find one or two meals that we can make with ingredients we already have on hand. We do some price comparisons, and have found some things are significantly cheaper at Target, while a few things are better at Hy-Vee, and some things are way better at Aldi. Between Aldi and Trader Joe's, I'm able to keep kiddo's snack shelf full with mostly healthy options for him. We also budget for a meal every two to three weeks that feels more like a splurge. A few weeks ago that was carbonara (hello, eggs!). A couple weeks ago it was cheese enchiladas with a sauce from scratch, and I'm still occasionally daydreaming about that meal. This week it's going to be homemade beef & broccoli. The splurge meals that we cook at home still cost a lot less than takeout, and they keep us motivated to stick with cooking at home so we have a few extra dollars for the "fun money" budget category.
As far as gas prices, the biggest thing we're doing is trying to combine trips out, so we don't have to go somewhere everyday, or out multiple times in a day. I like to think that this helps, anyway. 
For summer fun, we've been looking for free activities. Thankfully, the Rochester Mom guide "20+ FREE Things to Do in #RochMN This Summer" just came out, and we're marking up our calendar. We signed up for free bowling back in May, and it's definitely a hit! Just be sure to budget for shoe rental unless you have your own. We also love going to Quarry Hill to explore, and are looking forward to going to the city pools for the first time this summer (which are not free, so they are part of that "fun money" budget category). We also love the Rochester Public Library, and will be spending a good bit of time there this summer. Another thing we love are the playgrounds around town and walking trails. We are fortunate to be able to walk to a walking trail and small playground, which makes all of us (including the dog!) happy on non-rainy days.
Finally, no matter how you are dealing with inflation, I hope that you are planning at least one free thing this summer for you and your child(ren) to anticipate. For us, I promised my child that when we get a clear night on a weekend, he will get to stay up late with me, and we'll put the air mattress on the deck so we can look for shooting stars, and maybe even fall asleep outside. He has been talking about this for about two months now. Fingers crossed that the weather cooperates soon!