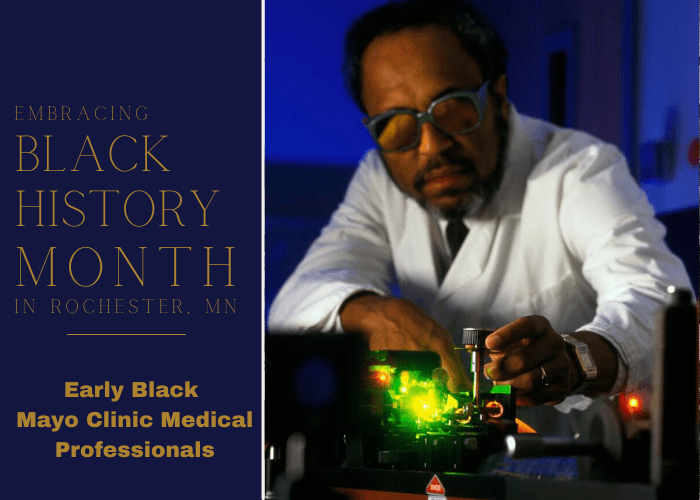 Throughout Black History Month, we will be featuring Black people from Rochester's history. We will also be sharing important resources and information. Follow along as we recognize the many Black people who have helped shape our community, and the countless contributions they have made.
---
Here in the Med City, our next feature is early Black medical professionals in Rochester.
The road for Black physicians in the United States has historically been filled with obstacles and deep opposition at every turn. From a very limited number of medical schools that would accept Black trainees, systemic blocks preventing Black physicians from practicing, joining medical societies, and many other legal and societal barriers, early Black physicians faced countless obstacles in their careers. The Struggle and Triumph of America's First Black Doctors, an article written by the great-granddaughter of one of the first African American doctors in Georgia, is an excellent window into just some of the barriers Black medical professionals faced.
Here in Rochester, many of the obstacles that Black medical professionals faced in other parts of the country were in place as well. Like most medical institutions around the US, Black physicians were not accepted into training programs at Mayo Clinic until the 1960s. In a Mayo Clinic Proceedings article, this is noted:
"When a black physician expressed interest in the Mayo surgical residency in 1931, the Mayo medical graduate committee stated that "no opportunity could be offered in the Foundation." It seems doubtful that there were black residents before the 1950s, as Victor Johnson (director of the Mayo Foundation from 1947 to 1966) noted that he was responsible for the selection of the first black physician for residency training."
Starting in 1966, Mayo Clinic begin accepting Black physicians into their resident training programs. Records of Black nurses and physical therapists being trained and employed at Mayo Clinic began the decade prior, first noted in 1954.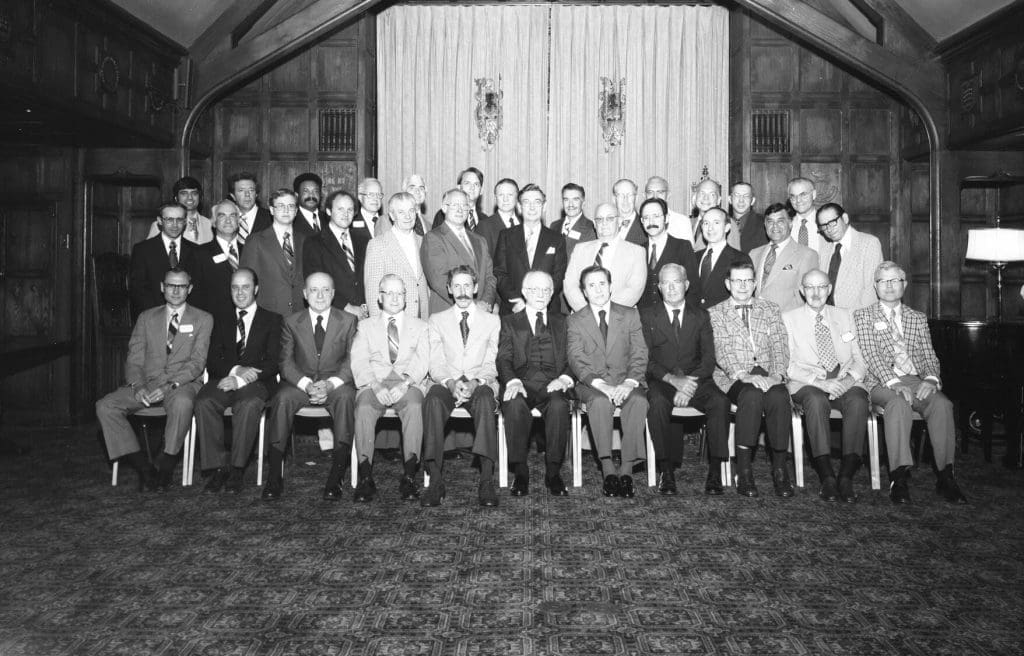 While there are fewer obstacles to Black physicians today, there are still large disparities in medicine between white and non-white physicians. According to a recent UCLA study, while roughly 13% of the US population is Black, only approximately 5% of physicians are Black. The gains in the overall proportion of Black physicians are mostly from Black women, whereas the proportion of Black men physicians is essentially unchanged since 1940. Wage disparities between white and non-white physicians are also still common nationally today, with white male physicians making on average $50,000 more per year than Black male physicians.
We honor the achievements of these early Black medical professionals who persevered in a time when society and the field of medicine were set against them at nearly every turn. We also want to recognize that there is so much work yet to do to increase representation and diversity in medicine.
Physicians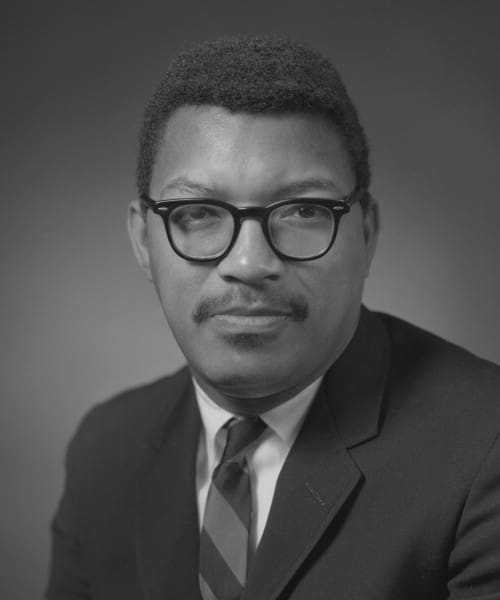 Dr. Frederick T. Boulware, Jr.: Dr. Boulware trained as a resident in Neurology 1966-1970. In January 1971, he was appointed as an associate consultant, then promoted to staff of Mayo Clinic in the Department of Neurology in July 1971. Dr. Boulware resigned in December 1971 to enter private practice in Las Vegas, NV.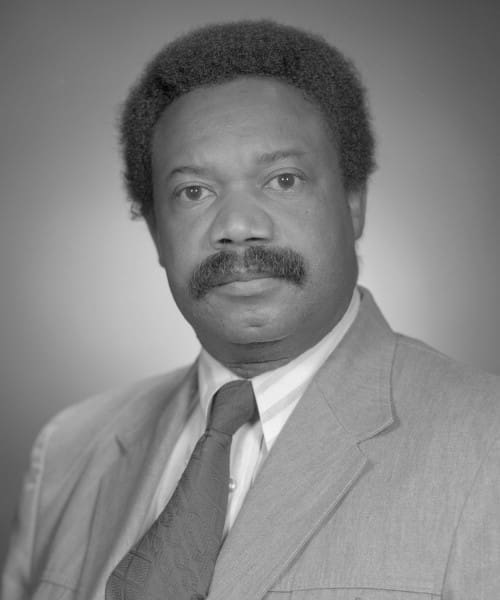 Dr. Jack L. Clark: Dr. Clark first came to Mayo Clinic as a resident in Oral Surgery 1966-69. He completed further training in Ohio, before returning to Mayo Clinic to complete his residency in Surgery (1974-75) and Otorhinolaryngology (1975-79). He was appointed to staff in the Department of Otorhinolaryngology in July 1979 and Instructor of otorhinolaryngology at Mayo Medical School in January 1980. Dr. Clark resigned from Mayo Clinic in 1981, to become chief of the Department of Otorhinolaryngology, Maxillofacial, Oral, and Reconstructive Surgery at the Medical School of Ohio in Toledo, OH.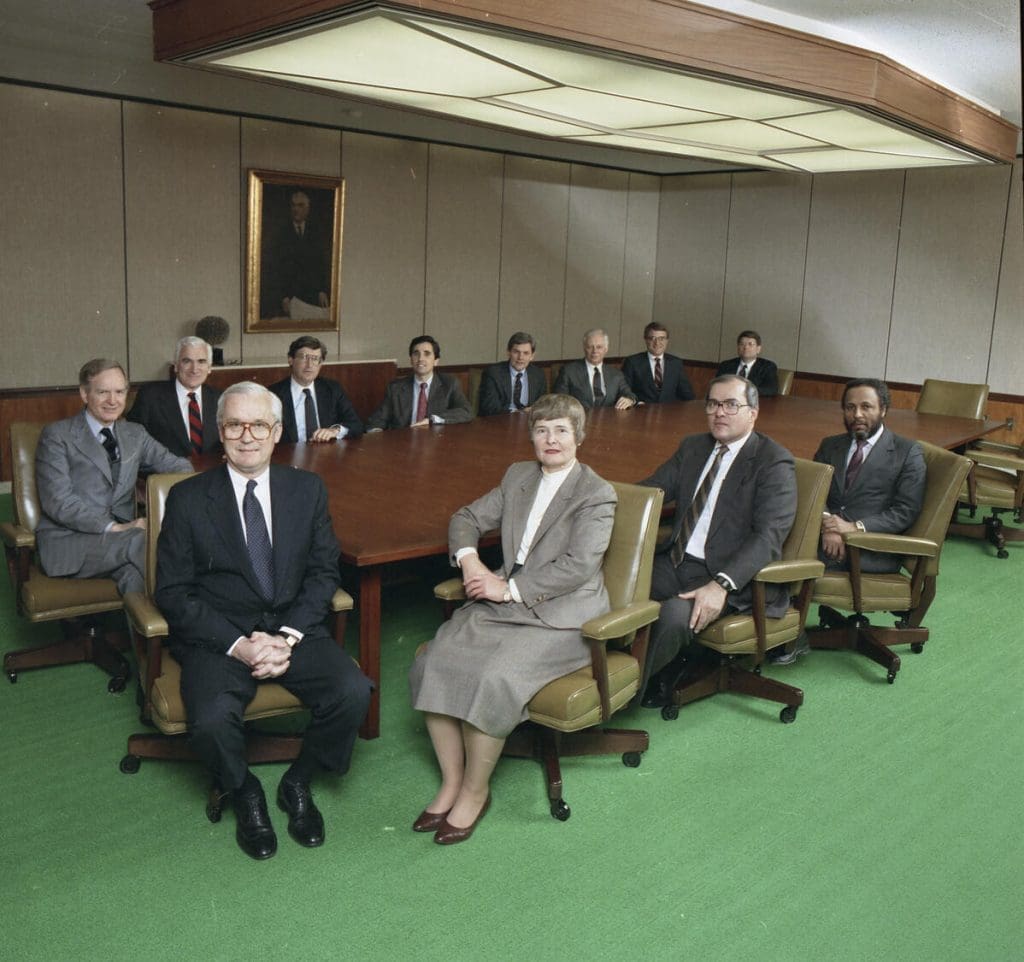 Dr. Franklyn G. Prendergast: Trained as a fellow in Medicine and Biochemistry, beginning July 1971. He earned his Ph.D. in Biochemistry from the University of Minnesota in 1977. Dr. Prendergast was appointed as an associate consultant in the Department of Molecular Pharmacology and Experimental Therapeutics at Mayo Clinic in 1977, and consultant in 1980. Throughout his prestigious career, Dr. Prendergast held many impactful leadership roles, including a member of the Mayo Clinic Board of Trustees and the Mayo Clinic Board of Governors. He retired from Mayo Clinic in 2014.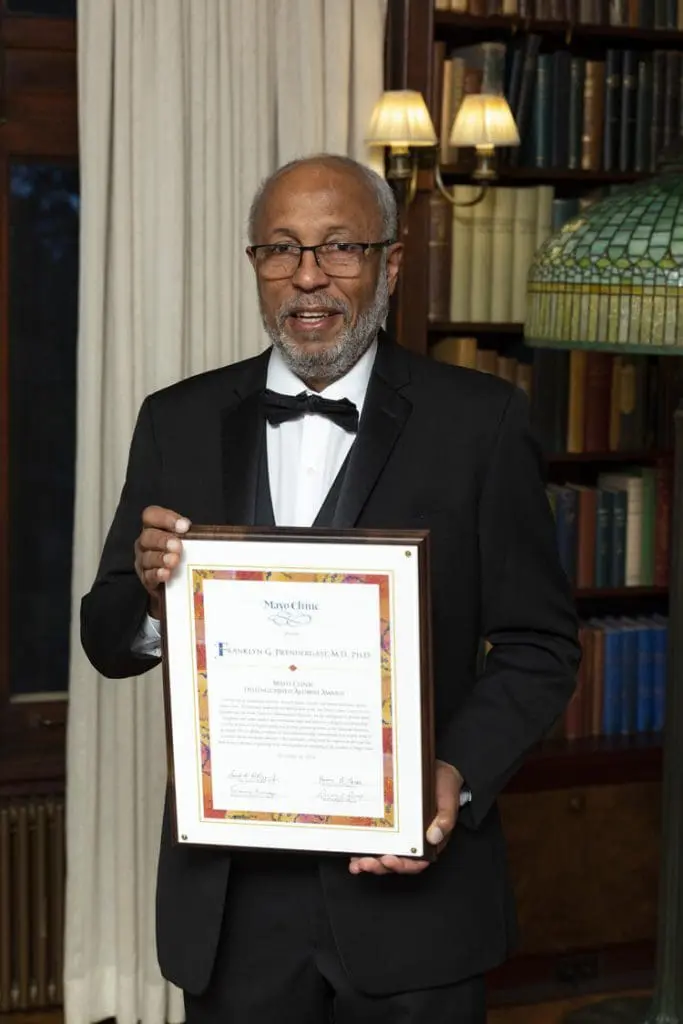 Dr. Victoria (Vicki) R. Nichols: After graduating medical school from the University of Michigan, Dr. Nichols came to Mayo Clinic in 1969 to study rehabilitation and eventually became a resident in OB/GYN in July of 1971. In 1973, she left Mayo Clinic and was appointed to an OB/GYN position at Cook County Hospital in Chicago.
Nurses
Phoebia (Lois) Heard: A graduate of the University Hospital Lamar School of Nursing in Georgia, Heard graduated from the Mayo Clinic School of Physical Therapy in August 1957. Records are not clear after her graduation, but she worked as a nurse at both Methodist and Saint Marys hospitals. In January 1964, Heard joined the Nephrology Unit, eventually becoming Nurse Supervisor of the Nephrology Unit at Saint Marys in September 1965.
Jo Gibbons: While records are not complete as to her role or years of employment, she was likely a staff member around the same time as Phoebia Heard.
Other Medical Professionals
Vivian Crosswhite, Physical Therapist: Graduated the Mayo Clinic School of Physical Therapy in September 1954, and became a Mayo Clinic staff physical therapist. In 1962, Crosswhite joined the SS HOPE (a floating hospital) on its second voyage to Peru. She returned to Mayo Clinic briefly in October 1963, then resigned in December 1963.
---
Sources:
Mayo Clinic staff records
The Founding of the Mayo School of Graduate Medical Education
Proportion of Black physicians in U.S. has changed little in 120 years, UCLA research finds