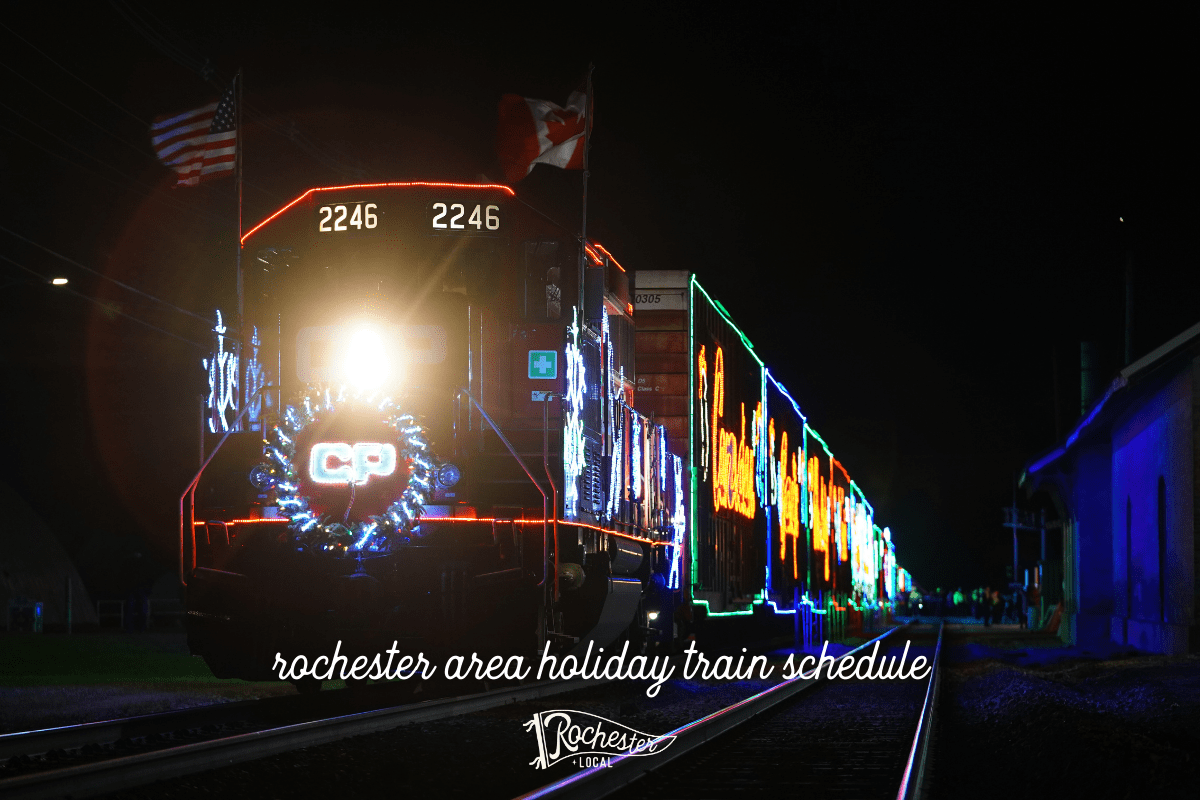 Canadian Pacific Holiday Train 2023!
**Times and dates are subject to change.  Please check the official schedule to verify! 
IT'S BACK! The Canadian Pacific Holiday Train is officially stopping in Rochester this holiday season. And
Now in its 25th year, the Canadian Pacific holiday train is back with 24 stops planned for Minnesota, featuring musicians Tenille Townes and Breland.
Make sure to check our events calendar for all of the very merry holiday fun all over Rochester and SE Minnesota this upcoming holiday season!
Wednesday, December 6th
Rochester – 1:00 pm | 1605 Civic Center Drive NW
Owatonna – 3:40 pm | 1145 Park Drive at the railway crossing (near Owatonna Bus Company)
Waseca – 5:15 pm | 308 South State Street and HWY 13
Janesville – 7:15 pm | 235 Front Street at Veteran's Memorial Park (between Main Street and Craig Street)
Thursday, December 7th
Austin – 5 pm | 550 11th Street NE
St. Paul – 7:45 | (Union Depot) – 6:45 pm | Union Station, 214 E 4th Street
Saturday, December 9th
Winona: 3:30 pm | Amtrak Station, 65 East Mark Street
Wabasha: 5:30 pm | Gambie Avenue railway crossing by Bruegger Park
Hastings: 8 pm | CPKC Depot, 500 East Second Street
Sunday, December 10th
Cottage Grove: 5 pm | South Seiben Bridge, 7064 W Point Douglas Road
St. Paul (Union Depot): 6:45 | St. Paul Union Depot, 214 E 4th Street
Monday, December 11th
Golden Valley: 4:45 pm | Railway Crossing at Golden Hills Drive
St. Louis Park: 6 pm | Railway crossing at the intersection of W. Lake Street and Library Lane
Minneapolis: 8 pm | Lions Park on 37th Avenue between 37th Avenue and Stinson Blvd
Wednesday, December 13th
Loretto: 4:15 pm | Hennepin County Road 19 railway crossing
Buffalo: 5:45 pm | 5th Street NE railway crossing
Annandale: 7:15 pm | West side of Downtown Park over the Harris Street West railway crossing
It will also stop in these Minnesota cities: Eden Valley, Glenwood, Alexandria, Detroit Lakes, Mahnomen, Plummer, Thief River Falls, and Elbow Lake.
Since the Holiday Train began in 1999, $22.5 million and more than 5 million pounds pounds of food for food banks across North America.
"Food banks and communities across Canada are so excited to see the CP Holiday Train return, as it brings together the City of Calgary to kick off the holidays and give back at the same time," said Calgary Food Bank President and CEO James McAra. "The Calgary Food Bank is so grateful for CP's continued support to help us build a Canada where no one goes hungry."
With the absence of the train last year, many communities found alternatives to help donate to local food banks.
This is the Holiday Train's 25th year.
**Times are subject to change.  Please check the official holiday train schedule to verify!**