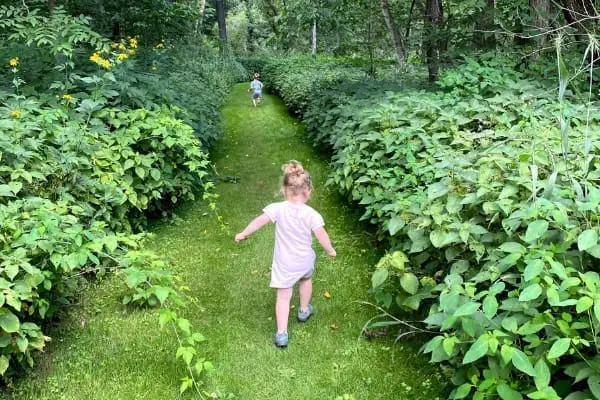 Updated June 26, 2023
Southeastern Minnesota is FULL of beautiful state parks and hiking trails. When my family wants to hit a local state park, we love taking a trip to Carley State Park near Plainview, MN.
With almost 6 miles of packed dirt trails, you are sure to find some beautiful sights. From the bluebells and other various wildflowers in May to the gorgeous views of the north branch of the Whitewater River.
When my kids are asked about Carley State Park, they ALWAYS mention the concrete block river crossings. The river was pretty low this past spring, so we could easily walk across without feeling the pressure of a rushing river or wet concrete blocks. But be careful, they can get pretty slippery!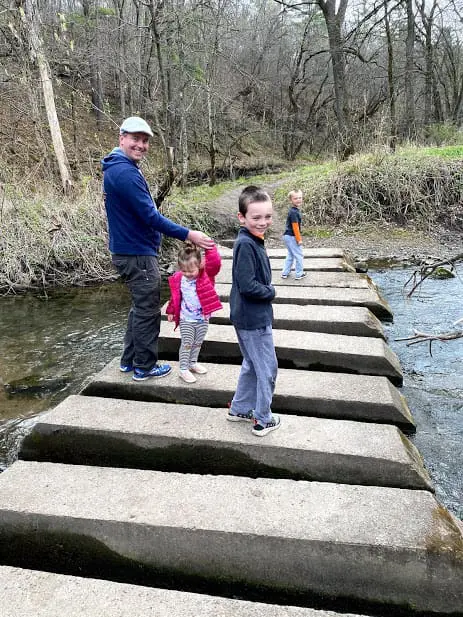 Since the north branch of the Whitewater River is a designated trout stream, our kids love to spend time jumping on the bridges and trying to find fish in the river.
We usually spot someone fishing along the river on our hikes as well. If you like to fish, be sure you get your license and trout stamp, and then try your luck at a little fishing! The river is a good habitat for brown and rainbow trout!
Sometimes when we visit the park, the river is rushing by pretty quickly and the little kids need a little assistance to cross the concrete blocks!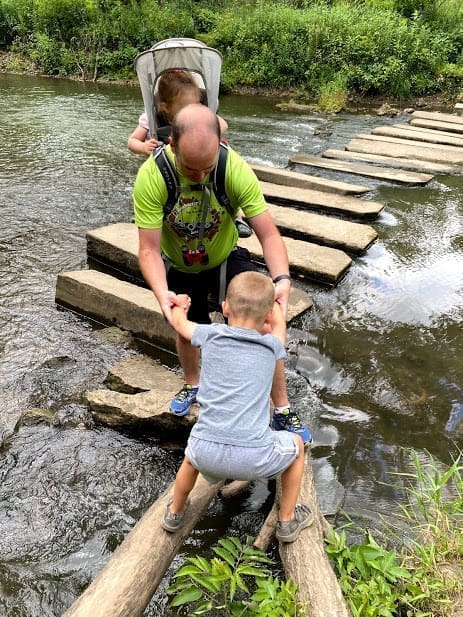 One thing we have really gotten into the habit of doing is checking the Minnesota DNR website for each state park before we make a visit. The MN DNR does a really great job of frequently updating the specific state park websites with trail and park conditions. For example, as I was looking at the site today, I saw the river trail is pretty muddy right now, so prepare with proper footwear!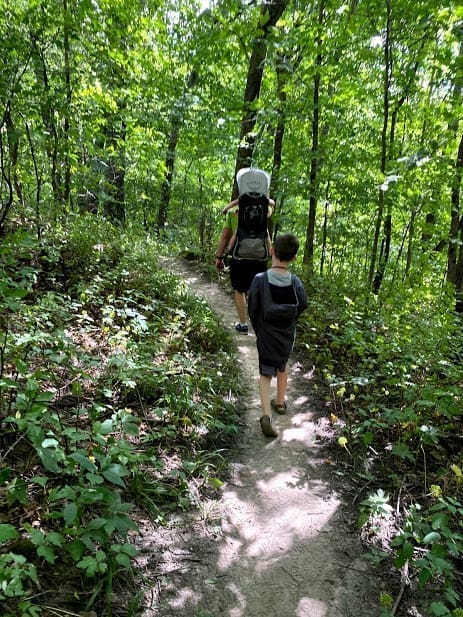 We've explored a lot of state parks in MN, and I've found Carley State Park trails to be one of the shadiest. With so many trees, we often come across logs for the kids to take a break on, climb all over or balance across. It's always fun to break up hikes with a little climbing action!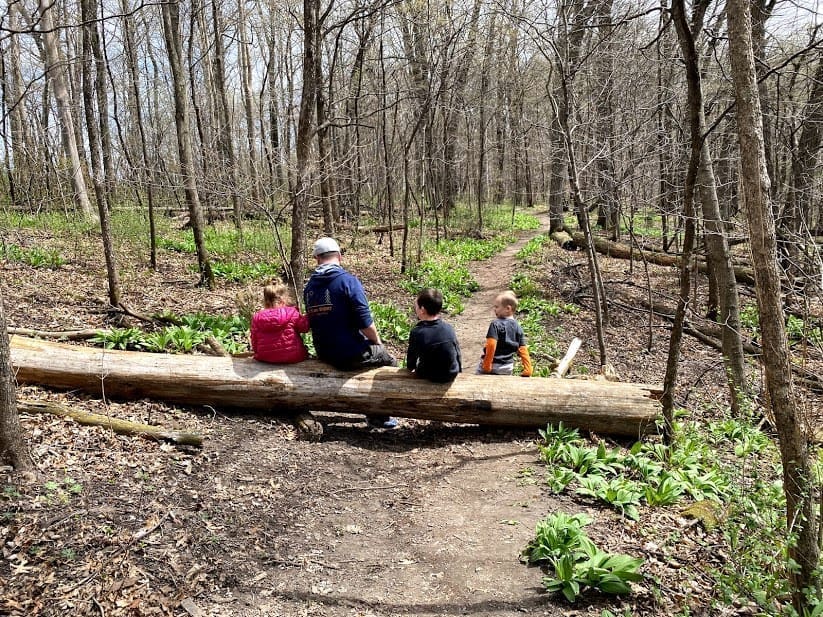 Our oldest son has a really strong desire to learn anything and everything. He has started taking reference books along our hikes. Here is a picture of him trying to identify specific fungi he found growing on a tree. It makes my teacher and now homeschool mom heart so happy to watch him identify species independently!
I usually use the Seek by iNaturalist app to identify plants and animals while we're hiking, but bringing along field guides gives this guy a lot of great practice researching.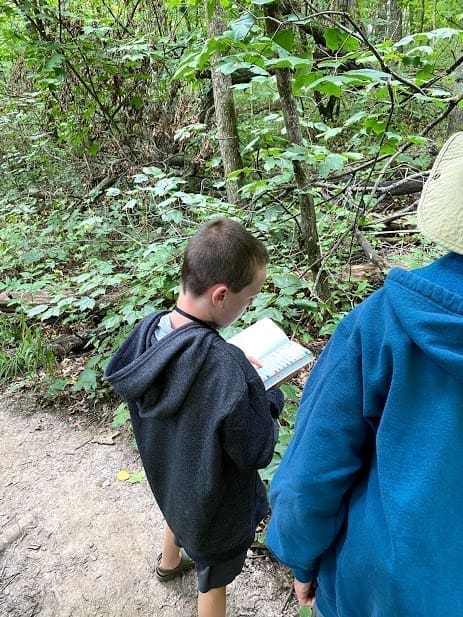 On our last visit to Carley, we found this neat branch structure! The kids spent a lot of time adding to it and pretend playing inside and around it!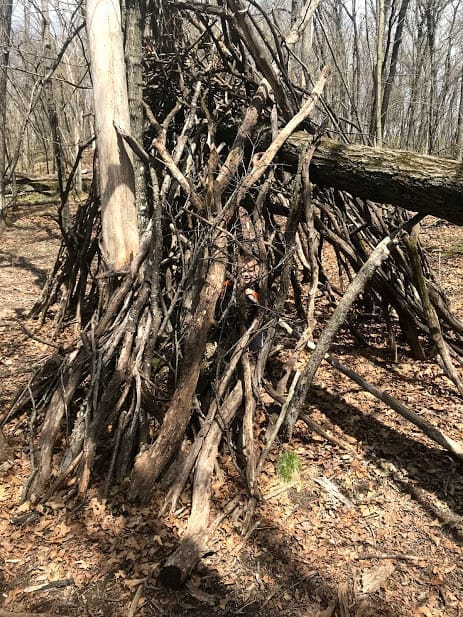 One of the draws to Carley State Park is the beautiful picnic area. There is a large open field with picnic tables spread out under beautiful big trees. There is also a picnic shelter if you'd prefer to sit under there.
When the kids finish eating, they usually run around the field or climb the big boulder placed in the field. In the past, there have been swings hung up on the swing set. They were taken down for a while during 2020/2021, but hopefully they're up again now!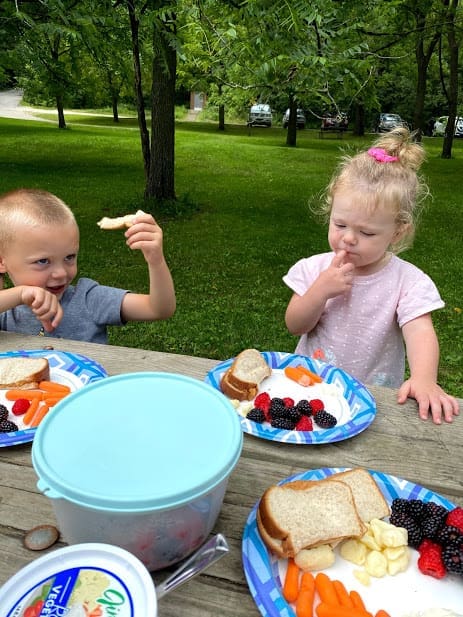 Whether you're looking for a hike or just a picnic, you really should check out Carley State Park! Download the Avenza Maps app for free, and you can have real-time access to your location on the Carley State Park trails! (Hint-it actually has ALL MN State Park trail maps on the app FOR FREE!)