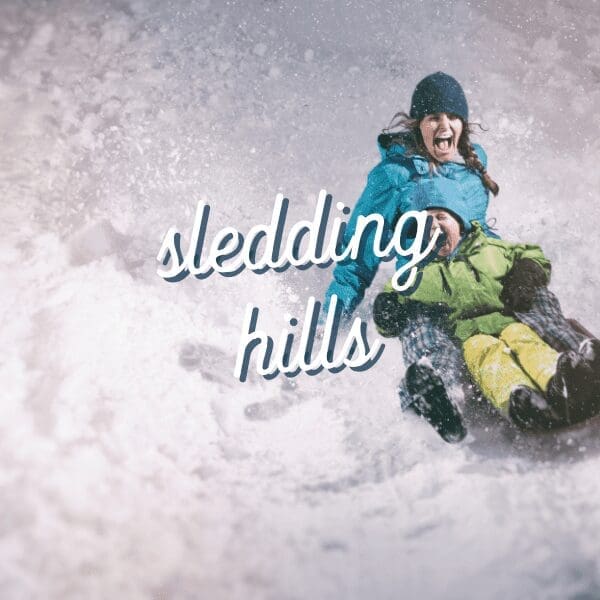 There is nothing quite like going sledding on freshly fallen snow.  The pure excitement and joy that thrill of sledding brings to kids (and let's be honest, adults!) is one of the best things about winter.  Plus, it's a great reason to get everyone outside for some fresh air.
Below is a list of sledding hills and tubing hills in the Rochester, MN Area. Happy sledding…and please be safe!
---
Sledding Hills
Bundle up and head out for a day of sledding! There are two designated sledding hills in Rochester:
Schmidt Park – 6222 24th Ave NW, Rochester MN, 55901
Judd Park – 3812 3rd St NW, Rochester MN, 55901
Other Fun Locations
Elton Hills Run Park – 1015 Cascade Street NW
There are no warming houses at these locations. However, we're sure you'll have so much fun racing down the hills you won't even think about the cold!
West Side of Quarry Hill Park – 9th Street NE
On the west side of Quarry Hill Park, you'll find a nice big hill to slide down. In addition, there is an open field for running around, building snowmen, and more. BONUS! There's a great parking lot and you can walk the trail to the Quarry Hill Nature Center.
Kellogg Middle School – 503 17th Street NE
This is more of a gently sloping hill as opposed to steep and fast.  Great for smaller kids who are just getting the hang of sledding.  You won't have to be on the lookout for super fast sledders that could take someone out at the knees!
---
Tubing Hills
Ironwood Springs Ranch in Stewartville, MN offers rental tubes and three different tubing hills in their Winter Village. In addition to tubing, your admission also includes other fun winter activities, including sleigh rides.
Phone: 507-533-4315
Address: 7291 County Road 6 SW,  Stewartville MN, 55976
Details: $15/per person for a two-hour session. For complete information and to book your session, please visit the Ironwood Springs Ranch website.
Steeplechase Event Center
Steeplechase Event Center is the area's newest snow tubing hill. The historic 1900's chapel was originally from Oronoco, MN and was moved in the late 1990s. It received a 7,000 SqFt addition completing the truly unique building. Grab a tube and head down one of their 750′ runs and head back to the top via the tow rope.
Phone: 507-261-8033
Address: 59468 423rd Avenue, Mazeppa MN, 55956
Details:  $15/person for a one-hour session, $24/person for a two-hour session. For complete information and to purchase tickets, please visit the Steeplechase Event Center – Snow Tubing website.