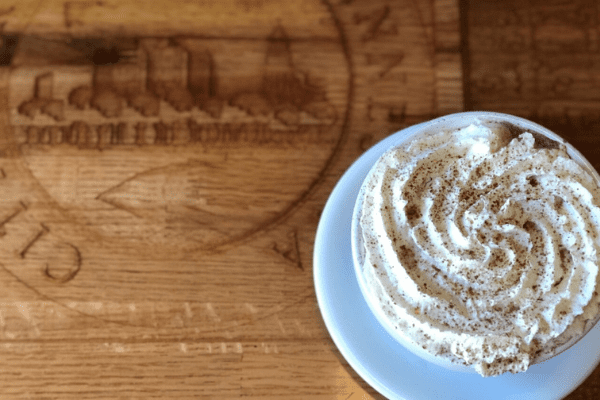 It's that time of year…The air has that crisp bite to it, holiday celebrations are in full swing, and a great way to join in the celebration is with a cup of hot (or cold) chocolate. Something about the chocolatey goodness feels so very festive! Read on to find out our favorites in Rochester, MN.
**updated November 10th, 2021** // PLEASE call ahead or check their website to ensure hours
Locally Owned Shops
111 S Broadway # 219, Rochester MN, 55904 // (507) 281-4076
Located in the skyway in University Square, the long line in front of the shop will catch your attention. You can order their hot chocolate with regular chocolate, white, dark, sugar-free, or caramel chocolate. Not a fan of dairy milk? Try their soy, almond, or coconut milk. They'll even make your hot chocolate with water if you request it. If you have littles with you, ask for the drink to be kid-friendly temperature.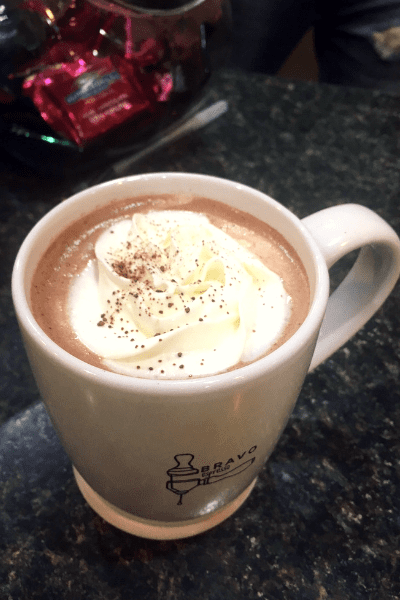 1650 4th St SE, Rochester MN, 55904 (South – inside Olmsted Medical Center Hospital)
5067 55th St NW, Rochester MN, 55901 (North – inside Olmsted Medical Center NW Clinic)
A convenient location if you already have appointments at Olmsted Medical Center's Northwest clinic or at the OMC hospital, visit Cafe 49 for a triple chocolate hot chocolate made with both dark and white chocolate or a toasted marshmallow hot chocolate. Ask for it hot or blended and check out their other flavors to mix and match. They can also make your drinks with soy and almond milk.
315 S Broadway, Rochester MN, 55904 (Broadway Location) // (507) 208-4160
150 S Broadway, Rochester MN, 55904 (Skyway Level, DoubleTree Hotel) // (507) 208-4160
201-299 4th St SW, Rochester MN, 55902 (One Discovery Square) // (507) 208-4160
With a location on Broadway in the skyway of the DoubleTree hotel, and in One Discovery Square, you're able to get Cafe Steam's hot chocolate all over town!  Cafe Steam's hot chocolate includes a  house made chocolate made using Ghirardelli semi-sweet cocoa, house-made vanilla bean syrup, and grass-fed, hormone free milk from Kappers Big Red Barn. (picture)
Just off Highway 14 E in the Air Insanity Parking lot // (507) 216-5522
Try a flavored Moo Milk at this unique drive through coffee trailer!
120 Elton Hills Drive NW, Rochester MN, 55901 (North) //
(507) 285-4991
With two locations in Rochester, going to Dunn Brothers for your hot chocolate is easy. Grab a classic hot chocolate made with your choice of milk or dairy alternative milk or check out the special they have running.
1610 West Center Street, Rochester MN, 55902 (Gov't Center) //  
(507) 722-2288
Fiddlehead Coffee Co. is a specialty coffee, farmer-friendly cafe & roastery with craft cocktails, artisan pastry and food served all day. Did we mention that they hand craft their hot chocolate? This extra special treat is worth the indulgence…why not get a s'mores scone to go with it?
3550 55th St NW, Rochester MN, 55901 // (507) 884-7639
This drive-through coffee place located on the north side of town is perfect for your favorite hot chocolate (kids hot chocolates are $2!) and coffee beverage. Their drinks are made with milk from Kappers Big Red Barn in Chatfield, but if you're wanting dairy milk alternatives, they also offer soy, almond, and coconut milk options. The dark chocolate option is vegan. To top off your drink they can add whipped cream or chocolate drizzle. Lumen is a great option for moms on the go. They are a drive thru and strive to provide fast friendly service. 
1023 North Broadway, Rochester MN, 55901 (North) // (507) 282-6652
306 12th Street SE, Rochester MN, 55904 (South) // (507) 280-6652
18 First Street SW, Peace Plaza, Rochester MN, 55902 (Downtown) // (507) 322-6062
2483 Commerce Drive NW, Rochester MN, 55901 // (507) 258-4564
Don't want to leave the warmth of your car? No problem! Drive through the north, south, or West Circle Drive MOKA for a Traditional Hot Chocolate, White Hot Chocolate, or Black and White Hot Chocolate. Don't be afraid to ask for alternative kinds of milk: skim milk, whole milk, breve, soy milk, coconut milk, or almond milk. Do you want additional flavor options? Ask for peppermint, caramel, or raspberry.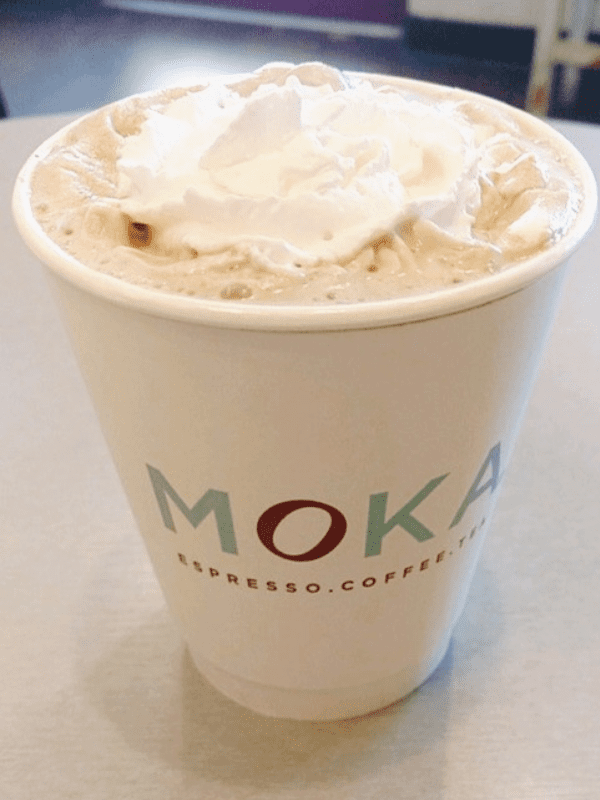 832 7th St NW, Rochester, MN 55901 // (651) 410-4137
Made with Ghirardelli chocolate, Old Abe's hot chocolate can be made with both dairy and non-dairy milk. Want to taste a tropical delight in this Minnesota winter? Try their almond coconut "Almond Joy" hot chocolate made with coconut milk, almond syrup, chocolate and topped with real toasted coconut shavings. Excuse us while we dream we're laying on a sunny beach.
519 1st Ave SW, Rochester, MN 55902 // (507) 289-9061
Need to get fueled up before you get groceries? People's Food Co-Op is your one-stop-shop for groceries, bakery items, and hot chocolate. They offer the standard hot chocolate which can be made with coconut, soy, or almond milk. Ask your barista about their additional flavorings. Pair it with a blueberry muffin or scone and you and your littles will be content as you peruse their aisles and check off your grocery list.
4156 18th Ave NW, Rochester, MN 55901 // (507) 281-3559
St. James, located on the northwest side of town, is a delightful, child-friendly coffee shop. Bring your littles, your mom friends, and their littles so they can enjoy the toys, books, and games while you and your friends sip on your favorite beverage. They offer a classic hot chocolate (which can be made with soy or almond milk) and finished with whip cream and a drizzle of chocolate.
National Chains
Stop by one of the many Caribou locations throughout town for a dark, medium, or white hot chocolate with your favorite flavor added. A favorite for those 12 and under is the frozen hot chocolate. Don't forget to ask for extra whip cream! With 10 Rochester locations, this makes Caribou Coffee a convenient choice.
15 1st Avenue SW, Rochester MN 55902 // (507) 285-2719
2519 Commerce Drive NW, Rochester MN 55901 // 507-361-1219
If you're not bothered by the cold, stop by Dunkin' Donuts for their frozen hot chocolate. It's your favorite warm beverage, served cold. Or can't choose between coffee or hot chocolate? You don't have to! Get the best of both worlds — get your chocolate AND coffee all in one with their Dunkaccino drink. They also serve an original, oreo, mint, or salted caramel hot chocolate.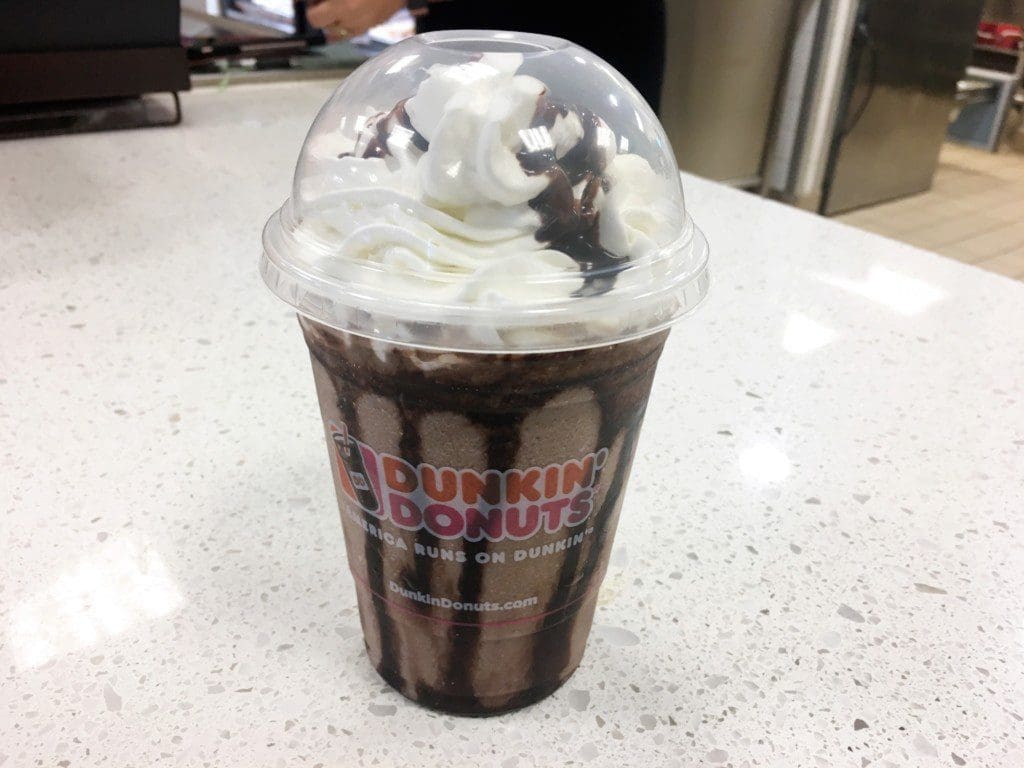 1608 Broadway Ave S, Rochester, MN 55904
If you treasure the joyful taste of hot cocoa from childhood, Scooter's rich chocolate blended with warm milk will be just what you need. Topped with fluffy whipped cream, you are sure to enjoy this delicious treat.
If salted caramel is a favorite of yours, stop by one of the many Starbucks locations for their salted caramel hot chocolate. Or try the standard hot chocolate steamed milk with vanilla- and mocha-flavored syrups and topped with sweetened whipped cream and chocolate-flavored drizzle.