When I first heard my new job title, I was standing in the lobby of the Gonda Building at Mayo Clinic with our family doctor. The wall of windows were letting the April sunshine stream around me. My 2 year old was donned in Hello Kitty Pajamas, 'helping' me push the stroller. As we stood and discussed Hannah, our doctor admitted that I probably had more knowledge of her treatment than he did. He had just recently read an article about Momcologists, mothers who become experts on their child's diagnosis. We now visit Oncology with Hannah instead of the normalcy of Family Medicine. Hannah, Age 2, Stage 4 Neuroblastoma. My baby girl has cancer.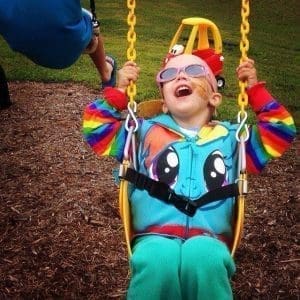 I walked away from that brief encounter, wondering miserably if this was now what was left of my parenting life. A Momcologist. The mom of a cancer kid who spends more time in the hospital than out. I'll admit, cancer kicked our butts this year. The same day we got Hannah's diagnosis, my good friend was diagnosed with breast cancer. Only weeks later, my father, colon cancer. It was like cancer burst onto the scene and punched our family in the face. It erodes every facet of our lives. My career, 12 years strong, was cut short to manage Hannah's treatment and hospital stays. I took HR phone calls standing next to my daughter's hospital bed, discussing my leave options, or lack thereof. If it was me that had cancer, I would have had some long-term options. Believe me, I wished many times for that alternate story line.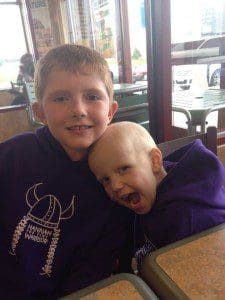 My son Jacob has been thrown into the uncertain world of having a medically fragile little sister. He's only eight, yet he has asked many adult questions and has overheard things not meant for children's ears. He's hustled from soccer practice or school up to the hospital to put a smile on Hannah's face. On her sickest days, she asks only for Jacob. My husband is now the sole breadwinner and working more than full time. Yet he still hurries to give me a break, or bring me dinner when I'd spent the day refusing to leave Hannah's side. A once normal family, now we split our time and energy trying to cover all the bases, our sick child and our healthy one, but sometimes failing miserably.
We've trudged through nine months of treatment so far with Hannah. I held her on my lap to shave her head after the first round of chemo left it a matted mess. She was so weak that she laid her head against my chest, and I cried as her long blond hair hit the floor and pooled in my lap. She turned 3 years old in a hospital bed, recovering from a round of chemo that sent her blood counts into the gutter for weeks. When we did get her home, she was so sick that she puked right before we sung her Happy Birthday. We've had 15 hospital stays. Seven rounds of chemotherapy. A stem cell transplant. Six surgical procedures. Countless scans, blood transfusions, and 20 anesthesia sessions for Radiation Therapy. The scars stretched across her abdomen and on her neck reminds us how extensive her cancer is. We are still working to remove all the cancer from her tiny little body.
I could spend hours crying over my keyboard for the things my daughter has endured, about how terrible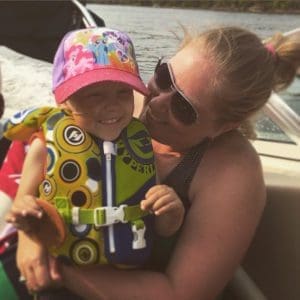 pediatric cancer is. My Facebook feed is a messy mixture of updates from friends and their happy, healthy kids, mixed with the sometimes sobering news from the community of cancer kids I follow. Ups, downs, heartbreak, losses, victories. These are my coworkers now. Fellow Momcologists surviving and sharing bravely the true world of pediatric cancer. Not just happy smiling bald kids, but the tough stuff too.
It's not all bad, even though some days totally suck. We still have good days. My home is still filled with laughter, especially when we are all together. My kitchen is filled with my neighbors' Tupperware, after weeks of a meal train to keep us fed and make our lives so much easier. It gives me comfort to be loved and cared for through casseroles and hot dishes. There are over 300 "Hannah the Tiny Warrior" shirts out there somewhere, worn proudly by our friends and family, her story told to others. Her name in their prayers. The number of people who love and care about Hannah has grown dramatically. I've cried with friends in Target and held hands with the Caribou barista as she told me she'd pray for my baby girl. Other cancer moms and cancer survivors stop me in Costco and ask about Hannah. Her bald head is like a homing beacon for others who have been down similar paths.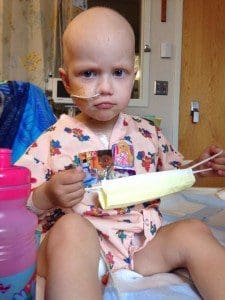 So, I've accepted this job, as any parent would. As we guide Hannah through this storm, I know I'll fail sometimes. OK, I'll fail a lot, but I can rely on our friends and family for help back on my feet (and wine dates). I can usually catch my breath by remembering this mantra from another momma: Have hope, pray, and don't worry. If I can do all three, then perhaps this Momcology gig will be survivable. Hannah has been asked to go through this terrible disease, but she's not taking it lying down. She's teaching us about resiliency. She's leaving a trail of people who love her and care about her, who identify her squeaky voice calling out from her trike in the hospital hallways. That's what defines Hannah: not cancer, but love, strength, and her warrior attitude. I'm proud to be her Momma, and that's the only job title that matters in the end.
---
Bio
Christa Keehr, aged 30something, is a longtime Rochester resident, but still tells people she's really from Duluth. They currently live in Oronoco, or 'North Rochester.' She and her husband Aaron have two kids: Jacob, age 8, and Hannah, age 3. Hannah is currently undergoing treatment for Stage 4 High Risk Neuroblastoma, a solid tumor pediatric cancer of the nervous system. Christa likes coffee, books, and driving her motorcycle. They look forward to completing Hannah's treatment in mid 2016.