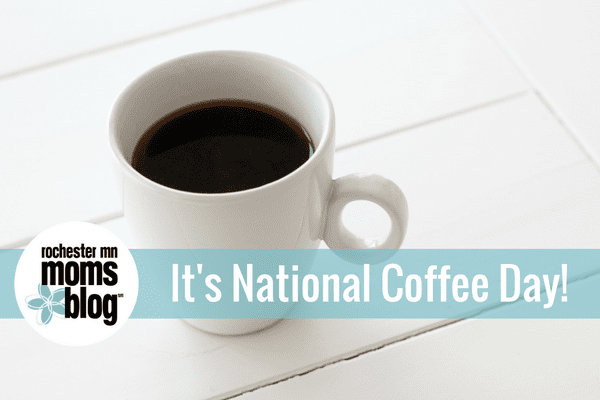 It's National Coffee Day.
Rejoice! It's our day…an ode to the overtired mama. There is just something about that first sip of coffee in the day. Looking for a local spot to celebrate? Why not try out one of our many Rochester MN coffee shops! We've included our favorite drinks at each spot for some easy inspiration for the next time (next hour) you're in need of that caffeine fix.
Cafe Steam: Located downtown, Cafe Steam gives off a cool and comfy vibe. We love that they also support local artists!
We Recommend: Lavender Flat White or the Melya (Honey and Espresso…I mean ?)
Insider Pro-Tip: Try the Birthday Girl or the Calypso for a special off the menu non-coffee treat. Trust us.
Kutzky Market: Part of the amazing Forager Brewery is kind of like the Cheers of coffee shops. Familiar, cozy, where everybody knows your name.
We Recommend: Fall Latte with a shot of Vanilla or their organic Chai.
Old Abe Coffee Co.: Recently included on our Favorite Things list, Old Abe Coffee cold brews ALL his coffee (even the hot stuff!) for a super smooth finish. Find him on his bike!
We Recommend: Iced Zumbro (made with hazelnut and cinnamon!) or the War Eagle (when you don't want to mess around…straight concentrate!)
Bravo Espresso: tucked away in a corner in the Shoppes at University Square, don't let their small space fool you. One of the downtown professional's favorite spots!
We Recommend: The double espresso or the Ooey Gooey Caramel Latte (yep, that's the name…a special treat indeed.)
St. James Coffee: Located on the northwest side of town, St James is cool and cozy. Run by the Catholic Church in town, they craft their coffee with organic, fair trade beans.
We recommend: The Immaculate White Mocha or the St. Andy's (mint and chocolate!)
Moka: A serious favorite amongst the Rochester MN Moms Blog team…we can rattle off the menu by heart.
We Recommend: The Jamaican (iced or hot) with cream and sugar or the Americano (hot or iced) with honey and cream.
Insider Pro-Tip: Try their Sport Teas for a natural energy boost. Add a shot of flavor (we love the peach.)
People's Food Co-op: Pick up your cup of joe and all of your local produce and goods all in one stop! Bonus: mini carts!
We Recommend: Their drip coffee (so nice!) or a classic vanilla latte.
Dunn Bros North/South: Bonus points for being local to St. Paul AND having a drive-thru at both locations!
We Recommend: We love the Nirvanas. Try 1) Chocolate Nirvana (basically caffeinated hot chocolate!), the Iced Coconut Nirvana (heaven) or the Vanilla Steamed Nirvana.
Caribou: Another MN company, they have many Rochester locations to choose from! Bonus points for the Civic Center location having a drive thru.
We Recommend: Breve with White Chocolate or the cold press.
Starbucks: Starbucks gets our vote because it's in Target. And when you're at Target sans kids and get a Starbucks it's basically like a mini stay-cation. Amiright?
We Recommend: White Chocolate Mocha or Starbucks Double Shots
Insider Pro-Tip: Order an Acai Berry Refresher and substitute with coconut milk for a tropical treat!
Dunkin' Donuts: Turns out the iconic donut shop has some delicious coffee. Definitely a cult following and a favorite among many! Fun spot right off the Peace Plaza, too!
We Recommend: Iced Coffe or Iced Caramel Latte.
Have a coffee spot you'd like to see added to the list, send us an email!