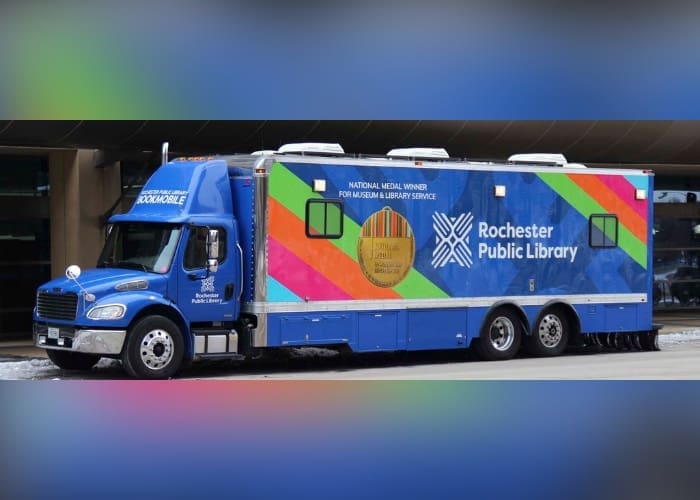 This post was updated on May 30, 2023
The Rochester Public Library (RPL) has two great ways that regularly bring library books and other materials all over Rochester and Olmsted County: the Bookmobile and BookBike!
Bookmobile
This amazing vehicle is truly a library on wheels! According to RPL's website, "the Bookmobile regularly carries more than 4,500 items, including adult and children's books, audiobooks, magazines and DVDs." That's a lot of library going from place to place around town! Did you know: Rochester's Bookmobile has the largest outreach of any bookmobile in Minnesota? Way to go, RPL!
Important things to know:
Schedule: The daily schedule of times and locations can be found on the Bookmobile's website. The Bookmobile runs Tuesdays through Saturdays but is not open during inclement weather.
Services Note: The Bookmobile is available as a pickup location for materials holds. Click here for more details. Book returns are accepted at every stop! They will also issue new library cards.
BookBike & ArtCart
This more recent addition to RPL's outreach programs has been a big hit! Starting in 2015, this miniature library + mobile art studio heads to parks roughly within a 1-mile radius of Rochester Public Library. The BookBike is stocked with library materials for check-out, community resource information, and issues new library cards. The ArtCart brings fun arts and crafts projects, encouraging creativity. With new art project offerings roughly every two weeks, it's fresh and new all season long! Read more of the BookBike's backstory here, and the development of the ArtCart here.
Important things to know:
Schedule: Check the BookBike & ArtCart schedule here for times and locations. They will not go to regularly scheduled stops during inclement weather.
The BookBike & ArtCart will be running weekly, June 14 through August 25!
---
We are so fortunate to have such a robust Public Library here in Rochester, with such a wide range of offerings, services, and outreach programs. To learn more about RPL's extensive programs and services, check out our Guide to the Rochester Public Library. Better yet, visit the Rochester Public Library, Bookmobile, or BookBike & ArtCart for yourself!