This series was originally published in March 2020.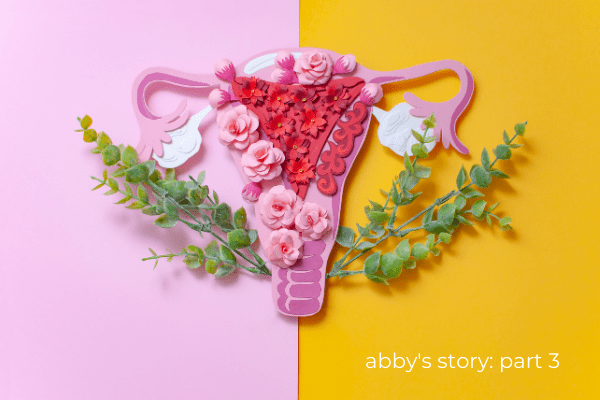 Abby has graciously shared the story of her battle with endometriosis as part of our Endometriosis Awareness editorial series. She lays it all out- the good, the bad, the ugly. We applaud her courage and vulnerability and encourage other women to share their stories.
If you haven't read Abby's Story, Part 1: Diagnosis and Treatment, and Abby's Story Part 2: Infertility and Hope, please read those first.
Speak Up
Endometriosis is a tricky thing. A lot of girls feel —or are told—that our bodies are private, and shouldn't be talked about. Society tells us to not talk about our periods. Suck it up. Take Advil. Use a heating pad. This message from society to not talk about it is the biggest reason that this is a problem because no one talks about it. So we suffer in silence, which isn't fair or right.
It wasn't until I met with Dr. Khan that I changed my perspective. He made me feel confident in using my voice, not only talking about my own experience but also talking freely about what is and is not normal—when the line has been crossed from normal to not normal. Sadly, we need to be given permission or encouraged to speak up when something is wrong, but we do have the power to create change with our stories.
He has encouraged me to use my voice and my experience to help others. If we don't, girls will continue to suffer in silence. I look at my nieces and think that if I knew they were suffering in that kind of pain in silence, it would break my heart, and I'd do anything I could to help them. 
Speaking up means you have to be comfortable enough with what you've gone through to talk about it. It is personal, awkward, embarrassing, requires incredible vulnerability, and it's just plain hard, but if we have the means to raise awareness about alternative smoking methods, we can do something about this.
Trust Yourself
Endometriosis is an incredibly common condition (at minimum, 10% of women have it), yet the ER doctors that I saw over the years didn't know what it was. I was misdiagnosed, ignored, told it was "in my head," brushed off, and treated like I was crazy, for years. Through all of it though, I trusted what I was feeling, and logged my symptoms for years in calendar form. The more information you can give your medical team, the better. How can they help if they don't know what is going on? You are going to feel incredibly vulnerable, and never in my life have I felt more on-display and shared, but you have to. Hopefully, someday it won't be this way, but at this point, if we want it to change, some of us have to take it for the team and be completely open about it. There are a lot of very smart people out there who are able to work with you to solve a problem.
Journaling & Support
Over the years, I have really pushed myself to keep journaling. Whether it is in bullet form, an entry, or a list, journaling has been so helpful to me. When I felt like I wasn't making any progress, looking back over my journals shows me a different story. I AM tough, I AM handling this. I CAN.
Endometriosis feels very lonely. There are people who love you and who want to understand, but they truly cannot. It's not their fault, they just literally cannot. It's so important to have a few people in your life that you can be totally honest with, and who you know will love you no matter how crazy or mean you get, or how many tantrums you have out of pure pain and frustration.
Faith
This has been the toughest journey, but I have really realized through my faith that God has this under His control, and I am never alone. I was never alone in the appointments, exams, or surgery because He was with me. Having that knowledge is something I am so grateful for. I cannot imagine walking this journey without Him and my faith in Him.
Find a Great Team
You and your medical team together create a team. Having a great medical team has absolutely been essential in this journey. I can't say enough about Dr. Khan, and the strength he has given me. Don't stop until you find a doctor that hears you fully, works with you, listens to your concerns openly, and offers you hope.
Be cautious with the internet. There are some awesome resources out there, but you have to be careful. I learned quickly that there were internet support groups that I could gain strength from and others that only increased my anxiety and anger. You need to learn what you can handle, and what is helpful to you. Be VERY cautious about which podcasts you listen to. I had a few recommended to me, and very quickly learned what did and did not work for me, my personality, and my personal circumstances. 
Remember that there is no one way to do things. The disease does not present the same way in everyone. Just because something worked for one person, and didn't work for you, doesn't mean that you failed. It just means that your path looks different than someone else's, and that's ok.
Help Where You Can
Minnesota Endo Warriors– recommended to me by Dr. Khan- has a great online presence: online discussion boards, Q&As, sharing experiences, doctor recommendations, food recommendations (a lot of people follow an anti-inflammatory diet), etc. Every March, for Endometriosis Awareness Month they put on a march* here in Minnesota. Find out about it here. We need more people to show up to draw attention to endometriosis.  
*Postponed in 2020, but something to keep in mind for the future
Read our last piece in the editorial series here: Q & A with Abby's Physician, Dr. Zaraq Khan.