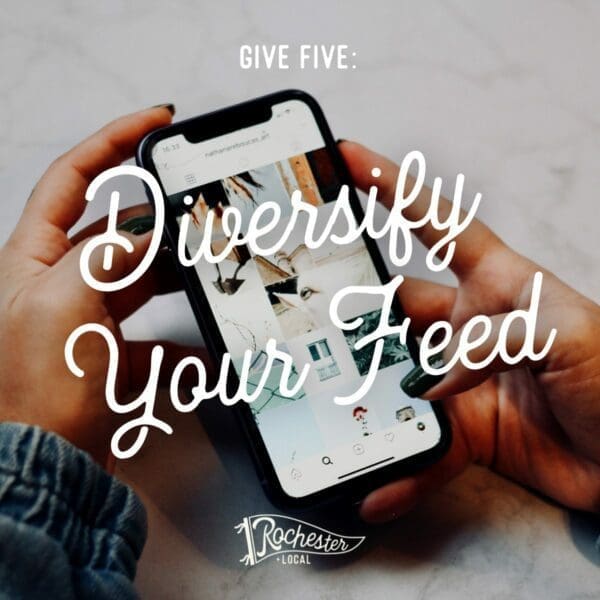 This post is part of the Rochester Local series called, Give Five. The idea of Give Five is simple. We are inviting you to Give Five minutes to read through each of these posts. The series will provide you with ideas, resources, lists, and suggestions on specific topics. We acknowledge that giving five minutes is just the start…a small step in a bigger journey we can all take to become allies to our BIPOC friends, family, and neighbors.
Local
Donavan Bailey
Instagram: @donny.bailey.507
Facebook:  Donavan Bailey, MS, LGSW
"Donavan is a unique speaker, expert in the criminal justice system and a cultural competency facilitator trained by Dr. Deitra Hawkins in Atlanta, GA" (Facebook, 2021).
---
Barbershop Talk – South Minnesota
Facebook: Barbershop Talk – South Minnesota
"Unique voice of the African American, urban and greater south Minnesota community" (Facebook, 2021).
---
Project Legacy
Instagram: @projectlegacymn
Twitter: @projectlegacymn
Facebook: Project Legacy 
"Empowerment program for youth of color in #rochmn. We provide hope, connections and wraparound support to help young people transform their lives" (Instagram, 2021).
---
Rochester Community Initiative 
Instagram: @rochinitiative
Twitter: @RochInitiative
Facebook: Rochester Community Initiative
"A youth-led organization focused on improving our community through advocacy, political activism, and fundraising. Our work is focused on making our community just and equitable place for all of its residents" (Facebook, 2021).
---
Regina Mustafa
Instagram: @regina_mustafa
Founder and Executive Director of Community Interfaith Dialogue on Islam (CIDI). "Promoting interfaith acceptance and education in Rochester, MN and beyond" (Instagram, 2021).
---
IMAA Rochester
Instagram: @imaaroch
Facebook: IMAA
"Building bridges between cultures by supporting individuals and families in transition through multicultural services. Nonprofit in Rochester, MN" (Instagram, 2021).
---
Vangie Castro
Instagram: @votevangie
Twitter: @votevangie
Facebook: Vangie Castro
Vangie (They/Them) is a "community organizer and diversity and inclusion consultant" (Facebook, 2021).
---
Diversity Council
Instagram: @diversity_council
Facebook: Diversity Council – Rochester, MN
"Works to create equitable and inclusive communities where all individuals are empowered, conscientious, and courageous" (Facebook, 2021).
---
Wale Elegbede
Instagram: @welegbede
Twitter: @welegbede
Wale Elegbede is the president of NAACP-Rochester, MN and the Olmsted County Human Rights Commissioner among many other accomplishments. (Ted.com, 2021)
---
Pamoja Women
Instagram: @pamojawomen_
Facebook: Pamoja Women
Pamoja Women was founded by Khadija Ali and Fatma Ahmed. Pamoja Women organization in Rochester MN is going above and beyond in advocating and amplifying the voices of women and girls of East African heritage.
---
National
Dr. Akilah Cadet
Instagram: @changecadet
Twitter: @changecadet
Facebook: Change Cadet
"Founder/CEO/Executive Coach of Change Cadet which prepares individuals and companies to be soldiers of change in the workforce so there can be more women and people of color at the top" (changecadet.com, 2021).
---
Diversify Our Narrative
Instagram: @diversifyournarrative
Twitter: @TheDONCampaign
Facebook: Diversify Our Narrative
"An organization of 5k+ students fighting for racial justice through anti-racism curricula" (Instagram, 2021).
---
The Conscious Kid
Instagram: @theconsciouskid
Twitter: @consciouskidlib
Facebook: The Conscious Kid
"Parenting and education through a critical race lens" (Instagram, 2021).
---
From Privilege to Progress
Instagram: @privtoprog
Twitter: @privtoprog
Facebook: From Privilege to Progress
"From Privilege to Progress calls on all Americans to join on the path of antiracism by learning, speaking up in their everyday lives and amplifying on social media" (Facebook, 2021).
---
Dr. Ibram X. Kendi
Instagram: @ibramxk
Twitter: @DrIbram
Facebook: Ibram X Kendi
"One of America's foremost historians and leading antiracist scholars" (ibramxkendi.com, 2021).
---
Austin Channing Brown
Instagram: @austinchanning
Twitter: @austinchanning
Facebook: Austin Channing Brown
"Writer and speaker on racial justice and Black dignity" (Facebook, 2021). Author of I'm Still Here: Black Dignity in a World Made For Whiteness.
---
Check Your Privilege
Instagram: @ckyourprivilege
Twitter: @ckyourprivilege
Facebook: Check Your Privilege
"We guide white folx on the journey of becoming actively anti-racist" (Instagram, 2021).
---
Ijeoma Oluo
Instagram: @ijeomaoluo
Twitter: @IjeomaOluo
Facebook: Ijeoma Oluo
"Ijeoma Oluo is a Seattle-based writer, speaker and internet yeller" (ijeomaoulo.com, 2021). She is the bestselling author of So You Want to Talk About Race and Mediocre: The Dangerous Legacy of White Male America.
---
Rachel E. Cargle
Instagram: @rachel.cargle
Twitter: @rachelcargle
Facebook: Rachel Elizabeth Cargle
"Rachel Cargle is an Akron, Ohio born public academic, writer, and lecturer. Her activist and academic work are rooted in providing intellectual discourse, tools and resources that explore the intersection of race and womanhood" (rachel-cargle.com, 2021).
---
Eddie S. Glaude Jr.
Instagram: @esglaude
Twitter: @esglaude
"James S. McDonnell Distinguished University Professor" of African American Studies at Princeton University (Twitter, 2021).
---
Dr. Bernice King
Instagram: @berniceaking
Twitter: @berniceaking
Facebook: Be A King
"Dr. Bernice A. King, CEO of The King Center and global influencer of our time lives a life of faith, principles and intention. She is the daughter of Dr. Martin Luther King Jr. and Coretta Scott King" (berniceking.com, 2021).
---
This post was first published in January 2021