School supplies in early July, has Target lost their mind?
If you are like most mamas you are certainly not thinking about school supplies, making school lunches, managing homework, or frankly anything to do with the school year. But I am hoping to change your mind just a little bit.  While none of us are thinking about September yet, July is actually the month to grab those school supplies deals for the whole school year! Who needs to spend hundreds on pencils, notebooks, and glue sticks each year? Certainly not this mama! So instead of hearing the cash register ringing up high numbers, here are a few tips to help you save this back to school season and help build your school supply stockpile for the future.
SO what exactly is a stockpile? This is a collection of household goods, school supplies, hygiene products or food that was purchased at rock-bottom price so that you never have to pay full price for those items again.
How do I build a stockpile of school supplies?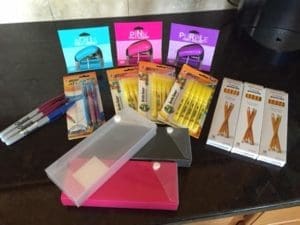 Here are few tips I have picked up over the past few years:
Locate your school supply list to help guide your shopping trips.

These are typically found on your school's website.

Next, shop your home. What is leftover from last year – scissors, rulers, pencils? If you didn't save those when they came home last year, make a mental note now  for next year: tuck away any supplies that come home that can be used for the next school year in a safe spot, ready for the fall.

Next, do your homework. There are many money saving bloggers who do the work for you.  Each week, these blogs will highlight different deals including numerous back to school deals starting in early July.  All you have to do is follow their steps to score deals:


www.moneysavingmom.com 
www.hip2save.com
www.passionatepennypincher.com
Additionally, know your prices. You can find school supplies price list on Passionate Penny Pincher's website. This is her recommended price to pay for different school supply items and comes in very handy when you

are trying to figure out if something really is a good deal

.
Shop early in the week (think Sunday or Monday), and weekly starting around the fourth of July. Each week stores like Walmart, Target, Walgreens, and Office Max sell different loss leaders (typically the store loses money or makes very little on these items) in order to lure buyers into their stores.  Use these deals to your advantage.  The one-stop shopping experience for all the school supplies will not save you big dollars, but small weekly trips will help you save big.

Don't forget about online shopping! Amazon is routinely the best place to purchase Ticonderoga pencils and Elmer's glue sticks. Both items will make your child's teacher very happy! Watch for these deals to be posted on the savings blogs listed above.  And don't forget you can always split large quantities of school supplies with friends or save the extras for the following year. 

Think outside of the box. There are many office supplies, snacks, and household items that are also great deals during the back-to-school season. We regularly stock up on copy paper during the back-to-school time. It is also a great time to stock up on Ziploc baggies, paper towels, and snacks for the kids.

If you are going to spend more money on a back-to-school item, spend it on a GOOD backpack and lunch bag. This is one area that we splurge on (with a 20% off and free shipping code of course). We have loved the Pottery Barn Kids or Teen backpacks.  These have held up very well with daily use. When we are ready for a new (usually bigger) backpack, I sell the old backpacks on Facebook marketplace and Ebay for about two-thirds of the price I originally paid, making my children's backpacks very economical. My daughter's backpack is going strong at 3 years of daily use with no issues.

It is best to collect all of your stockpiled items in one bin or drawer in your home.  When it is time for back to school your kids can "shop" from the stockpile. My children bring their lists downstairs load up backpacks before school starts. And hopefully after your kid's backpacks are fully stocked you will still have leftover supplies for the rest of the school year, maybe even for the next year, or items that you can give away to the back to school drives or Operation Christmas Child boxes.
Happy deal shopping!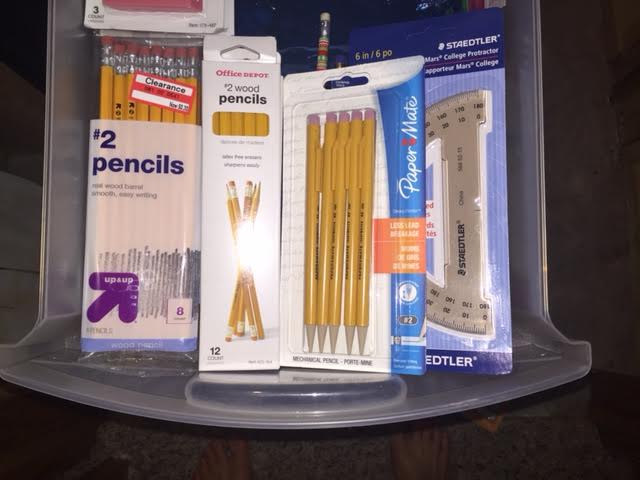 About our guest contributor: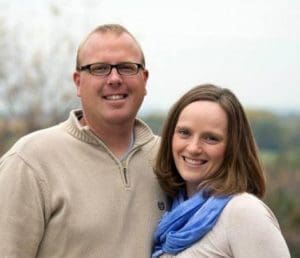 Julia is a proud mama to her 7 year old daughter and 10 year old son, and stepmom to two young adult stepsons. She is a nurse practitioner in the department of Endocrinology at Mayo Clinic. In her "free time" Julia is busy deal shopping, drinking LOTS of coffee, reading, chasing her kids in the backyard, or trying out a new workout class.