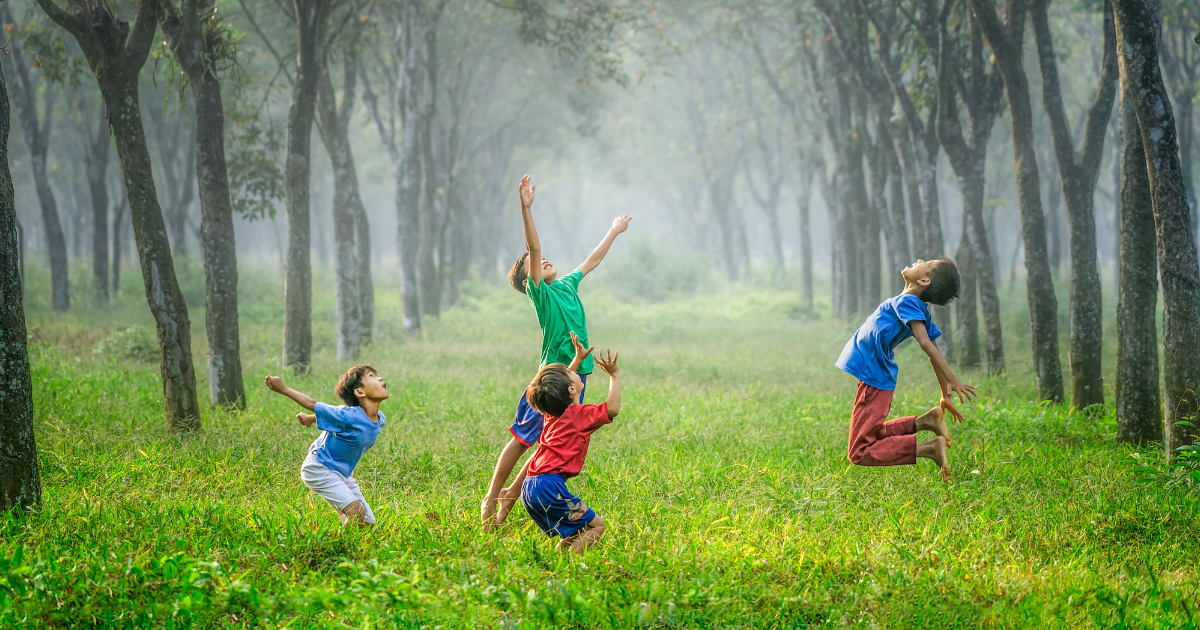 Winter may be? winding down, but there are no shortage of days where the kids are cooped up and parents are fresh out of ways to entertain them.  There are rainy days, cold/snow days, days where kids are not well enough to go to school but not sick enough to stay in bed all day, or days where you've heard "I'm booooorrreeed!  What are we going to doooooo tooooodaaaay??" too many times by 9am.  Occupying kids doesn't need to be an expensive, complicated struggle-fest — we just need to have a few ideas ready, like some of my favorite sanity savers:
Dance Party
Materials Needed:  Music + Disco Light Bulb
Yes, I'm sure everyone does dance parties pretty regularly, but take it up a notch with a disco light bulb. With it, you can turn any old lamp or light fixture into an exciting party in exactly 5 seconds.  Bonus:  It's LED and doesn't get hot! I let my kids screw it into a small lamp on their own and run their own dance party.  This frequently frees me up to take care of the baby, cook a meal, or just have 10 full minutes with no one talking to me.
Race Track
Materials Needed:  1 roll masking tape
Make a race track on the carpet (masking tape comes off nicely) or floor.  Line up every toy with wheels and have races around the track.  They've played with those cars and trucks millions of times, but somehow a racetrack on the floor makes them new and interesting again.  Bonus:  running and pushing them around the track (make it as big as you can!) helps your kiddos get out some pent-up energy.
Obstacle Course
Materials Needed:  None!  Use what you have in your house creatively
Turn your house into an obstacle course.  For littles, have them jump over a stuffed animal, push a truck around a racetrack (above), do 2 somersaults in the hallway, and 5 jumping jacks on a bathroom rug moved to an open space in the living room.  For older kids, get creative. Integrate jumping challenges (height or distance), balance elements (hopping on one foot, balancing a book on their head, carrying a ball on a spoon, etc.), agility (make a quick-foot challenge by making a ladder pattern on the floor with masking tape, or do side to side jumps on bathroom rugs in an open space), and strength (using light free weights or cans of food).  Use a stopwatch to time them and encourage them to beat their own best time.  Let them come up with challenges to add to the course.  The goal is to get them moving while getting creative with things already in the house.
Indoor Picnic
Materials Needed: Beach Towels
Letting kids eat in a room of the house not normally used for eating suddenly makes boring old PB&J into a super fun meal.  Put a couple of beach towels down to protect from spills, and have an indoor picnic!  Let them wear their swimsuits, sunglasses or summer clothes and pretend it's sunny and 85, instead of -12 with two feet of snow.  For a fun summery treat, make s'mores by toasting a marshmallow over an unscented candle, or popping a marshmallow on top of a graham cracker into the microwave.
Bathtub to the Rescue!
Materials Needed:  None
Put a couple of inches of water in the tub, two towels on the floor next to it, and let the kids play.  Make boats out of popsicle sticks, empty soda cans, or disposable plates and have races in the bathtub.  Use cups, strainers and spoons to pour and fill and dump water.  If they get soaked, then it's one less bath you have to do later!  Or just let them sit and play in the water as long as they want.  Warm the water up a few times, and you've bought yourself at least a half hour of entertainment.  You can also make dish soap bubbles, sit the kids in a dry bathtub or shower, close the curtain and let them blow bubbles to their hearts' content.
Take Them Out
Materials Needed:  Weather-appropriate, washable clothes
"There's no such thing as bad weather, only inappropriate clothing" – German Proverb
It's raining out?  As long as there's no lightning or other dangers, put on their rainboots and coats and take them out anyway.  Let them play in the rain, splash in the puddles, and ride their bikes through puddles.  They won't melt!  Playing in the rain is such a novelty to kids, because they almost never get to do it.  Encourage them to poke the mud with their fingers, pick up worms on the sidewalk, and splash in every puddle they can find.  After playing in the rain, snuggling up with blankets and books or sipping some hot chocolate will be a welcome change.
Fancy Dinner
Materials Needed: candles and "fancy" plates
To make an ordinary meal into a celebration, add candles, dimmed light, and turn dinner into "Fancy Dinner."  Putting a few candles on the table and letting the kids eat off china plates suddenly makes everything magical.  Add some music, flowers on the table and a special dessert, and you've made your kitchen table into a 5-star restaurant in the eyes of your kids.
Pass It On
Materials needed: Baking supplies, paper plates, Press & Seal wrap or gallon ziplock bags
Bake something!  It can be a mix from a box, or your favorite recipe from grandma.  Let the kids help measure, mix, or add sprinkles at the end.  Put your freshly-baked goods onto paper plates, seal with Press & Seal wrap or slide into gallon ziplock bags.  Deliver with a note to friends or neighbors.  Kids are never too young to start participating in random acts of kindness!  Your cookies, rice krispie treats or muffins are sure to brighten someone's day, and will make an ordinary day a little extraordinary for your kids.
What are your favorite at-home cures for cabin fever and rainy days?  Leave your ideas in the comments. We can never have too many sanity-savers!