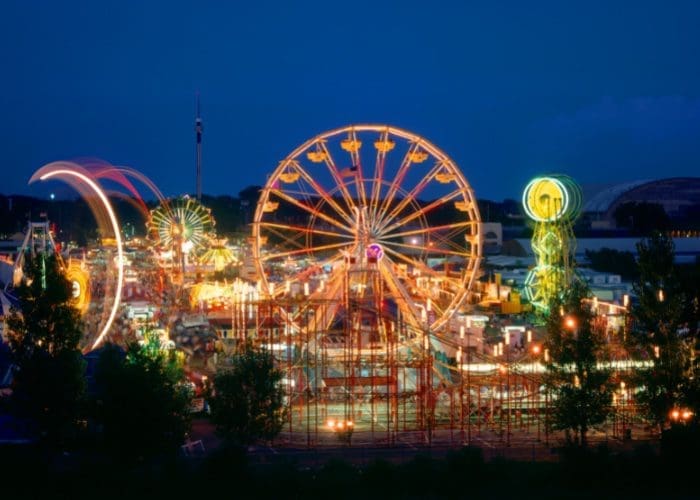 The Minnesota State Fair
Dates: August 25th – Labor Day, September 5th, 2022
Hours:
Fairgrounds:
6 a.m. to midnight
6 a.m. to 9 p.m. on Labor Day
Fairgrounds Gates (ticket booths):
6 a.m. to 10 p.m.
6 a.m. to 8 p.m. on Labor Day
(Entire list of Buildings, Attractions, Events, etc, and their hours.)
Tickets:
Pre-Fair discount admission tickets are $14 for anyone 5 and up.  Children 4 and under are always free! Purchase Pre-Fair Tickets here >>> https://www.mnstatefair.org/tickets/admission-tickets/
Regular fair-time admission tickets are on sale from Aug. 25 through Labor Day, Sept. 5.
Adults (13-64): $17
Seniors (65+): $15
Kids (5-12): $15
Children (4 and under): Always free
Don't forget to check out all of the deals and discounts to see if you qualify or fall on a day you plan to visit!
Please be sure to review the Covid Health & Safety Protocols.
---
I will wholeheartedly admit that I am a Minnesota State Fair-lover/nerd. It's been a bit of a tradition for my husband and me since we started dating back in 2004.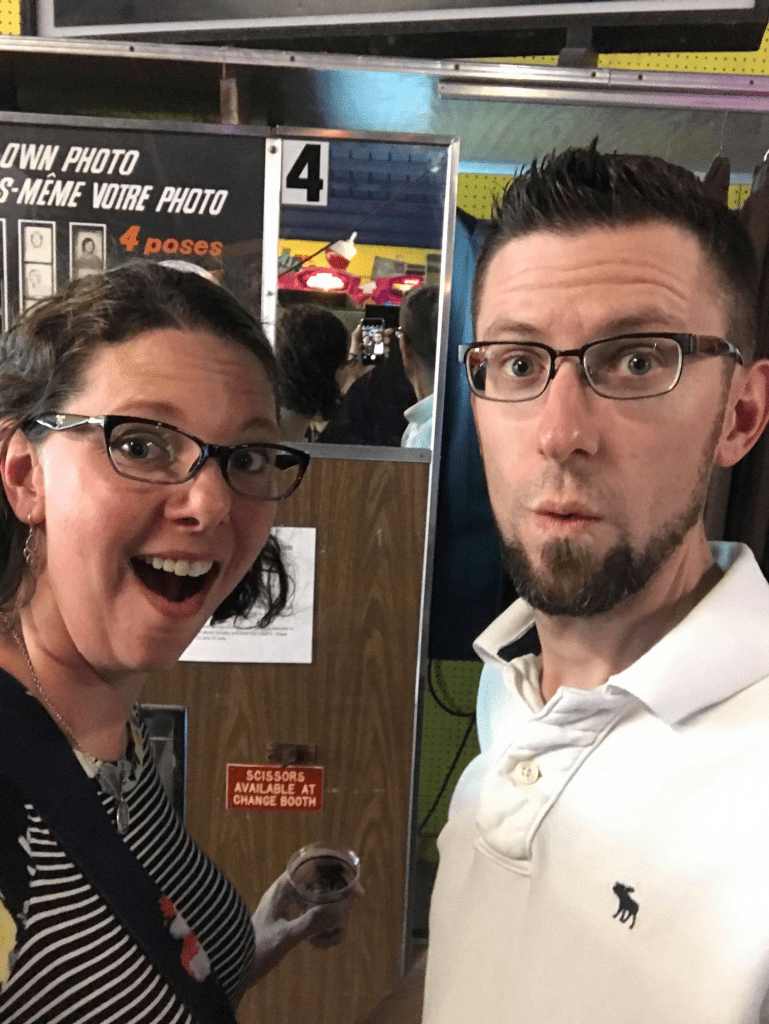 Before I get into all the great State Fair details, here's a cute little love story of a tradition Jason and I do every year at the fair. In the summer of 2004, Jason takes me to the fair on a date. We do the little photo booth where you take the four pictures and wait for them to print out. It was so cheesy but so memorable.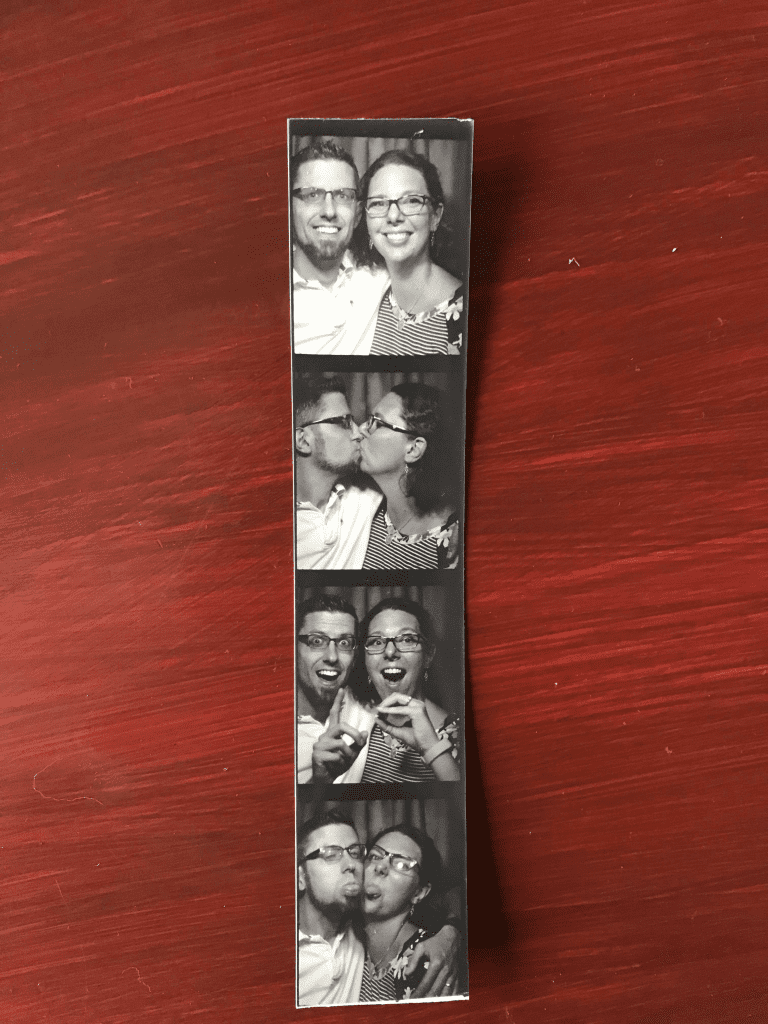 It's now a tradition and we have had a photo booth picture from every single visit to the state fair since then. There are two years missing: 2015 (Gwen was born right smack before the fair started) and, of course, 2020 (thank you, COVID). With this being our 16th fair together, here are some tips to get the most out of the Great Minnesota Get-Together!
The tips and tricks below have links to each portion that is discussed! Click away!
Plan in advance
I cannot say this enough. Plan, plan, plan like it's a vacation. There have been years we have gone and just winged it. There was extra walking, wrong shoes worn (hellloooo, blisters), sunburns, and things we just missed things because we ran out of time. The Minnesota State Fair website is fantastic to help plan your day. Look at the day you want to go and each day will have a theme, discounts, and entertainment. This will also determine your clothing choices. We have gone when it was blazing hot and also when it's been cool enough for a hoodie. Get the family together and ask, "what is it you want to do at the fair?" and go from there. This will help out when planning where to park, the entrance you want to go in, the food for the day, etc. My family and I pick our top three things and start planning from there.

What Can I bring in?
Great question! In years past, I brought a backpack if we were planning to be there all day or just a handbag or purse if it was a date night. You are allowed to bring in beverages and food as well! For those who have food restrictions or preferences, feel free to bring your own snacks. I suggest you bring a lot of water. We always fill up our big water bottles with ice and extra water bottles. Water is expensive and if you can bring it in to start, bingo. Other staples: sunscreen, antacids, ponchos, first aid kit, and hats. You can also bring your own wagons and strollers.
Everything is on a Stick
Food on a stick? A staple at the fair. When planning your visit, be sure to check out what foods you absolutely have to have or want to try. I always check out the new foods at the fair as well!  We always get a bucket of French fries, cheese curds, bacon deep-fried in maple syrup, deep-fried pickles, a malt, Sweet Martha's cookies, and Jason and Gwen get strawberries and cream. Then we look at something new to try. Now, while your antacids are starting to kick in, I will say, we split a lot. I mean, almost everything (except the bacon…we each get a piece of bacon). The map on the website above will list exactly where the food is as well. Not only does splitting help the stomach and heartburn, it helps the pocketbook. Have a special diet? No fear! There are a ton of options for vegan, gluten-free, dairy-free, and vegetarian at the fair!

The Animal Barns
The barns and Miracle of Birth Center are on the south side of the fair. We like to do these a little bit earlier in the day before it gets hot and sticky. Support local 4-H participants and see what it is like to show off their animals! The Miracle of Birth Center is pretty darn adorable. This year, the Miracle of Life barn will have dozens of newborn animals to visit in place of live births.
The Competition Buildings
On the east side of the fair, is where you will find people all sorts of competitions people have entered.  Food, art, handicrafts, needlework, woodwork, quilts, and more all wait to see if they are taking home the blue ribbon.  The top of each class is on display. Fun Fact: I entered and submitted a Ghiradelli cheesecake into the Ghiradelli competition a while back. I placed fifth and my cheesecake was on display. I was incredibly proud.

Other Buildings
Don't forget to check out the educational building, the DNR Building, Park, and pond (with fish to look at!), History and Heritage Center, and the Agriculture Horticulture Building (so many pretty flowers).
Shopping
You can shop at the State Fair. Yep! And score some pretty fantastic deals! Click here to see all the areas you can shop at the State Fair. At the International Bazaar you can find some eclectic items, the Grandstand has some great booths and the west end market has a variety of small shops! Also, be on the lookout for a lot of great promos and deals at the State Fair from lots of different businesses.

Entertainment
There is a bevy of entertainment choices at the fair. Want to take in a big concert at the grandstand? Check out who is playing! I have gone to a few concerts at the Grandstand and there is honestly not a bad seat in the house. The State Fair's Mighty Midway is infamous. You can play fair games and ride the rides, visit the haunted house, adventure park (we often just like to watch people go in the slingshot), and the Kidway which has a little bit more tame rides for the younger ones. Want to take a break? Sit down at one of the free bandshells and listen to some great music or stop in at the local Twin Cities television stations and be on tv! Do you or your child love machinery and/or tractors? Take them to Machinery Hill! Our top favorites: the big yellow slide, the Skyglider, or Skyride (for when you make it to one side of the fair but are parked on the other side and your tootsies are tired, hop on this. Skyglider goes north and south, Skyride goes east to west), and the arcade where our photo booth is located.

A couple more tips
The fair is big, bright, and fun! Remember to plan ahead and use the resources available to get the most out of your day at the fair. Gather with the state of Minnesota at the end of August through Labor Day and enjoy the Great Minnesota Get Together!