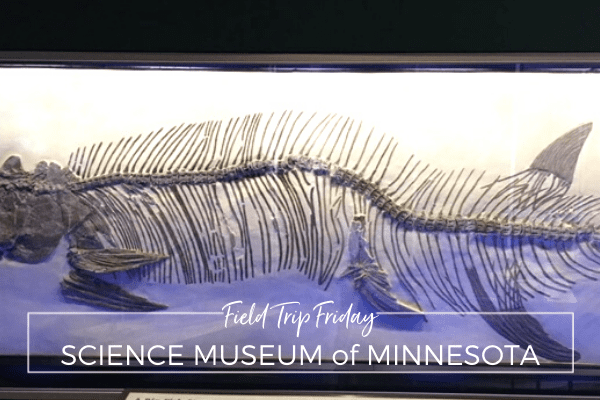 Last updated June 2023
At the end of June, I took my 4 and 7-year-old boys to the Science Museum of Minnesota.  We met my brother there– the trip was their Christmas gift from him (hooray for experience gifts!).  The baby stayed home with Dad.  I could've brought him too, and it would've been fine, but it was nice to just be able to run around with my bigger boys.
The museum grabs your interest as soon as you walk through the doors.  There is a giant T-Rex skeleton in the lobby, as well as several other things for them to see and do before you even get past the ticket counter.  We spent 3 hours at the Science Museum of Minnesota on a Monday afternoon and still didn't see everything.  We loved it, and will definitely go back again.  Here's a breakdown of the basics: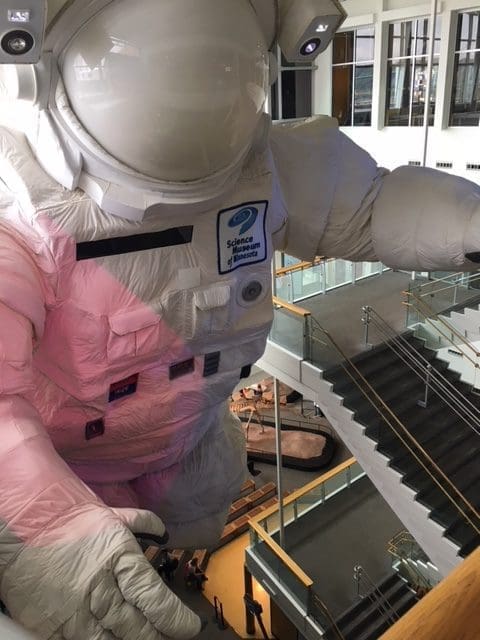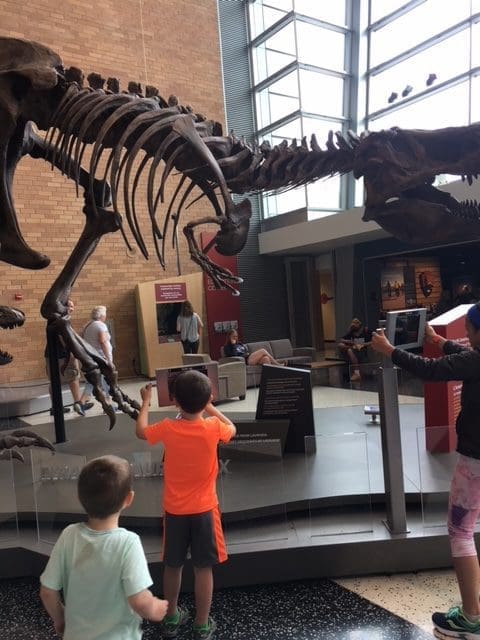 Logistics
Drive:
It's a quick, easy drive to the Science Museum.  It's in St. Paul, right off Hwy 52, so traffic isn't much of an issue.  1 hour 15 minutes, no problem.
Parking:
They have their own ramp, and there were loads of spots available.  I drive an SUV and the spaces were big enough to still be able to get the doors open.  Elevators go right up to the lobby level.  Parking is a little pricey, but standard for bigger cities ($10 for 3.25 hours).
Stroller Friendly?
Yes.  We didn't bring one, but many people had them there. Elevators are spacious to get between exhibit floors.
Bathrooms:
Abundant, spacious, and nice, with **no automatic flushing toilets!**  This is especially beneficial if, say, your 4-year-old yells, "MOM!! I need to go poop!" across an exhibit and you have to get to one in a hurry.  They have fun science facts posted for you to read while waiting outside the stall for 147 minutes while your child goes #2.  The stalls are spacious enough that when you go in to wipe him and find that he has inexplicably taken off his pants, underwear, and shoes, you can help him get dressed again without anyone falling into the toilet.
Food:
No food or drinks are allowed in the exhibit halls, which is good or everything would be a sticky mess.  However, this also means I had to stand in the entrance and slam my coffee since it wasn't allowed inside.  You could easily pack a lunch/snacks and eat them at one of the cafeterias located in the museum.  Lockers are available if you don't want to cart this stuff (or winter jackets during the cold months) around the museum with you.  At the entrance, everyone is issued a wristband that allows exit and re-entry as necessary. There are cafeterias and coffee/snack bars for quick and easy options.  But chances are, your kids will be having so much fun that they won't remember they're hungry until you're in the car on the way home.
Exhibits:
The Science Museum really has things for every age group and covers an enormous range of topics.  Dinosaurs, the Human Body, history (both Minnesota and global), topography, animals, music and sound, waves, weather, electrical current and circuits, movement and motion, sports and physics…the list goes on and on. To really be able to understand and learn the science behind all of the exhibits, kids would probably need to be in that 10-12 range.  However, you don't need to understand the science to fully enjoy the exhibits.  My 4 and 7-year-olds had an absolute blast and didn't stop for the whole 3 hours we were there.
We spent most of the time on the exhibit floor with the dinosaur and fossil exhibits, as my 4-year-old can't get enough of dinosaurs right now.  Conveniently, that same floor had amazing weather exhibits and an electrical current/ circuit section where my 7-year-old planted himself for about an hour.
IMAX:
We didn't do the IMAX because one of us (ahem) gets the pukes every time.  If you have a stronger stomach than I do, the film showing looked really interesting.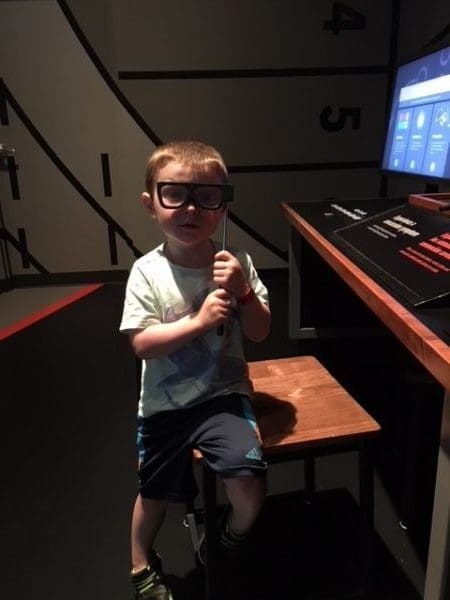 The Science Museum was a total hit with kids and grown-ups alike.  Not only is it packed with incredible things to see/touch/do, but it's also educational too!   We will definitely be heading back soon.