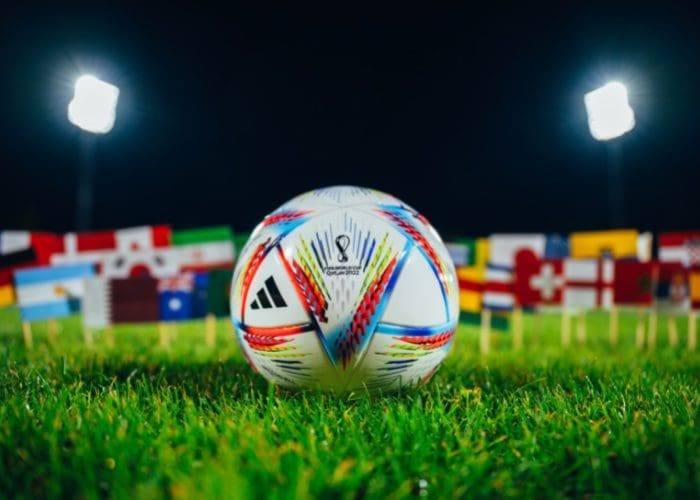 FIFA, which stands for Fédération Internationale de Football Association, and is an international governing body of football associations.  Founded in 1904, FIFA was launched to oversee international competition among the national associations of Belgium, Denmark, France, Germany, Netherlands, Spain, Sweden, and Switzerland. FIFA now comprises 211 member nations and is headquartered in Zurich.
As we know, soccer is a global phenomenon with an unparalleled fandom that the US is working to catch up with.  Over the past decade, huge strides have been made in the popularity of soccer in the US. A monumental part of the growing popularity in this country is attributed to the US women's soccer team is the most successful women's team in the entire world winning Women's World Cup titles, four Olympic gold medals, and nine CONCACAF Gold Cups.
Every four years, FIFA conducts the World Cup. The 2022 FIFA Men's World Cup is hosted in the country of Qatar and starts next week.   The women's World Cup will be held in Costa Rica during the summer of 2023. The men's football World Cup organized by FIFA is one the biggest sporting events in the world. It is one of the most widely viewed and followed sporting events, even surpassing the viewership of the Olympics.
If you are a soccer fan you're probably hoping to catch as many matches as you can.  Even if you are NOT a soccer fan, we *highly* encourage you to catch a game!  The energy is electric and it will be next to impossible to not catch the excitement.
Here's where you can catch the 2022 FIFA World Cup matches in Rochester MN: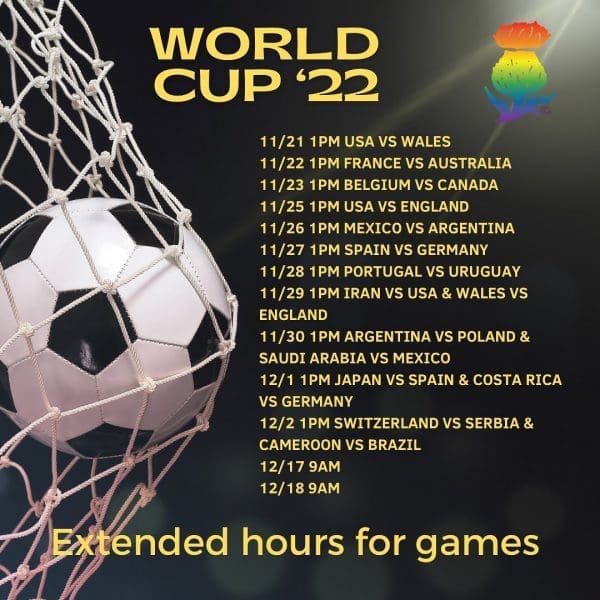 Little Thistle Brewing is taking their World Cup watching seriously by extending their regular business hours.  They will be playing every game so hopefully you'll be able to find a time to go. Find all the details here >>> Little Thistle World Cup Viewing
---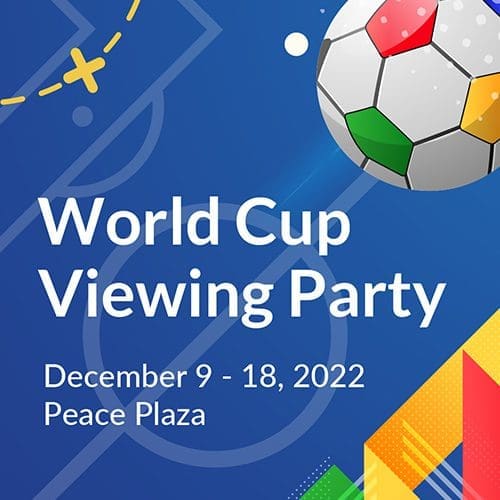 Cheer on your country's team or join in the fun with other area soccer fans. The FIFA World Cup™ Viewing Party is coming to downtown Rochester with select games being shown on a large television screen in Peace Plaza December 9-18. Find all the details here >>> Peace Plaza World Cup Viewing
---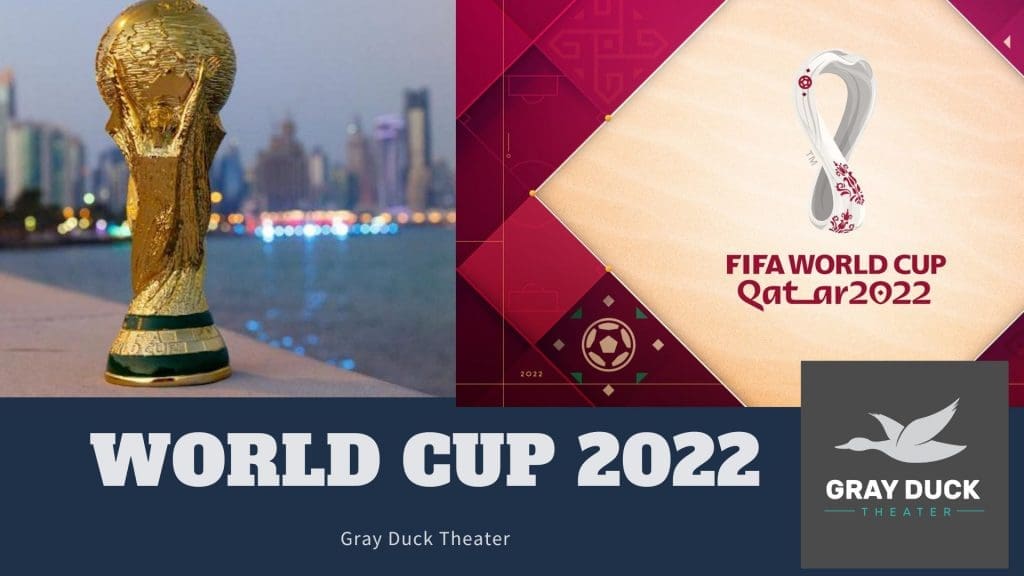 Gray Duck Theater is Rochester MN's only micro-cinema!  Watch every single World Cup game on the big screen in their cozy theater.  Find all the details here >>> Gray Duck World Cup Viewing
---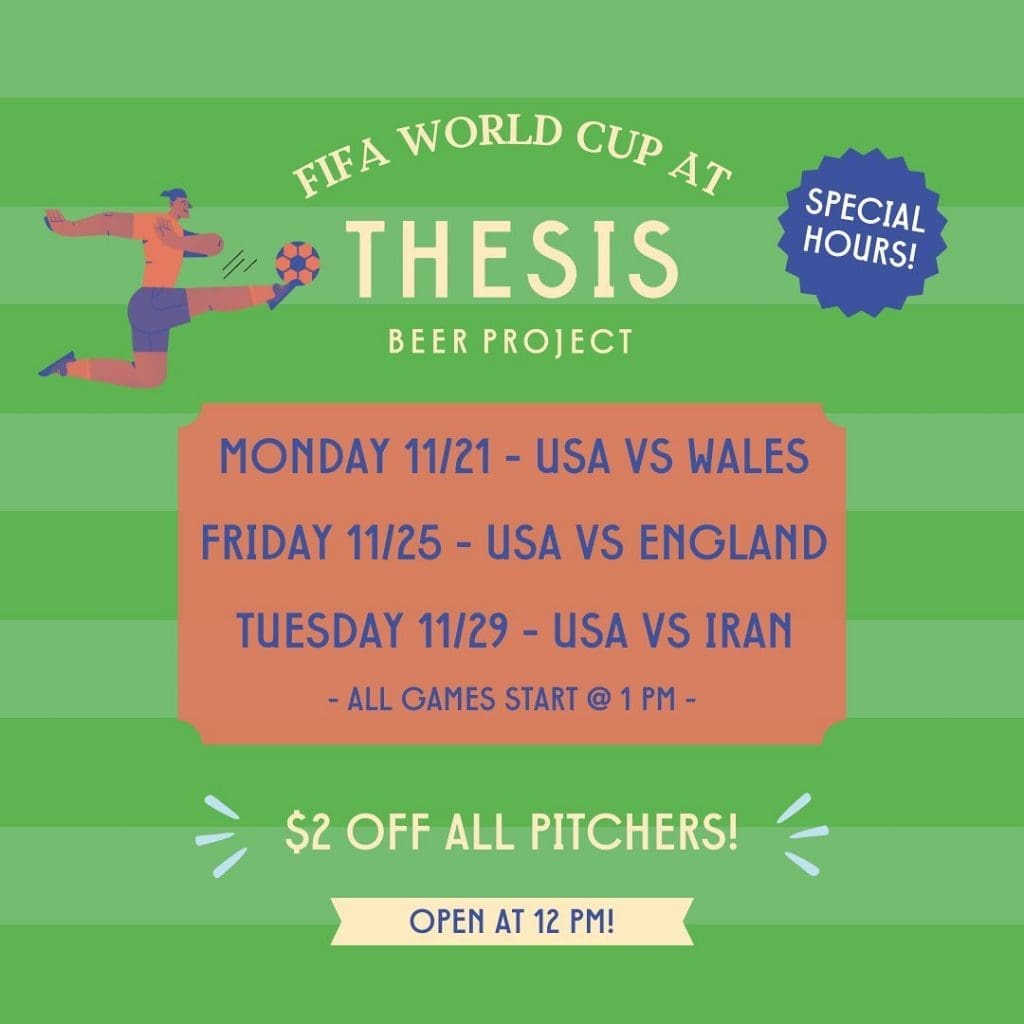 Join Thesis Beer Project for the USA World Cup Games! They'll be open special Monday hours on Monday, November 21st for the USA vs Wales game. Then join in on Friday, November 25th for USA vs England, and Tuesday, November 29 for USA vs Iran. All games start at 1 pm and they'll be open starting at 12. $2 off all pitchers and the game on the big screen! Find all the details here >>> USA World Cup Games at Thesis Beer Project
---