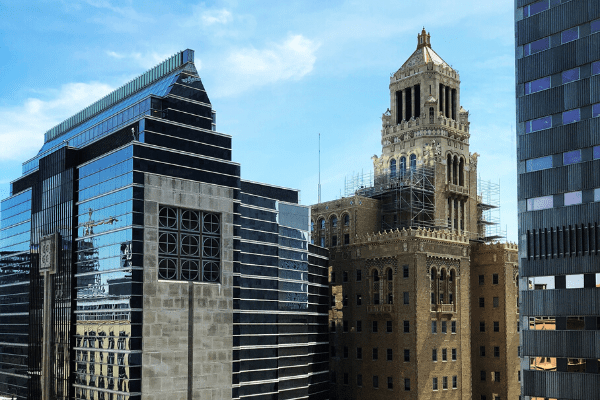 Since moving here in 2019, I have experienced some of the BEST places in Rochester and have been so eager to share these spaces with my besties. I try to describe how charming and large the farmers market is, but you just can't understand until you are there. I try to explain just how cool and welcoming Canvas & Chardonnay is, but you have to be there when Eileen stands on the little platform and gives out instructions to a huge group of diverse people. I love laughing while looking at hilarious products in local shops and eating excellent food all across town. So here is my general itinerary for when my dearest friends come to Rochester for a one-day visit. Let it be known that I use this jam-packed itinerary to leave them overwhelmed and hungry for more, eventually resulting in their permanent relocation to Rochester near me.
9 am Breakfast
If you are going to start off right, you have to take your guest to one of these places for breakfast. They are all completely different environments, but the food is incredible at each place. 
Cheap Charlie's (Saturdays & Sundays 7am-1pm)
11 5th St NW, Rochester, MN 55901
I first noticed the large pig on top of the restaurant and slowly zoomed out. I had no idea what the place was and was kind of curious. Gradually people started to recommend this breakfast and lunch joint to me but I just couldn't wrap my mind around the exterior of this venue. Finally, I sucked it up and decided to give it a try. I absolutely loved Cheap Charlie's! Talk about an experience! Your friend might be a little skeptical as well, but even though it's not the prettiest environment, the food is the good old reliable diner food that you just crave every once in a while. This is the place to get breakfast potatoes cooked in bacon grease, eggs benedict drowning in delicious hollandaise sauce, and the largest pancakes that will make any toddler smile from ear to ear.
1203 2nd St SW, Rochester, MN 55902 // Facebook // Instagram
For a family-friendly and comfortable space, Canadian Honker is the place to go. In the summertime, my sister and I love to eat outside. Even though it is along a busy road, it is still peaceful and enjoyable. I devour their award-winning traditional eggs benedict and my sis loves their biscuits and gravy. Their staff is all so incredibly nice and welcoming, making it a favorite place to return.
10 East Center St Skyway Level – 2nd Floor, Rochester, MN 55904 // Facebook // Instagram
Found in the Hilton Hotel skyway, wow your friend with the modern space decorated with adorable pineapples. As you may have already noticed, I am an eggs benedict lover and this is a wonderful place filled with endless possibilities. I love their Cubano eggs benedict with shredded pork and black beans on top of a yummy arepa. It is totally an Instagram-worthy breakfast.
10 am Shopping
35 Fairgrounds Ave SE, Rochester, MN 55904 // Facebook // Instagram
After breakfast, I like to take my friends to the Rochester Farmer's Market. We have an incredible farmers market all year round with tons of vendors, music, and local gems! We always like to get our hands on a cookie for the little one, grab a cup of coffee, and look at everything the market has to offer. I highly recommend getting some Spring Chicken Muscle and Joint Balm from Crooked Pine Farm & Goods. That stuff is a game changer! 
122 10th St NE, Rochester, MN 55906 // Facebook // Instagram
 I am obsessed with this gorgeous flower shop. Their arrangements are incredible and they also have a lovely boutique gift shop filled with wonderful treasures. Don't forget to explore the greenhouse in the back!
Threshold Arts
(Saturdays 10am-6pm, Sundays 10am-4pm)
311 Broadway Ave S, Rochester MN 55901 // Facebook // Instagram
This place is a magical two-for-one. First, the breathtaking storefront is filled with locally made art and products. Threshold Arts showcases a wonderful variety of unique items including handmade brooms, pottery, sketches, candles, jewelry, paintings, stickers, used books, and more! After shopping, take a few quiet moments to take in the beauty of the featured art by a local artist in the gallery room. You will not be disappointed!
12 pm Lunch
832 7th St NW, Rochester, MN 55901 // Facebook // Instagram
The first time I went to Old Abe's I was a little nervous because I didn't know what an all-vegan restaurant could offer. My husband and I picked blindly off the menu and have returned weekly ever since. We love the brown rice bowls! They are so colorful, flavorful, and filling. I encourage my buddies to be spontaneous and randomly pick something because no matter what they choose they will love it. I have been right every time! The interior decor is so detailed and amazing that it makes the whole experience memorable. My guests always ask to return here when they visit again.
Taco Jed
(Saturdays 9 am-11 pm, Sundays 11 am-7:30 pm)
808 S Broadway, Rochester, MN 55901 // Facebook // Instagram
If you're in the mood for a modern twist on tacos you HAVE to go to Taco Jed and order #, 6 Flower Child! I cannot believe how incredible the flavor is with a cauliflower taco. My mouth is watering just thinking about it. I also highly encourage a hefty serving of chips and queso. The atmosphere of this restaurant is super welcoming and laid back. The staff is very attentive and helpful!
1035 Civic Center Dr. NW, Rochester, MN 55901 // Everyday 11 am-9 pm
412 Crossroads Dr, Rochester, MN 55902// Saturdays 11am-9pm, Sundays 11am-8pm
Nupa offers a wide variety of Mediterranean cuisine and they have super fast and friendly service. The food here has amazing flavors with such fresh ingredients. My family and I highly recommend the classic, gyro pita. 
Afternoon Coffee
After eating a large lunch, coffee is a must! I like to haul my friend to one of our many local coffee shops before our next activity. You can't go wrong with any of the options Rochester has to offer. Here are some of my favs:
Moka Drive-thru
(Saturdays & Sundays 6 am-8 pm)
1023 N Broadway, Rochester, MN 55906
2483 Commerce Dr. NW, Rochester, MN 55901
306 12th St SE, Rochester, MN 55904
"Moka and I are kind of a thing" because I don't have to get out of the car, they are speedy, incredibly friendly, and make really yummy coffee. 
315 S Broadway, Rochester, MN 55904 // Saturdays & Sundays: 8am-6pm
 201 4th St SW, Rochester, MN 55902 // Saturdays: 8am-2pm
I love stopping here to show off their small and current art exhibit, and The Cove area with their new mural while we wait for our drinks. It is a cozy and charming place to hang out for a bit before heading to our art class at Canvas & Chardonnay next door. 
 Kahler Hotel: 20 2nd Ave SW // Saturdays & Sundays: 7am-2pm
Miracle Mile Shopping Center: 1610 W Center St // Saturdays & Sundays: 7am-5pm
Breathtaking environment and great coffee. This is where I take my friends when we need to catch up on everything and talk for hours. I took one of my besties who doesn't even like coffee to this venue and she was in love. She loved their tea and couldn't stop staring at all their green accessories and foliage decorations. The gorgeous fern wall is truly picture-perfect!
1 pm Art Class
Art Heads Emporium (Saturdays 1-4 pm & 6-9 pm, Sundays 1-4 pm)
317 S Broadway, Rochester, MN 55904 // Facebook // Instagram
This is one of my top happy places in Rochester, MN. When I first moved here I signed up for a wall weaving class with my besties just for something to do in the winter months. I instantly fell in love with what the mother-daughter duo, Leah & Eileen, and their family have created. The vintage art and furniture are drool-worthy and we just love singing along to the Beatles Radio playlist that plays in the background. I am obsessed with every class they have to offer from weaving to painting unicorns, to making our own wood sign. I have taken most of my friends to this venue and they are always so excited to return!
5 pm Dinner
Hot Chip Burger Bar
(Saturdays 11 am-10 pm, Sundays 11 am-9 pm)
1190 16th St SW, Rochester, MN 55902 // Facebook // Instagram
These are the best burgers in town, hands down (in my humble opinion). I love watching my guests chuckle at the clever burger names like my favorites, Call Me The Dude and Mushroom She Wrote. They are mouth-watering and so filling. I love that they offer hefty meaty burgers and hefty vegan burgers too! Both are delicious and buried in incredible ingredients. My toddler loves to hog the popcorn bowl and play with whatever toy that comes with his meal. 
Pho Chau
(Saturdays 11 am-8:30 pm, Sundays 11 am-7 pm)
1014 N Broadway Ave, Rochester, MN 55906 // Facebook
Another dinner option is this drool-worthy Vietnamese restaurant. The portions are huge, the service is fast, and everything that I have ever ordered has been absolutely delicious! My go-to orders are chicken pad thai, chicken fried rice, or steak pho. We also like to order their spring rolls or egg rolls. (I'm drooling just thinking about it). I know my visitors are satisfied when they walk away groaning in pain because they ate so much delicious food. 
6:30 pm Hang Out at a Brewery
It's kind of weird for me to recommend breweries, especially when I don't drink alcohol, but I love the brewery scene in Rochester!
2031 14th St NW, Rochester, MN 55901 // Facebook // Instagram
Little Thistle is a family-friendly spot where I don't feel self-conscious letting my toddler run around in circles. I love their comfy environment, checking out the guest food truck of the night, and listening to some live music.
Thesis Beer Project
(Saturdays 11 am-11 pm, Sundays 11 am-8 pm)
1929 2nd St SW, Rochester, MN 55902 // Facebook // Instagram
Thesis is another great hangout spot to catch up with friends. The murals and decor are incredible! I love to sip on an Old Abe nitro cold press coffee or a root beer while listening to some live local music.
1005 6th St NW, Rochester, MN 55901 // Facebook // Instagram
Forger is a huge venue with a delicious menu. I also love that I can do a little gift shopping at Gathered Goods too!
Aaaaaaaaaand done! End scene! Oh wait, just kidding there are tons of other places on my list to check out and explore! Here is where I want to go next:
Ok, that's it for real. Where do you take your friends and family when they come to visit?
---
This post was originally written December 2019