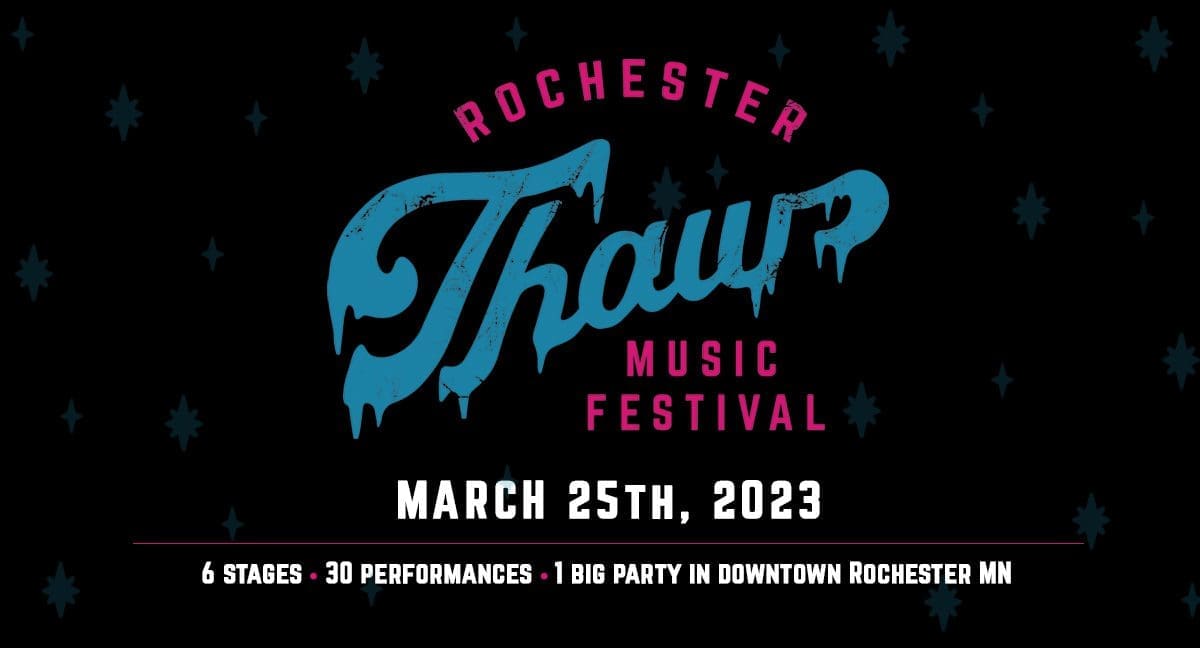 Rochester's very own music festival returns on Saturday, March 25th! Three years after Rochester Thaw debuted, the fest is finally back! This year's Rochester Thaw will be bigger and better than ever, offering a full day of music, food, local beer, and fun– all hosted in walkable downtown Rochester. 
So why plan a music festival in March? Creator Nick Novotny says "March seemed like the perfect time for an event like this. After a long Minnesota winter, people are ready to get back out into the world. Spring is just around the corner, and that inspired the name of the festival!"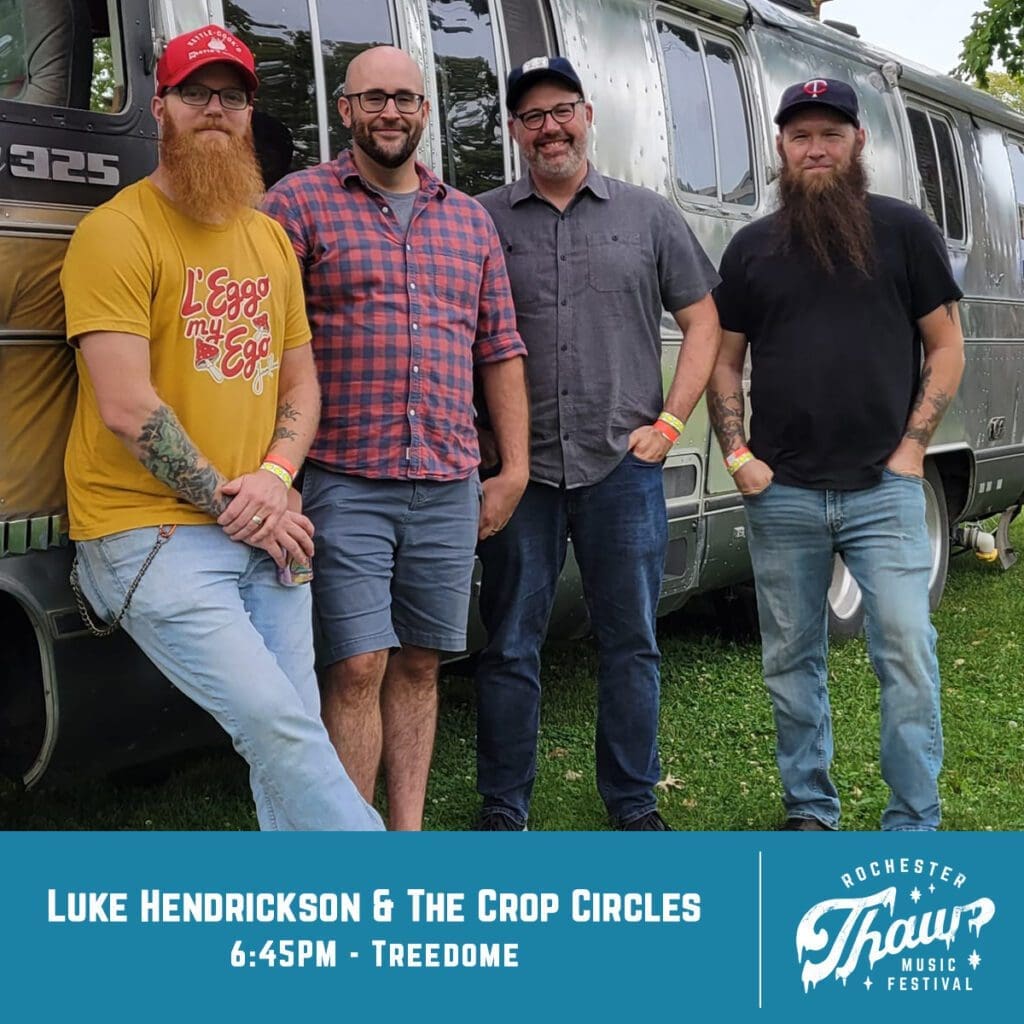 Novotny says "Over the last handful of years the music scene in Rochester has been growing so rapidly. There are more bands playing, more places hosting music, and more people coming out to see shows. The decision to start the fest back in 2019 was a direct result of that growth. Then the pandemic hit and it seemed like that would throw the brakes on all of it. But throughout the lockdowns, the music scene got creative and kept finding ways to share music with the city – whether it be virtual shows, outdoor socially distant shows, etc." Novotny says that inspired them to bring back the Thaw and grow it from its original footprint.
The performers include 29 bands and one fabulous burlesque group, from as far away as Madison and as close as Rochester. Some have toured internationally and have been performing for a decade or more, others came together during the pandemic as lives and careers were in flux. The genres range from indie to punk, hip hop to big brass, and all but one of the performances are open to all ages. All of the acts were handpicked by Novotny and his partners at My Town, My Music. 
In addition to producing 30 performances, the festival is proud to be partnering with a wide variety of local businesses to offer local food, beverages, and downtown shopping experiences to fest-goers.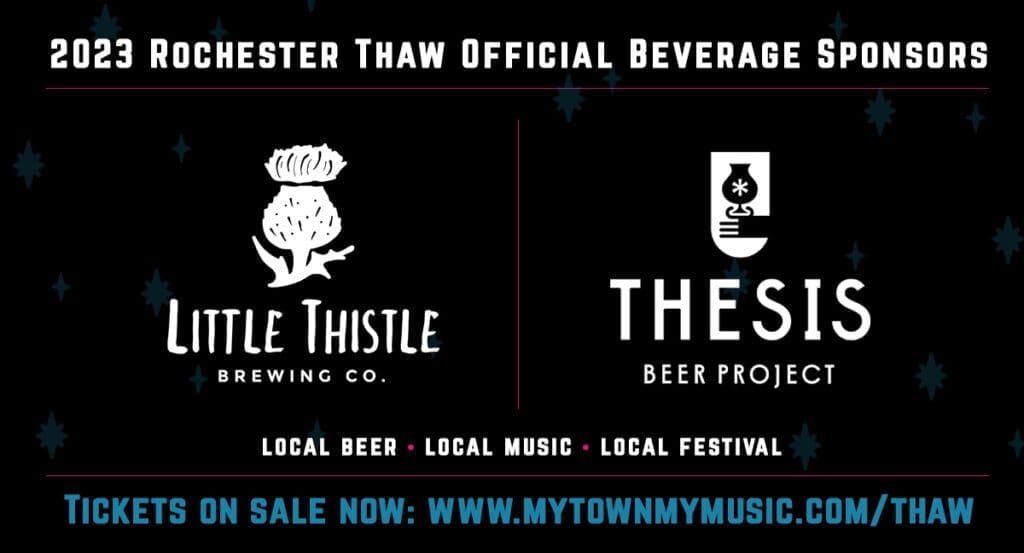 "Rochester has never had a multi-venue music festival," he says, "but anyone who has gone to Mid West Music Fest in Winona or Big Turn in Red Wing knows the buzz that this kind of festival can bring to town." There will be a "food truck alley" next to Bleu Duck Kitchen, and Novotny encourages guests to visit the many local restaurants, bars, and shops that fill the festival area. You may just find a new favorite spot, in addition to seeing new music.
Leah Joy Bee, owner of Art Heads Emporium says that "Art Heads is centered around bringing people together through art in all forms. We are pleased to be a part of The Rochester Thaw Festival and we can't wait to see the community come out to support these artists!"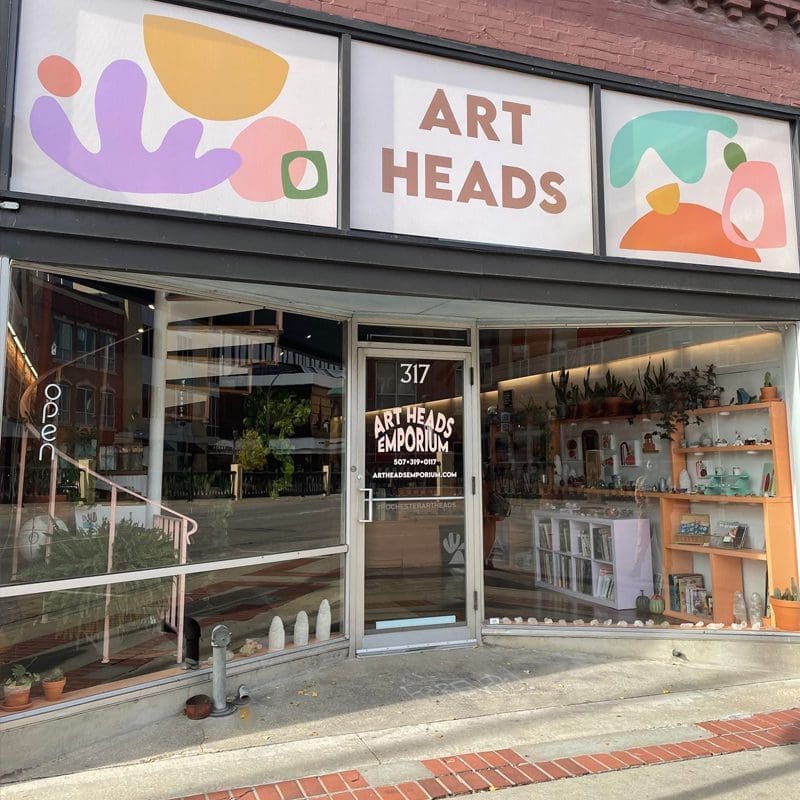 You can find all of the information about the fest including tickets, performer bios, venue details, and more at mytownmymusic.com.
We can't promise the weather will live up to the name, but we CAN promise that you'll have a blast enjoying great music and meeting new friends while you shake off the winter blues at The Rochester Thaw!
---
 
---

---
Spotify playlist featuring performers from The Rochester Thaw lineup
---

4 Rochester Thaw Itineraries for you to Enjoy or Adapt
Local concert promoter, Rosei Skipper (also the author of this article) has carefully crafted 4 sample schedules for those looking to have a curated experience at The Rochester Thaw Festival.
You Want to Keep Things Pretty Chill
3PM – Carriage House at LC's Venue
3:45 – Pat Egan at Cafe Steam
4:30  – Jeremy Jewell and the Co-Dependents at LC's Venue
5:15-6:30 –  *Dinner Break*
6:45 –  Split Pine at Cafe Steam
8:15 –  Bad Bad Hats at Chateau Theatre
9PM –  You've had a big day, finish up your craft beer and get home safe in an Uber or Lyft!
Feeling spicy? Head over to Treedome at 9:45 for smooth hip hop from Hiahli, and then head next door to Art Heads Emporium at 10:30 for a chill reggae set from Push and Turn
You LOVE Costumes, You miss the old downtown Barnes and Noble and/or You're Kinda Weird
5:15 PM –  Loreweavers at Chateau Theatre
6:45 –  Immaculate Beings at Chateau Theatre
7: 30 –  Burly Bluffs Burlesque Show at Bleu Duck
8:15-9:30 –  *Dinner Break*
9:45 –  Jaedyn James at Chateau Theatre – wear your best sequins and pull out your dancing shoes.
You Want to Impress Your Cool Teenager
3:45 PM –  Comatose at Treedome
5:15 –  Nyasia at Treedome
6:00 –  Big Salt at LC's Venue
6:45-8 –  *Dinner Break*
8:15 –  Bad Bad Hats at Chateau Theatre
9 –  SeaSaw at LC's Venue
10:30 –  Why Not at Bleu Duck. Mosh pit optional.
You're here for the Powerhouse Lady Voices
3 PM  – Audrey Robinson at Art Heads
5:15 –  Jerrika Michelle at Cafe Steam
6-8  – *Dinner Break*
8:15 –  Annie and the Bang Bang at Treedome
9 –  Faith Boblett at Bleu Duck
9:45 –  Jaedyn James at Chateau Theatre
---